Belgian GP 2018
AUGUST 24, 2018
Practice 2 Report – The unknown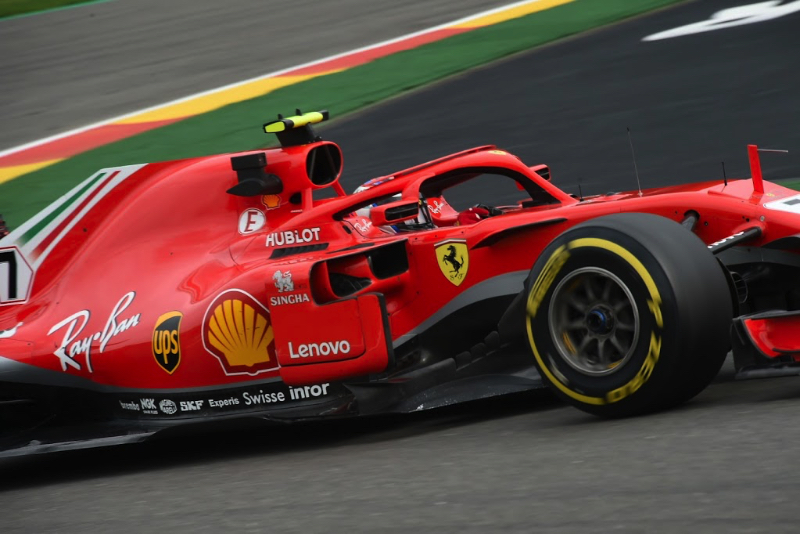 © RV Press
By Dan Knutson
Ferrari driver Kimi Raikkonen clocked the fastest time in Free Practice 2 for the Belgian Grand Prix. But, while Ferrari, with a new engine spec, looked to have the faster car than Mercedes around the Spa-Francorchamps circuit, Raikkonen wasn't going to make any predictions.
"In any race we'll go into an unknown situation against the other teams," he said. "We'll see where we come up over the weekend but especially on Sundays. We'll keep doing the same job we're doing so far and see what will happen."
The line-up for the weekend was: Mercedes – Lewis Hamilton and Valtteri Bottas; Ferrari – Sebastian Vettel and Raikkonen; Red Bull TAG Heuer – Daniel Ricciardo and Max Verstappen; Racing Point Force India Mercedes – Sergio Perez and Esteban Ocon; Williams Mercedes –Lance Stroll and Sergey Sirotkin; Renault – Nico Hulkenberg and Carlos Sainz; Toro Rosso Honda – Brendon Hartley and Pierre Gasly; Haas Ferrari – Romain Grosjean and Kevin Magnussen; McLaren Renault – Fernando Alonso and Stoffel Vandoorne; Sauber Ferrari – Marcus Ericsson and Charles Leclerc.
Vettel had topped FP1, turning a 1:44.358 on Pirelli's soft compound tires. It marked the first time this season he had gone fastest in FP1.
The other two compounds available were the super soft and the medium.
Ricciardo, who missed most of FP1 with engine woes, was first out in FP2. Sirotkin, who also sat out most of the morning session, joined him.
The ambient temperature at the start of the 90-minute session was 63 degrees Fahrenheit (17 degrees Centigrade) and the track temperature was 82 degrees Fahrenheit (28 degrees Centigrade).
Using the soft compound tires Ricciardo clocked a 1:46.161. But Vettel, on the mediums, cut that down to a 1:46.101. Then Raikkonen, on softs, got down to a 1:44.400.
Bottas climbed up to second in the early going, but he was working on race set-up as he'd start at the back of the grid due to an unscheduled engine change. Hulkenberg would be doing the same.
Then, 17 minutes in, Hamilton turned a 1:44.369 on the medium Pirellis.
At the half hour mark the top six were Hamilton, Raikkonen, Bottas, Vettel, Verstappen and Ricciardo. Perez, Ericsson, Gasly and Sainz rounded out the top 10.
And now the Ferrari and Mercedes and other drivers were trying the super soft Pirellis. Indeed, Raikkonen got down to a 1:43.355. Hamilton's best was a 1:43.523. Bottas moved into third while Vettel had a slide on his fast lap.
Halfway through FP2 the order was: Raikkonen, Hamilton, Bottas, Verstappen, Vettel, Ricciardo, Perez, Sainz, Ericsson and Leclerc.
Hamilton then tried a new set of super softs. But both he and Bottas, who was on used tires, were doing race runs.
Other drivers also were doing race simulations, trying the medium, soft and super soft compounds, as the session went into the final 30 minutes.
The top 10, therefore, remained Raikkonen, Hamilton, Bottas, Verstappen, Bottas, Vettel, Ricciardo, Perez, Sainz, Ericsson and Leclerc at the end of FP2.
But rain was forecast during the weekend, and that would definitely create some more unknowns.