Belgian GP 2017
AUGUST 28, 2017
Race Analysis - Steeple Chase: How Hamilton won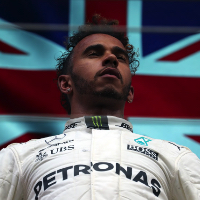 By Dan Knutson in Spa-Francorchamps
Sebastian Vettel chased Lewis Hamilton up and down the steep hills of the Spa-Francorchamps circuit all through the 44 laps of the Belgian Grand Prix. Both drivers were flat out, and neither made a mistake. Hamilton held on to win for the fifth time this season.
Here is how it all unfolded.
TYING A RECORD START
Mercedes driver Lewis Hamilton earned his 68th pole position, which ties the record set by Michael Schumacher, and therefore started the race from the prime pole spot.
THE SOURCE OF PROBLEMS
It is a short run down to the La Source Hairpin after the start, and the sharp corner is often the scene of accidents. But all 20 drivers made it through safely led by Hamilton who grabbed first place ahead of Vettel who had qualified his Ferrari second. Valtteri Bottas (Mercedes), Kimi Raikkonen (Ferrari) and Red Bull teammates Max Verstappen and Daniel Ricciardo rounded out the top six. These would be the only players for podium finishing positions.
CLOSE SHAVE
Shortly thereafter, however, there was a close shave moment as Sergio Perez, who was trying to avoid Renault's Nico Hulkenberg on his left, moved his Force India teammate Esteban Ocon into the wall heading down towards Eau Rouge. They got away with it this time, but the second time they did not, and it would have major implications on the finishing order of the race.
FAST FOURS
Hamilton was not hanging about. On lap 4 of the 44-lap race the driver of car 44 set the fastest lap.
CLOCKWORK ORANGE
There was a crowd of 100,000 on Sunday, and 60,000 were Dutch fans, many wearing orange, who came to cheer for their hero Verstappen. But Verstappen has been having a lot of bad luck this season, and like clockwork it happened to him again in Belgium when he stopped on lap 8 with an engine failure. He was as bitterly disappointed as his fans after this his sixth DNF in 12 races through no fault of his own.
"Frustrated, disappointed, and really not happy," Verstappen said.
HAMMER TIME
Hamilton's engineer told him it was "hammer time" on lap 12, so he put on the speed and headed to the pits to change from the ultra soft compound Pirelli to the soft compound tires. Vettel did the same two laps later.
BLOW BY
Hamilton rejoined behind Raikkonen who had yet to pit, but quickly blew by the Ferrari.
OUT OF CONTENTION
Raikkonen took himself further out of contention by not slowing down for the yellow flag zone where Verstappen's car was parked. That earned him a 10 second stop-and-go penalty.
ONCE AGAIN
With all the stops completed, the order was once again Hamilton, Vettel and Bottas. Ricciardo was now fourth.
PINK MAGNETS
The pink Force Indias seemed to have a magnetic attraction. It happened once again on lap 29 on the run down to Eau Rouge. Ocon's front wing made contact with Perez's left-rear tire. The result was a blown tire for Perez and a broken wing for Ocon.
THE TRIGGER
There was debris on the track now, so that brought out the Safety Car on lap 30 and triggered a rush to the pits for a second pit stop for the drivers.
NASCAR GAMES
The Safety Car erased Hamilton's 1.9 second gap over Vettel. Hamilton was convinced that all that was needed was a Virtual Safety Car, which would have allowed him to maintain his advantage.
"I felt it was a bit like NASCAR, where they keep pulling out the Safety Cars for no reason," Hamilton said. "The wing (debris) was cleared; after we'd slowed down they could have done a VSC but I guess they wanted to see a race. So that's for sure the reason they did that, because there was hardly any debris, if at all, they cleaned it so well."
PURPLE VS. YELLOW
Hamilton had planned to run to the end of the race on the set of soft compound tires he got on his first stop. But now he was forced to pit with the rest of the drivers for new tires.
Vettel had a new set of ultra soft Pirellis (with the purple sidewalls) left over from qualifying, so he had those fitted to his Ferrari. Hamilton did not, so he had to use the soft compound tires with the yellow sidewalls, which were only new tires he had left. In theory that should have given Vettel the advantage on the restart and the final laps. But Hamilton hung on to the lead and went on to win.
"I knew that we had a tire advantage with the ultra soft versus the soft, for the first couple of laps in particular," Vettel said. "So you could also see, exiting Turn 1, I was all over Lewis. It was not that hard to follow so close and maybe that was the problem. My restart in the initial part was too good. I was too close, so for sure if I had to do it again maybe I would try something different."
THREE WAY
There was a three-way battle for third place after the restart on lap 34 with Bottas, Ricciardo and Raikkonen blasting up the hill virtually three abreast. Bottas ended up running wide at Turn 5. Ricciardo grabbed third as Raikkonen moved into fourth and Bottas dropped from third to fifth. They finished the race in that order.
NEW RECORD
Vettel might have finished second but he was not slow. On lap 41 he turned a time of 1:46.577, which was a new lap record at Spa-Francorchamps.
"The Ferrari has generally had the upper hand, particularly on race pace, throughout the weekend and were very, very, very strong today," Hamilton said.
HALF POINTS
Hamilton steeple chase win at Spa-Francorchamps meant that he has halved Vettel's points lead from 14 to 7.