Belgian GP 2016
AUGUST 29, 2016
Race Report - Spa-mash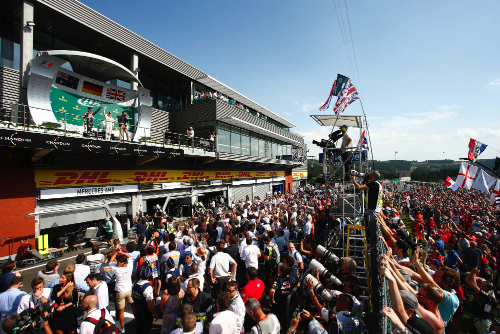 © Active Pictures
By Dan Knutson in Spa-Francorchamps
There were plenty of smashes at Spa during the Belgian Grand Prix, and lots of hard racing, but Nico Rosberg avoided it all as he cruised from pole to checkered flag to win his sixth race of the season.
"In the race, the start, of course, is always pressure," Rosberg said, "and then after that Daniel (Ricciardo) was quite quick in the beginning of the second stint. But in general, yes, I had everything under control because I just had an awesome car out there, and Lewis (Hamilton) wasn't there to battle it out, which made it a less-difficult weekend. But really pleased to get the win, of course."
Daniel Ricciardo finished a strong second in the Red Bull to visit the podium for the third successive race.
"We're definitely making inroads," he said when asked if Red Bull is closing in on Mercedes. "It's the second race that we've at least finished in front of one of them - obviously Lewis (Hamilton) started towards the back today but I think our pace wasn't too bad. I think the real start of the race eventually was after the red flag. I was second and Lewis was fifth. I think we held our own quite well. Nico (Rosberg) had a little bit more pace but I think generally we're making inroads, which is really positive."
Engine penalties put Hamilton 21st on the grid, yet he managed to climb to third.
"I really can't believe that we came up so far to be honest," he said. "I woke up this morning knowing how difficult it would be on these tires - lots of blistering. But you can never predict what's going to happen in the race.
"The great thing about motor racing is that, since I was eight years old, every Sunday has been different. Your car's positioned in a different way, your starts a bit different, something happens up front, in previous races there were no incidents, today there was.
"Today was really about trying to make sure you had the right approach: not too aggressive; not too easy. I think today, collectively as a team we had just the right balance. This is the best result I could have hoped for."
The 44 lap race started with Rosberg getting a clean getaway. Meanwhile, Sebastian Vettel carved down on Ferrari teammate Kimi Raikkonen going into the hairpin. Max Verstappen was on the inside of both Ferraris.
Verstappen's front wing was damaged and he had to pit for a new one, and both Ferrari drivers pitted for repairs as well.
"I was P2," Vettel said. "Nico was ahead but I was right behind on the outside leading the way into the first corner. Then I could hardly see Kimi because I was more than half a car length ahead when I turned in and to be honest he was already in the blind spot.
"It was a very bold move (by Verstappen) trying to recover those two places in one corner diving down the inside, that obviously was the reason why Kimi couldn't turn in and follow the lead that I was dictating as the leading car of that group.
"With hindsight it's easy, I turn in later or go wider and only those two are making contact and I get away with it. The problem is that you can't fit three cars in that corner and the inside one of these able to trigger trouble on the outside which Kimi and myself suffered from."
Verstappen said Vettel should have left more room.
"Definitely," he said. "I mean he knows that he's on the outside and suddenly he just turns into the corner where there are two other cars, so I think that's pretty logical."
Rosberg had run off into the lead, and he led an eclectic group of drivers and cars behind him: Nico Hulkenberg (Force India), Ricciardo, Felipe Massa (Williams), Romain Grosjean (Haas), Valtteri Bottas (Williams), Carlos Sainz (Toro Rosso), Sergio Perez (Force India), Jolyon Palmer (Renault) and Kevin Magnussen (Renault). Two of those drivers would soon be departing the race in dramatic fashion.
There was more drama and crashing as Pascal Wehrlein's Manor rammed into the back of Jenson Button's McLaren.
Verstappen, Raikkonen, Vettel, Button and Felipe Nasr all pitted for repairs at the end of lap 1. Button was unable to continue.
"I had a really good start," Button said. "I got ahead of a Williams, pulled in front of a Red Bull and drew alongside a Force India. But then I lost a lot of places at La Source and ran wide. I rejoined the track, but Pascal (Wehrlein) made contact with me at Turn 5, damaging the rear of my car."
Sainz exited the race on lap 2.
"How frustrating to have to retire from the race because of a puncture!" he said. "I did one of the best starts of my life and by the end of the first lap I had gained seven positions and was racing in P7. But I then went over some debris from other cars at the start of my second lap and the tire ended up exploding after Eau Rouge.
"It definitely wasn't the best moment of my life, especially after doing such a good start! It's frustrating to have to end the race like this, but I will keep fighting and forget today as quickly as possible."
On lap 3 Rosberg led over Hulkenberg, Ricciardo, Bottas, Grosjean, Perez, Palmer. Hamilton was already up to 12th.
On lap 6 Magnussen spun and slammed into the tire barriers at Eau Rouge. It was a heavy shunt, and that brought out the Safety Car as there was debris all over the track and the tire barrier was a mess. He was unhurt.
A number of drivers pitted, but Rosberg, Ricciardo and Bottas stayed out on track, as did Fernando Alonso (who had started last in his McLaren) and Hamilton. Bottas pitted a lap later as did Esteban Gutierrez in the Haas.
After the stops, the order behind the Safety Car on lap 8 was: Rosberg, Ricciardo, Hulkenberg, Alonso, Hamilton (who had been 27 seconds behind Rosberg prior to the Safety Car coming out), Massa, Perez, Daniil Kvyat (Toro Rosso), Palmer, Grosjean, Bottas, Gutierrez, Verstappen, Esteban Ocon (Manor), Nasr and Raikkonen (who had been allowed to un-lap himself.)
Magnussen, Ericsson, Sainz, Button and Wehrlein had retired.
The race was then red flagged so that the barriers could be repaired, and the drivers filed into the pits at the end of lap 9. It was restarted 17 minutes later.
The drivers had been allowed to change tires during the stop, so now they headed out for a lap behind the Safety Car, and the race was restarted just prior to the end of lap 10.
Rosberg and Ricciardo switched from the soft compound Pirellis to the medium and soft compound slicks respectively. And the mechanics replaced Ricciardo's front wing that had been damaged by debris.
Both drivers would stop just once again for medium tires, and their strategy worked perfectly as they went on to finish first and second.
Rosberg easily retained the lead, and the top six remained the same but not for long as Hamilton passed Alonso on lap 12 to take over fourth place.
Next there was another clash between Verstappen and Raikkonen who were running 14th and 15th.
Do I have to let him past?" Raikkonen radioed, "Because it's clear his only interest is pushing me off."
Raikkonen and Vettel both firmly believed that Verstappen was blocking unfairly.
"I had to back off and even brake on the run down to Turn 5, still on the straight," Raikkonen said. "I had made my move. When I have to brake not to hit somebody, as he moved afterwards, something is not correct.
"For whatever reasons, the stewards think it is okay. But if I had not braked we would have had a massive accident. I'm sure it will happen, sooner or later, of this doesn't change. It will be interesting to see when something will happen who is to blame. I'm fine with good racing and hard battles but in that situation it was not correct, in my view."
Verstappen's view, naturally, was that it was just hard racing.
The top 10 on Lap 15 were: Rosberg, Ricciardo, Hulkenberg, Hamilton, Alonso, Massa, Perez, Kvyat, Grosjean and Vettel.
Verstappen pitted at the end of lap 16 for a set of the soft compound Pirellis. Hamilton took third from Hulkenberg on lap 17 on the run up to Les Combes. But a couple of laps later Hamilton radioed that his car was starting to slide a lot, and he pitted at the end of lap 21 for a set of the soft tires.
Halfway through the 44 lap race, Rosberg was 6.3 seconds ahead of Ricciardo who led Hulkenberg by 12.5 seconds. Alonso, Perez and Vettel rounded out the top six as Massa headed for the pits. Hulkenberg, Alonso, Vettel and Bottas pitted a lap later.
Hulkenberg and Alonso, both on the mediums, exited the pits side by side and Hulkenberg stayed in front. Perez pitted a lap later as did Raikkonen, and now Hamilton was back in third.
Ricciardo pitted at the end of lap 25 while Verstappen and Vettel battled fiercely for eighth. They swapped places and Vettel eventually got by the Red Bull driver for good.
Rosberg made his stop one lap later and got a set of the mediums. Verstappen pitted for softs at the end of lap 27.
Hamilton, on the soft tires, attacked Ricciardo who was on the medium compound Pirellis.
"Make his (Hamilton's) life hard, it'll help us later in the race," Red Bull radioed to Ricciardo. Hamilton would have to pit again whereas Ricciardo would not.
On lap 30 the order was: Rosberg, Ricciardo, Hamilton, Hulkenberg, Perez, Alonso, Massa, Vettel, Bottas and Raikkonen.
Hamilton got a set of the mediums at the end of lap 32 and Hulkenberg moved back into third place, but not for long.
With 10 laps remaining, the order was: Rosberg, Ricciardo, Hamilton, Hulkenberg, Perez, Alonso, Vettel, Massa, Bottas and Raikkonen.
Gutierrez had been 11th, but Verstappen took the spot away from him.
Hamilton set the fastest lap of the race on lap 39, but he was still 13.6 seconds behind Ricciardo who was 13.2 seconds behind Rosberg.
By now Hulkenberg and Perez were solidly in fourth and fifth, and that's where they finished.
"There were some unusual circumstances, but we were there to take the opportunities and pick up some very important points," Hulkenberg said. "At the start of the race things worked out really well for me. The first lap was great; I was up in second place following Nico (Rosberg) and pulling away from the group of cars behind me.
"Unfortunately, the red flag proved costly because it neutralized things and bunched everybody back up again. The restart was clean and the rest of the race was quite controlled - just managing my pace and looking after the tires. There was a battle with Fernando (Alonso) coming out of the pit lane, but we managed to stay ahead and keep the fourth position. Maybe if things had worked out slightly differently, we could have been on the podium, but I'm satisfied with the fourth position."
Perez's perspective: "It was quite a tough race from the start. I chose a wide line going into turn one, but had to go far on the outside to avoid the first corner accident and that cost me a few positions. I dropped down to ninth and that compromised my race.
"I managed to make some good progress early on, but every time I switched to new tires I found myself having to put a lot of stress on them as I needed to attack Felipe (Massa) then Fernando (Alonso). I still managed to make my way through and bring home a good result for the team.
"Moving to fourth in the constructors' championship is a fantastic achievement for us, but we can't get carried away because there's still a very long way to go in the season. Hopefully we can keep our momentum going and keep scoring strongly."
Vettel wound up sixth
"I think we got some points today but not as much as we should have, that's a fair summary," he said.
Alonso, Massa, Bottas and Raikkonen contested the lower end of the top 10. Bottas passed Massa on lap 41. Then Raikkonen got by Massa.
Alonso was pleased with seventh.
"We started last, but we managed to keep away from all the incidents, gain some positions thanks to the Safety Car and then a couple more because of the red flag," Alonso said. "We then put on fresh tires and found ourselves in fourth place - and, better still, we had the pace to manage the situation afterwards."
Alonso fended off Bottas who finished eighth.
"It was a disappointing day and a shame that we wasted the opportunity that we had at the beginning of the race," Bottas said. "We were in a great position after the start and when the Safety Car came in we should have pitted immediately. We then lost many positions. We tried to get the most out the race that we could after that, and I'm happy that we could at least get some points in the end, but overall it was disappointing."
Raikkonen ended up ninth.
"We had a decent car all weekend and the end result doesn't show that," he said. "There's no point in start guessing because it's hard to say what could have been with a normal and clean race. This is what we could get today and it's obviously not very good. But with all the issues and incidents it's at least better than what we had after one lap."
Bottas' teammate Massa called it a very difficult race after ending up tenth.
"Trying to look after the tires until the end and checking the tire pressures while we were racing was tough," Massa stated. "It was difficult to stay out long enough on track. When the tires were there we were fighting for a great position but when the tires went off we just couldn't fight anymore."
Now it is on to the Italian Grand Prix at the famed Monza circuit.
"It's been great of course to get the win today on this special track," Rosberg said of Spa. "It's a legendary track, but Lewis starting from the back made it a lot easier this weekend and I'm sure he's going to be back in Monza and it's going to be a big battle as always."