Belgian GP 2015
AUGUST 24, 2015
Race Report - Blowout II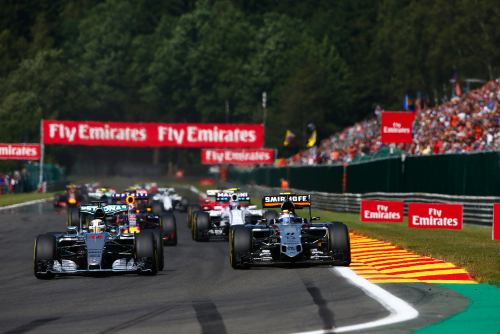 © Active Pictures
BY DAN KNUTSON IN SPA-FRANCORCHAMPS
The Belgian Grand Prix was a blowout. Lewis Hamilton blew away the opposition to easily win his sixth grand prix of the season in his Mercedes and the 39th of his career. And Sebastian Vettel had a spectacular tire blowout on his Ferrari to add some drama and controversy to the end of the race.
Hamilton comfortably qualified on the pole while his teammate Nico Rosberg lined up second. After an aborted start caused by Nico Hulkenberg stalling his Force India, the race was shortened from 44 to 43 laps and Hamilton took the lead and dominated the race.
Sergio Perez, who started fourth in his Force India, briefly got ahead of Hamilton on the long straight out of Eau Rouge, but Hamilton quickly regained control. The only lap Hamilton did not lead was 31 that belonged to Rosberg, during the second round of pit stops.
"Nico had obviously good pace but I was able to answer most of the time," Hamilton said, "so I was fairly relaxed at the front. The car was feeling great and it was really about looking after the tires, particularly at the end when I saw that one of the tires had blown on another cars I was being very cautious, so in the last two laps Nico was allowed to close the gap. I felt in control all the way and as I said a lot of good assistance from the team, so I felt like 100 percent all weekend."
The blown tire he was referring to was the right rear on Vettel's car. Ferrari, Vettel and Ferrari's Pirelli engineer decided to go with a one stop strategy. Meanwhile the other drivers opted for a two-stop strategy. Vettel started the race on the soft compound Pirellis and switched to the mediums as the end of lap 14. He was in third place when his right rear tire exploded with one lap to go.
He managed to make it back to the pits, whereupon he exploded to the BBC.
"Things like that are not allowed to happen full stop," he said. "If it happens 200 meters earlier I'm not standing here now I'm with 300 (km/h) stuck in Eau Rouge, so I don't know what else needs to happen.
"I tell you what is upsetting. One thing is the result, this racing and for sure we deserved to finish on the podium. It's the sort of theme that keeps going around and nobody is mentioning it, but it's unacceptable."
Vettel said the drivers were not being listened to.
"If Nico tells us that he didn't go off the track then he didn't go off the track," he said. "Same with me I didn't go out of the track, just out of the blue it explodes, and I as I said, if this happens earlier &%$@!"
Pirelli put out the following statement:
2015 Belgian Grand Prix Race
PIRELLI: OUR REQUEST OF TWO YEARS AGO TO FIX A MAXIMUM LIMIT TO THE NUMBER OF LAPS THAT CAN BE RUN WITH THE SAME TYRES WAS NOT LISTENED TO
Spa-Francorchamps, 23 August 2015 Regarding what happened today at the Belgian Grand Prix, Pirelli underlines that:
In November 2013, Pirelli requested that there should be rules to govern the maximum number of laps that can be driven on the same set of tires, among other parameters to do with correct tire usage. This request was not accepted. The proposal put forward a maximum distance equivalent to 50% of the grand prix distance for the prime tire and 30% for the option. These conditions, if applied today at Spa, would have limited the maximum number of laps on the medium compound to 22.
Meanwhile, back in the race, Rosberg recovered from a poor start that dropped him from second to fourth and finished second.
"The start was really bad so I need to practice that a bit more," he said, "and then after that I just benefited from the fact they weren't racing me, in front of me. They were just racing all the people behind, so they just pitted, I suppose, because I wasn't their opponent. They assumed I was too quick anyway rightly so and then, yeah, I had a clear path in front, chased down Lewis.
"I was always coming closer except for this one phase in the second stint, towards the end where Lewis pulled away. So that definitely cost me a bit. Then on the Option felt great again. I was qualifying lap every lap trying to hunt Lewis down but he did a great job and it wasn't enough."
Romain Grosjean qualified his Lotus fourth but started ninth because of a gearbox penalty. He worked his way up to fourth and was hounding Vettel for third in the closing stages of the race. He then went on to finish third and make his first visit to the podium since the 2013 United States Grand Prix.
"I was really closing the gap on Seb," he said. "It's very unfortunate he had that puncture and it was a bit of a scary moment just being behind. I think we got everything we could get today, starting from P4 on the grid I'm sure we would have had a much easier race but it was really good fun. All the overtaking into Turn Five, I was really taking it as hard as I could on brake. Probably one of my best races ever.
"I remember Austin, a long time ago, but I still remember I was a bit drunk at the press conference! A little bit too much champagne on the podium with Seb. It has been up and down here for me. Of course Spa 2012 (when he caused a huge accident at the start) with Lewis was a bit of a tough time but on the other side it's helped me because who I am today and being able to be on the podium with how we are during the weekend shows how strong our guys, and how strong we're capable of building a car and be there. It was a great race. I enjoyed every minute and if we can do it again, let's go."
Daniil Kvyat also had a good race in his Red Bull as he went from 12th to fourth.
"It was a very interesting race and really good fun today," he said. "I had a lot of overtaking opportunities and the car performed well. The strategy from the team to keep me out during the virtual safety car was good and we were able to have a strong last stint. The team did a good job and we scored some solid points. We should be happy with the performance today and hopefully we can continue this form over the next few races."
A fabulous fight for fifth raged between Perez, Felipe Massa (Williams), Kimi Raikkonen (Ferrari) and Max Verstappen (Toro Rosso), and they crossed the finish line in that order.
"Fifth place and ten points is a good result," Perez said, "but we just lacked the pace to really fight for the podium today. My start was very strong and I was close to taking the lead on lap one when I was alongside Lewis [Hamilton] after Eau Rouge. I settled into a good rhythm, but we had very high degradation on the soft tires in the first two stints.
"It was a bit better on the medium, although we struggled in the middle sector with our low downforce set-up and that hurt my pace. We were racing some quick cars and it was hard to fight off Grosjean and Kvyat, so it's clear we need to analyze our performance and see where we can improve. I'm already looking forward to the next race in Monza, which is another track where I think we can be competitive."
Massa was not happy.
"It was a frustrating day for me," he lamented. "I struggled at the start and then the soft tire in the first stint didn't operate as well as it should have done so I lost a few positions. At this point we were fighting from behind but the medium worked well. I couldn't overtake the Force India of Perez at the end as their straight-line pace was good. It has been a difficult day but to still finish sixth is the main positive we will take away from the weekend."
Raikkonen had started 14th.
"My start was pretty bad," he said. "I had a lot of wheel spin and then obviously the first corner was not ideal, but I was able to recover quite well. My car was handling pretty well through all the race, only towards the end I ran out of the front tires. Today we kept doing our best and tried to improve our position, but coming from so far back it was not easy.
"We keep trying and hopefully we have some more luck on our side in the future, we are doing the right things as a team but all the times something happens and we cannot get the result we expect. Now we go to Monza, our home race: it would be very nice to have a strong weekend there in front of all our fans."
Many Dutch fans had crossed the border to watch their driver Verstappen race.
"What an entertaining race," he said. "It was a great achievement to start from so far back (15th) and finish eighth in the end! My pace was very strong and I enjoyed the overtaking, so we can be very happy about today's race. The car felt great and we were able to keep up with Ferrari and Williams.
"I really enjoyed it and even if some of the overtakes were a bit risky, when you start from so far back you have to go for it if you want to move forward. It wasn't an easy start to the weekend, but we managed to do a great job in the end and I would like to thank the team for the big effort and my home crowd for the support, we can all be really happy with today's P8!"
Pastor Maldonado (Lotus) and Marcus Ericsson (Sauber) rounded out the top 10.
Now it is on to the Italian Grand Prix the home race for Ferrari and Pirelli. It will be interesting to see how they get along at Monza.