Belgian GP 2015
AUGUST 23, 2015
Race Notes - Hamilton wins Mercedes GP 1-2 at Belgium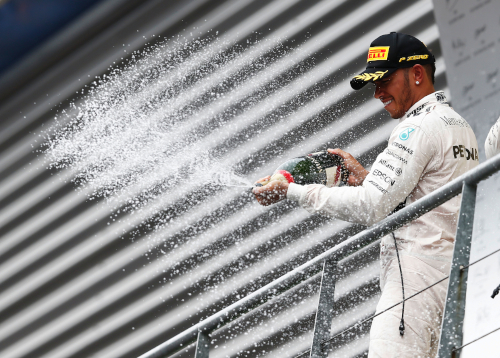 © Active Pictures
Lewis Hamilton won the Belgian Grand Prix at Spa Francorchamps today, ahead of his Mercedes team mate Nico Rosberg in second place by 2.0 seconds and Romain Grosjean in his Lotus-Mercedes in third place, 37.9 seconds behind the winner.
The win is Hamilton's sixth of the 2015 season, and his 39th career victory. Hamilton now leads the World Championship by 28 points over Rosberg in second place.
Grosjean's third place finish is his 10th career podium, and his first since the US Grand Prix in 2013. Sebastian Vettel was heading for a podium in the final laps when he fell back with a punctured tyre.
Daniil Kvyat (45.6s) in the Red Bull-Renault finished fourth, followed by Sergio Perez (53.9s) in the Force India-Mercedes in fifth, Felipe Massa (55.2s) in the Williams-Mercedes was sixth, Kimi Raikkonen (55.7s) in his Ferrari was seventh, Max Verstappen (56.0s) in the Toro Rosso-Renault was eighth, Valtteri Bottas (61.0s) in the second Williams was ninth and Marcus Ericsson (91.2s) in the Sauber-Ferrari was in the final points paying position was tenth.
Before the start, with good weather for the third day in a row, but slight worries if it will last through the race with a 30% chance of rain.
Most drivers are expecting a two stop strategy with the soft compound Pirelli type looking to be 1.5 seconds faster than the medium compound tyre. All top ten starter are on the soft tyres and expect pit stops to start after around 15 laps.
As the start time approaches the grid clears with Hamilton on pole with Rosberg on the outside of the front row. Bottas and Perez on row two, Dabiel Ricciardo and Massa on row three, Pastor Maldonado and Vettel on row four and Grosjean and Carlos Sainz rounding out the top ten on the grid.
On the formation lap Hulkenberg is having a power issue.
Nico Hulkenberg stalls on the grid and the start is aborted. The the drivers set off on a second formation lap and the race will be shortened to 43 laps. Sainz reports that he is now having a power issue as well, and returns to the pits.
On the grid the lights go off and the race starts with Hamilron leading from Perez. Ricciardo, Bottas and Rosberg.
At the top of the hill Perez taes a look for the lead, but Hamilton stays ahead.
At the chicane Rosberg passes Bottas for fourth. Vettel gets by Bottas as well. Up the hill for the second time Maldondo slows with an engine problem, and limps around to the pits.
On lap 4 Hamilton sets fast lap at 1m55.782s.
Jenson Button thinks he has some damage to his McLaren-Honda.
Raikkonen passes Ericsson for 11th.
At lap 5 Hamilton leads Perez by 3.7 seconds, followed by Ricciardo (4.5s), Rosberg (6.4s), Vettel (7.9s), Bottas (12.3s), Grosjean (12.7s), Kvyat (14.1s), Massa (15.6s) and Verstappen (16.3s) in tenth place.
On lap 6 Kvyat passes Massa on the outside of Les Combes.
On lap 8 Ricciardo pits to switch to medium tyres. Grosjean passes Bottas for sixth place. Kvyat now chases Bottas.
Rosberg presses Perez for second place, but Perez pits for another set of soft tyres, coming out behind Ricciardo.
Bottas and Alonso pit the next lap. Kvyat has a big lock up at the bus stop chicane but continues. Grosjean and Kvyat, Massa, Verstappen and Ericsson all pit the next lap.
On lap 10 Bottas had gotten ahead of Grosjean on the stop, but Grosjean now passes him into Les Combes.
It turns out that during the pit stop Williams put a medium tyre on the right rear of an otherwise soft set of tyres for Bottas and he will need to pit again.
On lap 11 Raikkonen pits from sixth place, switching to soft tyres.
The next lap Rosberg pits and gets out ahead of Perez. Grosjean sets fsat lap at 1m55.666 seconds.
On lap 13 Hamilton pits from the lead and switches to medium tyres, Vettel, yet to pit, takes over the lead.
On lap 15 Hamilton catches Vettel and passes him, as Vettel then pits. Bottas has been handed a drive-through penalty for having the incorrect tyres fitted to the Williams.
Rosberg sets fast lap at 1m54.264s.
At lap 15 Hamilton leads Rosberg by 3.4 seconds, followed by Perez (10.1s), Ricciardo (12.7s), Grosjean (15.3s), Vettel (17.6s), Kvyat (22.2s), Massa (23.3s), Bottas (23.7s) and Raikkonen (25.7s) in tenth place.
Bottas pits for his drive-though penalty, and falls back to 11th.
At lap 18 Nasr passes Alonso for 13th place. Grosjean passes Ricciardo for fourth.
On lap 19 Kvyat, Massa and Raikkonen run close for seventh place. While Grosjean is closing on Perez in third place, and then passes Perez at the top of the hill at Les Combes.
On lap 21 Perez pits from fourth place. Ricciardo has a mechanical problem and pulls off at the final chicane. The virtual safety car is deployed and the Red Bull is pushed away.
Grosjean, Massa, Raikkonen and Verstappen all pit for medium tyres.
Hamilton complains that "Nico is definitely closer since the VSC came out", as he follows now by 2.2 seconds. The track is cleared and racing has resumed.
McLaren notes that they see showers coming 100 km away, and think it might be arriving before the end of the race.
Hamilton continues to ask how Rosberg gained time on his during the VSC, and the team responds "we are investigating".
At lap 25 Hamilton leads Rosberg by 4.1 seconds, followed by Vettel (25.3s), Grosjean (29.4s), Kvyat (37.3s), Perez (39.9s), Massa (42.1s), Raikkonen (44.1s), Verstappen (46.0s) and Bottas (56.4s) in tenth place.
On lap 26 Perez is closing on Kvyat in fifth place, and then pits for the first time.
On lap 28 Kvyat on fresh soft tyres passes Bottas for ninth place. Fernando Alonso passes Ericsson for 11th place. Kvyat sets fast lap at 1m53.032s.
On lap 30 Hamilton pits for his second stop, and switches back to soft tyres - Rosberg takes over the lead.
The next lap Rosberg pits for soft compound tyres and Hamilton retakes the lead.
Nasr repasses Alonso, who is back to 13th place, as the temperatures have dropped and there are reports of showers 40 km away from the track.
Alonso pits. On lap 34 Verstappen pits as well. Rosberg sets fast lap at 1m52.416, and trails Hamilton by 5.0s. Sainz is told to retire his Toro Rosso on the next lap.
At lap 35 Hamilton leads Rosberg by 4.8 seconds, followed by Vettel (22.4s), Grosjean (24.6s), Perez (33.8s), Massa (34.5s), Raikkonen (36.3s), Kvyat (38.2s), Bottas (47.8s) and Verstappen (53.1s) in tenth place.
Grosjean continues to close on Vettel in third place, now 1.8 seconds behind - while Kvyat is closing on Raikkonen in seventh place.
On lap 36 Kvyat passes Raikkonen in the DRS zone, and closes on Massa in sixth. Grosjean closes on Vettel - 0.8 seconds behind.
On lap 40 Kvyat passes Massa at Les Combes for sixth place and now heads off after Perez.
On lap 41 Kvyat sets up Perez and passes the Force India for fifth place.
Grosjean continues to chase Vettel with only two laps remaining. Up the hill towards Les Combes Vettel's left rear tyre explodes, much like Rosberg's on Friday, and the German limps back around the track towards the pits. Grosjean takes over third place.
On the final lap Verstappen tries to make a pass of Raikkonen at Les Combes, but overshoots.
Hamilton takes the chequered flag over Rosberg, Grosjean, Kvyat, Perez, Massa and Raikkonen.