Belgian GP 2015
AUGUST 22, 2015
Practice 3 Report - Place your bets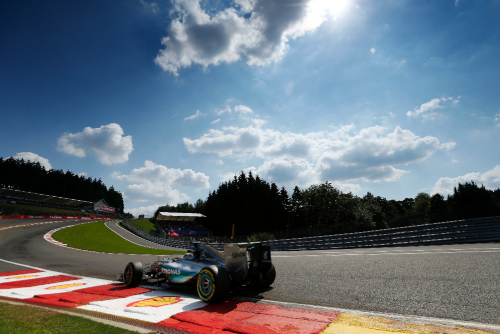 © Active Pictures
If you were to place bets on the outcome of qualifying using the Free Practice 3 results as your guide, then put your money on silver not red as the Silver Arrows of Lewis Hamilton and Nico Rosberg were quicker than the Ferraris of Sebastian Vettel and Kimi Raikkonen.
The ambient temperature at the start of the session was 70 degrees Fahrenheit (21 degrees Centigrade) and the track temperature was 82 degrees Fahrenheit (28 degrees Centigrade)
The line-up for the weekend was: Mercedes Lewis Hamilton and Nico Rosberg. Red Bull Renault Daniel Ricciardo and Daniil Kvyat. Williams Mercedes Felipe Massa and Valtteri Bottas. Ferrari Sebastian Vettel and Kimi Raikkonen. McLaren Honda Fernando Alonso and Jenson Button. Force India Mercedes Nico Hulkenberg and Sergio Perez. Toro Rosso Renault Max Verstappen and Carlos Sainz. Lotus Mercedes Romain Grosjean and Pastor Maldonado. Marussia Ferrari Will Stevens and Roberto Merhi. Sauber Marcus Ericsson and Felipe Nasr.
Hamilton had been second fastest behind his teammate Rosberg at the end of the day on Friday.
"Today was generally a good day - no problems with my car, great weather and a lot of fun out on track," he said at the end of FP2. "It's not often it stays dry here and that makes it even more enjoyable with the way the track flows through great corners like Eau Rouge. It was great to be back out there. The car felt good and it felt very natural to be straight back to business which is a positive sign.
"Nico (Rosberg) is very quick so I have some work to do tonight to see where I can find some time. Ferrari and Red Bull also look closer here than they have at past weekends, so it'll be a close run thing and we'll need to be up for the fight."
As for the blowout Rosberg had had on Friday, Pirelli put out the following statement:
After a full investigation which continued overnight into the issue which affected Nico Rosberg's Mercedes yesterday, these are the conclusions:
There are no signs of structural integrity issue of the tire, neither on other tires used by Mercedes nor on tires used on other vehicles.
Video footage shows a tire problem on Rosberg's car which is consistent with an external cut into the tire structure.
Quality data check on other tires has shown no anomalies.
Paul Hembery, Pirelli Motorsport Director: "We have conducted a thorough investigation to find out exactly what happened with Nico's tire. This investigation now excludes any structural integrity issues. Based on the information and data available an external source of damage is the conclusion made".
Vettel, Stevens and Grosjean were the first out in the 60 minute session on Saturday.
4 minutes into the session, Merhi had a quick spin at Turn 18 while Grosjean clocked a lap in 1:53.092.
6 minutes into the session, Verstappen beat that with a 1:51.963, and then Rosberg topped that with a 1:51.737.
9 minutes into the session, Ricciardo set a new mark with a 1:50.680.
15 minutes into the session, Hamilton beat that with a 1:50.635 as Raikkonen slid off the track and continued at Turn 13.
25 minutes into the session, the top 10 were: Hamilton, Ricciardo, Rosberg, Raikkonen, Hulkenberg, Vettel, Kvyat, Perez, Nasr and Verstappen. All had set their time on the medium compound tires.
The first to set a time on the softs was Ricciardo who clocked a 1:49.930, and then Verstappen turned a 1:50.599 on the soft compound.
With 29 minutes remaining in the session, Kvyat set a 1:49.980, just 0.050 slower than his teammate, on the soft tires.
With 27 minutes remaining in the session, Vettel used the medium tires to grab third place.
With 14 minutes remaining in the session, everybody was in the pits except the Red Bull teammates and Verstappen.
With 13 minutes remaining in the session, Rosberg headed out on the soft tires as did Hamilton.
With 9minutes remaining in the session, Rosberg set a 1:48.482. Then Hamilton crossed the line in a 1:48.984.
With 6 minutes remaining in the session, Vettel was now third and Raikkonen fourth and Perez fifth.
The top 10 at the end of FP3 were: Hamilton, Rosberg, Vettel, Raikkonen, Perez, Ricciardo, Kvyat, Hulkenberg, Bottas and Massa.