Belgian GP 2014
AUGUST 24, 2014
Race Notes - Ricciardo wins in Belgium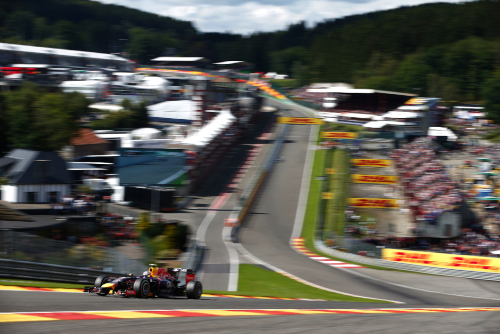 © Active Pictures
Daniel Ricciardo won the Belgian Grand Prix today in the Red Bull-Renault over Nico Rosberg in the Mercedes GP by 3.3 seconds in second place, followed by Valtteri Bottas in the Williams-Mercedes in third place.
It is the third win of the season for Ricciardo and Red Bull and his second consecutive win after his win in Hungary.
Lewis Hamilton retired after running near the back after his team mate Rosberg punctured his rear tyre while he was in the lead on the second lap. Bottas his fourth podium of this season.
Rosberg heard a smattering of boos on the podium after the race, and he now extends his championship lead to 29 points over Hamilton with seven races remaining.
Kimi Raikkonen (8.7s) in the Ferrari had his best finish of the season so far in fourth place, followed by Sebastian Vettel (15.3s) in the Red Bull in fifth, Kevin Magnussen (2.0s) in the McLaren-Mercedes was sixth, his team mate Jenson Button (0.3s) was seventh, Fernando Alonso (6.5s) in the Ferrari was eighth, Sergio Perez (3.1s) in the Force India-Mercedes was ninth and Daniil Kvyat (1.0s) in the Toro Rosso-Renault took the final point in tenth place.
After a wet qualifying session that saw Mercedes GP take the front row, the track is dry before the start - but as so often happens in Belgium, dark clouds are threatening.
Over two seconds behind on the grid Vettel and Alonso sit on the second row.
Three-time Le Mans winner Andre Lotterer qualified the Caterham in 21st, and will start his first F1 race today.
Pirelli have provided the yellow sidewalled soft tyre and the white sidewalled medium tyres. All drivers except Sutil start on soft compound tyres.
On the formation lap, Alonso car does not get going, and there are mechanics still on the grid as the Ferrari gets going - a possible penalty for the race.
The lights go out at the start and Rosberg gets a slow start and Hamilton takes the lead out of hairpin at La Source.
On lap 2 Rosberg makes a run on Hamilton on the outside of Les Combes - can not quite get alongside and ends up clipping rear tyre. Hamilton suffers a puncture and limps around the lap to the pits for a new set of tyres. and runs 19th. Part of Rosberg's front wing is broken off, but he continues.
On lap 3 Bottas sets fast lap at 1m56.094.
On lap 4 Ricciardo passes Alonso on the straight into Le Comes to take over third place.
Hamilton asks the team whether he has damage to his floor, as he sets fast lap at 1m55.346s.
At lap 5 Rosberg leads Ricciardo by 1.1 seconds, followed by Vettel (0.8s), Alonso (0.5s), Bottas (0.5s), Raikkonen (0.5s), Magnussen (2.1s), Button (2.8s), Perez (1.7s) and Felipe Massa (1.1s) in tenth place. Hamilton runs 19th - 16.2 seconds
On lap 6 Ricciardo passes his team mate Vettel for second place.
On lap 7 Ricciardo in within DRS range of the leader Rosberg. Bottas is chasing Alonso and passes the Ferrari up the hill to Les Combes for fourth place.
On lap Rosberg pits from the lead, switching to a set of medium tyres and a new front wing. Ricciardo leads.
On lap 10 Ricciardo sets fast lap at 1m55.236s. Massa and Perez both pit. Rosberg has some debris caught on an antenna on the front nose and it is dangling from the Mercedes.
On lap 11 Vettel pits along with Kvyat and Hulkenberg.
On lap 12 Ricciardo and Magnussen both pit, Ricciardo takes another set of soft tyres. Raikkonen sets fast lap at 1m54.333s. Bottas and Alonso both pit. Alonso serves a 5 second stop/go penalty for having team members on the grid less than 15 seconds before the start of the formation lap.
Bottas rejoins sixth, while Alonso rejoins 10th and then quickly passes Perez at the outside of Rivage to take ninth.
On lap 14 Button pits, and Ricciardo leads again over Raikkonen, yet to pit. Magnussen passes Vergne at the chicane for seventh place. Rosberg and Bottas are following closely behind Vettel, in third place.
At lap 15 Ricciardo leads Raikkonen by 3.5 seconds, followed by Vettel (3.0s), Rosberg (0.5s), Bottas (0.6s), Magnussen (6.0s), Alonso (1.9s), Perez (3.9s), Button (0.2s), and Kvyat (2.1s) in tenth place. Hamilton runs in 16th place.
On lap 15 Ricciardo sets fast lap at 1m54.226s. Rosberg is told that he needs to get past Vettel ahead of him.
On lap 17 Rosberg makes a run at Vettel at the Bus Stop chicane - locks up his brakes and then Bottas is able to get past the German to take fourth place.
Red Bull tells Vettel to respect the track limits at turn 15.
On lap 18 Hamilton pits for a second time and switches back to soft compound tyres.
Ricciardo continues to add to his lead, and is now 6.9 seconds ahead of Raikkonen.
On lap 18 Rosberg complains of vibrations on his front tyre and pits the next lap for another set of medium tyre and rejoins in 11th place.
On lap 19 Hamilton sets fast lap at 1m53.926s as he runs in 17th place.
At lap 20 Ricciardo leads Raikkonen by 7.7 seconds, followed by Vettel (3.9s), Bottas (0.7s), Magnussen (6.4s), Alonso (0.6s), Button (3.1s), Perez (6.4s), Rosberg (0,6s) and Kvyat (0.4s) in tenth place.
On lap 21 Raikkonen pits and switches to medium tyres. Rosberg passes Kvyat for ninth place. Alonso battles with Magnussen for fourth place.
On lap 22 Rosberg passes Perez and sets fast lap at 1m51.898s. Vettel pits and switches to medium tyres. He rejoins in eighth.
On lap 23 Rosberg passes Button for sixth place. Magnussen pits the next lap.
On lap 25 Raikkonen also passes Button for fifth place while Rosberg passes Alonso for third. Alonso then pits and switches to medium tyres. He rejoins in ninth place.
On lap 26 Vettel passes Button at the Bus Stop chicane for fifth place. Mercedes tells Rosberg, in third, that both Ricciardo and Bottas ahead of him will need to pit and that he now needs to push.
On lap 27 Magnussen passes Nico Hulkenberg for seventh place at the La Source hairpin.
On lap 28 Ricciardo pits from the lead switching to medium tyres, and rejoins in second place behind Bottas and ahead of Rosberg,
Hamilton, running in 16th tells the team, 'I don't know how I'm going to catch the guys in front - I have no downforce'Ï.
Grosjean pits for a third time. Bottas pits from the lead and switches to medium tyres and rejoins in fifth ahead of Button.
Ricciardo retakes the lead ahead of Rosberg.
On lap 29 Button and Vergne both pit. Button switching to medium tyres. Bottas is pushing Vettel hard for fourth place.
At lap 30 Ricciardo leads Rosberg by 3.3 seconds, followed by Raikkonen (12.6s), Vettel (2.8s), Bottas (0.3s), Magnussen (7.0s), Alonso (3.3s), Perez (7.0s), Button (1.6s) and Hulkenberg (0.5s) in tenth place. Hamilton runs in 15th place.
On lap 31 Bottas passes Vettel for fourth place into the Les Combes corner.
On lap 32 Hamilton pits again and switches to medium tyres.
Red Bull asks Vettel if his tyres will last to the finish, and Vettel says his tyres are not very good at this point.
On lap 34 Grosjean pits and retires his Lotus. Rosberg pits from second place switching to soft tyres. Vettel pits as well from fifth place. Rosberg rejoins between Raikkonen and Bottas. Bottas attacks Rosberg and passes Rosberg at Les Combes. Rosberg comes back and retakes the position, passing Bottas at Blanchimont.
Massa pits from 12th.
The next lap Rosberg catches Raikkonen and passes him out of Eau Rouge.
Rosberg sets fast lap at 1m50.511 (three seconds faster than leader Ricciardo). Rosberg now runs in second place, 19.6 seconds behind the leader. Mercedes tells Rosberg that they think he can catch Ricciardo at the end.
On lap 38 Alonso chases Magnussen for fourth place.
Ricciardo is running laps in the 1m53's while Rosberg runs 1m51's.
Bottas in looking for a way past Raikkonen in third.
On lap 39 Hamilton pits from 16th and retires to save his engine.
On lap 40 Bottas passes Raikkonen up to hill to Les Combes to take third place.
At lap 40 Ricciardo leads Rosberg by 10.8 seconds, followed by Bottas (15.5s), Raikkonen (2.1s), Magnussen (11.8s), Alonso (1.1s), Button (1.1s), Vettel (1.2s), Perez (12.5s) and Kvyat (0.6s) in tenth place.
On lap 41 Ricciardo's lead is down to 8.4 seconds as Rosberg continues to fly. Bianchi retires his Marussia.
On lap 42 Alonso makes a move on Magnussen into Le Combes, Button pounces and passes Alonso. Alonso repasses Button and then Vettel passes Button.
The next lap Alonso tries to get past Magnussen again and gets pushed wide - Vettel getting ahead of Alonso,
On the final lap, at the hairpin Alonso, chasing Vettel, touches the German and breaks his front wing. Vettel gets by Magnussen for fifth on the run down the hill. Alonso runs wide with a lack of downforce at Eau Rouge - Button takes seventh.
Ricciardo crosses the line and takes the win over Rosberg and Bottas.