Belgian GP 2014
AUGUST 23, 2014
Practice 3 Report - Bottas Best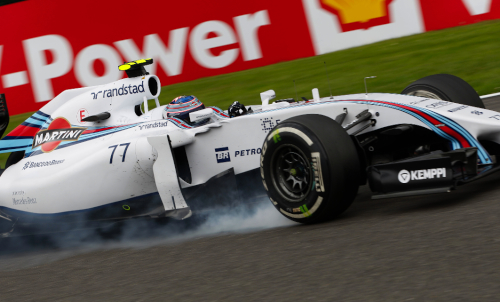 © Active Pictures
Valtteri Bottas set the fastest time in Free Practice 3 for the Belgian Grand Prix after clocking a 1:49.465 on a drying track in his Williams. Daniel Ricciardo posted the second fastest time - 1:49.733 - in his Red Bull. The works Mercedes of Nico Rosberg and Lewis Hamilton wound up third and fifth.
The ambient temperature at the start of the session was 54 degrees Fahrenheit (12 degrees Centigrade) and the track temperature was 61 degrees Fahrenheit (16 degrees Centigrade.) There was a 40 percent chance of rain.
Jules Bianchi (Marussia) and Valtteri Bottas (Williams) were the first out on the track that was still damp from overnight rain showers. Pirellis intermediate rain tires were required.
The forecast for race day was sunny and dry, so some of the things the teams and drivers learned on a damp track would not translate into Sunday.
One driver anxious to get in some laps was Sebastian Vettel who had missed most of Fridays practice because of engine problems on his Red Bull Renault.
Three-time Le Mans winner Andre Lotterer, who was making his F1 debut with Caterham, set the first lap time of the session - 2:07.528. Bianchi beat that with a 2:01.823.
17 minutes into the session, Max Chilton (Marussia) was the only driver on the track. He turned a time of 2:05.120 and then pitted.
A tire stalemate now set in. The track was too wet for slick tires. It was too try for extreme wet tires. And the drivers did not want to chew up their intermediate tires because they wanted to save them in case they would be needed for qualifying and the race.
30 minutes into the session, Esteban Gutierrez headed out with Pirellis medium compound slick tires fitted to his Sauber. Only Bianchi, Chilton and Lotterer had set lap times at this stage.
Gutierrez clocked a 2:00.242 on his first lap. The racing line was mostly dry but there were still damp patches on the track. His next lap was a 1:56.151.
This perked up the interest of the other teams and they started to send out their drivers on slicks.
With 20 minutes remaining in the session, only five drivers remained in the pits.
With 19 minutes remaining in the session, only McLaren teammates Jenson Button and Kevin Magnussen were not on track.
Daniil Kvyat lowered the bar to 1:53.519 in his Toro Rosso. Bottas beat that with a 1:51.583. Kimi Raikkonen (Ferrari) was second with a time of 1:52.253.
With 14 minutes remaining in the session, Mercedes driver Nico Rosberg took over second with a lap of 1:51.729.
With 13 minutes remaining in the session, Fernando Alonso put his Ferrari in the top slot with a time of 1:51.218.
The track continued to dry as Rosberg posted a 1:50.023.With 9 minutes remaining in the session, his teammate Lewis Hamilton beat that by 0.001 of a second.
The top 10 were now: Hamilton, Rosberg, Alonso, Bottas, Daniel Ricciardo (Red Bull), Raikkonen, Vettel, Magnussen, Button and Kvyat.
And now the drivers began their laps on the soft compound Pirelli slicks with the yellow sidewalls. Raikkonen turned a 1:49.817 to go to the top of the list. Felipe Massa moved his Williams into fourth.
With 4 minutes remaining in the session, only Ricciardo and Kvyat were in the pits.
With 3 minutes remaining in the session, all the drivers were out there. Hamilton turned a 1:49.817, which equaled Raikkonens time. Bottas then sliced in a 1:49.465 while Rosberg clocked a 1:49.739 for second place behind Bottas.
In the final seconds Ricciardo moved into second with a 1:49.733.
The top 10 at the end of FP3 were: Bottas, Ricciardo, Rosberg, Raikkonen, Hamilton, Alonso, Kvyat, Button, Massa and Jean-Eric Vergne (Toro Rosso.)