Belgian GP 2011
AUGUST 27, 2011
Saturday Team Quotes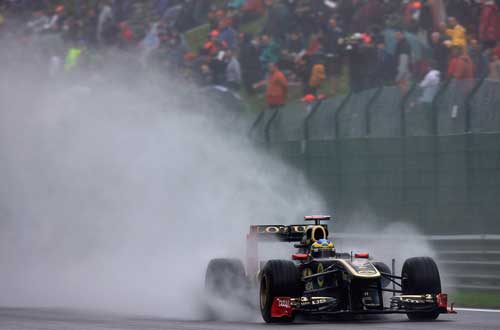 © The Cahier Archive
Red Bull-Renault
Sebastian Vettel (1st, 1:48.298): "It was difficult in Q1 and Q2, although at the end of Q3 the circuit was drying very quickly. I didn't feel comfortable at the beginning of qualifying, but for Q2 I think we made a big step forward and I rediscovered Spa in a way! In the last session, I used the first two laps of Q3 to get temperature into the tyres and then for the last two I tried to push as hard as I could. I think tomorrow it will be one of those races where anything can happen. I think the best way to get a forecast here is to look up into the sky and see what's happening. It's likely to be dry tomorrow and the balance felt good at the end of Q3 when it was dry. It's a long race tomorrow, but I'm looking forward to it."
Mark Webber (3rd, 1:49.376): "It was a close session today; I think I went a bit too hard on the slicks initially in Q3. I felt comfortable, and you never know if the lap you're on is the one before the weather changes. There were sprinklings of rain here and there and as soon as we finished Q3 it began to rain again, so I probably could have built up a bit slower and had a better run into the third and fourth lap. But, that's how it goes and we have had a smooth weekend. It's very easy in these conditions to end up out of position and we're in position, it would have been nicer to have been a slightly higher up, but the guys in front did a good job and we're in the hunt tomorrow."
Christian Horner, Sporting Director: "A great team result to get pole and third, after a really exciting and difficult qualifying in very changeable Belgian conditions. It was almost like playing roulette with the weather at different stages and it was crucial to be on the track at the right time on the right tyre. We made the right calls as a team today and the drivers built through each session, getting onto slicks in the last session when ultimately it came down to the last lap. It was a phenomenal lap from Sebastian for pole and Mark was right there as well, having been very quick throughout the weekend so far. It's great to be starting in first and third for tomorrow's race, hopefully the conditions will be a bit better than they were today."
Cyril Dumont, Renault: "It was a tricky session today, as we had had a lot of rain for the three practice sessions, so it was difficult to know where we were in terms of pace. I think we did a really wonderful job to be back at the top of qualifying after the summer break. We had the pace today to have both cars on the front row, but unfortunately Mark had some traffic in Q3, which was a shame."
McLaren-Mercedes
Lewis Hamilton (2nd, 1:48.730): "It was an incredibly eventful hour: it's hard work trying to determine exactly what's happening with the weather and what tyres are needed, then finding the gap and getting a good lap under your belt. One of the biggest worries is that the track is drying all the time, so you're always pushing to find the grip; but you also have to be mindful that you can come around on the next lap to find that it's raining again, which can catch you out. That's why it's such an amazing and unpredictable venue. At the end of Q2, I came across the two Williams cars going quite slowly. I was able to get past Pastor [Maldonado] at the final corner, but I lost a little time in so doing. At the exit of Turn One, once we'd taken the chequered flag, we made contact; but fortunately I got back to the pits and the guys were able to change the front wing and patch up my sidepod. As ever, they did a great job to get me out again for Q3 The fortunate thing is that we were therefore able to complete the final session. Most importantly, too, we're in a great position to fight for the race win tomorrow."
Jenson Button (13th, 2:05.150): "Failing to get into Q3 was a misunderstanding between the team and me. I'd just done a fast lap, and was cooling the tyres, not knowing that there wasn't any more time left in the session. If I'd known, obviously I wouldn't have slowed down on my final lap. Obviously, with the track getting drier with every lap, it was vital to be going quickly until the end of the session. I think I was second- or third-quickest when I did my lap; it's just a pity I that didn't get a chance to put in another lap. It's very disappointing. Obviously, in Q1, I was a second quicker than everyone. Our car is clearly one of the quickest around here, and it's going to be tough starting back in 13th. But I've just got to deal with it now. I think I'll just have a cup of tea and move on from it."
Martin Whitmarsh, Team Principal: "Lewis drove a great lap in Q3 this afternoon and will start from the front row of the grid for tomorrow's race as a result. On his last lap in Q2, he caught and passed Pastor; it was a move that he had to make, because he was driving flat-out on a hot lap towards the chequered flag when he came upon a slower car [ie, Maldonado's]. Then, after the chequered flag, on the slowing-down lap, their cars touched. Damage was caused to Lewis's car, but fortunately it was light damage that our mechanics were able to rectify in time for him to compete for pole position in Q3. In the end he missed out on pole and ended up in P2, but clearly that's a very good position from which to start tomorrow's race. By contrast, Jenson had a disappointing afternoon. On a drying track, which was getting quicker all the time, he backed off on what would have been his final lap in Q2. We'll investigate exactly why that happened, but with hindsight perhaps we should have instructed him to keep pushing because the fact that he backed off showed that he wasn't aware that he was on his last available flying lap. Consequently, when he backed off, other drivers who had kept pushing were able to improve their times on the grippier track surface that the drying track provided, and as a result Jenson was bumped down to P13. I'd classify it as a misunderstanding, and Jenson does too. But we all know what a gritty competitor he is - and, undoubtedly, he can score points from P13. Race day at Spa-Francorchamps is always notoriously unpredictable, and Jenson's ability to plan and pace a race in tricky and changeable conditions may well yet pay dividends this weekend."
Ferrari
Felipe Massa (4th, 1:50.256): "At the start of the session, when the rain came down, if I had been offered a fourth place, I would have signed for it on the spot. My result isn't bad, even if the cars ahead of me have shown a much quicker pace. However, it's true that conditions in Q3 were the worst possible for us: we could not get the best grip level right from the start, because we struggled a lot to get the tyres up to temperature. I think that tomorrow, if we have a dry track, we could be more competitive and I hope to be fighting with the drivers who are ahead of me today. It's difficult to make predictions, because we don't have much data on tyre degradation, but I think we will see two or three stops. Starting from the dirty side of the track again? True, but it's not as much of a disadvantage here as it was in Budapest and so I think I can have a normal start."
Fernando Alonso (8th, 1:51.251): "Eighth is definitely not a good result, but we have to accept it and try to make up for this bad qualifying in tomorrow's race. I am confident because I know the car's true potential is definitely better than this position. We did a good job of managing Q1 and Q2, even if the red flag in the second part put us under a bit of pressure because there were only seven minutes left and at that time I was not through to Q3. In the dry I don't think I could have fought for pole position, but I could have been at least on the front two rows. Unfortunately, I hardly ever managed to get a clean lap because on both my second and third laps I found Perez ahead of me and on the last one I had to slow at the entrance to the chicane to let Webber pass, otherwise I might have been penalised. That's how it was, but definitely there is a sense of regret, as I could have got a better place. No one is really sure what the relative strengths are down the field: all weekend long we have seen very big gaps of seconds not tenths, depending on when the cars were out on track and also, we don't have an idea about tyre degradation. We will see what happens: I am voting for a dry race and we will do all we can to get on the podium."
Stefano Domenicali, Team Principal: "We are definitely disappointed with a result that does not match our expectations. We managed to get through the first two sessions in the wet in one piece but then, onc we switched to the dry tyres, the chronic problem that has characterised our season was clear to see, even more so here than elsewhere, namely the difficult in getting the tyres to work well in low temperatures and on a damp track. On top of that, there was traffic to contend with, which created further problems for Fernando, who was definitely penalised by it. Tomorrow's race should take place in the dry and I think that for everyone, this will be a little bit of a step into the unknown, because it has not been possible to gather much data on the tyre degradation. We will try to reaffirm the positive aspects of our season, which means the characteristic of having a better pace in the race than in qualifying. I am convinced that we are still in with a good chance of bringing home a good result."
Pat Fry: "We are disappointed both with the places from which our drivers will line up on the grid and with the gap to the quickest. It's true that in Q3 we encountered the conditions least suited to us: a damp but drying track, with rather low temperatures. We have already seen this before: in similar situations we lose a lot compared to the other top teams, because we cannot get the tyres up to temperature. It is our car's Achilles Heel and we still haven't fixed it and today it caused us even more of a problem than we could have expected. We should not use it as an excuse, but as a further impetus to solve the problem. The team worked very well during the session, especially in the first part, when it was important to manage operations and the strategy as well as possible with track conditions changing all the time. Tomorrow's race should be very interesting: no one can say for certain how the tyres will work in the dry, especially in terms of degradation and tomorrow no rain is forecast for the early afternoon. On Sunday, we will try and make up the ground we have lost on Saturday."
Mercedes GP
Nico Rosberg (5th, 1:50.552): "It was a typical Spa day today, and a difficult situation out there with the conditions changing all the time. Wet, intermediates and dry tyres; we had everything today but we made the most out of it. Two cars from the top three teams are starting behind me which is nice to see. The team really got it right with the strategy, and everything that we did worked out well today. I'm confident for a good result tomorrow as we set the car up with the race conditions in mind, and the car has also been working well in all conditions."
Michael Schumacher (24th, No Time): "Well, obviously I would have wished for a different end to today's qualifying, but it is difficult to drive on three wheels - even if I should have the experience to do so in Spa. Seriously, this is certainly something that should not occur, but then this is also Formula One; we are working at the highest level but still things can happen. At first, I wasn't sure what had happened, as I just felt myself lose the back end suddenly which is why I instantly apologised to the team. But then I saw the wheel off the car and understood the reason why I had lost control. Trying to find the good in the bad, I'd probably say that I still have some fresh sets of tyres left, and that there is only one direction to go tomorrow: forward."
Ross Brawn, Team Principal: "Nico had a very good qualifying session this afternoon. He drove intelligently, pushed when he had to, and the guys on the pit wall called the weather just right. I was really pleased with how things went for him today. Naturally, I am on the other hand disappointed for Michael, because the conditions would have suited him perfectly. We need to look at exactly what happened, but it would appear there was something amiss with the right rear wheel attachment, and we need to go through it carefully tonight to ensure there can be no repeat. Both cars were running a dry set-up, so we did not compromise anything for today's conditions and we are hoping it will stay dry for tomorrow. Time will tell if that is the right call."
Norbert Haug, Mercedes Motorsport Director: "Nico and the team delivered a good performance this afternoon. Thanks to the right timing and an excellent lap, we got the most out of the conditions with his fifth place - and Nico also qualified ahead of two of the current Championship contenders. It was a real shame for Michael that he lost his right rear wheel on the very first lap out of the pits. Our apologies go to him, and we need to investigate exactly what happened. Along with all the spectators, we and Michael are looking forward tomorrow to what we hope will be an attacking drive from the back of the grid in his anniversary race. Spa always has something special in store for Michael - just as Michael does for Spa."
Renault
Bruno Senna (7th, 1:51.121): "I am really quite satisfied with my qualifying and I don't think my first weekend racing for Lotus Renault GP could have started much better; I wasn't expecting to be in the top ten when I set out this afternoon. I was a little nervous going out in Q3 using dry tyres on a damp track, because I hadn't managed much running on them this morning or yesterday. Bearing this in mind, I feel absolutely delighted with P7. Leading up to qualifying, I'd been working on getting a good performance in the wet, and I knew that if qualifying was fully wet I would be in a strong position, so to perform well on dry tyres is a fantastic feeling. Looking ahead to the race, I'll take everything step by step. The car was very good to me in qualifying so I hope this is something that repeats itself tomorrow. This circuit has been kind to me in the past and I hope that continues; the weekend is just getting better and better for me!"
Vitaly Petrov (10th, 1:52.303): "It's a good feeling to qualify in the top ten again, even though I would like to have finished higher than P10. I will need to sit down with the engineers to discover what happened in Q3 when I spun, but the conditions throughout qualifying were very, very difficult. It was challenging for the team to know which tyres to select because the weather changed more than once in the hour-long session and this really tested us. As a whole, the weekend has been interesting because we've seen several different tyre compounds used, but the most important thing is we came out with both cars in the top ten. It's good to see the team members with smiles on their faces once again!"
James Allison, Technical Director: "I'm especially delighted with Bruno's debut qualifying for us. I'm delighted to have both our drivers in the top ten for tomorrow's race, and I'm especially delighted with Bruno's debut qualifying for us in what really were quite difficult conditions. When the lap times are changing that fast and you are not completely sure what level of grip you're going to get at any given corner, then those are obviously very hard conditions. This is especially the case when you've not had time to use the car before the weekend, and when you're at one of the most challenging circuits on the calendar. I'm very pleased for both Bruno and Vitaly, and after a run of uninspiring races I'm hoping that our top ten qualifying positions translate to strong races for both drivers tomorrow."
Williams-Cosworth
Rubens Barrichello (14th, 2:07.349): "Today was one of those qualifying session that I enjoy very much. We have a new package for this race but the car is still not as fast as we would wish. Unfortunately I had traffic all the way through which is a shame as if it wasn't for that, I'm really sure we could have gone into Q3."
Pastor Maldonado (16th, 2:08.106): "It was a difficult qualifying because of the changing conditions and I had some problems with the balance because of that, especially during Q1. I was expecting a bit more in Q2 and thought we'd make it through to Q3 but I had traffic in my final lap which cost me a quicker time. This race is a long one and I think our pace is better here so we will see. About what happened with Lewis. He slowed down a lot at the end of the session, so I tried to go past him. I then felt contact at the back of my car. I don't really know what happened. It was a difficult moment."
Sam Michael, Technical Director: "Both drivers made it easily through Q1. We were looking good for getting through to the top ten in Q2, but the red flag compromised our programme completely. With so much traffic at the re-start, we didn't get a clear lap after that. It was the same conditions for everyone through and we will concentrate on the race now."
Force India-Mercedes
Adrian Sutil (15th, 2:07.777): "What happened today is such a shame because the car has felt so good during practice. Q1 was quite straightforward for me, but in Q2 I made a little mistake on the exit of Eau Rouge. I ran a bit wide, touched the kerb and the rear of the car went away from me and sent me into the barrier. It was not a very big impact, but it damaged the front and left side of my car. I think without this we could have qualified in a very strong position. Tomorrow we expect the conditions to be drier and we know that anything can happen in the race - especially at Spa. So I will try not to be too disappointed today and concentrate on doing a good job tomorrow."
Paul di Resta (18th, 2:07.758): "Starting P18 is not what I had in mind for my first Belgian Grand Prix. We chose to go out at the start of Q1 and sat out the middle part so that we could make the most of the track conditions at the end of the session. Unfortunately it started raining again and I got caught out at the chicane and spun on what would have been my quickest lap. On the next lap the team called me in thinking the track was wet and that we were safe, but when I got back to the pits they told me that Kovalainen had gone quicker, which knocked me out of qualifying. It's really frustrating because there was a lot more to come and we could have been much further up the grid. Fortunately Spa is a track where you can overtake so we have plenty of work to do tomorrow to try and move through the pack."
Dr. Vijay Mallya, Team Principal: "Today's qualifying session was extremely disappointing. We came here full of optimism and our performance during practice gave us every reason to believe we were in a position to get both cars in the top ten. But the classic Spa weather can always make these sessions unpredictable and today we have been caught out. Paul made a small mistake at the chicane on his penultimate lap in Q1 when the rain returned and we called him in on the next lap because the rain was getting heavier. It looked as though he would still squeeze through to Q2, but he got knocked out in the final moments. As for Adrian, he made a mistake through Eau Rouge in Q2 and damaged his car. It's not the session we hoped for, but we will come back tomorrow and fight hard to move forward and score some points."
Sauber-Ferrari
Sergio Perez (9th, 1:51.374): "I'm happy. It was a very difficult but good qualifying for the team. We have put ourselves in a good position to score points tomorrow. In Q3, when I was on dry tyres for the first time in today's qualifying and obviously using the soft compound, the track was drying quickly with the conditions improving every single lap. In Q1 and Q2 especially it wasn't easy with the car being set up for the dry conditions that are expected tomorrow. I'm glad it all worked out today. I was in Q3 for the third time and I'm looking forward to seeing what I can do from what is my best grid position so far in Formula One."
Kamui Kobayashi (12th, 2:04.757): "Of course it is a shame I missed Q3 by a small margin, but overall it was a good qualifying performance from us today. Because of our timing at the end of Q2, when we were running intermediate tyres on the drying track, I took the chequered flag a little bit earlier than the others. This meant with the rapidly improving track conditions my time then just wasn't good enough for Q3, but, given the fact we were running a dry set-up with very little rear wing, it went really well today. The forecast predicts dry conditions for tomorrow, and I hope that is correct because in Spa you can never be sure about it."
Peter Sauber, Team Principal: "I'm happy and satisfied. Because of the weather forecast for Sunday we have been putting our money on dry race conditions, and we knew this would make it very difficult for us to attack in a wet qualifying. The result is good and also better than expected."
James Key, Technical Director: "Again it was a very unpredictable day with the weather conditions. This morning was pretty tricky and we struggled a bit in the wet conditions, but then we did a bit of work on the car before qualifying. The qualifying conditions were slightly better, and so we got a little bit more out of the car as the track improved. It was a good call by Sergio to get the car into Q3, and the approach was to try and get him out as quickly as possible at the end of Q2. With Kamui we took the opposite approach and stayed in the garage longer, but he was still very close to Q3. I think today was just a matter of who was the last man on the track in the best conditions. We can't complain about P9 as we took a bit of a gamble with our car's set up for qualifying. Tomorrow is the important bit and that is what we have to look at now."
Toro Rosso-Ferrari
Jaime Alguersuari (6th, 1:50.773): "This was my best ever performance and the best for the team this year. I think I have to be very happy with this and also because my team-mate came very close to Q3, which shows we have done a good job, not just on the car but in the way we managed the session, being the first out of the pits to get a clear track. The weather helped, because the car worked very well on the intermediates and the extreme wets, but we have also been quick in dry conditions. We knew we had a better car here than in Hungary and we have learned a lot about it so far this weekend. Certainly the DRS is now working better than ever before. Hopefully tomorrow I can do a good job again and score some more points and I believe we have a good chance of doing that, if we stay calm, because our car has a good pace. The start from the third row will be very important and maybe tricky and I hope it stays dry."
Sebastien Buemi (11th, 2:04.692): "It was not easy this afternoon, because the track dried very quickly after the rain actually stopped falling. Therefore you had to get a good lap at just the right time. I managed to do that right up until the end, when I made a small mistake. I am a bit angry with myself for that, but eleventh is still a good place to start the race tomorrow. I think we have opted for a good compromise in terms of car settings for the race. In any case, the team seems to have made a lot of progress in performance terms so I hope this translates into a good race, because it's tomorrow that the points are given out."
Giorgio Ascanelli, Technical Director: "This is Jaime's best ever qualifying. Our good result with both cars is down to the work we have done so far this weekend, although we have to accept that both Force Indias and Schumacher might have been expected to be ahead of us. However, it is also true to say our drivers did not make any major mistakes so the result is well deserved. I am sorry for Sebastien whose only error up until now came on the lap that mattered in Q2: otherwise he could have been tenth and been able to fight in Q3. The clearest indication that our car has improved, through various updates we have introduced here, is the fact we have been slightly better than Sauber in both the dry and the wet. For the first time this season, we have seen progress with our DRS and that is down to the work of the aero team on developing this aspect of the car. As for the race, we are experimenting with two very different trims on the cars. It could be a confusing race and we must try and avoid making mistakes to capitalise on our good grid positions. I want to express my sympathy for Michael, a friend and a legend, because he will have a tough time celebrating his twentieth anniversary tomorrow. Secondly, well done to Bruno Senna: seeing a yellow helmet in a black and gold car at Spa is..."
Lotus-Renault
Heikki Kovalainen (17th, 2:08.354): "I think we can be very pleased with the performance today. That last lap in Q1 was as much as I could get out of the car and to get back into Q2 is obviously a great result for the whole team. We had the right plan for the conditions, put it into action on track and it paid off. I don't think I could have got any more out of the package today, so finishing where we did goes down as objective achieved for today. It looks like it'll be a dry race tomorrow, and I think the key for us is to make sure both cars finish. If we can do that, be there to take advantage of anything that happens, and leave Spa having got into Q2 and had a solid race, this will go down as a good weekend for us."
Jarno Trulli (19th, 2:08.773): "Another good day for the team and congratulations for Heikki for getting back into Q2. For me it was looking pretty good until traffic pretty much ruined my second run, but the car felt good as the track was drying up and we were definitely on the right strategy for the conditions so it's a shame we couldn't make the most of it, but when everyone's out like that trying to get times in you're always going to have some issues with traffic, and it's unlucky it hit my last run in Q1 today."
Riad Asmat, Chief Executive Officer: "I am delighted with today's performance from right across the whole team. We had worked this morning on turning the cars around quickly in the garage to take advantage of whatever the weather threw at us in qualifying and it paid dividends with a good use of strategy, some great driving and very solid teamwork to put Heikki into Q2. Jarno was on course to join him as well but suffered from traffic, so with the good reliability we have had all weekend, a very good performance today, now we want to put together the perfect weekend for us and have a clean, problem free Sunday."
Mike Gascoyne, Technical Director: "That was an exciting qualifying session for us! Obviously it was great for Heikki to get into Q2 and it was particularly impressive as he was held up in the last corner in Q1 so had more time to come from that lap. I think Jarno would have got into Q2 as well but he was held up on his last run but despite that we can be very satisfied with the effort of the whole team and now we are looking forward to a strong race tomorrow."
Thierry Salvi, Renault: "From our perspective that goes down as a good day. Heikki drove very well in the conditions and to put his car into the second qualifying session was a good result for the whole team. It is a shame Jarno had traffic on his last run as he had a chance of getting into Q2 as well, but I think we achieved what we wanted to in both sessions so that is very satisfying."
HRT-Cosworth
Vitantonio Liuzzi (22nd, 2:11.616): "It was a very intense qualifying session. With every lap that passed, the track conditions changed, with some areas still damp from the rain and others dry. We were improving lap by lap but on my last lap I lost around eight tenths because I came up behind a slower car. I think we could have even caught Glock. In the end this was not to be, but we were still close to Virgin. We've got a lot of work ahead this evening. Looking ahead to tomorrow, we need to focus on our pace if we are to beat Virgin in the race. I'm sure it will be a very interesting race and, if the conditions are the same, just as crazy as in Canada."
Daniel Ricciardo (23rd, 2:13.077): "As we expected, today has been a little tricky with the changing conditions, especially during qualifying. The track was pretty damp at the beginning but started to dry with a few minutes to go. There was one lap where you could make the most of it, but I missed it. We also had a bit of a mechanical problem that didn't help. It was a combination of things. Small mistakes cost quite a lot of time in these sorts of condition. I've been slowly improving but not enough and there are a few areas that I need to work on. But I'm confident for tomorrow. Races are always special and I'll do my best, as always. It is important to make a good start and see where we can go from there."
Colin Kolles, Team Principal: "The team did an incredible job this morning as we changed another allocated engine shortly before the third session on Ricciardo's car. Thanks to all for a great job that enabled us to have a good day despite the very wet track this morning. We know that Spa will be difficult. We are struggling into the second sector, but the cars and drivers did a good job in the first and third sectors where overtaking is possible. Like everyone else we lost track time this morning because of the weather delays. We're looking forward to the race tomorrow and look for a two car finish again."
Virgin-Cosworth
Timo Glock (20th, 2:09.566): "In general today's qualifying was quite okay, but for some reason we had a lot of trouble in the first stint, on the first set of tyres, because we made a change from Free Practice 3 to qualifying and maybe it wasn't the correct one. It was really difficult. I then came in for a new set of Intermediate tyres and in general I think the lap was okay, even though on the data the lap looked more like a Rally lap! Nevertheless we got the most out of the car and I'm happy with the result."
Jerome d'Ambrosio (21st, 2:11.601): "Of course I'm a bit disappointed about the result, but I'm really happy with my pace this weekend. I think I had a good feeling with the car, I was happy with everything and my performance in normal conditions was quite good. We got it a bit wrong with the strategy - we should have pitted really. But again, it's very difficult to decide a call like that because it might have just rained a bit earlier and then it wouldn't have worked. So basically it could have been better but in terms of performance we are there, so it should be good for tomorrow's race."
John Booth, Team Principal: "This morning, with the rain at the start of the session being quite heavy, we opted to give both drivers a run on the Extreme Wet tyre to give them some preparation for these conditions should they arise in qualifying. In the event, qualifying was slightly tricky in that the rain at the start of the session was not necessarily so evident in the pit lane but certainly in the second sector it was clear the track was rather wet. We started both cars on the Intermediate tyre and it was our expectation that the track would dry. In actual fact, the second sector remained quite wet. Timo was very unhappy with his first set of Intermediates so we opted to fit a new set close to the end of Q1. In hindsight we should also have stopped Jerome, but as his times were improving on his existing set we opted to leave him out. We are expecting a dry race tomorrow and this will provide a further challenge for both the drivers and the engineers, since we have gathered very little dry tyre or set-up data this weekend."