Belgian GP 2011
AUGUST 27, 2011
Qualifying Report - Vettel claims Spa pole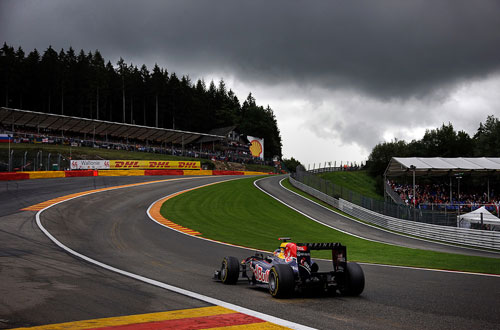 © The Cahier Archive
How times change in 20 years. Back in 1991 Michael Schumacher stunned the F1 establishment when he qualified a Jordan seventh for the Belgian GP on his F1 debut. Today, he was out within the first 90 seconds of Q1 when the right rear wheel parted company with his Mercedes and put him off the road at Turn 8. Not the kind of celebration he had in mind...
The Spa weather did its best to complicate the qualifying hour with mixed conditions that tripped up some of the likely top 10 contenders but through it all, Red Bull Racing maintained its 100% qualifying record and Sebastian Vettel (2:02.768) took his ninth pole position in 12 races this year.
"It was a difficult session," Vettel conceded. "In Q1 and Q2 it was tricky and the circuit was drying quickly. I didn't feel very comfortable right at the beginning but made a big step in Q2 and found some better lines and then in Q3 we were sure it was dry tyres and that if it didn't start to rain it would all be down to last lap.
"I was trying to get the temperature into the tyres and then push as hard as I could. I saw Lewis, who was just ahead of me, locking up, but mine was a good lap. It's likely to be dry tomorrow and we had a good balance in the dry by the end."
Hamilton (2:02.823) starts his third consecutive race from the front row but can perhaps count himself fortunate to have achieved a Q3 time at all after finding himself in an altercation with Pastor Maldonado at the end of Q2.
It seemed to have its roots in a coming together at the final chicane as Hamilton caught both Williams as they were battling with Heiki Kovalainen's Lotus. Hamilton was outside the top 10 at the time and needed the lap, and there was contact with Maldonado in the final chicane.
With the chequered flag out, there was then a secondary contact out of La Source on the run down to Eau Rouge, which looked like retribution by the Venezuelan, but which he denies. Video evidence also shows Hamilton alter his line out of the hairpin and race stewards (Nigel Mansell is the ex-driver representative at Spa) are currently looking into it.
"That was done deliberately," Hamilton immediately said on the team radio. The McLaren lost part of the front wing and the toe-in was knocked out, but the team managed to execute running repairs and allow Lewis to contest Q3.
That was more than team mate Jenson Button was able to do. The mixed conditions had Button's name written all over them and Jenson was more than a second quicker than Mark Webber's Red Bull in Q1. Disastrously though, a misunderstanding in Q2 brought him into the pits as the track got quicker and quicker in Q2. He was third fastest at the time but the circuit was drying quickly and he found himself bounced out. He starts the race 13th on the grid.
Fellow Briton Paul Di Resta was the victim of a similar error from Force India in Q1 and failed to make it out of Q1. Compounding the team's woes, team mate Adrian Sutil took too much left-hand kerb at Eau Rouge early in Q2 and put the car in the barrier. He starts 15th, three slots ahead of Di Resta. That resulted in a red flag interruption.
Mark Webber (2:03.302) has looked strong all weekend, more convincing than Vettel in fact, a point his team mate conceded, and lines up third on the grid.
"It was close and I think I probably went a bit too hard on the slicks initially in Q3," Webber explained. "The problem is, you never know if the lap you are on is going to be the last before the rain. But that's how it goes, we've had a smooth weekend so far and it's easy here to end up like JB (Button). It would be nice to be further up but we're in the hunt tomorrow, for sure."
Felipe Massa (1:50.256) outqualified Fernando Alonso for the second successive race and lines up fourth, with Alonso (1:51.251) more than a second slower after hitting traffic.
Nico Rosberg (1:50.552) put the first Mercedes fifth on the grid, ahead of a fine effort from Jaime Alguersuari (1:50.773), who achieved his best ever qualifying result in the Toro Rosso. "We have a better car than in Hungary and the DRS is working better than ever," the Spaniard said.
Tell Bruno Senna that he would start his first race for Renault ahead of Fernando Alonso and he would have taken that! The Brazilian (1:51.121) looked confident in both wet and dry conditions and seventh place, more than a second clear of team mate Vitaly Petrov (1:52.303), who starts 10th, behind Sergio Perez's Sauber (1:51.374) was a fine effort.