Belgian GP 2011
AUGUST 26, 2011
Practice 2 Report - Webber fastest at Spa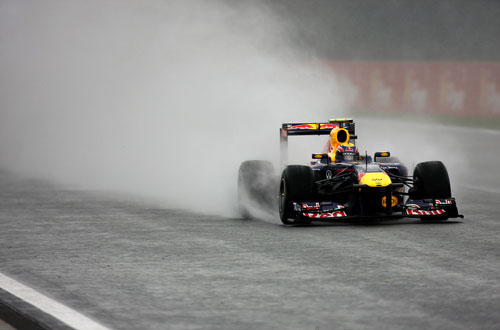 © The Cahier Archive
Mark Webber (1:50.321), pole position man at Spa for Red Bull in 2010, set the fastest time in the second session of free practice ahead of the Belgian GP, round 12 of the FIA Formula 1 World Championship.
Track conditions were wet at the start of the session but dried out enough after around half an hour to allow Fernando Alonso to go quickest as cars started to emerge on slicks. The Spaniard ended the session second quickest (1:50.461) to finish up three tenths clear of Jenson Button's McLaren (1:50.770) and team mate Lewis Hamilton (1:50.838).
McLaren team principal Martin Whitmarsh, commenting on the team's rear wing experimentation, said: "Personally I'd be tempted to go with the lightest downforce setting because you can overtake here. Ourselves and Red Bull have some pretty skinny-looking wings here but whether we're brave enough, I'm not sure. That's my feeling but I'm not a racing driver and I don't have to drive flat-out through Eau Rouge!
"Provided that it's going to be dry on Sunday I think we'll be tempted to go for it but we are going to have to look at qualifying also, where you might want more downforce."
Felipe Massa (1:51.218) was fifth quickest with the second Ferrari, ahead of Nico Rosberg's Mercedes (1:51.242), Sergio Perez's Sauber (1:51.655), the Force Indias of Nico Hulkenberg (1:51.725) and Paul Di Resta (1:51.751) and Sebastian Vettel's Red Bull (1:51.790).
It surprised many to see Hulkenberg driving in place of Adrian Sutil in FP2 rather than this morning's session but, at the time that Force India needed to make the substitution request, the team's best information was that the afternoon session would be wet and any dry running was likely to be in the morning session. Sutil, a little frustrated, could only shrug his shoulders.
Bruno Senna ended the session in 17th place after his morning spin, while team mate Vitaly Petrov was no gauge, spending all the dry-running time in the pits.