Belgian GP 2010
AUGUST 29, 2010
Belgian GP, 2010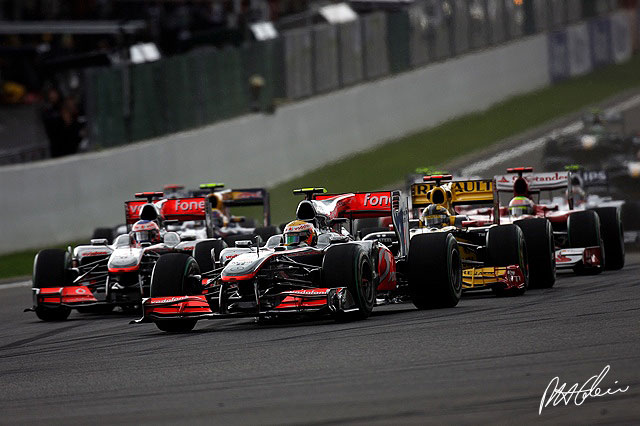 © The Cahier Archive
Lewis Hamilton moved back to the top of the world championship table when he won the Belgian GP at Spa, making up for 2008 when he lost the race to a penalty. Pole position man Mark Webber made a dreadful start and Hamilton grabbed the lead on the first lap and was never headed.
"The car bogged down badly on the formation lap," Webber explained, "I made a small adjustment to the clutch but then I had the problem even worse at the start proper. I was surprised and I was on the back foot through Eau Rouge. I lost a place to Adrian Sutil but got it back and then passed Felipe again, so it wasn't too disastrous."
Jenson Button drove a tremendous first couple of laps as an early rain shower struck, forcing his way up to second place but sustained some left front wing damage in the process. He was unable to run at Hamilton's pace thereafter and headed a queue comprising Kubica, Vettel, Webber and Massa.
Kubica lost a place to Vettel when he had a moment out of Eau Rouge and was lucky to save the car. Vettel then closed in on Button and tucked under his rear wing on the run down through Blanchimont on lap 16, before trying to outbrake the McLaren into the Bus Stop. He misjudged the move and cannoned into the McLaren, taking Button out of the race. Vettel survived the moment, pitted for a new nose and rejoined but was then hit by a Drive Through penalty for causing a collision.
With rain expected later, the strategy was to run as long as possible on the option tyre used for the first stint, in the hope that the first pit stop might double up with a switch on to wet tyres, but when the rain failed to materialise as early as expected, Webber pitted on lap 22 - half distance. The Red Bull team turned him round quickly and Renault was forced to respond by bringing in Kubica. Webber only just failed to jump him and when leader Hamilton pitted after another the lap, the top three positions remained unchanged.
The rain, second time around, was expected to be heavy, and it arrived on lap 34. Many of the midfield runners piled straight in to change to intermediate Bridgestones, but Hamilton, Kubica and Webber all carried on. Their teams did not want to make a premature call if the rain stopped quickly. Lapping Spa on slicks in the wet is always a gamble though and Hamilton went off at Rivage, losing 8s of his 11s margin to Kubica as he managed to scrabble back on. All three then pitted at the end of the lap, with Kubica overshooting his mark and collecting a couple of the right front wheel pit crew, thankfully without injury.
"We needed to change the front wing and some steering wheel settings for the intermediate tyres and I couldn't do it on the track because it was too slippery," Kubica explained. "I tried to do it in the pitlane but ran out of time and locked the wheels, hit the guys and lost second place."
As they flashed across the line at the end of lap 36, with eight to go, Hamilton led Webber by just 2.8s, but rapidly had the gap back out to 4.2s, then 5.0s on successive laps. It was then that Fernando Alonso spun his Ferrari out of Les Combes, was left stranded in the middle of the road and brought out the Safety Car.
The official car was out for two laps, which were run at 3m10s pace, prompting fears from Hamilton that the tyre temperatures would fall away and that there would be no grip upon resumption. In fact, everything was fine and an ecstatic Hamilton reeled off the remaining three laps to take a three point championship lead over second-placed Webber.
The Australian got to the line a couple of seconds clear of Kubica, to take a 28-point advantage over the chaotic Vettel, who was classified 15th after a puncture and then a late gamble on extremes. Any chance of that working out was negated by the Safety Car for Alonso and the young German must now contemplate a situation where Red Bull's championship hopes would be better served by concentrating on his team mate.
Felipe Massa was a strong fourth for Ferrari, Force India's Adrian Sutil ran a smart race to finish fifth, ahead of the Mercedes twins, Nico Rosberg and Michael Schumacher, who ran close throughout. Kamui Kobayashi was eighth for Sauber, ahead of Vitaly Petrov and Jaime Alguersuari. The young Spaniard, however, got a 20s penalty for cutting the chicane, giving the final point for 10th place to Tonio Liuzzi in the second Force India.
"It was a great weekend," Hamilton beamed, "a very tough race. I went wide and off at Turn 8 but got away with it and stayed ahead. The team did a remarkable job this weekend. We're not competitive with Red Bull everywhere but what's great is that when we are close, we maximise it."
Webber looked highly satisfied too, no doubt acutely aware of how important those 18 points could be on a day when his team mate self-destructed. "I'm happy with second today," he said. "Lewis did a great job and deserved to win. In the end, to have the top three qualifiers stood on the podium after a day like today... I don't think you would have got very strong odds on that. On days like these it's very easy to come away with nothing." His team mate will have left Belgium only too well aware of that...
The championship score is now Hamilton, 182; Webber, 179; Vettel, 151, Button, 147 and Alonso 141. In the constructors chase Red Bull heads McLaren by just a single point - 330 to 329.
Belgian Grand Prix Results - 29 August 2010 - 44 Laps
POS
DRIVER
NATIONALITY
ENTRANT
LAPS
TIME/RETIRE
1.
Lewis Hamilton
Britain
McLaren-Mercedes
44
1h29m04.266
2.
Mark Webber
Australia
Red Bull-Renault
44
1.571
3.
Robert Kubica
Poland
Renault
44
3.493
4.
Felipe Massa
Brazil
Ferrari
44
8.264
5.
Adrian Sutil
Germany
Force India-Mercedes
44
9.094
6.
Nico Rosberg
Germany
Mercedes GP
44
12.359
7.
Michael Schumacher
Germany
Mercedes GP
44
15.548
8.
Kamui Kobayashi
Japan
BMW Sauber-Ferrari
44
16.678
9.
Vitaly Petrov
Russia
Renault
44
23.851
10.
Vitantonio Liuzzi
Italy
Force India-Mercedes
44
34.831
11.
Pedro de la Rosa
Spain
BMW Sauber-Ferrari
44
36.019
12.
Sebastien Buemi
Switzerland
Toro Rosso-Ferrari
44
39.895
13.
Jaime Alguersuari
Spain
Toro Rosso-Ferrari
44
49.457*
14.
Nico Hulkenberg
Germany
Williams-Cosworth
43
1 Lap
15.
Sebastian Vettel
Germany
Red Bull-Renault
43
1 Lap
16.
Heikki Kovalainen
Finland
Lotus-Cosworth
43
1 Lap
17.
Lucas di Grassi
Brazil
Virgin-Cosworth
43
1 Lap
18.
Timo Glock
Germany
Virgin-Cosworth
43
1 Lap
19.
Jarno Trulli
Italy
Lotus-Cosworth
43
1 Lap
20.
Sakon Yamamoto
Japan
HRT-Cosworth
42
2 Laps
R
Fernando Alonso
Spain
Ferrari
37
Accident
R
Jenson Button
Britain
McLaren-Mercedes
15
Accident
R
Bruno Senna
Brazil
HRT-Cosworth
5
Suspension
R
Rubens Barrichello
Brazil
Williams-Cosworth
0
Accident
FASTEST LAP:
Lewis Hamilton
Britain
McLaren-Mercedes
32
1:49.069

---

* Alguersuari given 20-second penalty (a post race drive-through penalty) for cutting the chicane to pass Luizzi on lap 42.