Belgian GP 2009
AUGUST 30, 2009
Belgian GP, 2009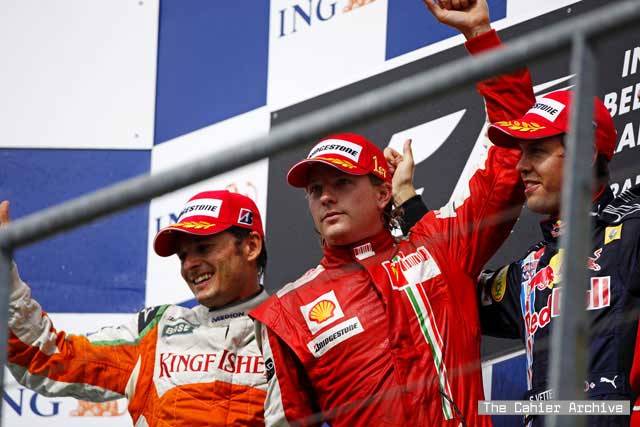 © The Cahier Archive
After a bizarre qualifying, we were not quite sure what to expect for the race at Spa on Sunday. The weather was much the same as it had been on Saturday so, in theory at least, the speeds of the cars should not be very different. So it was down to strategies and in that respect Sebastian Vettel looked pretty good. He had a fast car and a lot of fuel. So it was down to the traffic - and at Spa one can overtake.
But, inevitably it was not as simple as that. They all had to get through the first lap... and that is not easy when you have a jumbled grid, World Championship contenders down the back, the tight confines of La Source and the long blast up the hill. Oh, and KERS as well...
Fisichella took the lead at the start as Nick Heidfeld pushed his BMW Sauber through briefly to snatch second place from Jarno Trulli. While that was happening, Rubens Barrichello was in trouble. His Brawn bogged down and he was engulfed by the pack.
Heidfeld went into La Source a little too quickly and so ran wide. Robert Kubica saw his chance and dived for the inside to grab second place, while Raikkonen decided to take the long way around and motored to third place right around the outside. This got him on to Kubica's tail and the Finn punched the KERS button as they headed up the hill after Eau Rouge corner.
Kimi was second.
Behind them things were rather complicated. At La Source the pack was bunched. Trulli accelerated too quickly in the corner and bashed his front wing on the back of Heidfeld. This was not good for Toyota. Behind them Adrian Sutil was knocked sideways by Fernando Alonso, the Spaniard then running over the German's front wing to add insult to injury.
Further back Lewis Hamilton made a poor start and was squeezed between the Toro Rosso of Sebastien Buemi and the Williams of Kazuki Nakajima.
Up at Les Combes Raikkonen went in too fast, as did Heidfeld. Kimi held it all together and was still second but when he came back on to the track from the grass he touched Kubica's front wing.
Further back Jenson Button's Brawn was hit from behind and spun out by rookie Romain Grosjean's Renault. The ensuing melee ruined Hamilton's afternoon as he was clonked by the other rookie, Jaime Alguersuari, who was avoiding Button and Grosjean in his Toro Rosso.
All four were instant retirements.
The World Championship leader was not happy.
"I had a really good start and had made up a few places in the first few corners to be ahead of Lewis and Rubens," he said. "I was on the outside of Heikki Kovalainen and turned in for the corner but Romain outbraked himself and hit my back wheel. It's frustrating as I was in a reasonable position having made up some places and with a lot of fuel on board.
Grosjean saw it differently.
"Button took me out," he said.
Hmm...
Hamilton was also unhappy.
"It was a pretty bad start ," he said. "I tried to recover from it. I got sandwiched at the first corner and lost a bit of my front wing. Then Jenson spun at Turn Five and everyone looked like they were piling into him, so I backed off a little bit, and I got hit from people behind me."
This sent the Safety Car out.
Several of the damaged cars headed to the pits to fix things up and load up on fuel.
At the start of the fifth lap the race was on again and this time Raikkonen lined himself up behind Fisichella and pushed the KERS button. Wham! It was done.
"I was quicker than Kimi," said Fisichella later. "He passed me because of the KERS. I'm a little bit sad for that."
Raikkonen was not much moved.
"I knew that I had to get past him because we were on the same strategy," he explained. "I went behind him as close as I could through Eau Rouge, then I used the KERS. After that it was just a matter of making sure I didn't make any mistakes."
It turned out that both men had exactly the same strategy. And they stayed together for the rest of the afternoon, but Raikkonen was always ahead.
"It was great because we were just one second behind the winner," Fisichella said, "but then I think that we could have won the race..."
Behind them, Sebastian Vettel started slowly but using his heavy fuel was able to work his way past the BMW Saubers to take third place for Red Bull by lap 35. He then closed in on the leaders, set the fastest lap but never made up for his lost time at the start.
He was only 2.9s behind Fisichella at the end.
"If you look at the championship it's a very good result," Vettel said. "I think it is still open. This championship is a bit crazy, to be honest. We saw this weekend Force India were quick here and will be quick at Monza, it is up and down, so it's important to be consistent."
BMW Sauber scored its best haul of points all season, with a total of nine from Kubica's fourth and Heidfeld's fifth. They also set the third and second fastest race laps, respectively.
Robert managed to stay third until Vettel got him at the second stops.
"At times we lacked a bit of speed but, of course, it is good to be fighting for podiums again," said Robert. "The result means a lot of points for the team and is good. Unfortunately we didn't have the chance to achieve anything better."
Heidfeld ran wide at Les Combes on lap one because of his harder tyres and he lost places, and admitted that he lost the race there. He then had a near-miss in the pit lane with Mark Webber, who received a drive-through penalty as a result.
"I had higher expectations," Nick said. "I lost the race on the first lap. My thought pattern before the race went back and forth as to whether I should take the harder or the softer compound for the start. The harder was the quicker one but, of course, not the better one for heating up quickly. Because the sun was shining I went for the harder compound, and paid for it. I tried to outbrake Jarno on the inside of La Source, but I lost ground because the tyres weren't warm enough. Up the hill to Turn Five several cars were in the gravel, including me, and that's where I lost more positions. Later at my first pit stop I had to lock up the brakes in the pit lane to avoid crashing into Mark, who I was then able to immediately overtake on the track. In the last stint my pace was really good and I closed the gap to Robert. But, even though I was quicker, I couldn't overtake because as soon as you are less than two seconds behind another car you start sliding in the dirty air."
Kovalainen went for a single-stop race and turned his 15th on the grid to sixth by the finish starting on the softer Bridgestone and then switching to the harder compound. He fended off Sebastien Buemi for the first part of the race and then battled with Barrichello later on.
Rubens drove a gritty race after his first lap dramas. He harried Kovalainen until an oil leak in the final laps left him falling back
"I have to be happy with seventh place and the two points," he said. "We should have had far more from today but the problem with the clutch at the start took away any chance of a podium. We changed my strategy at the end of the first lap to fuel longer for the first stint which was a good move and gave me the chance to get into the points. I had fun in the race from then on and the move on Webber at the Blanchimont bend was definitely one of the highlights."
Rubens made it home with fire billowing for the back end of his car.
Behind him and covered with oil was Nico Rosberg who said that eighth was the best Williams could have expected on this particular circuit. The FW31 was a handful.
Webber was right behind him. He looked to be well-placed early on in fifth with a decent load of fuel but at the fuel stops he squeezed Heidfeld too much, got a drive-through penalty, then spent the rest of his afternoon trying to catch up and grab a point. It was not to be.
"I was released in front of Nick," he said. "I was given a drive-through penalty and after that it was a case of damage limitation. I tried to get back into the points and when we had free air, which was not often, we had good pace, but it wasn't enough."
Timo Glock was going well in fourth place until a glitch with the Toyota refuelling equipment on lap 12 delayed him and dropped him back to a 10th place finish. The rest trailed in behind with little of note to say about them. Luca Badoer was off the pace again and must now be removed from the second Ferrari.
Trulli and Alonso retired. After his brush with Heidfeld Jarno had to stop for repairs. This put him behind Badoer and there he stayed. It was impossible to pass the Ferrari. Jarno retired with brake problems after 21 laps.
Alonso survived until lap 26. He ran a strong race with a heavy fuel load and was running third prior to his first stop on lap 24. Unfortunately he had damaged the left front wheel in his brush with Sutil and that caused problems with the wheel during the stop. Mindful of what happened in Hungary, Renault retired him two laps later on safety grounds.
There was more trouble for Renault later when Brazilian TV Globo reported that Nelson Piquet Jr. had been ordered to crash in Singapore last year to give Fernando the chance to win. That will be take some explaining - particularly if the disgruntled Piquet tells the whole story. Firing him was probably not such a great idea.
It was an odd day. A day when two drivers who have been adjudged to have been asleep all year both woke up and drove well.
"We wanted to win at least one race and we've done it," said Raikkonen. "Our car was not the best in the pack, but we managed to put everything together and this result comes from all the work done with the team.
In the championship the only real change was a leap forward for Vettel.
"We took six points out of Jenson, the championship leader," he said. "I don't know what happened to him. It would have been nice to finish first today but after the result yesterday it is the best we could do. The World Championship is still open, and it's really crazy to be honest."
Button has 72 points, Barrichello is up to 56, and Vettel to 53. Webber has 51.5. There are five races left.
But who knows what Monza will bring.
Perhaps Fisichella will win in a Ferrari?
Belgian Grand Prix Results - 30 August 2009 - 44 Laps
POS
DRIVER
NATIONALITY
ENTRANT
LAPS
TIME/RETIRE
1.
Kimi Raikkonen
Finland
Ferrari
44
1h23m50.995
2.
Giancarlo Fisichella
Italy
Force India-Mercedes
44
0.939
3.
Sebastian Vettel
Germany
Red Bull-Renault
44
3.875
4.
Robert Kubica
Poland
BMW Sauber
44
9.966
5.
Nick Heidfeld
Germany
BMW Sauber
44
11.276
6.
Heikki Kovalainen
Finland
McLaren-Mercedes
44
32.763
7.
Rubens Barrichello
Brazil
Brawn-Mercedes
44
35.461
8.
Nico Rosberg
Germany
Williams-Toyota
44
36.208
9.
Mark Webber
Australia
Red Bull-Renault
44
36.959
10.
Timo Glock
Germany
Toyota
44
41.490
11.
Adrian Sutil
Germany
Force India-Mercedes
44
42.636
12.
Sebastien Buemi
Switzerland
Toro Rosso-Ferrari
44
46.106
13.
Kazuki Nakajima
Japan
Williams-Toyota
44
54.241
14.
Luca Badoer
Italy
Ferrari
44
1m38.177
R
Fernando Alonso
Spain
Renault
26
Retired/Damage
R
Jarno Trulli
Italy
Toyota
21
Brakes
R
Jenson Button
Britain
Brawn-Mercedes
0
Accident
R
Romain Grosjean
France
Renault
0
Accident
R
Lewis Hamilton
Britain
McLaren-Mercedes
0
Accident
R
Jaime Alguersuari
Spain
Toro Rosso-Ferrari
0
Accident
FASTEST LAP:
Sebastian Vettel
Germany
Red Bull-Renault
38
1:47.263