Belgian GP 2009
AUGUST 30, 2009
Race Notes - Raikkonen takes Belgian GP for Ferrari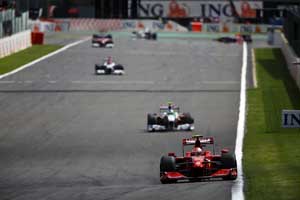 © The Cahier Archive
An action-packed Belgian GP fell to Kimi Raikkonen, giving the Ferrari-driving Finn four wins in the last five runnings of the race (no GP in 2006). Memorable though this achievement was, the race will be remembered for the stunning second place of Giancarlo Fisichella, whose Force India team supplied him with an outstanding car for the fast Spa-Francorchamps circuit. Fisichella was unable to hold on to Raikkonen's KERS-equipped Ferrari at the start, but he dug deep into previously unseen reserves of fighting spirit to stay on Raikkonen's tail throughout the 44 laps.
Although the weather stayed fine throughout the race, a number of collisions on the first lap eliminated four drivers, including championship leader Jenson Button and world champion Lewis Hamilton. An investigation into the incidents was due to be held after the race by the FIA stewards.
Button's failure to finish leaves him still in the lead for the world championship, with 72 points, but his team mate Rubens Barrichello scored two valuable points to increase his score to 56 points. With Mark Webber out of the points, a good third place for Sebastian Vettel in the race puts the German back into third place in the title-chase, with 53 points.
Under clear skies with some high, thin clouds, the 20 drivers go to the grid in fine but cool (air temperature officially 16 deg C) conditions. The grandstands appear to be full and there are not many empty spaces in the grass-covered enclosures at the start, although the crowds are more sparse out on the circuit. Bernie Ecclestone personally embraces pole-sitter Giancarlo Fisichella on the grid. There is sufficient breeze to fly the national flags (and to remind us that bad weather can quickly blow in to this part of the Ardennes). All 20 drivers safely negotiate the parade lap, most of them on the harder Bridgestone compound.
At the start, the engine of Barrichello's Brawn bogs down, forcing several rivals to take avoiding action. Into La Source, Heidfeld gets his nose into 3rd place but is passed by BMW team mate Kubica on the way out. Back in the pack, several drivers, including Hamilton, are tagged, although nobody appears to have suffered serious damage. Fisichella is the clear leader through the Raidillon, but Raikkonen is using his Ferrari's KERS to great effect and sneaks into second place through the complex at Les Combes.
Still at Les Combes, behind the leaders there is a multiple kerfuffle, with several collisions. Button is knocked from behind by Grosjean and Hamilton is tagged by Alguersuari. All four are out on the spot, while Barrichello and Badoer are forced on to the grass. Barrichello pits at the end of the lap, as the Safety Car is summoned to allow the debris to be cleared.
The order at the end of the lap is Fisichella followed by Raikkonen and Kubica, then Glock, Webber and Heidfeld. The Safety Car stays out for three laps.
At the re-start at the end of lap 4, Raikkonen is already challenging Fisichella, and the Ferrari's KERS system allows him to snatch the lead going up the hill.
On lap 6 Raikkonen sets fastest lap. He now leads Fisichella by 1.4 seconds, with Kubica 1.7 seconds behind and a 2.3 second lap to Glock. Webber, Heidfeld, Vettel and Rosberg complete the top eight, with Alonso 9th and Kovalainen 10th.
On lap 7 Trulli -- who has fallen to 16th (and last) place in the confusion -- is instructed to attack Badoer, just ahead of him. Trulli responds: "much quicker is impossible."
On lap 11, Raikkonen has failed to make any more progress. He leads Fisichella by 1.8 seconds, with a determined Kubica another 1.8 seconds astern. Glock is still 4th, with Webber barely one second behind.
First men to stop, on lap 12, are Kubica and Glock, whose crew put a lot of fuel into the Toyota. Heidfeld sets fastest lap.
On lap 14, Raikkonen, Fisichella, Webber and Heidfeld make their first stops. Webber almost tags Heidfeld as he leaves his pit, forcing the German to brake and swerve. Vettel now leads the race from Rosberg. Going up the hill, Heidfeld drives past Webber, who is also passed soon afterwards by Barrichello. The stewards announce that an investigation will be held into the pitlane incident involving Webber, who is instantly ordered to serve a drive-through penalty for unsafe release. The Australian has mysteriously dropped to 11th.
On lap 16 Vettel makes his first stop. Rosberg, who has yet to stop, takes over the lead.
On lap 18 Rosberg stops for fuel, while Webber serves his penalty. The stewards announce that an investigation into the clashes involving Button/Grosjean and Hamilton/Alguersuari on the first lap will take place after the race.
On lap 20, Fisichella has got Raikkonen's lead down to one second. Alonso is 3rd, 1.8 second behind, but has not yet stopped.
On lap 21 Buemi stops from 7th place, followed by Trulli, whose crew has difficulty with the refuelling hose, costing him an extra second or two. The Toyota driver resumes in last place but does one lap before retiring in the pits.
On lap 24 Alonso -- who has started with a heavy fuel load -- at last makes his first (and only) stop. The fuel appears to go in safely but there is a problem securing the left front wheel which costs him at least ten seconds. The Spaniard's hopes of victory melt away.
On lap 26, the only one of the leading ten drivers not to have stopped is Kovalainen in 4th place, who arrives for service at the end of the lap. Alonso's pit advises him that the left front wheel may not be safely secured and he is instructed to return at slow speed.
On lap 27, with all the leading drivers having made at least one stop, the order is Raikkonen and Fisichella, separated by less than one second, followed by Kubica, Vettel, Heidfeld and Barrichello (who makes his second scheduled stop). Alonso pulls in and retires.
On lap 28, the last of the heavily fuelled cars, Nakajima's Williams, makes its scheduled stop, from 12th place.
On lap 30, Kubica arrives for his second stop, followed by Buemi. Raikkonen still has only 1.2 second lead over Fisichella, but Vettel in third place has fallen 9.4 seconds behind.
On lap 31 the two leaders arrive simultaneously in the pits for service. The official timing shows 7.1 second stops for both as they return safely to the race. Vettel takes the lead.
On lap 33 Rosberg makes his second stop, after a short middle stint. Next time round, Webber makes his second scheduled stop. Heidfeld, lying 5th, sets fastest lap.
On lap 35, Vettel makes his second stop. The five leading drivers have all now made two scheduled stops, with Raikkonen back in front, albeit narrowly (0.8 second), from Fisichella. Vettel (5.9 seconds behind) is 3rd, followed at three-second intervals by the BMW pair of Kubica and Heidfeld. Kovalainen is 6th (one stop so far), closely pursued by Barrichello. Rosberg, Webber and Glock close the top ten. Sutil is a close 11th, with Buemi, Nakajima and a distant Badoer completing the surviving runners.
On lap 40, with Fisichella seemingly under control, Raikkonen looks set for his fourth Spa victory. Vettel, however, is on the move and has closed the gap on Fisichella to 3.6 seconds (and narrowing). Kubica in 4th has slipped to 5.3 seconds behind Vettel, with Heidfeld staying close.
On lap 41, Barrichello's close pursuit of Kovalainen for 6th place is doomed as smoke appears from the exhausts of the Brawn-Mercedes. Behind, close-following Rosberg and Webber prepare to inherit 7th and 8th places. With one lap to go, Barrichello is advised that he will probably finish the race!
On lap 44, with the chequered flag beckoning, Raikkonen crosses the line for his first win of the season. Fisichella is 2nd, still less than one second behind, with Vettel 3rd. Next up are the reliable Kubica and Heidfeld, with Barrichello miraculously surviving to claim 7th, albeit with fire briefly breaking out at the rear. Rosberg, 0.7 second behind, claims the final championship point. Webber, another 0.7 second astern, is classified 9th ahead of Glock.