Belgian GP 2008
SEPTEMBER 7, 2008
Sunday Team Quotes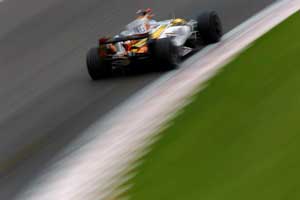 © The Cahier Archive
Ferrari
Felipe Massa (1st): "This was a very strange race, with the start and finish taking place in rather difficult conditions. After the start I thought Eau Rouge might be wetter and so I was a bit cautious. Kimi attacked and managed to get by. From then on I realized it would be hard to pass the two guys ahead of me, even if the lap times were quite similar. I tried to manage the situation, especially towards the end. When it started to rain, I had a pretty good margin over my closest pursuers and I preferred not to take any risks, especially given what was going on in front of me. Today the car wasn't perfectly balanced. On Saturday morning, we had slightly reduced the aerodynamic downforcc, as you usually do for the race here, but today's track conditions definitely did not suit this choice. The hard tyres? They were definitely slower than the soft ones and lacked grip, which made the car a bit inconsistent in terms of balance."
Kimi Raikkonen (18th): "I came here to win and I came close. In the final laps the track conditions were very critical and unfortunately, I ran wide and when I tried to get back on track, I spun and ended up in the wall. It was a shame because today the car was working really well. I got a good start and managed to pass Felipe on the straight and then overtook Hamilton when he spun at the start of the second lap. On the soft tyres, I could run at a good pace, while the final set, the harder ones, was not quite there - definitely not as good in performance terms as those I'd used in the past couple of days - and the balance of the car was not as good as earlier. The arrival of the rain definitely did not help. In these conditions, if you are in front you have to be more cautious as you don't know how much grip you'll find in each braking area. That's how Hamilton managed to close on me and then happened what you all saw. It's the second race in a row that I've failed to score points. Clearly the championship situation is what it is, but I'm not the sort to give up that easily."
Stefano Domenicali, Team Principal: "I have often said that the race is not over until the official results are published and that was the case today. As usual, Ferrari will not comment on the Stewards' decision. After the race, we were called to the Stewards and we explained our position. We are very disappointed for Kimi, who had driven a great race and deserved the win, especially at this rather difficult time. This result is obviously very important for our Championship hopes: now we must maintain maximum concentration and prepare as well as possible for the forthcoming races, starting at Monza where we will be racing in front of our home fans. We will also need their support at such a delicate point in the season."
Luca Baldisserri, Head of Trackside Operations: "This was a very intense weekend, which only ended two hours after the chequered flag. Kimi drove a very nice race and it's a real shame it wasn't crowned with a deserved win after he attacked all race long. Felipe drove in a very calculating fashion, without taking unnecessary risks when the conditions were really critical. The soft tyres worked very well, while the hard ones struggled a bit, especially with Kimi: we need to establish what caused this. As for the rest, the F2008 proved to be very competitive and the team worked in impeccable fashion throughout the race. Now we must continue to push because we absolutely want to reach our objectives."
BMW Sauber
Nick Heidfeld (2nd): "I had a fantastic race weekend and I am very happy today. At the start I got off better than the guys in front of me. Then I decided to go for the outside line, but unfortunately Heikki Kovalainen crashed into my car. This can happen, and I was lucky my car wasn't damaged. Of course I lost a lot of places. Later on in the race I was able to get some back, but then I got stuck in traffic. When the drizzle set in I was convinced it would be heavier on the next lap and decided to change to wet weather tyres. The team asked me if I meant what I said. When I left the pit lane after the stop I asked on the radio how many laps to go, and my engineer said this one and another one. As I couldn't see any cars on the track I thought, oh this was probably the wrong decision, but then it paid off. It was a Hero or Zero decision."
Robert Kubica (6th): "I am not happy with the result, as today I had the chance to finish on the podium. We had a problem during the second pit stop. I lost two or three positions and returned to the track behind Nick. When it started raining he went into the pits to change tyres. I could not do the same as it would have cost too much time because I was directly behind Nick, so it would have meant us coming into the pits together. Also I had no information about the weather as I had problems with my radio. We gave away points today. However, that's racing."
Dr. Mario Theissen, BMW Motorsport Director: "It was a turbulent race - both immediately after the start and during the final laps. Nick was involved in a collision in turn 1 after the turmoil at the start and, like Robert, lost some positions. As a result, both cars dropped out of the points' positions. After that the pit crew had problems connecting the nozzle during Robert's second pit stop. Finally we recovered from these problems. Nick, his race engineer and our strategists took the right decision two laps before the end of the race by changing to wet weather tyres. The team's ninth podium and Robert's sixth place scored us nine points. With five races to go the team has 105 points, four more than in the entire 2007 season."
Willy Rampf, Technical Director: "This was the most amazing race I have ever experienced. Up until two laps from the end everything was quite normal, but then things changed dramatically when it started raining. Nick radioed to the pits that he wanted to change tyres. He was the first driver to take this decision. The pit crew reacted quickly, and from then on he was the fastest man on the track and made up many places. He finally finished third. For Robert things, unfortunately, went wrong during the second pit stop when we had a problem when refuelling, which cost him several positions. However, overall it was a very good result for our team. We scored another podium finish and a total of nine points today."
Renault
Fernando Alonso (4th): "We finished fourth after a difficult race with plenty of incidents. It's a good result for the team, especially for our position in the championship because our objective was to score some important points. We missed out on a podium today, but we have shown that we can be the third strongest team in the championship."
Nelson Piquet (DNF, Accident): "The plan was to run a one-stop strategy today and so my car was heavy on fuel. I made a good start and gained five places, which was encouraging, but there were still some damp patches on the circuit and I made a mistake. It's a shame because I'm sure we could have done something today. I want to remain positive and I'm now looking forward to Monza, where we tested last week. I hope we can have a strong race there."
Pat Symonds, Executive Director of Engineering: "Once again, unpredictability produced a superb race. It's pleasing for us that the car was very quick in the dry conditions and that we achieved a good finishing position through fantastic driving from Fernando and good team work from everyone. Our target is fourth position in the championship and today was a good step towards that."
Flavio Briatore, Managing Director: "We had a good strategy today and Fernando did everything right, which paid us back with a fourth place just behind the top two teams. It's an encouraging result that we are pleased to score for ING in the Belgian Grand Prix, and we now want to maintain this momentum for Monza next week. We are confident that we can continue fighting back in the constructors' championship."
Williams-Toyota
Nico Rosberg (12th): "It wasn't such an exciting race for me today. Ultimately I did the best I could from where I started and the performance we had in the car and, I think adding all this up, 12th is probably about the best we could have achieved. At the end of the race we had to make the difficult judgement to come in for the wet tyres, and although we didn't make any gain, I still think it was a good decision to take. Overall then, it wasn't a good weekend for us and now we need to look forward to Monza and try to improve things. After the recent test there we are confident that it is a track that will suit us better."
Kazuki Nakajima (14th): "Today was a difficult race for me. I had a bit of contact in the first corner which cost me some time, so from then on I just tried to maintain a consistent pace because I was on a one-stop strategy. Given this, I think my race pace was not bad compared with those around me. I made some progress during the race, then just at the end, the rain came and it was a tough call to either to stay on the slicks or try to see what the wets might do for us. In the end we made the stop and changed the tyres, but we didn't have enough time to make up any ground."
Sam Michael, Technical Director: "It was a fairly uneventful race today as we were simply not competitive enough. We went for a one-stop strategy with both cars, which worked and helped to improve our position, but not enough for us to make progress into the points, which is what matters. The last lap dash on wets was a choice to see if we could make something of the opportunity, it worked for Heidfeld who jumped into a podium position, but there was insufficient track time for us to take advantage."
Red Bull-Renault
Mark Webber (8th): "The first few laps were quite tricky due to the conditions, but our start was okay. I was running a bit short and when doing that it helps to have a clear track, but I didn't. I lost some time behind Bourdais, who was a bit heavier, but we were still in a reasonable position. Then I got hit by Heikki (Kovalainen) and lost some time. It hurt our strategy, which was quite aggressive. The car felt best in the last stint on the prime tyres. It's a shame we didn't get any points today, the guys had put a lot of effort in."
David Coulthard (11th): "I got held up a lot behind the Hondas at the start and it was hard to make up positions from there. We have poor drivability. The changeable conditions made things interesting at the end, we could probably have changed to intermediate tyres one lap earlier."
Christian Horner, Sporting Director: "A busy afternoon for the drivers and the pit crew. Mark was unlucky in the first stint of the race when he got hit following a very optimistic move by Kovalainen, which cost him a lot of time and track position. In the final laps we gambled to split the cars and left Mark on dry tyres and put David on intermediates. David had a poor start and we had elected to run a one stop strategy, anticipating variable conditions which arrived with three laps to go. Today's result doesn't represent the hard work that the team is putting in at the moment, but I'm sure our luck will change soon."
Fabrice Lom, Renault: "A very difficult race with mixed conditions, especially at the end. It was a hard race for the engine, which was very stressed on this track. We will cross our fingers as we still have Monza to do, which is fifty percent of the job."
Toyota
Timo Glock (9th, penalised 25 seconds): "I had quite a tricky race but I am pleased with a point because for a long time today it looked like we would not be able to achieve that. I have to say thank you to the team, especially the guys who work on the starts because it was mega for both cars and in the last couple of races they have done a perfect job. I couldn't make up as many places as I wanted at the first corner because I saw Sebastien Bourdais slide into Jarno and I thought there would be a mess so I tried to stay out of it. Then for the first couple of laps I couldn't get any heat into the tyres. I struggled quite a lot and lost a few places. When the rain started I made the decision to come in and change to standard wet tyres and it was the right thing to do. It was not easy but I just got past Mark Webber in the last corner and took the final point."
Jarno Trulli (16th): "I was very unlucky because I had a great start and from 11th I was in the top six, but I was hit really hard from the back and this damaged the car. After that the car was undrivable and on top of that the accident caused a gearbox problem, so my only target was to finish the race. Once again I wasn't very lucky here - it seems to happen too often at Spa that I am competitive but I have bad luck. I was hoping we could have a strong race and score some points. This was possible because we had a competitive strategy and a great start so it's a shame that we couldn't manage to do it."
Tadashi Yamashina, Team Principal: "In the end we have to be quite happy with a point considering what happened in qualifying and earlier in the race. We had an exceptional start with both cars but unfortunately Jarno was hit at turn one and that basically ruined his race. Without this accident he would have been able to get a good result because he made up a lot of places at the start and we had a competitive strategy. Unfortunately his gearbox and diffuser were damaged and this made the car very difficult to drive. When the rain came late in the race, it was a good strategy to change to the standard wet tyres on Timo's car as this allowed him to finish in the points. One point is much, much better than nothing and this result encourages all the team, at the factory and at the track, to keep fighting. I am very proud of our team today."
Toro Rosso-Ferrari
Sebastian Vettel (5th): "Both me and Seb have good reason to smile after a race like that. The last lap was unbelievable and I was shocked as I got passed in the last fifty metres and then Heidfeld followed by Alonso drove past me with a "whoosh" on their intermediates. It was very tricky at the end and you really had to trust your car. We were all saying that Eau Rouge and Blanchimont are now flat, but with a few drops of rain, I tell you, you see the real nature of these corners. Overall it was a fantastic race, even though I was stuck in traffic for a while. But I was very happy with the car and we had a very strong pace today. The guys at the front are still in a different dimension, but we have made some good steps forward and now it is up to us to use that potential at the next few races."
Sebastien Bourdais (7th): "On the last lap it was a lottery with the car getting away from you with every turn of the wheel. It's a horrible situation, as everything had been under control up until then. But I am not in a situation where I can risk everything and at the end of the race I didn't even know where I finished. It was so close to being a great result I felt I could almost touch it and so it was a very frustrating way to finish what was a great weekend up to that point. Such a shame, but nevertheless a very strong result for the team."
Franz Tost, Team Principal: "I am really very happy with this result and now we head for our home race in Monza, hoping to carry the momentum with us. It's also the home race for our engine supplier and I expect the Prancing Horse to be on very good form next weekend. A very good start and a very good race from Bourdais until he was unlucky on the last lap, as the rain came a bit too early for him. But that's the game at Spa. It was definitely his best race for Toro Rosso and I am very happy for him. Vettel struggled a bit at the start, but then he too drove a fantastic race, passing Glock and Piquet with some good moves. At the end, he also passed his team-mate. In the closing stages we thought about bringing them in for intermediates but by then it was too late to make that call. But in the dry, in straightforward conditions, it was undoubtedly our best performance. We have moved ahead of Honda and are now on equal points with Williams and I hope we can score more points in the remaining five races. Fantastic!"
Honda
Jenson Button (15th): "It's been a tough weekend and unfortunately the car's performance has been a long way off where I thought we would be here in Spa. I didn't have a great start from 17th and got completely boxed in with cars everywhere that I wanted to go. I then lost some time in the train of cars caught behind Rubens when he had his gearbox problem. The car was not handling well at all throughout the first stint as I had no grip and very little balance. So when I came in and switched to the prime tyre, we added front wing which I thought we needed, but not having had the opportunity to compare the two tyres yesterday, this unfortunately gave me too much front end. Our rear tyre pressures were also too low which made the car very difficult to drive."
Rubens Barrichello (DNF, Gearbox): "The race was actually going quite well for me but unfortunately I lost sixth gear not long after I overtook Trulli. I tried to keep going but with the way that the gearbox works, you have to go through sixth gear before you can get seventh gear, which caused over-revving of the engine and the potential for significant damage. The team decided it would be best to retire the car as this is my first race with this engine and I have to race with it at Monza next weekend. Overall it has not been a great weekend. Our biggest problem has been our struggle to get temperature into the tyres, which affected our performance very badly."
Ross Brawn, Team Principal: "Both cars got off to a clean start gaining a place each. We decided to split the strategy such that Rubens would be two-stopping and Jenson only once, in order to be well placed to take advantage of any variable weather conditions and safety car periods. Rubens did a valiant job of battling through almost ten laps without sixth gear. However we indentified that the problem with the gearbox was getting worse and it became dangerous for him to continue as we risked damaging the engine and transmission and the engine was new for this race. As a result of running behind Rubens during this period, Jenson lost touch with the cars he was competing with. Jenson had good pace up until his planned pitstop but struggled for pace after switching to the prime tyre. In the closing laps of the race we decided to switch to wets, as the cars around us were struggling in the rain and there may have been a chance to take advantage. The cars who remained on dry tyres lost a lot of time in the final lap and most lost position. Unfortunately it all came too late in the race for Jenson to move into a points position and this ultimately proved to be a neutral strategy for us, with nothing lost or gained."
Force India-Ferrari
Adrian Sutil (13th): "It was a strong race for us, with a good performance. We had quite a lot of fights on the circuit and lots of overtaking. I caught up with Button and was right behind him, but then there was the rain in the last laps. As there were just a couple of laps left and we were quite quick on the wet conditions with dry tyres, we stayed out and I could pass him and some other guys. I am quite happy with this race."
Giancarlo Fisichella (17th): "Unfortunately Nakajima spun and came across in front of my car and I broke the front wing and damaged the car quite a lot. Coming back to the pits I lost a lot of time as I had no front wing and punctured tyres. Unfortunately when I went out of the pitlane I was just in front of the leaders and then had blue flags at least 40 times! Towards the end of the race, looking at the weather I called the box and said I wanted to put on the rain tyres. It was the right choice but there were just two or three laps left and it would have been nice to have those conditions earlier, but I think considering the start the end result was not too bad."
Dr. Vijay Mallya, Team Principal: "An extraordinary end to the race - and a great pleasure considering this to get two cars to the flag. Both drivers had excellent drives and kept clean despite the challenging conditions. Once again I think we have had a positive weekend: we've outraced the Hondas and we need to continue this form and pick up some points when the chances come up for the rest of the year."
Mike Gascoyne, Chief Technical Officer: "An exciting race in the end and good to get two cars to the finish yet again. Unfortunately Giancarlo's race was compromised at the start when Nakajima spun and hit him. There was nothing he could do to avoid hitting him, but he did a good job to get to the finish from then on and unlap himself at the end to finish just one lap down. Adrian was on a two stop strategy, running lower downforce and made some progress early on but then a spin dropped him to the back. He then drove an excellent race, particularly in the closing stages."
McLaren-Mercedes
Lewis Hamilton (3rd, penalised 25 seconds): "That was one of the most exciting races of my whole career - it was incredibly tough. My spin on lap two put me on the back foot for the rest of the race, but I could see Kimi ahead and I was just pushing, pushing, pushing to close that gap, hoping he would catch traffic and allow me to get nearer. When the heavens opened, Kimi was a little cautious under braking and I was able to get really close. When I had a look around the outside at the chicane, we almost had an accident, and I needed to steer left to avoid him. As we crossed the start/finish line, I left him the space to get back ahead and then managed to get my car up the inside at La Source."
Heikki Kovalainen (10th): "I got squeezed between two cars at the first corner, and it cost me a lot of places. But I knew I had the car to claw things back and was making good progress until I came up alongside Mark Webber at the final chicane. I knew I was faster than him, but maybe he didn't realise I was on the inside and we touched, spinning him in front of me. That's racing. It was a racing accident, but it earned me a drive-through penalty and knocked me back down the field. Still, my pace was good on the prime tyre, and I still managed to overtake quite a few cars. In the last few laps I thought I could take advantage of the damp conditions until I started to lose gears. In the end, the gearbox failed on the very last lap and I had to stop."
Ron Dennis, Team Principal: "That was a sensational Grand Prix, which kept everyone on the edge of their seat, whomever they were supporting. On the second lap, Lewis made a rare mistake, dropping him to second place behind Kimi Raikkonen, whom he put under considerable pressure thereafter. But our car is slightly superior to that of our opposition in slippery conditions, so when the rain came we were reasonably confident that Lewis would be able to press home his advantage. He duly took the lead, finished first on the track, but then received a 25 second time penalty. After the race we registered our intention to appeal it. Heikki didn't get away cleanly at the start, but then drove fast and well through the field until his charge was interrupted by the incident with Mark Webber. He was awarded a stop-go penalty, but continued to push hard until being forced to stop on the very last lap. All in all, it was a challenging race for all the drivers, all of whom handled the conditions responsibly, and both our guys showed pace and determination throughout."
Norbert Haug, Mercedes Motorsport Director: "After a thrilling race, Lewis took victory on the track which he lost following the stewards' decision. In our opinion Lewis did not achieve this win because of an illegitimate advantage. However, we will keep our heads up. We are now looking forward to the next race in Monza on the coming weekend - we need to continue to be fully focused as nothing is decided in the World Championship yet."