Belgian GP 2008
SEPTEMBER 6, 2008
Qualifying Report - A grey day in Spa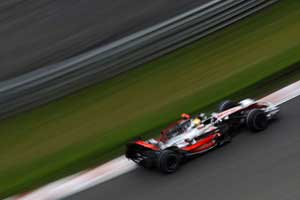 © The Cahier Archive
Lewis Hamilton crushed the opposition on Saturday afternoon in qualifying for the Belgian Grand Prix at Spa. Hamilton drove a brilliant lap to take pole position by three-tenths of a second over World Championship rival Felipe Massa. Heikki Kovalainen underlined the performance of the McLarens by taking third ahead World Champion Kimi Raikkonen, who was out-qualified by Massa for the ninth time in 13 races. Raikkonen, who has won the last three Belgian GPs, was expected to re-establish his leadership of the team, amid rumours about his future at Ferrari. He was a whopping six-tenths off Massa's pace. In the Q1 and Q2 sessions Kovalainen went quicker than Hamilton, but when the chips were down it was Lewis who delivered the goods. The biggest surprise of all was in the Q1 session when Toro Rosso's Sebastien Bourdais beat everyone, to set the fastest time. The Frenchman made it through to Q3 (again) but ended up ninth on the grid.
Hamilton was the star, however, and his pole was one that delighted him.
"Today has been a great day," he said. "I was happy with all three laps in qualifying. It's always very satisfying when you go out, come in, and watch everybody else do their laps. Today the team made no mistakes, and I made no mistakes. I feel better than ever. As you can see I'm stoked."
Massa reckoned that he had done the best he could.
"Sometimes you do a great lap and you are still missing something," he said. "It wasn't enough, but the race is long. Starting from the front row is very important, and let's hope we have a strong race tomorrow. We need to do everything we can to make sure we have strong pace."
Raikkonen admitted to a mistake in the Q3 session.
"It cost me valuable time," he said. "I am reasonably happy with the car I am a bit disappointed as I would like to have done better. Fourth place is not ideal to go for a win, but that does not mean I have given up hope. We know we have good potential in race trim."
Kovalainen seemed a little disappointed after his good showings in Q1 and Q2.
"It's been a pretty good weekend all the way through, with no big problems with the car," he said. "All three sessions in qualifying were comfortable for me. There were no big problems."
It was quite a surprise to see Nick Heidfeld fifth on the grid in his BMW. Given that the German has been outshone for most of the year by his team-mate Robert Kubica this was interesting. Heidfeld had been fastest in the morning session on Saturday and his confidence was obviously up.
"For me it is very important to know the work we have done has paid off," he said. "A couple of weeks ago we found solutions to some problems, and for me this meant an improvement, but then came the race in Valencia which was surprisingly bad. Then at last week­s Monza test we were able to learn something more. I have the feeling we are a little closer to McLaren and Ferrari here."
Kubica was less happy.
"I have had problems with the balance of the car all weekend," he said. "I am lacking overall grip. This makes driving quite difficult, especially
here in Spa where you have a lot of long corners."
He ended up eighth on the grid.
Behind Heidfeld was Fernando Alonso, who was happy to be sixth.
"This means we have done a solid job today," he said. "Now we have a real chance to get a strong result tomorrow."
Nelson Piquet was 12th and disappointed not to get through to Q3, as the car clearly had the pace to do it.
"I was on the pace," he said. "but my final run in Q2 just wasn't enough to get me through.
Seventh on the grid was Mark Webber in his Renault-engined Red Bull.
"It was a stress to get into Q3," he said. "It was very tight as usual and all the drivers were pretty evenly matched so you had to find that extra few tenths to get into the final group. Well see how tomorrow goes with the strategy, were in a reasonable position to mount an attack for some points."
David Coulthard was down in 14th and not very happy as the result did not look that good.
"It is so tight in the midfield," he said. "We are separated by such a small margin. Lets see what we can do tomorrow."
Scuderia Toro Rosso ended up with Bourdais ninth and Sebastian Vettel 10th.
"The car worked well even if we couldnt mix it too much with those ahead of us," said Bourdais. "But lets see what strategies the others are on in terms of fuel loads tomorrow. Its beginning to come together. It was nice to see my name at the top of a time sheet in Q1. Its
been a long time!"
Hopefully not too long.
Vettel said he was happy to be 10th but admitted to messing him his last run. He reckoned that the team had a good race strategy and would be able to challenge for points.
There was disappointment at Toyota with Jarno Trulli 11th and Timo Glock 13th.
"It was very hard to get the temperature into the tyres in order to make them work properly," said Jarno. "So it is then not easy to judge the car balance. As well as that I am on the second race with my engine and that is particularly important here because you have the long straights. Normally on the second race the engine loses a little bit of power and here this makes a difference to the lap time."
Glock told a similar story about the tyres.
"It was really tricky to get it right today," he said. "It's hard to see it changing dramatically tomorrow; maybe the temperature rises a bit or it rains, you never know here. It would be good for me if it was wet because I like those conditions and our car performs well if there is a bit of rain."
Williams had looked half competitive until the Q3 session, but Nico Rosberg ended up 15th and Kazuki Nakajima 19th.
"I didnt really expect us to struggle so much in qualifying," Nico said. "We knew that Spa was not going to be our best track, being this far back is unexpected and very disappointing. My car was OK from a balance perspective, but there was a serious lack of grip which meant I couldnt go any faster."
Nakajima, a new boy to the track, struggled badly in Q1.
"I just couldnt find any grip and I am still not able to understand why," he said.
The two Hondas ended up 16th and 17th and neither driver had much to say. It was better than Friday, but that is hardly any great claim.
The Force Indias were 18th and 20th with Adrian Sutil having one of his good days.
"We can be quite happy with the performance," said Sutil. "We knew that Honda would be our closest competitor and it was close. We know we have a fast car on the straights here and I think we can do some overtaking and have a good race tomorrow."
Fisichella was struggling for grip but blamed his failure to beat Sutil on traffic.
"I think there was a possibility to get 16th position," he said.