Belgian GP 2007
SEPTEMBER 16, 2007
Belgian GP, 2007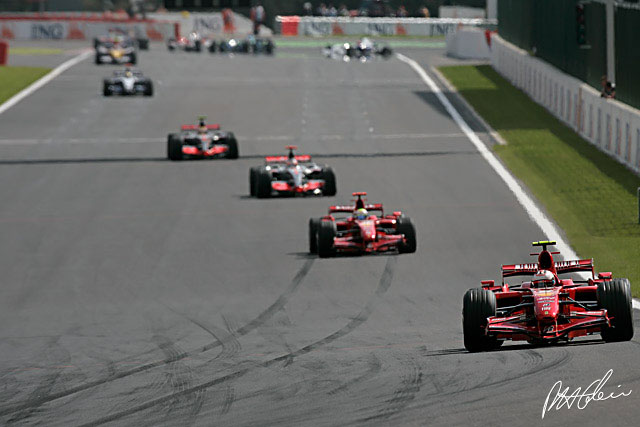 © The Cahier Archive
Ferrari dominated the Belgian Grand Prix from start to finish. It looked a lot like a massacre but the list of fastest laps made for interesting reading. Felipe Massa and Kimi Raikkonen were evenly matched and Fernando Alonso was just a tenth behind. And Lewis Hamilton was just a tenth behind his team-mate. The gap from Hamilton to the best of the rest was six-tenths of a second. In the course of the race this translated into a gap of 4.6secs between the Ferraris, Massa having backed off on the last lap and then 10secs back to Alonso and another 9.2s to Hamilton. It was close but not close enough for McLaren. The Grands Prix at the moment are being decided by the way in which the individual cars run at each individual circuit. And it is not just McLaren versus Ferrari. It is Raikkonen versus Massa and Hamilton versus Alonso.
When you boil it all down the only battle that will matter is the fight for the Drivers' title. Ferrari has already been gifted the Constructors' Championship by the FIA and it is not very likely that Kimi Raikkonen and Felipe Massa will be able to close the gap to the McLaren drivers unless things go very badly wrong for McLaren. There may be divine intervention in terms of reliability or intervention of a more terrestrial kind if Fernando Alonso and Lewis Hamilton collide. One can only hope that the FIA will not stick its foot in the door again.
The funny thing, therefore, was that as the grid revved away waiting for the five green lights to turn off, most people were watching the second row of the grid, rather than the red cars at the front. That is where the real story was happening.
Off the line Alonso was slightly slower and edged across to the left to try to stop Hamilton gaining an advantage. That was unsubtle but it was OK in the modern way of such things. What happened after that was considerably less sporting. As they went around La Source Hamilton was on the outside and had more momentum. The two Ferraris were gone but as Hamilton tried to take his team-mate Alonso turned to the left and Lewis had to swerve outwards to avoid an impact. Alonso kept the place, but the manner in which he did it revealed a little of the desperation that has at times characterised his driving this season.
The Spaniard said later that he had to move left because Massa was travelling slowly in his path. This was stretching reality and Lewis was very unhappy.
"For the last few years I've been watching Formula 1 and Fernando is always complaining about other people being unfair. But he pushed me wide quite deliberately. For someone who looks up to someone who is trying to set a status and someone for a youngster to look up to, he's not really standing up to his position. I outbraked him into Turn One, I was on the outside, there was enough room for him to get round," Hamilton said. "But he really cut across and pushed me wide. It was quite deliberate. I could see it. If I had held my position we would have collided. In fact, I think we did touch."
It may not happen tomorrow but Fernando Alonso will pay for what he did. Hamilton may seem like a nice enough individual but push him and he will push back. Fernando does not seem to care. With the ongoing Stepneygate scandal having revealed aspects of Alonso's character that were less than obvious previously, there is clearly no point in hiding that on the race track.
With the Constructors' Championship now irrelevant, there is nothing to stop the two McLaren drivers running into each other. Ron Dennis can shout orders into a radio - but will either man actually be listening.
And the thing is that although Alonso is closing in, point by point, the numbers favour Hamilton. Thus far the two men have been very evenly matched. At one track Lewis is faster at another it is Fernando. The last three races have seen Fernando score more than Lewis but Turkey was actually a race where Lewis was faster and Fernando lucked into his result after Hamilton had a puncture. In Monza and at Spa Lewis has minimised the damage by finishing right behind Fernando in both races. There are three races left and the pendulum may swing back to Hamilton. If he scores more than Alonso - even a point or two - the gap will begin to look impregnable.
But will the championship be settled in such a fashion? Probably not. Things are getting nasty now and the rookie will have fewer qualms if they are in the same position next time.
The Spa race was not complicated nor very interesting after the McLarens sorted themselves out on the first lap. Raikkonen said there was nothing much to report, just a bit of traffic.
"The car was very good, everything went well and it was a nice race," he said. "It was a perfect thing for the team, one-two, and they did everything right today."
Massa too had little to say. Perhaps he had too much rear wing, he said. Perhaps he could have run on the softer rubber for longer.
Behind the top four cars there was a huge gap back to Nick Heidfeld and then a further 25secs to Nico Rosberg's Williams. Mark Webber was not far behind Nico, which was a good sign for Red Bull Racing and then there was a smallish gap to the final points scorer Heikki Kovalainen. He spent much of the race being monstered by the star of the show: Robert Kubica who qualified fifth but was shoved down to 14th on the grid. He was overtaking left, right and centre. He dealt with Tonio Liuzzi on the first lap, Jenson Button on the second and both Jarno Trulli and David Coulthard on the third. On the fifth lap he overtook Ralf Schumacher and then began to set about Kovalainen and six laps later grabbed the place with a nice move into the final corner.
The pits stops that followed put Robert up to sixth place before he went in and thus dropped back to 12th and then attacked again and chased Kovalainen all the way to the flag. It was a great performance but he scored nothing.
For the rest it was a dull day. The two Toyotas were the last cars left unlapped, which was not a bad effort given their usual pace.
Tonio Liuzzi was 12th - his best result of the year in the Toro Rosso. This left him ahead of Rubens Barrichello's Honda and Tonio's usual combatants from Spyker and Super Aguri. The Spykers did a pretty good job too with Sutil up to 14th early on when he was running with a light fuel load.
Elsewhere the less said about Wurz and Fisichella the better.
The important point was that the race was rather dull (again) and F1 could do without that. The good news is that the Lewis and Fernando Show has the makings of a real blockbuster as we head off to Asia for the races in Japan and China.
Belgian Grand Prix Results - 16 September 2007 - 44 Laps
POS
DRIVER
NATIONALITY
ENTRANT
LAPS
TIME/RETIRE
1.
Kimi Raikkonen
Finland
Ferrari
44
1h20m39.066
2.
Felipe Massa
Brazil
Ferrari
44
4.695
3.
Fernando Alonso
Spain
McLaren-Mercedes
44
14.343
4.
Lewis Hamilton
Britain
McLaren-Mercedes
44
23.615
5.
Nick Heidfeld
Germany
BMW
44
51.879
6.
Nico Rosberg
Germany
Williams-Toyota
44
1m16.876
7.
Mark Webber
Australia
Red Bull-Renault
44
1m20.639
8.
Heikki Kovalainen
Finland
Renault
44
1m25.106
9.
Robert Kubica
Poland
BMW
44
1m25.661
10.
Ralf Schumacher
Germany
Toyota
44
1m28.574
11.
Jarno Trulli
Italy
Toyota
53
1m43.653
12.
Vitantonio Liuzzi
Italy
Toro Rosso-Ferrari
43
1 Lap
13.
Rubens Barrichello
Brazil
Honda
43
1 Lap
14.
Adrian Sutil
Germany
Spyker-Ferrari
43
1 Lap
15.
Takuma Sato
Japan
Super Aguri-Honda
43
1 Lap
16.
Anthony Davidson
Britain
Super Aguri-Honda
43
1 Lap
17.
Sakon Yamamoto
Japan
Spyker-Ferrari
43
1 Lap
R
Jenson Button
Britain
Honda
36
Hydraulics
R
Alexander Wurz
Austria
Williams-Toyota
34
Fuel Pressure
R
David Coulthard
Britain
Red Bull-Renault
29
Hydraulics
R
Sebastian Vettel
Germany
Toro Rosso-Ferrari
8
Steering
R
Giancarlo Fisichella
Italy
Renault
1
Suspension
FASTEST LAP:
Felipe Massa
Brazil
Ferrari
34
1:48.036