Belgian GP 2005
SEPTEMBER 11, 2005
Belgian GP, 2005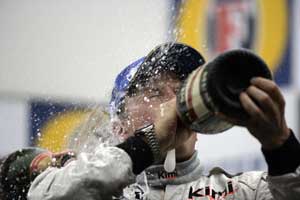 © The Cahier Archive
Alas poor Kimi! A fellow of infinite speed and yet one who seems to have Lady Luck against him at every turn. No matter what he does, someone else comes along and messes things up. At Spa he was brilliant. And he won in dominant fashion and yet what he needed as much as a victory was the support of his team mate Juan Pablo Montoya.
His job was to get himself between Raikkonen and Fernando Alonso and take away as many points as possible from the Spaniard. Montoya is fast enough to do a job like that when he has a McLaren-Mercedes MP4-20 in his hands, and yet it seems that he always seems to run into some problem or other and Raikkonen ends up with Alonso second. This time Montoya somehow collided with Antonio Pizzonia, or perhaps Pizzonia collided with him. It is really not important how it happened. All that matters is that it happened. In fact, when you boil it all down, one can say - if one chooses to do so - that the team might have been wise to radio Montoya to tell him that Pizzonia was coming up behind him and going very fast and wanting to unlap himself. As it turned out Pizzonia misunderstood the signals he was picking up from Montoya and went for a gap which Montoya closed. McLaren blamed Pizzonia for the accident, and who is to argue because the TV coverage was so poor that we never did see the incident properly.
Pizzonia explained it in simple terms.
"I was on dry tyres, and lapping quicker than him," he said. "He was quite slow, maybe because his tyres were not good anymore or maybe he was just cruising to the end of the race. I thought he saw me and when he braked really early I thought he was trying to let me by. I put my car next to him but obviously he hadn't seen me because he turned into his normal line and I couldn't avoid the crash."
Pizzonia is at this very moment fighting for an F1 career and he was on his way to more points and so there was good reason for him to be sensible (to the extent to which Grand Prix drivers can be sensible) and he was more than glum about what happened.
If the crash had not happened McLaren would have had a great 1-2 result and 18 points in the bag in the Constructors' Championship. That would have put McLaren ahead of Renault, which is where the team should be given the pace of the car at the moment. Montoya's second place would have lifted him above Michael Schumacher in the Drivers' title and would have eased Kimi's job of winning the Drivers' title just a little bit. It is still only an outside chance because all Alonso has to do is keep finishing and it will all be over but Kimi can always finish the year second in the title but with more wins than the World Champion. That will tell a good story to the historians, even if it does not add a few more noughts to Raikkonen's retainer. All Fernando has to do now is to finish third in Brazil and the story is over. Even if Kimi wins.
The only thing that Alonso cannot afford to do is to retire.
That was the fear as the cars lined up at Spa on Sunday afternoon. Spa in the damp is one of those places where things just go wrong and it is a matter of scrambling to the flag. The morning racing was punctuated by a series of big accidents not least a multiple car accident which left bits of car all over the road on the way up the hill, at a corner they used to call Kemmel, back in the days before the computer nerds turned it into Turn 4, 5 or 7. Spa has names and Spa has character and the weather is a big part of it. You just never know what you are going to get. Spa is like some barking mad mistress who will be utterly adorable one day and nailing the cat to the front door on the next. As the grid lined up we had no idea what to expect. The track was wet and the clouds swirled but rain did not fall. The teams all chose intermediate tyres except Minardi which had nothing to lose from trying out full wets, just in case it rained. It did not.
There was the usual pushing and shoving on the opening lap but everyone stayed well behaved. The McLarens were ahead, Montoya leading Raikkonen but we knew that was just a momentary thing. We knew that by hook or by crook Kimi would end up ahead. All was calm in those early laps until Giancarlo Fisichella dropped the ball in Eau Rouge. It was clear in those early laps that Fisichella was doing OK but only because he had qualified with a low downforce set-up because of his 10 grid position penalty for changing an engine. There was always a danger that he would drop it.
"The car was just flying," Giancarlo said. "I was much faster than everybody around me and just picking up positions when I could to try and climb up through the field. The handling was tricky at times but I was still quicker than the guys in front of me. I was up to seventh when I lost the car at Eau Rouge."
It was a decent-sized hit, not up with the great Jacques Villeneuve demolition jobs of years gone by, but a decent effort at destruction nonetheless and, of course, out came the Safety Car.
And now we saw McLaren at its brilliant best because some clever strategy wallah realised that everyone would want to come in and that having two cars at the same time would not be brilliant and so Montoya went charging on and Raikkonen was told to slow down and crawl around to slow everyone else so that Montoya would emerge in the lead. Montoya completed his lap in 2m08s, Kimi's lap took 2m34s. The two McLaren pits stops were done in 36s and 38s while some of the other teams had to park one car while they dealt with the other.
It was at this complex moment that a lot of teams decided to take a risk and go to dry tyres.
Bad idea.
Next time around they were back in pitlane and further down the order. Out on the race track Montoya led Ralf Schumacher, who had been very lucky and had pitted on the lap before Fisichella's shunt. Jacques Villeneuve was there, running a one-stop strategy and then came Kimi and the rest of them. Ralf and Jacques duly disappeared, Kimi got faster and faster and stayed out two laps longer than Montoya. The result, of course, was Raikkonen emerged in the lead. He was on his way and Montoya was there behind him to protect Raikkonen's tail.
Alonso was third but that became second when Montoya disappeared and so the final podium spot went to Jenson Button. That was not a bad effort given that he was one of those who had an extra stop to test out dry tyres.
Fourth place went to Mark Webber and he too had done the extra stop early on. This dropped him back to 15th but back he came as others stopped or fell off and he was soon up to fourth and pitted at exactly the right moment towards the end of the race to take on dry tyres. By then however there was no one to catch but it did at least guarantee that he would not be caught by those behind him.
"We could have scored even a better result today," he said, "but this result is long overdue for me. It is still not the result we want but we made the right decisions after all."
Rubens Barrichello was not on the pace and was 15th in the early laps but he made the right tyre choices and climbed up the order and was third for a while. The decision to switch to dry tyres at the end was taken a little too late and so Rubens was eaten up by Button and Webber and so finished fifth. It was a better result than Michael Schumacher who fell victim to Takuma Sato, the Japanese driver making a mess of things (again) and ramming the World Champion in a rude fashion. Michael was not happy.
Down Sauber way they did at least get some point thanks to Villeneuve's unusual strategy which took him up to second place for a while. He faded back and struggled with tyres and had some adventures, notably a wildly lurid moment in Eau Rouge which had nuns in several local parishes crossing themselves and thanking the Lord for miracles. Later JV gave Narain Karthikeyan some experience in off-road rallying and in the end finished sixth, a few centimetres ahead of Ralf Schumacher.
Tiago Monteiro claimed a point for Jordan thanks to the high attrition rate which Monteiro actually pushed up somewhat when he pushed the wrong button at one point and applied the pitlane speed limiter, a move which sent Trulli flying into the back of the Jordan and then off into the arms of the nearest tyre barrier.
The rest scrambled home with their own adventure stories but none were a patch on the misery that Raikkonen could relate by the end of the afternoon.
BELGIAN GRAND PRIX RESULTS - SEPTEMBER 11, 2005 - 44 LAPS
POS
DRIVER
NATIONALITY
ENTRANT
LAPS
TIRE
TIME/RETIRE
1.
KIMI RAIKKONEN
Finland
McLaren-Mercedes
44
1h30m01.295
2.
FERNANDO ALONSO
Spain
Renault
44
28.394
3.
JENSON BUTTON
Britain
BAR-Honda
44
32.077
4.
MARK WEBBER
Australia
Williams-BMW
44
1m09.157
5.
RUBENS BARRICHELLO
Brazil
Ferrari
44
1m18.136
6.
JACQUES VILLENEUVE
Canada
Sauber-Petronas
44
1m27.439
7.
RALF SCHUMACHER
Germany
Toyota
44
1m27.574
8.
TIAGO MONTEIRO
Portugal
Jordan-Toyota
43
1 Lap
9.
CHRISTIAN KLIEN
Austria
Red Bull-Cosworth
43
1 Lap
10.
FELIPE MASSA
Brazil
Sauber-Petronas
43
1 Lap
11.
NARAIN KARTHIKEYAN
India
Jordan-Toyota
43
1 Lap
12.
CHRISTIJAN ALBERS
Netherlands
Minardi-Cosworth
42
2 Laps
13.
ROBERT DOORNBOS
Netherlands
Minardi-Cosworth
41
3 Laps
14.
JUAN PABLO MONTOYA
Colombia
McLaren-Mercedes
40
Accident
15.
ANTONIO PIZZONIA
Brazil
Williams-BMW
39
Accident
R
JARNO TRULLI
Italy
Toyota
34
Accident
R
DAVID COULTHARD
Britain
Red Bull-Cosworth
18
Engine
R
MICHAEL SCHUMACHER
Germany
Ferrari
13
Accident
R
TAKUMA SATO
Japan
BAR-Honda
13
Accident
R
GIANCARLO FISICHELLA
Italy
Renault
10
Accident
FASTEST LAP: R.Schumacher
Germany
Toyota
43
1:51.453


DRIVERS CHAMPIONSHIP POSITIONS:
POS
DRIVER
NATIONALITY
ENTRANT
POINTS
1.
FERNANDO ALONSO
Spain
Renault
111
2.
KIMI RAIKKONEN
Finland
McLaren-Mercedes
86
3.
MICHAEL SCHUMACHER
Germany
Ferrari
55
4.
JUAN PABLO MONTOYA
Colombia
McLaren-Mercedes
50
5.
JARNO TRULLI
Italy
Toyota
43
6.
GIANCARLO FISICHELLA
Italy
Renault
41
7.
RALF SCHUMACHER
Germany
Toyota
37
8.
RUBENS BARRICHELLO
Brazil
Ferrari
35
9.
JENSON BUTTON
Britain
BAR-Honda
30
10.
MARK WEBBER
Australia
Williams-BMW
29
11.
NICK HEIDFELD
Germany
Williams-BMW
28
12.
DAVID COULTHARD
Britain
Red Bull-Cosworth
21
13.
JACQUES VILLENEUVE
Canada
Sauber-Petronas
9
14.
FELIPE MASSA
Brazil
Sauber-Petronas
8
15.
TIAGO MONTEIRO
Portugal
Jordan-Toyota
7
16.
ALEXANDER WURZ
Austria
McLaren-Mercedes
6
17.
NARAIN KARTHIKEYAN
India
Jordan-Toyota
5
CHRISTIAN KLIEN
Austria
Red Bull-Cosworth
5
19.
CHRISTIJAN ALBERS
Netherlands
Minardi-Cosworth
4
PEDRO DE LA ROSA
Spain
McLaren-Mercedes
4
21.
PATRICK FRIESACHER
Austria
Minardi-Cosworth
3
22.
ANTONIO PIZZONIA
Brazil
Williams-BMW
2
23.
VITANTONIO LIUZZI
Italy
Red Bull-Cosworth
1
TAKUMA SATO
Japan
BAR-Honda
1


CONSTRUCTORS CHAMPIONSHIP POSITIONS:
POS
CONSTRUCTOR
POINTS
1.
RENAULT
152
2.
MCLAREN-MERCEDES
146
3.
FERRARI
90
4.
TOYOTA
80
5.
WILLIAMS-BMW
59
6.
BAR-HONDA
31
7.
RED BULL-COSWORTH
27
8.
SAUBER-PETRONAS
17
9.
JORDAN-TOYOTA
12
10.
MINARDI-COSWORTH
7