Belgian GP 2004
AUGUST 29, 2004
Belgian GP, 2004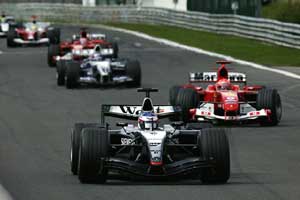 © The Cahier Archive
Miracles don't happen in motor racing, but there is an exception to every rule. At the start of the 2004 season the McLaren-Mercedes was the joke of the paddock. The team was wasting its time and McLaren's reputation was looking rather frayed. And so the boot had to go in and changes were made, jobs were shuffled and suddenly we had a new car, or at least a rehashed version of the MP4-19. But this car worked...
At Spa Francorchamps it worked better than the Ferrari and Kimi Raikkonen came away with a win. Michael Schumacher tied up his seventh World Championship but no-one really seemed to care much about that, not even Michael himself seemed very happy and the applause that greeted him when he arrived in the press conference was intermittent at best. And rather than talking about achievements, one of the first questions was what the drivers thought about the Olympic Games, a sign of the times if ever there was one.
But the Belgian Grand Prix was a revival, perhaps even a resurrection for F1. It was a barnstormer of a race with six different cars in the lead, three Safety Cars and accidents all over the place. Oh, and racing. This was not a great surprise because we all know that if the World Championship only visited circuits where racing is possible rather than where the cheque is largest we would always have good races. Better races would bring more interest and more money, of course, but some people in F1 don't see this.
The fastest way to the money was very definitely not on the run down to the first corner - in fact it turned out to be a very expensive half a minute between the moment when the lights went out and when the Safety Car was despatched. It was one of those laps when one needs a video player to watch each car on its own to see who hit who. It was a case of bumper cars. We knew the two Renaults would be quick away and they were with Trulli leading Alonso into the first corner. Michael Schumacher found himself being neatly blocked in by the Renault boys and had to watch as David Coulthard grabbed third place down the inside line. Behind them things were a great deal more complicated. Where to begin?
Well, perhaps with Fisichella's Sauber which was too slow away. It was going down the middle of the road and the men behind were looking for a way to get ahead. Barrichello went to the left, Mark Webber went to the right. At the same moment Felipe Massa and Kimi Raikkonen were on the outside fighting over the same piece of tarmac. The two clashed and Massa lost his front wing and his momentum. This allowed Jenson Button to pile into the back of the Sauber and smash up his front wing. At the same time on the inside the Webber-Barrichello manoeuvre had ended in tears when Webber ran into the back of the Ferrari as it swooped in front of him. Fisichella braked to avoid the crunch and so was hit from behind by Olivier Panis's Toyota. No, it's not over yet. Behind Button, there was Pizzonia jumping on the brakes but Nick Heidfeld did not have the time to do likewise and with a crunch the Jordan ran into the Williams and knocked off his front wing. Down at Eau Rouge things became more and more complex. Webber had no front wing as he tried to climb the hill to Raidillon. He had to lift off to avoid crashing and that meant that Takuma Sato behind him had to lift off as well. Behind them Juan Pablo Montoya did not want to lift off and the result was three cars side by side in a piece of road built for two. Sato and Webber hit and spun. This caused mayhem. Gianmaria Bruni backed off and was hit from behind by his own team mate Zsolt Baumgartner. This punted the Italian into the barriers and as he came back onto the track he was hit by Giorgio Pantano who had nowhere to go in his Jordan.
There were four cars out on the spot and another six heading for pitlane for repairs. That was half the field.
Down in pitlane there was all the glamour of a Beverly Hills plastic surgery as one car after another came in for a nose job. With the Safety Car out there was time aplenty and Barrichello and Massa both stopped twice to sort things out and decide on strategies.
Eventually things got going again and Raikkonen gave notice of his intentions as he swept past Schumacher and then passed his own team mate David Coulthard before setting off after the Renaults. He need not have bothered because Renault self-destructed quite spectacularly shortly afterwards. Trulli went into the pits early after only 10 laps of racing and two laps later Alonso was gone too, the victim of an oil leak which caused him to spin off the road twice. Jarno found his car was horrible to drive and his lap times fell back and he spent the rest of the afternoon driving around hoping to finish.
This put Kimi in the lead by more than 10 seconds because behind him there had been some fun when Montoya drove around the outside of Michael at the chicane and left the German in no doubt as to his respect for Schumacher. Montoya on a good day is awesome to watch.
When the main men did their first stops we were left with Kimi about 13secs ahead of Michael. One would expect the Ferrari to eat up the gap but there was barely a nibble. Kimi could stay ahead. He would have done too but just after Raikkonen's second stop on lap 29, Button had a tyre failure up at the top of the hill and spun into Baumgartner's Minardi at high speed. There was more carbon on the road. Another Safety car popped out and Schumacher and most of the others went into the pits and gained back the time that Kimi had made. They were all in line astern and we groaned. Michael Schumacher's legendary luck was going to do it again. Michael was going to win. But we bargained without Kimi. He had a trick up his sleeve. There were nine laps to go as they prepared for the restart. Michael was suddenly dangerous. So Kimi took care of him. Behind the Safety Car the leader dictates the pace and so Kimi did an impersonation of a snail and crawled along. In doing so he made sure that Michael Schumacher's Bridgestone lost their heat and so when Raikkonen lit up the engine again, Michael could not hold on. As the tyres heated up again Michael began to close up but then we had another Safety Car after Coulthard somehow ran into the back of Klien on the high speed run up the hill. Both men kept going but there was more carbon on the road and so out went the Safety Car again and Kimi had to play the same trick again. There were three laps left when the race restarted and after doing the snail impersonation again Kimi took off and Michael knew he had no chance and so did not really bother to follow. Woking could have a win. He would have another title.
For the McLaren fans it was a great moment. A miracle but a nice one. It is always good to see a great team get back on the track.
The fact that Barrichello drove from last to third was a reflection of the chaos which went on. After Button was gone third place belonged to Antonio Pizzonia, doing a great job for Williams but just when he looked like he was going to score a podium finish his gearbox failed. That put Montoya third but he had a puncture and had to drive slowly round to the pits to retire, the team ordering him out of the car when it became clear how much work would be needed. Exit Williams. That left Barrichello third and Zonta fourth in the Toyota. Zonta had driven a great race avoiding trouble and hoping for points. Three laps from home his engine blew. It was a crushing blow for the team. And so the Saubers finished fourth and fifth and behind them came Klien who survived the brush with Coulthard. DC was seventh after a busy race and Olivier Panis scraped home for the final point.
It had been a great entertainment. And what did we learn?
Formula 1 had shown that there is nothing much wrong with the sport on a day when Michael Schumacher gets it wrong. We don't need new technical rules. We don't need 2.4-litre V8 engines. What we need is decent race tracks and plenty of rain on Fridays and Saturdays.
Then again the team bosses might think about cutting back on testing and having qualifying races.
That would do it.
BELGIAN GRAND PRIX RESULTS - AUGUST 29, 2004 - 44 LAPS

POS

DRIVER
NATIONALITY
ENTRANT
LAPS
TIRE
TIME/RETIRE

1.

KIMI RAIKKONEN
Finland
McLaren-Mercedes
44

1h32m35.274

2.

MICHAEL SCHUMACHER
Germany
Ferrari
44

3.132

3.

RUBENS BARRICHELLO
Brazil
Ferrari
44

4.371

4.

FELIPE MASSA
Brazil
Sauber-Petronas
44

12.504

5.

GIANCARLO FISICHELLA
Italy
Sauber-Petronas
44

14.104

6.

CHRISTIAN KLIEN
Austria
Jaguar-Cosworth
44

14.614

7.

DAVID COULTHARD
Britain
McLaren-Mercedes
44

17.970

8.

OLIVIER PANIS
France
Toyota
44

18.693

9.

JARNO TRULLI
Italy
Renault
44

22.115

10.

RICARDO ZONTA
Brazil
Toyota
41

3 Laps

11.

NICK HEIDFELD
Germany
Jordan-Cosworth
40

4 Laps

R

JUAN PABLO MONTOYA
Colombia
Williams-BMW
37

Puncture

R

ANTONIO PIZZONIA
Brazil
Williams-BMW
31

Gearbox

R

JENSON BUTTON
Britain
BAR-Honda
29

Accident

R

ZSOLT BAUMGARTNER
Hungary
Minardi-Cosworth
28

Accident

R

FERNANDO ALONSO
Spain
Renault
11

Spin

R

MARK WEBBER
Australia
Jaguar-Cosworth
0

Accident

R

TAKUMA SATO
Japan
BAR-Honda
0

Accident

R

GIANMARIA BRUNI
Italy
Minardi-Cosworth
0

Accident

R

GIORGIO PANTANO
Italy
Jordan-Ford
0

Accident

FASTEST LAP: Raikkonen

Finland
McLaren-Mercedes
42

1:45.108



DRIVERS CHAMPIONSHIP POSITIONS:

POS

DRIVER
NATIONALITY
ENTRANT

POINTS

1.

MICHAEL SCHUMACHER
Germany
Ferrari

128

2.

RUBENS BARRICHELLO
Brazil
Ferrari

88

3.

JENSON BUTTON
Britain
BAR-Honda

65

4.

JARNO TRULLI
Italy
Renault

46

5.

FERNANDO ALONSO
Spain
Renault

45

6.

JUAN PABLO MONTOYA
Colombia
Williams-BMW

38

7.

KIMI RAIKKONEN
Finland
McLaren-Mercedes

28

8.

DAVID COULTHARD
Britain
McLaren-Mercedes

21

9.

TAKUMA SATO
Japan
BAR-Honda

18

GIANCARLO FISICHELLA
Italy
Sauber-Petronas

18

11.

RALF SCHUMACHER
Germany
Williams-BMW

12

12.

FELIPE MASSA
Brazil
Sauber-Petronas

10

13.

MARK WEBBER
Australia
Jaguar-Cosworth

7

14.

OLIVIER PANIS
France
Toyota

6

15.

ANTONIO PIZZONIA
Brazil
Williams-BMW

4

16.

CRISTIANO DA MATTA
Brazil
Toyota

3

NICK HEIDFELD
Germany
Jordan-Cosworth

3

CHRISTIAN KLIEN
Austria
Jaguar-Cosworth

3

19.

TIMO GLOCK
Germany
Jordan-Cosworth

2

20.

ZSOLT BAUMGARTNER
Hungary
Minardi-Cosworth

1




CONSTRUCTORS CHAMPIONSHIP POSITIONS:

POS

CONSTRUCTOR

POINTS

1.

FERRARI

216

2.

RENAULT

91

3.

BAR-HONDA

83

4.

WILLIAMS-BMW

54

5.

MCLAREN-MERCEDES

49

6.

SAUBER-PETRONAS

28

7.

JAGUAR-COSWORTH

10

8.

TOYOTA

9

9.

JORDAN-COSWORTH

5

10.

MINARDI-COSWORTH

1