Bahrain GP 2021
MARCH 5, 2023
Sunday Team Quotes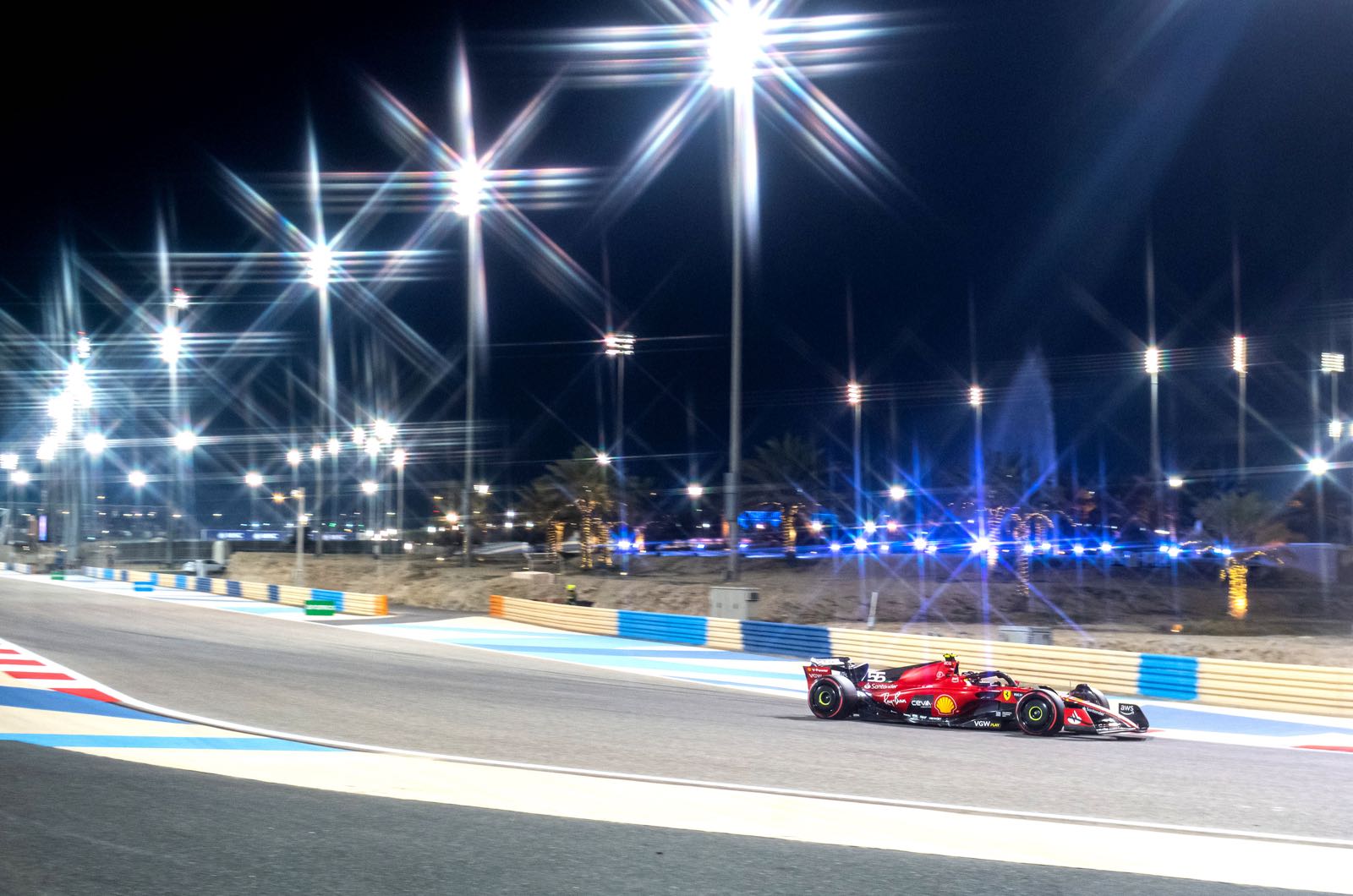 © Ferrari
Oracle Red Bull Racing
Max Verstappen (1st): "This is exactly the start we wanted, a one-two finish. I'm incredibly proud that we have achieved this as a Team. I could see early on that we had the pace in the car, I was able to build a gap from the start and then just managed it for the rest of the race, it was a straightforward day for us. It also feels good to finally win in Bahrain, I haven't had the best history here. Looking ahead to Jeddah, it's a completely different track with different conditions, there's a lot of long straights and fast corners, so it will give us a completely different picture of where everyone is on the grid but at least this was a very good start for us."
Sergio Perez (2nd): "My start wasn't ideal, Charles was a little too aggressive, pushed me to the right and I did my best to avoid him. That meant my first stint wasn't ideal, Charles was very strong on that new tyre and it was difficult to get through him quickly enough. I think that's where I lost out to Max, I was behind him by about 10 or 12 seconds and after that it was game over on catching Max, it was all about getting Charles. It was important to get by him, minimise the damage and get that P2 for the Team. There are a lot of improvements we can still make to try and make our car better, there is still plenty of work going on behind the scenes. On this tarmac we have been very strong but Bahrain is a very unique circuit and things will be closer at other circuits."
Christian Horner, Sporting Director: "What a race! Max certainly showed he has not lost any of his pace coming into the new season, grabbing pole and the victory with both hands. Checo had a bit of work to do with Charles, but he played it well and then from there it was about managing the race till the end. The pace was there, the reliability too, we also had a solid pit stop strategy. It's great to have both the guys up there within a tenth, fighting over the fine margins. That pushes the Team forward and they certainly delivered. Comparing it to last year, when we finished with no points, is quite a contrast. However, its important to remember this is just race one, there's a lot of racing still to do, but it is a great start, from the whole team. It was important for us to get on the board, get some good points in early and we have done that today. We look forward to see what Jeddah brings."
Scuderia Ferrari
Carlos Sainz (4th): "It was a challenging Sunday. We knew already from testing that it was going to be tough here in Bahrain and now we need to focus on improving for the upcoming races. Time to put our heads down, work hard and see how we can close the gap to the top. It's only race one, so we'll keep pushing no matter what."
Charles Leclerc (DNF): "We had a great start and everything felt good. We had a solid gap behind us and were managing the pace well until unfortunately, we lost power. It's a shame and we will look into the causes to make sure we understand what happened."
Frédéric Vasseur, Team Principal: "Of course we are disappointed, how could we not be. We knew we'd have to deal with tyre degradation, but we had not expected reliability problems. It's a shame for Charles, because in the first stint his pace was good and even with the heavy degradation on the Hard tyre, he could have brought home a third place, that would have been a good way to start the season. Carlos drove a solid race, running at a consistent pace and he gave it his all to finish fourth. After this first race, we have a clear picture of the situation and we know what areas we must work on. We have to improve a lot in terms of tyre management and clearly, we have to ensure we have no more reliability problems like the one that affected us today."
Mercedes-AMG Petronas F1 Team
Lewis Hamilton (5th): "We did the best we could today. We are the fourth fastest team right now, and the Ferrari and Aston that we were battling were just quicker than us. It was close for a second with Sainz, but I couldn't hang on and he just went away in the final laps. Big congratulations to Fernando and the whole Aston Martin team too. They did a great job today. It was a fun tussle we had for a moment, but he was too quick. We are lacking a lot of downforce, and we've got a lot of work to do to add more to the car. As soon as we put more load on the front and rear, we will be able to pick up our pace. We've just got to keep working; we know we are not where we need to be. I've got to stay positive, keep my head up and keep pushing the Team. I will be a positive light for them and get the best points I can."
George Russell (7th): "We are lacking performance and we are a long behind where we want to be. Aston Martin are the surprise package this year and our deficit to Red Bull and those ahead is too big. The positive we can take away is that there is no fundamental problem with the car, other than it is lacking downforce. As silly as it sounds, that is one of the easiest problems to solve compared to what we had to do last year. We are all here to win. If we must sacrifice some races or part of this season to give ourselves a chance to fight in the second half of the season, or even next year, that is what we are going to have to do. We know the Team is good at developing and finding performance, but we are a long way behind where we want to be. We need to find some performance quickly. Bahrain is an outlier circuit, but performance isn't going to swing more than three tenths positively or negatively from track to track."
Toto Wolff, Team Principal: "That was one of our worst days in racing. It was not good at all; we are lacking pace front, right, and centre. The Aston Martins are very fast, and the Red Bull is just on a different planet. It hurts that they are so far ahead; it reminds me of our best years where we put one second on everyone else. That is the benchmark. We need to put one foot in front of the other to come back but nobody in this team will throw in the towel. We need to dig deep, deeper than we ever have done before. And we can do that."
Andrew Shovlin: "It was a very difficult Sunday; the gap to Red Bull is huge and we've got Aston Martin and Ferrari ahead of us too. Clearly, we have a lot of work ahead and we need to go back and come up with a plan to try and find improvements. We are lacking overall grip and, on a high degradation track like this, there was nothing that the drivers could do to attack. However, it's encouraging to see how the team is pulling together and how well the drivers are working together. This is the second season we've started on the back foot though and we're under no illusion that this is not acceptable for our team. We've got a few days to regroup and improve ahead of Saudi; we will work together to try and make sure the next race is a better one than this weekend."
BWT Alpine F1 Team
Pierre Gasly (9th): "I'm happy with today's race and it's a great way to mark my debut with Alpine. After yesterday's Qualifying we were all feeling disappointed as that's not where we aimed to be, so well done to the entire team for their hard work in turning it around for the race. It was always going to be challenging to take points today, but we had confidence in the performance of our race car and we knew we had a chance to score points with a good strategy. We need to continue to work hard, we have a good base and it's important we now build on that. I know there's much more to come from us. It was a pity with what happened to Esteban, and we'll debrief collectively to make sure we're in a better position to help both cars score points."
Esteban Ocon (DNF, Retired): "Today was not our day. Unfortunately, we made too many operational mistakes and it has cost us today. We need to analyse everything, all the details and learn from those quickly. We'll take it on the chin together as a team and look forward to the next race where I'm sure we'll come back stronger. On a positive note, our race pace and performance was good and clearly, we had the speed to have both cars inside the points. I'm already looking forward to Jeddah. We're going there determined to bounce back and get our season underway."
Otmar Szafnauer, Chief Operating Officer: "While we can be satisfied to come away with points from today's race, given how everything played out, we also leave Bahrain knowing we have a lot of hard work ahead of us. On Esteban's side, and operationally, we must do better to make sure there is no repeat of what happened today. We demonstrated that we had the pace today to have both cars inside the points and that has to be the objective going forwards. Pierre did a fantastic job to put behind a very disappointing Saturday and come back strongly to go from the back of the grid to the points, so credit to him on a solid debut. It's been a busy and intense two weeks for the team in Bahrain and we look forward to returning to Viry and Enstone, where we will debrief as a team, before returning to the track in Jeddah where we aim for a much improved performance."
McLaren F1 Team
Lando Norris (17th): "A very tough race. We had a few issues we had to manage, which really took us out of the race but we tried to stay in it for as long as possible, just in case there was a Safety Car or something and we might have had a chance at the end. I think the pace was alright otherwise. Just too many issues today to fight for points, so we'll go again next time."
Oscar Piastri (DNF): "It was disappointing to have finished so soon. We were going quite well, got a decent start and made some good overtakes. I thought up until the electrical problem, we were doing a good job. We're still working out what the issue is and we hoped changing the steering wheel would fix it but unfortunately it didn't. Obviously not the finish to the weekend that I wanted but there are positives to take, and the car seemed to have better pace in the race. I still learned a lot and I'm glad I've now made my debut, and experienced some of the F1 race weekend firsts. I'm now looking forward to having a better weekend in Saudi Arabia."
Andrea Stella, Team Principal: "It's not the start of the season for which we were hoping. Points were certainly possible today, the cars had competitive pace in race stints, and Lando particularly was in a strong position. Unfortunately, we were hit by two reliability issues. Oscar had to retire with what appears to be an electrical problem which we are investigating. Lando, meanwhile, had a pneumatic pressure leak on the power unit side. It required him to pit every ten laps to recharge the system. We leave Bahrain knowing we have work to do but the season is long. We'll regroup and will be ready to go again in Saudi Arabia."
Alfa Romeo F1 Team Stake
Valtteri Bottas (8th): "I am really pleased with our race tonight: four points are a good reward for the team and show that all the work everyone back at base did during the winter is paying off. We showed we have a good race car and that we can fight with all the teams around us. It was a solid start to our season, but the work is not finished, of course: we have to keep improving, keep pushing – I know everyone in Hinwil is working to bring upgrades to our car. My race was good, a bit quiet at times: the start was really important, making those places on the opening lap was crucial as the cars around us are very well matched and overtaking is not easy. We went out aggressively, both on track and with our strategy, and it was definitely the right thing to do. We also had to be smart and pick our battles, making sure we kept some of our tyres for when we needed it: it turned out to be important at the end, when it got a bit close with Gasly, but in the end we brought it home. It was also important for Zhou to get the fastest lap right at the end to steal the point from our competition - he did a good job and it shows how well we work as a team. P8 was the most we could get tonight and there's nothing more we could have done."
Guanyu Zhou (16th): "It's obviously good to see Valtteri scoring points for the team in the season opener, it's a good starting place for all of us, and I was glad to give my contribution by setting the fastest lap in the closing stages. The car felt better than in qualifying, which shows we're going in the right direction: we must keep finding these margins to keep improving ahead of the next few races and I know everyone trackside and in Switzerland is working to do it. As for tonight's race, I suffered a bit of wheelspin in the opening lap, losing a few places and ending stuck in a DRS train for most of the race. The VSC came out at the wrong time and there wasn't much we could do to improve our position at that stage. Still, there are positives we can get out of this race, as a team, as we head to Saudi Arabia with the knowledge we can fight for the points in every race."
Alessandro Alunni Bravi, Team Representative: "The team did a really good job tonight and we can be satisfied with the final result, which shows our continuous progress and the value of the work we did during pre-season testing: we were in the top five teams for the whole of the race, and we finished ahead of McLaren and Alpine, which is as much as we could have hoped to get tonight. It was a good collective effort: the drivers did well in the car, with the added team-work contribution of Zhou setting the fastest time at the very end; the strategic choices and the pit-stops were really good, and all together we contributed to the four points we bring home. This result is in line with what we were expecting following last week's testing and the data we got in practice. We also owe a big 'thank you' to the team back in Hinwil, who were instrumental in giving us a car we could fight with, and our key technical partners, Ferrari. Tonight was a good start, but there's still a lot of work to do: we have to keep pushing to develop our car, as the battle we are in this season is going to be an exciting one."
Aston Martin Aramco Cognizant F1 Team
Fernando Alonso (3rd): "This is an incredible result from the entire team and we must enjoy this moment. I am very proud of the job everybody has done. We did not have the best start, but the race pace was strong. The car has been very predictable from day one [of testing] and I have felt very comfortable throughout the whole weekend. I really enjoyed the race and, even after the chequered flag, I felt like I could have driven for another hour! We had some great fights out there today, especially with [Carlos] Sainz and [Lewis] Hamilton. Lewis is a legend of the sport and it was great to have so much respect between us out there. It was also an incredible effort from Lance, who was a hero today for driving so well so soon after his injury to pick up some great points. You can feel the energy in the team: everybody is working flat out at the moment and we are all very motivated. This weekend feels like a dream, but we must stay realistic because this is just one track and the first race. Jeddah is a very different kind of circuit; a very different challenge. I cannot wait to get back in the car."
Lance Stroll (6th): "It was a fun race and I am super pleased to score good points tonight. It was not the most comfortable race for me, because of the injuries I have been dealing with, but to finish sixth has made it worth enduring all that pain. This is an amazing result for the team and the best way to start the season. Well done to everybody at Silverstone and here at the track. Fernando put in a great drive to take a podium first time out and has really shown the potential of this car. It feels great to be battling with Mercedes. Even with the adrenaline, the pain was the biggest limiting factor in the second half of the race. I must thank everyone who has helped me be in the best shape possible for today. I will now use the coming days ahead of Jeddah to work on recovery."
Mike Krack, Chief Operating Officer: "Today's fantastic result is the culmination of the hard work over many months from the team. To bring home a podium and sixth place in the first race of the season is a wonderful achievement and the team should be extremely proud. Both Fernando and Lance raced well, showing the race pace we knew was possible and making well-judged overtaking moves when it mattered. Fernando has been buzzing all weekend and that energy has transferred throughout the team. As for Lance, just to be competing has been a heroic effort, and to see him finish sixth, after a great pass on George [Russell], is a superb effort. It is a massively impressive performance having missed all of winter testing. This is a great way to start the season and I want to say a big thank you to everyone in the team, to our partners, and fantastic fans. But this is only race one and there is a long season ahead of us. We will keep our feet on the ground, keep working hard, and look to build on this strong performance next time out in Saudi Arabia."
Haas F1 Team
Kevin Magnussen (13th): "I was pleasantly surprised with our race pace. We started P17 but still made up a few positions and it felt like the pace was alright in terms of where we came from. I think we were struggling a lot in testing and on Friday with tire wear and in the race it seemed like we made a step, which is positive. It wasn't the weekend we dreamed of, but we learned a lot."
Nico Hulkenberg (15th): "It was a tricky race – especially the first half. I had contact with someone on lap one which I didn't really notice so that was a bit frustrating. I had quite a lot missing from the front wing and lost a lot of load and grip with that, and that made the first half of the race very tough. We tried to hang in there, but I was going through my tires like a hot knife through butter, so we decided there was no point in continuing like that and we pitted for a new front wing. We did a race distance though and got lots of good information, so we'll definitely take that."
Guenther Steiner, Team Principal: "The result wasn't what we expected – Nico didn't have a great start losing a front wing endplate and Kevin was, in hindsight, on the wrong tire at the start. I think race pace was better than we expected and that's what we take away from here – there is good potential in the car. We qualified in the top 10 and maybe could even have been in the top eight if everything went perfectly. In the race it didn't go our way, but we learned a lot and we now know that we're in the ballpark on race pace like everybody else. We go to Jeddah well prepared, and we'll see what we can do there – I think points are possible."
Scuderia AlphaTauri
Yuki Tsunoda (11th): "The race pace was better than we expected, but at the same time, it's very frustrating to just miss out on points. The start was the decisive moment as I lost some positions to Williams, and their straight-line speed was too strong for us, so we couldn't manage to overtake them. I'm happy with my tyre management, although we struggled more than we thought. As soon as we wanted to push, the tyres began to overheat, and I started to slide around and lose the rear. We have more work to do to develop the car so we can consistently fight the midfield, starting with Saudi Arabia. Since we struggled with high-speed performance, Saudi might be difficult, but I'm staying positive as I'm sure the team and I will be able to extract speed from the car to be able to score points."
Nyck de Vries (14th): "I'm pretty satisfied with our race today. Obviously, it could have been better and there is room for improvement, but in terms of performance, our race pace was decent. Given where we started, it was a good day because we could still fight some cars around us. Not pitting under the VSC meant I was driving on the hard compound tyre for the remainder of the race, but ultimately, the mileage and experience will help us for the season. Points weren't possible today, so we'll look ahead to Saudi Arabia, which is a bit quicker, meaning the midfield will look different again. We know there's more work to do, but as a team, we'll continue to work hard on the areas that require improvements to give us a stronger performance moving forward."
Franz Tost, Team Principal: "First of all, congratulations to Red Bull Racing for a fantastic start to the season, finishing with a one-two and so far ahead of the rest of the field. From our side, I am not satisfied with our performance. From a technical point of view, we have a lot to work on as the car isn't on the level I expect. We know where the deficiencies of the car are, and we have to work to increase the performance with new upgrades, which I hope will be effective when they arrive. After qualifying P14 and P19, we were able to recover in the race, and I must say that both drivers did a good job. Yuki pushed hard to finish in the top 10, but unfortunately, he missed out by a couple of tenths. Nyck also did well in the race; it was important for him to learn the characteristics of the car in race conditions and get as much experience as possible."
Jody Egginton, Technical Director: "Both Yuki and Nyck have done an excellent job tonight from lights out until the chequered flag. They managed the tyres well, provided good feedback to the pit wall, and delivered a good performance. The AT04 continues to run very reliably which is positive, and although we've been fighting for the final points positions with Yuki tonight - with Nyck also putting in solid lap times - we are primarily lacking grip. The key to addressing this limitation is our aero development, so this is the focus. The call to bring Yuki in under the VSC for his final stop was a no-brainer, however, we missed out by not pitting Nyck at the same time, so the strategy group need to go through the numbers to see why this call appeared a marginal one at the time. Although the first race of the season is over, the aero development race continues unabated, with the aero and manufacturing groups focused on delivering updates on a rolling basis to move the performance forwards."
Williams Racing
Alexander Albon (10th): "In my opinion we were out of position on the grid due to a tricky Qualifying session but we had a really good start, made up some positions off the line and then had our elbows out at a couple of moments during the race. We were strong, we were fighting and our race pace was better than expected. It was a tough race, a lot of management, but we made it work. We're maybe not quite midfield pace, but we're close and to get a point in the first race is pretty amazing. I'm super happy and super proud of the team; it was a job well done by everyone at Williams Racing."
Logan Sargeant (12th): "I absolutely loved every second of my debut race. The first time going off the line was special. I'm proud of the team, I think we outperformed everything we expected coming from testing. Congratulations to Alex and everyone at Williams Racing for scoring the first point of the season. From myself, everything went smoothly from race start to pit-stops to Virtual Safety Car. Hopefully, we can use this as a good base and continue to make progress throughout the year."
Dave Robson, Head of Vehicle Performance: "After the frustration of yesterday, today was a good comeback that got our season off to a strong start. Although scoring a point is always rewarding, there are significantly more positives to take from today. Alex drove expertly, exactly as we know he can, and he was able to gain places and then defend strongly whilst managing his tyres to the end. Logan enjoyed a fantastic opening race, which has taught him a huge amount about racing in Formula One; he didn't make a single mistake, was measured in attack and good with his tyres. He and his team have worked very hard to get to this position and they took their opportunity very well. This is only the first race of a long season. We have a lot of work to do but we now have some momentum to build upon and carry forward into the next races in Saudi Arabia and Australia."