Bahrain GP 2022
MARCH 20, 2022
Sunday Team Quotes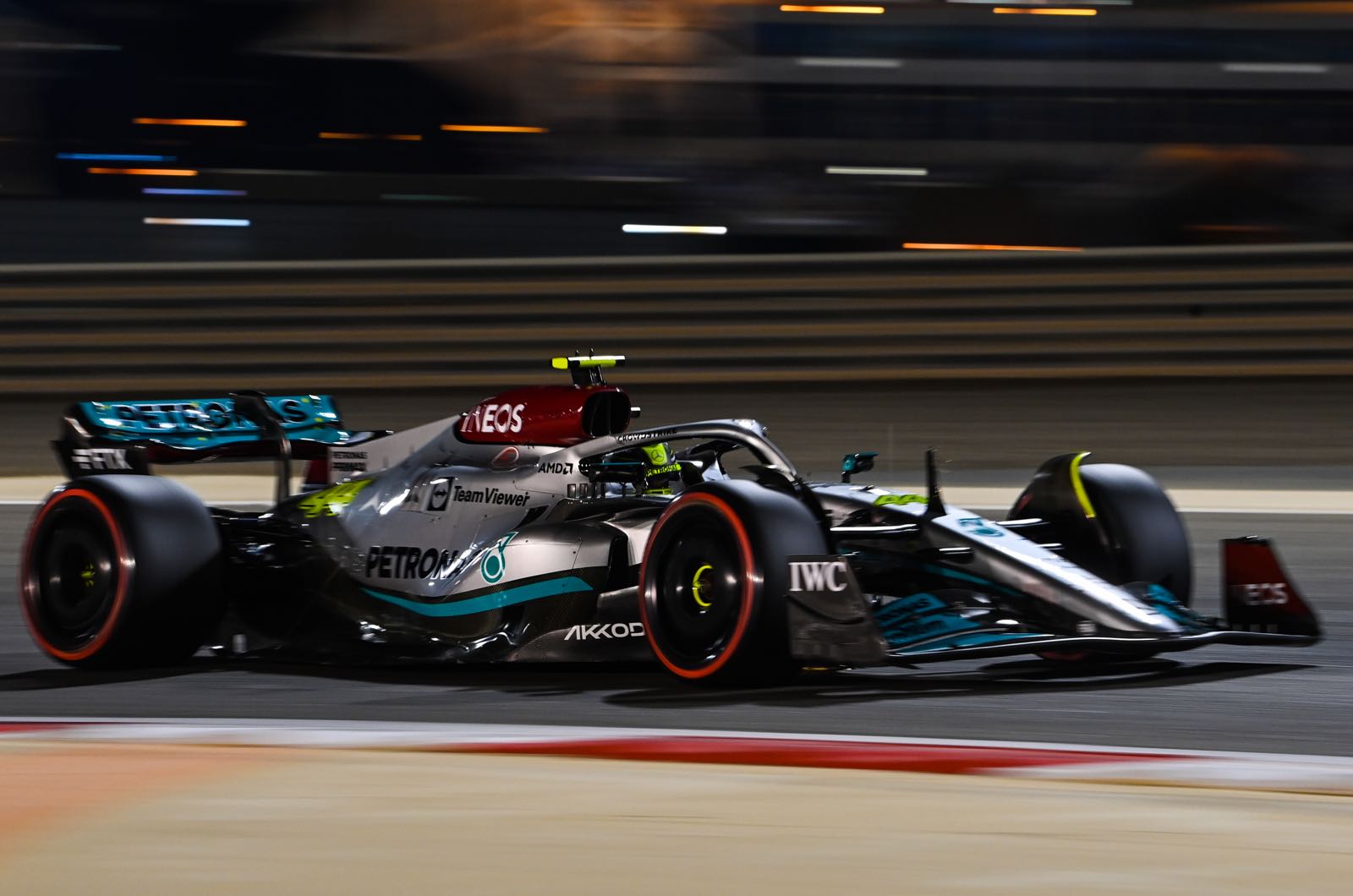 © Mercedes-Benz Grand Prix Ltd.
Mercedes-AMG Petronas F1 Team
Lewis Hamilton (3rd): "A big, big congratulations to Ferrari, I'm so happy to see them doing well again, they are such a historic and epic team. It was a difficult race for us today, we've struggled throughout practice and this is really the best result we could have got. Of course it was unfortunate for the other two drivers but we did the best we could and we are grateful for these points. I know the guys are working really hard back at the factory and it is not going to be a quick turnaround but we've been the best unified team for so long, we all know to just keep your head down, keep working, there's a long way to go. We've got to maximise our weekends and at some point, we'll be back in the fight."
George Russell (4th): "It was a positive race, I made a good start and then Lewis and I were on a race of our own, albeit on different strategies. We came home with a P3 and P4 for the team which we would have definitely taken prior to the weekend so in a long championship, we can be pleased with how today went. Considering we're half a second behind in qualifying and probably the same, if not more, on race pace, it was a good damage limitation weekend. There's a lot of potential in the car and we really need to dig down into the data and understand how to extract the performance. We recognise our rivals are a long way ahead of us, we know what the overall limitations of the car are, and we won't settle until we have the chance of the win."
Toto Wolff, Team Principal: "Today we were punching above our weight class, with the Red Bulls DNF-ing, but third and fourth is a fantastic result. I think with the Soft tyre, on pure pace before the tyre degrades, we are almost there - not where Leclerc is but with the others. Then degradation is too big and today we tried to do something different by putting the Hard on but it was a second slower every single lap so lesson learned. I think we were over winged today, we had too much drag and that is just because we are lacking parts at the moment but hopefully we can remedy that, and make progress on the top two's advantage. We really need to leave no stone unturned on the PU side and look for all performance gains but the wing was the issue for us today on straight line speed. At the moment we are fifth and sixth on the track, and we are trying to recover ground but it is not going to come from one day to the other - we'll keep pushing."
Andrew Shovlin: "We knew we weren't quick enough coming into the weekend so our goal for this weekend was one of damage limitation in the championship. In terms of pace we're more or less on our own; we couldn't realistically put any pressure on Red Bull and Ferrari, and we weren't really under any pressure from behind. This allowed us to play a bit with the strategy, moving quite early to a three stop with Lewis. Our priority has to be to get on top of our current performance issues; we don't have a car to fight for pole or race wins and that isn't something that we can tolerate for long if we ambitions to win the championships. The balance was quite tricky but the main issue is just a lack of grip, caused by the fact that we have to run the car so high to avoid the bottoming. However, the weekend hasn't been without it's positives. The gaps are pretty big but we can see so much performance that we can bring relatively quickly, the team has also worked well and the car has been reliable. We have a lot of ideas to explore to improve our pace and we'll be working hard over the next few days and weeks to bring those to the track."
Oracle Red Bull Racing
Sergio Perez (18th, Power Unit): "It was going to be a great start to the season but unfortunately, we didn't manage to get the result we were hoping for. It is very disappointing to not be able to execute the result we wanted; we had the podium in our pocket until the last lap. A couple of laps before the end I could feel I was losing power, we knew there was an issue and we knew what had happened with Max. I had a similar issue to his car, at the moment we think it was a fuel system problem and basically the engine just stopped. It is tough to digest but we are going to look for the positives and come back stronger next week in Jeddah. I am sure we will get to the bottom of the problem, we are a great Team and I really believe in them. Today is very disappointing and an unfortunate start to our season but a year is a long time in Formula 1 and we're only one race in."
Max Verstappen (19th, Power Unit): "We were feeling quite competitive throughout the weekend so the result today was very unfortunate for us. The problems started initially with the brakes, they were overheating so I had to lift off and as a result I lost pace and had to let Charles go. After that, there were still a few issues with car balance and after my final pit stop my steering wheel was locked. That made it very difficult to drive so defending from Carlos at the re-start wasn't easy. The final issue looked like a fuel system problem, which is why I had to retire and it was extremely painful for both our cars to DNF. We don't know exactly what went wrong yet but we'll definitely analyse the data and make sure we learn from it. At the end of the day, motorsport is unpredictable and these things can happen, this is race one, we have plenty more ahead of us."
Christian Horner, Sporting Director: "Obviously we are hugely disappointed to lose the chance of podium finishes today, but congratulations to Ferrari on their one, two finish and a return to the front. We will need to conduct a full investigation into what happened, but it looks suspiciously like the failures are related to each other and it may be an issue with the fuel system. The positive side for us is that we clearly have a competitive car, I don't think we quite had the pace today, but there was some great racing between Max and Charles. It's an incredibly long season with 22 races remaining, so we need to get on top of whatever this issue was today and come back stronger next weekend."
Scuderia Ferrari
Charles Leclerc (1st): "Coming into this season, we knew we would be in a better position than we have been for the past two years, but we didn't know exactly where we would stand. To be back on top with a car that is capable of winning feels incredible. A huge thank you to our whole team, you've done an amazing job and this victory is for all of you. The race was tough and I gave it my all. Whenever I had a bit of margin behind me, I felt in control of the race and was managing the gap well. But after the first stop, things became more tricky. Max challenged me three times and I had to position myself in the right way to reclaim my position each time he passed me. Once the Safety Car came out, we lost the gap we had created and had to start again from zero. I knew I had to do the best restart possible and I am glad I got the job done well. Car development will be more significant than in previous years and we have to stay on top of our game. As for this weekend – we did everything right. Pole, fastest lap, the victory and second place for our team. Forza Ferrari!"
Carlos Sainz (2nd): "This is definitely a day to celebrate for the entire team. Starting the season with a 1-2 is the perfect reward for the tireless work they have done over the last two years and congrats to Charles on a solid win. We also want to share our joy with all our tifosi around the world because we always felt their support even when we were not fighting at the top. For me, I'm very happy with the result but I'm not particularly happy with my race. It was probably one of the hardest ones since I joined Ferrari. I wasn't feeling at home with the car and we need to understand why. But today it's time to celebrate this amazing result all together. The great effort to bring Ferrari back to the top, where it belongs, has paid off today and everyone deserves to enjoy it. We'll keep pushing next week in Saudi. Forza Ferrari!"
Mattia Binotto, Team Principal: "I am very happy with this result, as our race today shows how well this team has worked over the past two years in Maranello. Personally, I have always had faith in them. They have worked as a united group and reacted to the difficulties we encountered. It's nice to see we are once again battling for first place, which is our goal for this season. To win in Formula 1, you have to do everything perfectly and today we did just that and that goes for everyone, the drivers, the F1-75, the engineers with the strategy and the mechanics,who were impeccable at the pit stops. Seeing the way the team was able to make the most of every opportunity fills me with pride. Tonight, I wanted to go up on the podium to collect the Constructors' trophy because I felt it was the best way to represent the whole team, back home and here in Bahrain. I have to admit it was an emotional moment. I am also thinking of the fans who have always supported us, even when things were a bit tricky and I admit I can't wait to get to Imola to race in front of them."
McLaren F1 Team
Daniel Ricciardo (14th): "It sounds very simple, but the first objective today was to do the race distance and just build some knowledge in the car. I think even just for myself, especially after the last week, just to get that kind of fitness in, was good. We tried all three compounds of tyres, so there is plenty to feedback. I'm pretty clear where our weaknesses lay in the race, so we'll try to understand that and work on those. I think we had some strengths in some corners as well. So, we'll just feedback everything we can to the team and obviously, we knew it was going to be a tricky day, but we got both cars home and have lots to look at. We will now look ahead to a completely different track in Saudi Arabia to see what that brings."
Lando Norris (15th): "Not what we wanted at all; it was a very tough race. We're a long way from where we want to be and we've got work to do to make sure we're working on every area possible and making the most of every race. We gave it our all today, but it's just not enough at the moment. We'll look at all the data from the race today and see how we can improve for Saudi, as well as where we need to improve throughout the season. We'll do our very best next week to make the most of where we are."
Andreas Seidl, Team Principal: "As expected, after a difficult Friday and Saturday in Bahrain for us, today's grand prix was a continuation of the issues we're facing at present. We had to manage a lot of different parameters throughout the race, and that didn't allow us to be competitive. Thanks to Lando and Daniel who battled hard all weekend together with the team here in Bahrain and back in Woking, who have put in an immense amount of work. This was a disappointing and painful experience for everyone within the team, and of course for all our great fans. We are now analysing in detail why we're not competitive and working as hard as we can to bring more performance to the car, as rapidly as possible. In the meantime, hopefully all the learnings from today's race, the first time we've completed a full race distance with this car, will help us prepare and be in a better position for next weekend."
BWT Alpine F1 Team
Esteban Ocon (7th): "I'm very pleased with today and it's a great start to the season with double points secured for the team. Our pace today was strong, there were some good overtakes and the team made the right calls on strategy. I'd like to say a special shoutout to the pit crew as well who were excellent with so many pit-stops today. Other than the incident with Mick, which I hold my hands up and apologise for, I was pretty pleased with my race. We will debrief with the team, we can take positives from today's performance and we look ahead to next week. Onwards and upwards."
Fernando Alonso (9th): "I'm happy to score two points in today's first race of the season. It was not easy out there with the high tyre degradation, which we were all expecting going into the race. We defended a lot during the first stint and pushed quite hard, so perhaps this was less than ideal. We have to keep learning about these new tyres and it'll probably be a big topic throughout the season. Overall, I think overtaking is easier because the tyres are all at different levels and following the cars ahead is better. We go again next weekend in Saudi Arabia, where no doubt it'll be a different set of challenges."
Laurent Rossi, Alpine CEO: "What a fantastic way to start the season for the team with both Esteban and Fernando scoring deserved points today. This is certainly a great achievement, which, ultimately, is down to the three core pillars that construct our team from Enstone, Viry and the trackside team. This result is a credit to everyone's hard work to prepare the A522-RE22 package over the winter and, indeed, ensure we had the means to compete for points. Thanks to everyone for their commitment and dedication over the past couple of months and now, we undoubtedly have the means to make our 2022 challenger even more competitive in the coming races. Esteban and Fernando drove great races today with overtaking aplenty throughout the field, which is especially exciting for the Formula 1 spectacle. It was a long and very tough race for them with strategy playing a key part. The pit-stop crew were also immense across all six stops during the race, so thanks to them for maintaining focus and precision when it mattered. We've had a taste for how thrilling the 2022 season could shape up to be. We now look forward to Saudi Arabia next weekend where, I'm sure, the racing will be as exciting. Our aim is to continue the hard work and pick up more points with both cars."
Scuderia AlphaTauri
Yuki Tsunoda (8th): "I'm quite happy with today, especially with the start as I was able to make up a few places. I had a little bit of luck near the end, as some cars had failures, but overall I'm pleased with how today went. We've still got a lot of work to do to be able to fight consistently at the top of the midfield, but we're confident that we can develop the car to continue to improve our performance. We'll go away and analyse the data from this whole weekend to try and find what our main limitations are ahead of the race next week."
Pierre Gasly (DNF, Fire): "This is not the start to the season I was hoping for, the whole car just switched off outside of turn one, and then I started to smell the burning. It's such a shame as I had a really good start, I was able to pass Fernando, then Kevin when I got the chance, and we were running quite comfortably in P8. We lost some important points, but there's still lots of positives to take from today. I was quite surprised with the pace and it's looking pretty good for the next few races. We obviously need to understand the failure we had but I'm sure we'll find a solution. I had some good battles, it was fun to be back racing and I'm looking forward to next week already."
Franz Tost, Team Principal: "Today's exciting first race was a good start to the 2022 season. I think that the new regulations delivered what was expected, as we saw a lot of overtaking and the cars are much closer together, like it used to be in the past. Congratulations to Ferrari for this fantastic one-two. Unfortunately, Red Bull Racing, who were fighting for the win, could not finish the race, which was also the case on our side with Pierre. We still don't know what the reason for his failure was, but the rear of the car caught fire. This was very disappointing, as he had just 12 laps to go and was sitting in eighth position at the time. Pierre started the race in P10 with a used set of soft tyres, he had his first pit stop on lap 13 for the Mediums, and then we decided to call him in once again on lap 32 for the Hards to go to the end. Pierre did a really good job today and had everything under control; he was very good at managing both the tyres and the fuel consumption and his car seemed to work very well. As for Yuki, he started from P16 but he was already P12 after the first lap, and thanks to several good overtakes he was soon P11. We called him in on lap 15 and changed to the Mediums. Yuki did a fantastic job defending his position and putting pressure on the cars ahead of him. We then decided to go for a three-stop strategy, so on lap 29 for his second stop we moved to the Softs. He was able to overtake Alonso and had a good fight with Ocon, and even if after the safety car he wasn't able to overtake him, Yuki drove a really good race, without any mistakes. We struggled a little in Qualifying, but in the race the car showed quite a good performance, so I think we would have deserved to finish with both cars in the points today. Now we have to find out what the reason for Pierre's retirement was and prepare everything in the best possible way for Saudi Arabia, which is already next weekend. We hope to finish with both cars in the points there."
Jody Egginton, Technical Director: "Both cars have been quite competitive in the midfield tonight and were able to deliver strong performances, moving forward during the race, which is good to see so early in the season. Pierre was looking on course for a very strong race before his issue, which was instant and without any warning. Unfortunately, the safety car which followed Pierre's stoppage went against Yuki, who had just boxed. This provided some cars around him with an opportunity to stop for free, meaning he was a bit further back when the safety car came in. However, some strong laps in his last stint saw him come home in P8, which is a good result for him and the team considering the less than ideal weekend Yuki had here. The competition in the midfield is looking very tight, and with the first weekend under our belt we now have a clearer picture on where we need to focus our attention to improve the AT03 in the coming events. We are looking forward to the challenge."
Aston Martin Aramco Cognizant F1 Team
Lance Stroll (12th): "It is a shame we were not able to fight for points today, but we will benefit from completing our first race and understanding more about these new regulations. It is early days and there is lots to learn about how we can extract more performance in time for the race in Saudi Arabia next weekend. My initial impression is that it could be an exciting season of racing because it appears that you can follow cars more closely and today I had some great battles with [Alex] Albon and [Mick] Schumacher. It was challenging to keep temperatures cool and manage these new tyres, too, but we now have some useful data to work with over the next few days."
Nico Hulkenberg (17th): "It was interesting to be back in a Formula One car for a Grand Prix again, especially in such a busy race with lots going on around me. It was not easy to manage the tyres and drive with a changing fuel load. The car balance was changing a lot too, and it is not easy to prepare for this until you start racing. We knew that today was likely going to be the most difficult day in the car for that reason, which proved to be the case. I think I put together a good race, all things considered, with only the one mistake when I outbraked myself into Turn One. It was a more challenging race after that. I will be on standby should the team need me again and I am hoping that Sebastian makes a speedy return to racing."
Mike Krack, Chief Operating Officer: "Both our drivers were required to lift and coast at various points during today's race, but they did it proficiently and we were therefore able to bring both cars to the finish. A P12/P17 result is not what we wanted, of course not, but it was always going to be hard to achieve a strong finish from our starting positions. Nonetheless, Lance drove well to convert his P19 grid slot to P12 at flag-fall, and, having not raced in Formula One since November 2020 [the Eifel Grand Prix at Nürburgring], Nico also did a good job today. Our car currently lacks pace - clearly - but we will endeavour to put up a better show in Saudi Arabia in a few days' time."
Williams Racing
Alexander Albon (13th): "My first Formula One race with Williams went pretty well; it felt like we did a good job and really maximised what we had. I had a good start and managed to make up a few positions, so I was pushing hard. Inevitably, a few faster cars overtook and we slipped back down a couple of places, but it's a step forward considering the struggles we had last week. We knew it was going to be a difficult weekend, so to come out P13 with no reliability issues is something we should be pleased with."
Nicholas Latifi (16th): "It was a tricky day and it's clear we're not starting off as strong as we would have liked. We've been lacking pace, struggling with overall grip, balance and tyre degradation, so we need to work out how we extract more out of the package we have now and have a real push to react as soon as possible to bring some more speed to the car. Jeddah will be a different kind of track and one that should suit us a bit better, but we're still going to be going there with a similar package. I'm sure we'll be able to optimise it more, knowing what we've learnt here, but I suspect it will still be tough. It's a 23 race season though, so there's plenty of time to claw things back."
Dave Robson, Senior Race Engineer: "It has been a tough evening in Bahrain, but we got both cars to the end, and at times showed some reasonable pace. Alex made a good start and made some places early in the race. Unfortunately, today we didn't have the pace to hold on. However, we were able to race competitively with both the McLarens and the Aston Martins, which was an improvement from what we saw at the test last week. Nicholas raced hard as he always does but struggled to find a sustainable pace without the tyre degradation becoming unmanageable. Alex was calm and collected throughout the race and he has had an excellent start to his Williams career. Qualifying and racing with a new team is never straightforward as there are so many procedures to learn and relationships to form. However, after solid simulator and winter testing programmes, he was able to acquit himself very well all weekend. There is more to come from the drivers and the car over the coming weeks, but this was a solid start for the whole team, and we are now looking forward to the very different challenges posed by Jeddah Corniche Circuit."
Alfa Romeo F1 Team ORLEN
Valtteri Bottas (6th): "I am very happy about tonight's result: for me, but most importantly for the team, with two cars in the points, and for Zhou who got points in his first race. The race went really well, with the exception of the start: I got a lot of wheelspin and was basically a sitting duck for the first lap, just trying to avoid contact. When that stabilised, however, we had really good pace: we didn't give up, executed a really good strategy and, in the end, completed a good recovery. We took it lap by lap as we knew we had the car to get back in the top 10. It is a great way to start the season: there are still things to improve, of course, but we're just at the first race of the year. Our priority was reliability and I am happy we could finish with both cars as the speed is there. Everyone did a good job and we are going in the right direction."
Guanyu Zhou (10th): "I am so happy, I am speechless. There are so many emotions tonight but my first thought is for the team: seeing how everyone worked so hard to go from where we were at the end of last year to where we are today is so incredible. My biggest dream was to race in F1, then to score points and tonight we did both: being on the grid before the race, with the other 19 drivers, was crazy enough, but the race itself was so intense. It wasn't so physically, but rather mentally: I had an issue at the start, the car went into anti-stall at turn one and then I knew I would have to do something special to recover to the top 10. I pushed a lot, caught up with Valtteri and then lost track position again when the Safety Car came out, before climbing back to P10 – such a rollercoaster. I tried to give everything I had tonight as this meant so much to me and all those who supported me. The cool-down lap was quite emotional: I am so proud of my team and of my team-mate, for all the work we did together to bring home this reward. It is a day I will never forget and I will enjoy the moment for a while, but then it's all attention to Jeddah: there is a lot more we want to achieve."
Frédéric Vasseur, Team Principal: "Coming home with two cars in the points in the first race is the perfect way to start the season. The team has demonstrated skill but also resilience as we came back from a poor start, but stuck to our plan and made a lot of progress through the field. In a sense, this is an even more promising sign as we were able to mount a comeback, which means our car is genuinely competitive. We are aware the season ahead is going to be a long one and that our rivals will challenge us already next week, but we have a very good result on day one and that's a big boost for everyone at the team. In particular, I am very happy for both Valtteri and Zhou: to have such a result on their first race with the team is the best way to start our relationship. We will aim to build on this night as we keep developing our car and keep fighting at this level."
Haas F1 Team
Kevin Magnussen (5th): "The craziness just continues. We had a really good race and the car was good all the way through. We had a little more degradation than we would've hoped for on the first set of tires, but I also got passed a few people that were faster than me on the first lap and I didn't really know whether to keep them behind or let them go. I also locked up a little bit so maybe it wasn't perfect, but even though we pitted earlier we then extended the second stint on the same tire to get back on plan. Then there was a safety car that put everyone on the same tire and then it was just a sprint race to the end, so it was just intense. Obviously, a bit of luck there with the two Red Bull's but we'll take that."
Mick Schumacher (11th): "With all the circumstances that we had with the spin in Turn 6 after contact – I don't know how much damage that would've brought to the car – it didn't feel amazing to drive afterwards. I think that was also represented in the pace we had. Seeing Kevin in P5 means that we have the car to do this, and that I can do the same. That also means we're close to podiums if there's a crazy weekend, which there usually is in Formula 1, so we should be able to do that."
Guenther Steiner, Team Principal: "A very good day for us today, it's good to be back for the whole team. They've done a fantastic job, not just today but for the last two years. Everyone kept their head high and just got ready for the moment that we would have a good car. When that moment came, everyone did their part and I'm very proud of them, and they can be proud of themselves."