Bahrain GP 2022
MARCH 20, 2022
Race Notes - Leclerc takes Ferrari one-two at season opener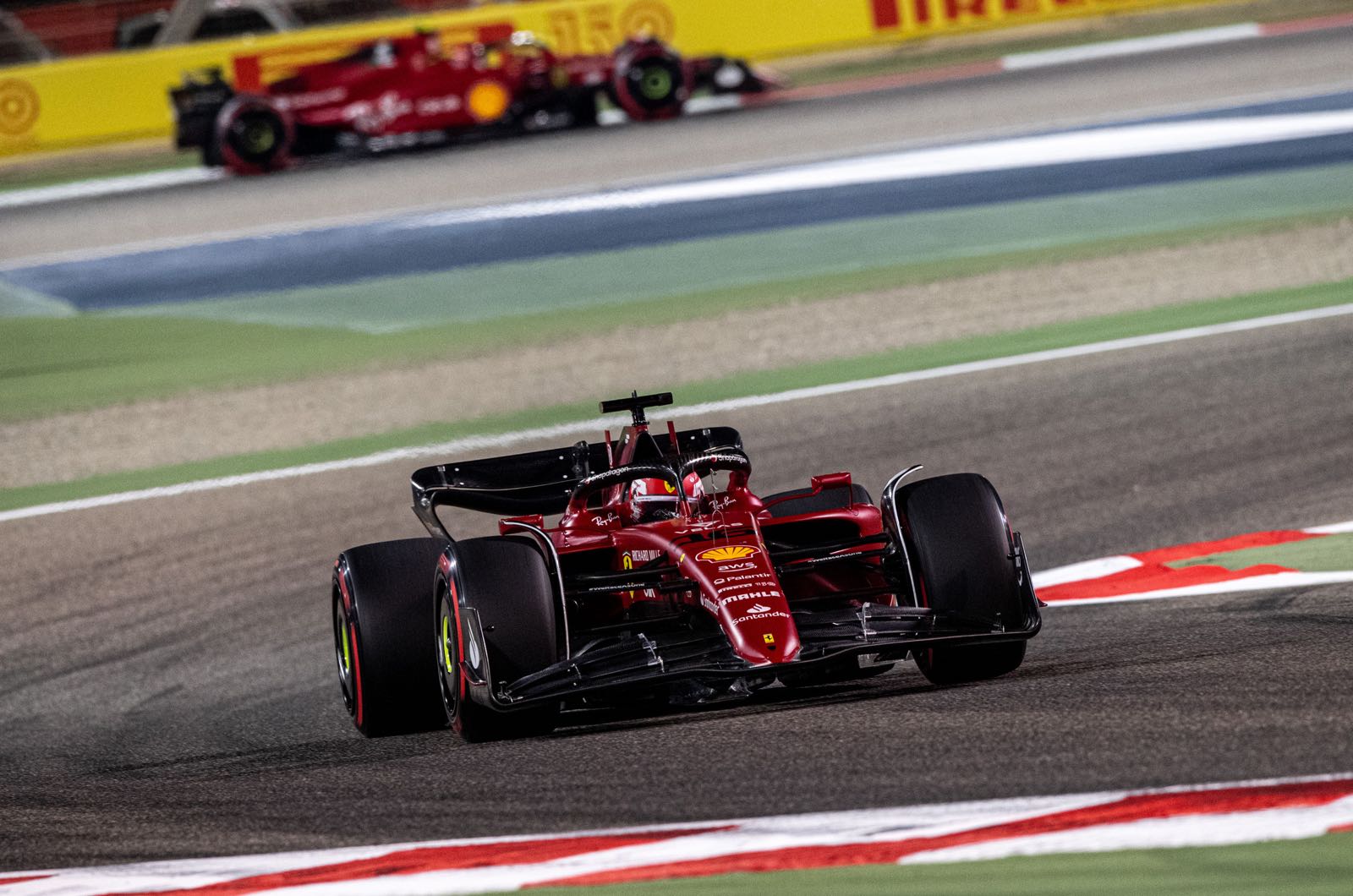 © Ferrari
By Mark Karp
Charles Leclerc won the opening race at the Bahrain Grand Prix in his Ferrari, taking the win over his team mate Carlos Sainz, 5.509 seconds behind. Lewis Hamilton in the Mercedes took third place, 9.675 seconds behind the winner.
It is Leclerc's third career win, his first since Belgium 2019.
It is the first Ferrari one-two since the Singapore Grand Prix 2019.
George Russell (11.211s), in the second Mercedes, finished in fourth, followed by Kevin Magnussen (14.754s) in the Haas-Ferrari was fifth, Valtteri Bottas (16.119s) in the Alfa Romeo-Ferrari was sixth, Esteban Ocon (19.423s) in the Alpine-Renault was seventh, Yuki Tsunoda (20.386s) in the AlphaTauri-Red Bull was eighth, Fernando Alonso (22.390s) in the second Alpine was ninth and Chinese rookie Guanyu Zhou (23.064s) in the second Alfa Romeo finished with the final point in tenth place.
Before the start of the first race of the 2022 season Leclerc is on pole in his Ferrari, Verstappen on the outside of the front row. Sainz and Perez on row 2, Hamilton and Bottas on row 3, Magnussen and Alonso on row 4, and Russell and Gasly rounding out the top 10.
All drivers starting on soft tyres except the two McLaren's on medium.
At the appointed time the field came around, the lights went out and the race began with Leclerc taking the lead over Verstappen, Sainz, Hamilton, Magnussen, Perez, Russell, Gasly, Alonso and Ocon in 10th, Bottas falls to 14th.'
Ocon and Schumacher touch, Schumacher spins, but both continue.
On lap 2 Hulkenberg pases Norris for 16th.
On lap 3 Perez passes Magnussen for fifth.
Pm lap 5 Russell passes Magnussen for sixth.
Hamilton is closely following Sainz in third.
Ocon is handed a 5-second time penalty for his contact earlier with Schumacher.
Leclerc is 2 seconds ahead of Verstappen, who is 4 seconds ahead of Sainz.
On lap 8 Bottas is battling with Albon and passes him for 12th.
Stroll passes Hulkenberg for 16th.
On lap 10 Perez passes Hamilton for fourth.
At ten laps, Leclerc leads Verstappen by 3.0 seconds, followed by Sainz (8.2s), Perez (11.3s), Hamilton (12.8s), Russell (15.8s), Magnussen (22.1s), Gasly (24.2s), Ocon (26.7s), and Tsunoda (32.7s).
On lap 12 Hamilton is the first to pit and changes to hard tyres and rejoins in 11th. Hamilton tyres coming back on to track are quite cold, and he is scrambling to get up to speed.
On lap 15 Verstappen pits from second and changes to another set of soft tyres and rejoins fourth. Sainz pits as well and stays of soft tyres as well - he rejoins fifth.
On lap 16 Leclerc, Perez and Russell all pit, as well as Tsunoda and
16 Leclerc pits, Leclerc rejoins just ahead of Verstappen and manages to stay ahead.
Verstappen sets fast lap at 1m36.905s. Verstappen passes Leclerc going into the first corner, but Leclerc comes back and takes the lead back at the next straight.
On lap 17 Perez takes fast lap 136634
The next lap is a repeat of the last, Verstappen passes into the first corner, and Leclerc repossess again.
The next lap Verstappen lunges down the inside of the first corner, but locks up and Leclerc comes through right away.
Zhou passes Norris.
At lap 20 Leclerc leads Verstappen by 1.7 seconds, followed by Sainz (9.8s), Perez (12.7s), Hamilton (20.9s), Russell (27.4s), Magnussen (32.9s), Gasly (39.3s), Alonso (44.3s) and Ocon (47.8s) in tenth.
Albon passes Norris for 15th.
On lap 26 Norris pits for another set of hard tyres and rejoins last. Alonso pits as well and switches from medium to hard tyres.
Alonso passes Albon for 14th.
On lap 28 Hamilton pits and switches for medium tyres and rejoins eighth.
On lap 29 Ricciardo passes Latifi for 17th place.
Stroll passes Albon for 15th.
At lap 30 Leclerc leads Verstappen by 4.0 seconds, followed by Sainz (10.5s), Perez (13.2s), Russell (34.5s), Magnussen (44.4s), Hamilton (49.2s), Gasly (51.0s), Bottas (1m04.2s),
On lap 41 Verstappen pits from second and rejoins fourth.
On lap 32 Leclerc pits from the lead for medium tyres and rejoins in third, a second
Verstappen complains to the team, "Okay this is now two times I have taken it easy on the out lap and I could have easily been in front. I'm never, ever doing it again!"
On lap 32 Verstappen sets fast lap at 1m36.527s.
On lap 33 Hamilton passes Magnussen for sixth.
On lap 34 Sainz and Perez both pit, Sainz to medium tyres, Perez to soft - they rejoin in third and fourth.
On lap 35 Magnussen stops for medium tyres and rejoins in tenth. Gasly passes Magnussen and takes the position.
On lap 35 Perez sets fast lap at 1m36.302s.
On lap 36 Magnussen comes back and repossess Gasly for ninth placee.
On lap 36 Bottas pits from eighth for medium tyres and rejoins in 13th.
Magnussen passes Zhou for seventh.
On lap 39 Ocon passes Alonso for ninth.
At lap 40 Leclerc leads Verstappen by 3.9 seconds, followed by Sainz (18.3s), Perez (20.2s), Hamilton (35.1s), Russell (49.7s), Magnussen (1m06.0s), Gasly (1m11.6s), Ocon (1m17.5s) and Alonso (1m22.7s) in tenth.
On lap 43 Bottas passes Alonso for 11th. Norris pits for soft tyres and rejoins last.
Alonso pits for soft tyres and rejoins 14th.
On lap 44 Verstappen and Perez both pit for soft tyres, Verstappen rejoins third, Perez rejoins in fifth.
Verstappen reports to the team that his steering is quite heavy.
Ocon pits. Sainz and Hamilton pit for soft tyres.
Tsunoda pits as well.
Gasly pulls off to the side of the track and jumps out of the car, the rear end of the car on fire. The marshals are working to put it out and the safety car is out.
Russell pits.
Leclerc and Bottas pit. Leclerc takes on soft tyres and stays in the lead. Verstappen continues to complain about his steering, and is asking the team why it is a problem.
Behind the safety car Leclerc leads Verstappen, Sainz, Perez, Hamilton, Russell, Magnussen, Bottas, Ocon, Schumacher in tenth, Tsunoda, Alonso, Zhou, Stroll, Albon, Ricciardo, Norris, Latifi and Hulkenberg in 19th place.
Red Bull reports to Verstappen that they will stay out - they have determined the steering is not a safety concern - Verstappen says it is gettin worse.
The lapped cars come by the safety car.
At the end of lap 50 the safety car comes in and the race resumes with Leclerc in the lead, Sainz is challenging Verstappen for second.
Alonso passes Schumacher for 11th.
Hamilton is chasing Perez for fourth. Zhou passes Schumacher for 12th.
On lap 54 Verstappen complains there is a problem with the battery - the team says there is no issue.
Sainz passes Verstappen for second place.
Verstappen is running slow and then pulls into the pit and retires.
Leclerc leads Sainz, Perez and Hamilton.
Perez tells Red Bull that he is losing power. Hamilton is chasing him hard.
On lap 56 Perez spins into the first corner and is out. The engine seeming to cut out.
Leclerc wins ahead of his team mate Sainz and Hamilton.
Ferrari is headed for next weekend's race in Saudi Arabia with a perfect result of a one-two finish, with Leclerc taking fast lap, to lead the Drivers' and Constructors' World Championship.