Bahrain GP 2021
MARCH 28, 2021
Race Notes - Hamilton takes Bahrain GP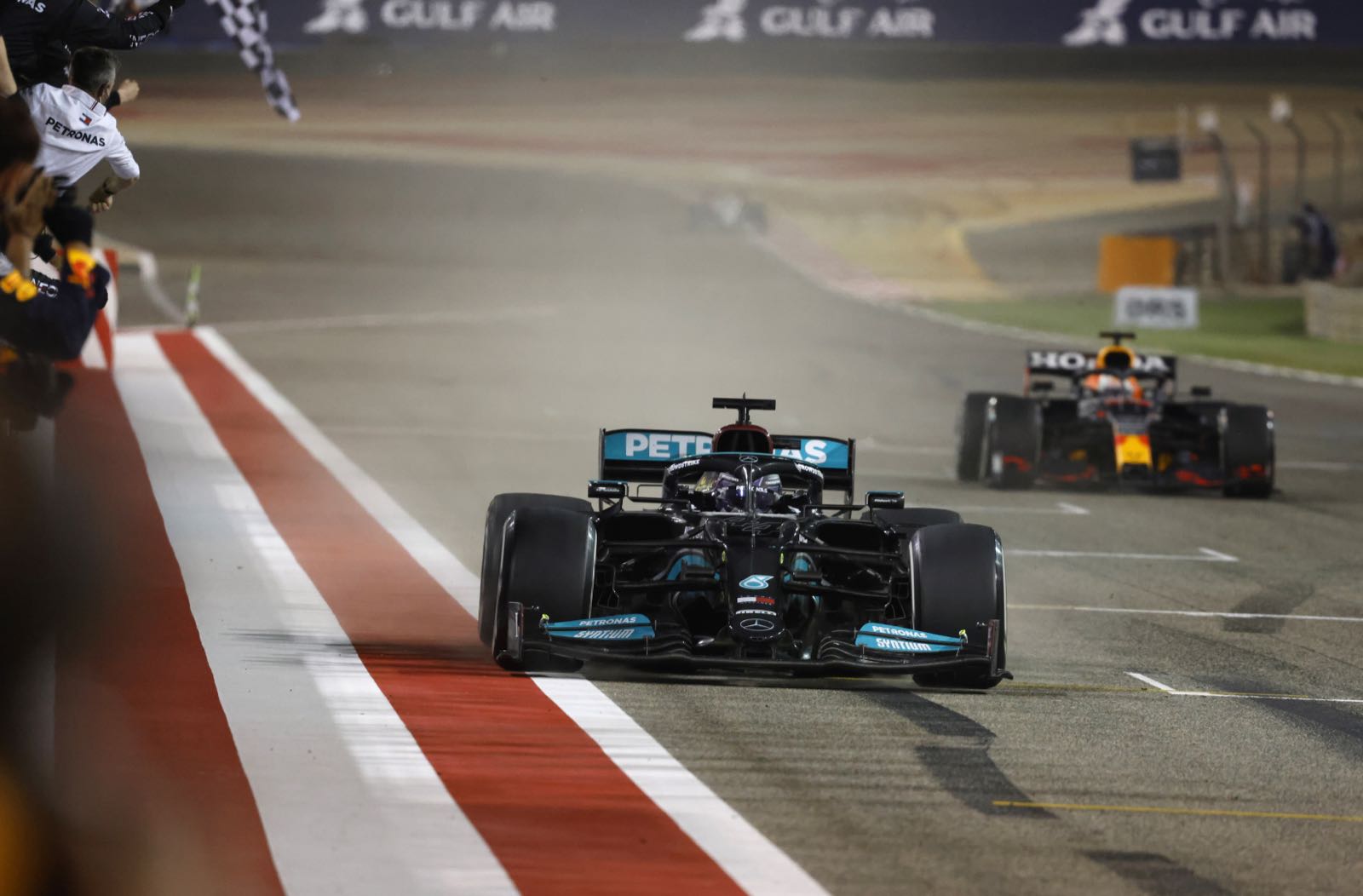 © Mercedes-Benz Grand Prix Ltd.
By Mark Karp
Lewis Hamilton in his Mercedes GP won the Bahrain Grand Prix tonight after a hard faught battle in which Max Verstappen lead most of the race.
Verstappen in his Red Bull-Honda was second, 0.745 seconds behind the winner, Valtteri Bottas in the second Mercedes finished third, 37.383s behind the winner.
The win is Hamiton's 95th career victory, and 165th podium.
Lando Norris (46.466s) in the McLaren-Mercedes was fourth, Sergio Perez (52.047s) in the second Red Bull was fifth, Charles Leclerc (59.090s) in the Ferrari was sixth, Daniel Ricciardo (1m06.004s) in the second McLaren was seventh, Carlos Sainz (1m07.100s) in the second Ferrari was eighth, Yuki Tsunoda (1m25.692s) in the Alpha Tauri-Honda was ninth, scoring points in his F1 debut, and Lance Stroll (1m26.713s) in the Aston Martin-Mercedes finished with the final point in tenth place.
Before the start of the race, while the sun went down, the wind has picked up a bit. Verstappen starting on pole, Hamilton on the outside of the front row, Bottas and Leclerc on row two, Gasly and Ricciardo on row three, Norris and Sainz on row four, and Alonso and Stroll rounding out the top ten. Sebastian Vettel will start last after being handed a five-place grid penalty for a yellow flag infrigment during qualifying.
Verstappen, Hamilton, Bottas and Gasly starting on medium tyres, the rest of the top ten starting on soft tyres. Medium/hard/medium strategy projected to be fastest, a soft/hard/medium strategy projected next fastest. Two stops expected for all runners.
At the appointed time, the field came around.
Perez pulls off on the side of the track on the formation lap, and start is aborted. Perez is able to get going and comes around and will start from the pit lane.
The field comes around again, and the lights go out and the season begins with Verstappen in the lead, ahead of Hamilton and Bottas. At turn 2 Leclerc passes Bottas for third.
Mazipin spins and the safety car is out. The order is Verstappen, Hamilton, Leclerc, Bottas, Gasly, Norris, Ricciardo, Alonso, Stroll and Sainz in tenth place.Vettel up to 14th.
Verstappen reports some kind of problem getting on the throttle.
On lap 3 Perez pits for a new set of medium tyres.
At the end of lap 3 the safety car is in, and the race resumes with Verstappen ahead of Hamilton, Leclerc, Bottas, Norris.
Gasly makes contact with Norris and loses his front wing and he pits.
On lap 6 Bottas passes Leclerc for third.
On lap 6 Verstappen sets fastest lap at 1m35.902s.
Norris is battling Leclerc for fourth, and passes him. Stroll passes Alonso for seventh.
At lap 10 Verstappen leads Hamilton by 1.8 seconds, followed by Bottas (6.6s), Norris (12.7s), Leclerc (13.9s), Ricciaro (14.4s), Stroll (16.5), Sainz (16.8s), Giovinazzi (22.4s) and Raikkonen (23.5s) in tenth place.
Alonso pits first, followed by Norris, Leclerc, Stroll and Giovinazzi on the same lap.
On lap 14 Hamilton and Ricciardo pit for hard tyres. Raikkonen, Ocon and Russell pit as well.
Norris sets fast lap at 1m35.286s.
Hamilton sets fast at 1m34.057s. Sainz and Tsunoda pit.
Next lap Bottas pits from second for hard tyres and rejoins fourth.
On lap 17 Verstappen pits for medium tyres and rejoins in second place behind Hamilton.
On lap 18 Bottas passes Perez for third.
Verstappen reports his tyres aren't performing.
Ricciardo passes Vettel for seventh.
On lap 20 Perez pits for hard tyres and rejoins in 12th.
At lap 20 Hamilton leads Verstappen by 4.7 seconds followed by Bottas (8.0s), Norris (20.8s), Leclerc (23.9s), Ricciardo (28.9s), Stroll (32.4s), Sainz (35.4s), Perez (37.2s) and Alonso (39.5s) in tenth place.
On lap 24 Tsunoda passes Vettel for 12th.
On lap 25 Vettel pits and rejoins in 17th.
Perez passes Sainz for eighth.'
Tsunoda passes Alonso for 11th.
On lap 29 Hamilton pits from the lead for another set of hard tyres and rejoins third. Stroll pits as well.
On lap 30 Bottas pits as well, for another set of hard tyres - it is a slow stop and he loses around 8 seconds, and rejoins fifth.
Leclerc pits from fourth. Ricciardo pits as well. Alonso retires in the pits with brakes problems. Norris and Tsunoda pit as well.
On lap 35 Verstappen leads Hamilton by 17.0 seconds, followed by Bottas (33.0s), Perez (41,6s), Sainz (49.9s), Norris (54.9s), Leclerc (57.3s), Ricciardo (1m03.5s), Stroll (1m05.4s) and Raikkonen (1m18.3s) in tenth place.
Russell pits.
On lap 37 Sainz pits for hard tyres and rejoins in ninth.
On lap 39 Perez pits for medium tyres.
Verstappen pits from the lead for hard tyres, and rejoins in second behind Hamilton, who has a 7-second lead with 15 laps left.
Verstappen is slowing closing up on Hamilton and sets a fast lap of 1m33.228s.
On lap 44 Perez passes Ricciardo for sixth place.
Ocon and Vettel touch and Ocon spins but continues.
At lap 45 Hamilton leads Verstappen by 3.9 seconds, followed by Bottas (17.8s), Norris (40.3s), Leclerc (47.2s), Perez (52.8s), Ricciardo (55.9s), Stroll (1m03.4s), Sainz and Tsunoda in tenth place.
On lap 47 Sainz passes Strol for eighth.
On lap 49 Hamilton's lead is down to 2.3 seconds.
On lap 51 Verstappen is 1.4s behind Hamilton.
On lap 52 Verstappem is under a second behind and is right on Hamilton's tail.
On lap 53 Vertappen passes Hamilton, but he leaves the track bounderies on the exit on the corner, so Red Bull instructs Verstappen to give back the position so that he doesn't get a penalty, so at the next corner he gives it back and Hamilton who retakes the lead. Verstappen continues to chase with a half second between them.
Bottas pits for soft tyres in an attempt for a fast lap, and stays third.
Hamilton crosses the finish 0.745s ahead of Verstappen to take the win. Bottas takes the fastest lap on the last lap at 1m32.090s to take third place.