Bahrain GP 2021
MARCH 27, 2021
Qualifying Report - A great feeling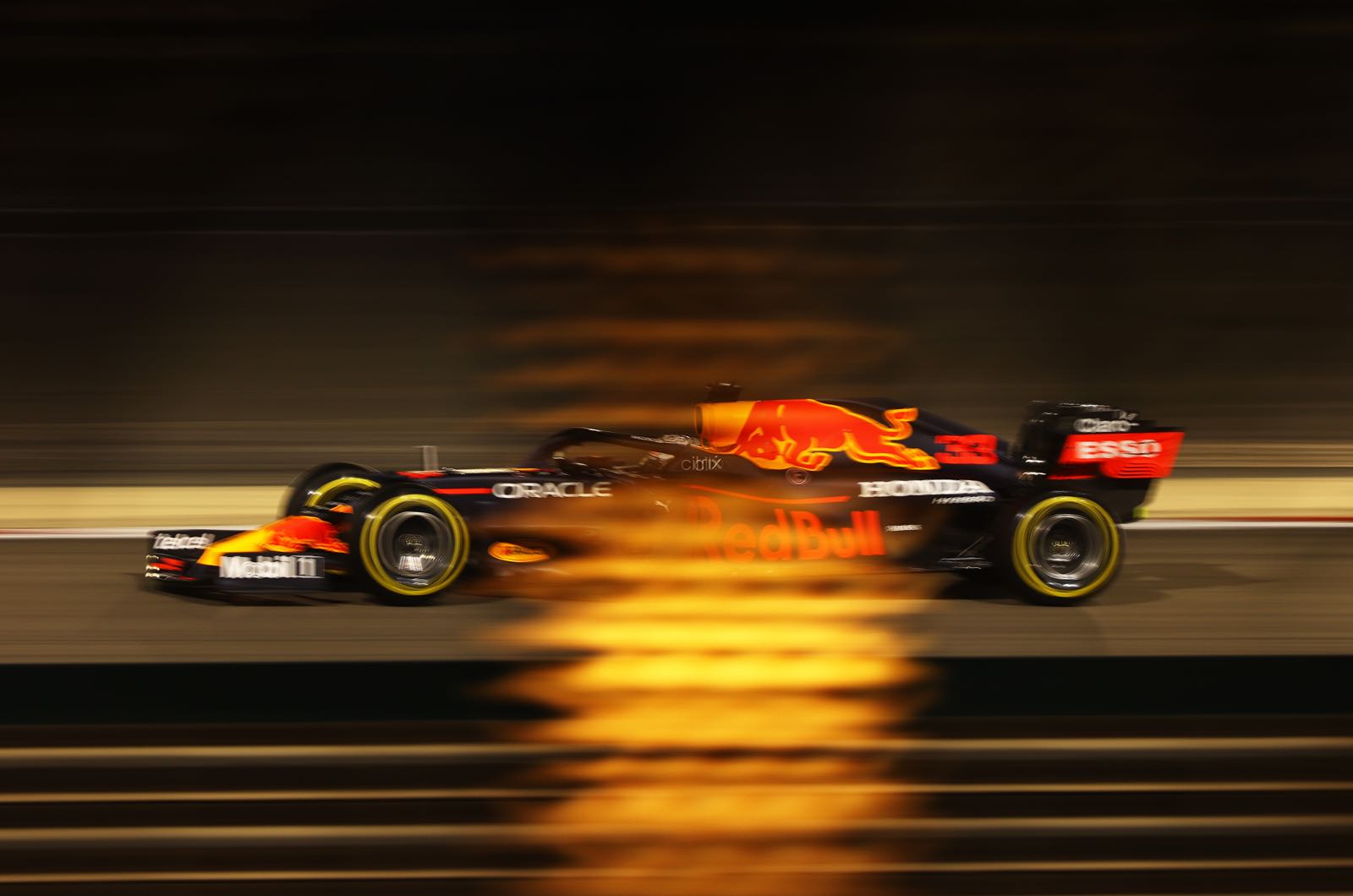 © Red Bull
By Dan Knutson
Max Verstappen got the new season off on the right foot when he qualified his Red Bull on pole position for the Bahrain Grand Prix. Verstappen also won the last race of 2020 – the Abu Dhabi Grand Prix.
The line-up for the weekend was: Mercedes – Lewis Hamilton and Valtteri Bottas; Red Bull Honda – Max Verstappen and Sergio Perez; McLaren Mercedes – Lando Norris and Daniel Ricciardo; Aston Martin Mercedes – Lance Stroll and Sebastian Vettel; Alpine Renault – Fernando Alonso and Esteban Ocon; Ferrari – Charles Leclerc and Carlos Sainz; AlphaTauri Honda – Yuki Tsunoda and Pierre Gasly; Alfa Romeo Ferrari – Kimi Raikkonen and Antonio Giovinazzi; Haas Ferrari – Nakita Mazepin and Mick Schumacher; Williams Mercedes – George Russell and Nicolas Latifi.
"It's a great feeling to be on pole and I haven't experienced a season start like this," Verstappen said. "After the victory in Abu Dhabi the whole Team has been pushing really hard and even more motivated. There is still no guarantee for the rest of the year but everyone here and back at the factory have done a great job to give me a car like this and they should be very proud.
"Honda have also been working very hard this winter, just like every year. They are flat out all of the time and like us they just want to win. It is really enjoyable working with them and they are very passionate which I like, so a big credit to Honda for the result today as they have had a great winter.
"After testing it is always difficult to know where you are and we really didn't know how it would be in qualifying but when you have a lap like that in Q3 and such a good feeling in the car you can be happy. We have to finish it off tomorrow but if I can have a good start I'm confident we can do a good job."
Reigning world champion Lewis Hamilton will line up second.
"Max did a great lap, nearly 0.4 is a big gap so we have some work to do!" Hamilton said. "The car was feeling good in Q1 and Q2, we took until the last minute trying to find the right set-up and it felt sweet. Just at the end I couldn't get any more from it but still, it was exciting. I'm immensely proud of everyone. We've worked very hard over the last week to try and understand the package that we have. We made some steps forward but we couldn't compete with that last lap Max did. P2 puts us in a position to cause Red Bull trouble tomorrow."
Valtteri Bottas grabbed third on the grid.
"Today was a lot better than testing," said Bottas. "Throughout qualifying I was feeling more and more comfortable. At least we are closer to Red Bull than we were in testing. We have two cars to battle against one Red Bull tomorrow. I had to use two sets of tires in Q1 so I only had one new set for Q3 which put me at a disadvantage. But starting from third at this track isn't bad so I'm looking forward to it. Red Bull seem to have more stability, particularly in the wind. We have two cars in the top three so we can definitely still fight for the win.
Ferrari star Charles Leclerc rounded out the top four.
"We know now where we are in terms of qually pace," he said, "and it's a pleasant surprise, as we didn't expect to be here, but today we need to keep our feet on the ground. It's only the first qually of the year and it's run in very strange conditions.
"I think we should be satisfied as a team with the step we made since last year, so to be so far forward on the grid feels great. I have been struggling in FP2 and FP3 as I could not find the feeling with the car but I worked quite a lot on the driving and in qually I was actually quite confident I would be able to do the lap I wanted.