Bahrain GP 2020
NOVEMBER 29, 2020
Race Notes - Hamilton wins Bahrain GP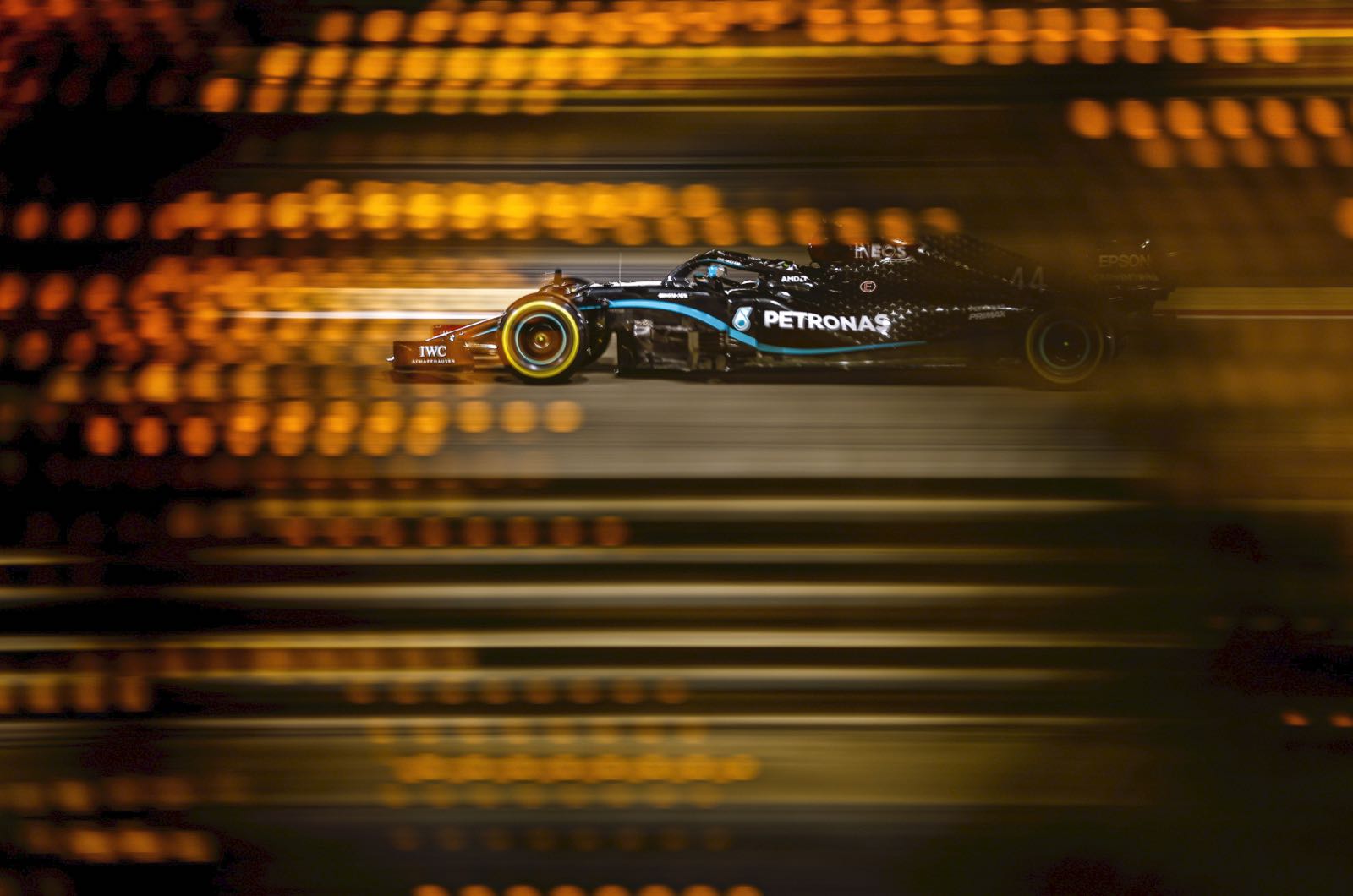 © Mercedes-Benz Grand Prix Ltd.
By Mark Karp
Lewis Hamilton won the Bahrain Grand Prix in his Mercedes GP in commanding fashion.
The race finished under the Safety car, with Max Verstappen in the Red Bull-Honda in second, and his team mate Alex Albon finishing third.
The win is Hamilton's eleventh of the season - fifth win in a row, and 95th of his career.
Lando Norris in the McLaren-Renault was fourth, his team mate Carlos Sainz was fifth, Pierre Gasly in the AlphaTauri-Honda was sixth, Daniel Ricciardo in the Renault was seventh, Valtteri Bottas in the Mercedes GP was eighth, Esteban Ocon in the Renault was ninth and Charles Leclerc in the Ferrari took the final point paying position.
As the sun went down, before the start, the two Mercedes of Hamilton and Bottas held row 1, the Red Bull's of Verstappen and Albon on row 2, Perez and Ricciardo on row 3, Ocon and Gasly on row 4, and Norris and Kvyat rounding out the top 10.
Tire strategy will be key to the race, with high tyre degradation expected. A two-stop strategy is thought to be quickest. The first 14 runners on medium tyres to start.
At the appointed time the feild came round, the lights went off and the race started with Hamilton taking the lead Verstappen, Perez, Albon, Ricciardo and Bottas next up. Grosjean suffers a crash into the barriers, and there is a fire. The race is red flagged and the field stops on the grid. Grosjean is okay, and is taken to the medical centre.
Grosjean's Haas hit the barrier hard head on, and burst into flames - thankfully he is okay.
Under the red flag Hamilton is first, followed by Verstappen, Perez, Albon, Ricciardo, Bottas, Gasly, Ocon, Norris,Leclerc in tenth, Giovinazzi, Stroll, Sainz, Magnussen, Vettel, Latifi, Raikkonen, Russell and Kvyat in 19th.
The restart is delayed waiting to repair tje damage to the barriers.
An hour and a half later the drivers came around for another start - Hamilton ahead of Verstappen, Perez, Bottas, Albon, Ricciardo, Noorris, Ocon, Gasly and Vettel in tenth.
The lights went out and the race began again with Hamilton in the lead, Verstappen, Perez and Bottas following.
Stroll comes together with Kvyat and the Racing Point rollls. Stroll is out of the car and okay. The safety car comes out, as the track workers remove Stroll's car.
On lap 5, under the satety car Bottas pits with a puncture and changes to hard tyres, he rejoins 16th.
Mercedes discusses if Hamilton has picked up any debris as well.
Behind the safety car Hamilton leads Verstappen, Perez, Albon, Norris, Ocon, Leclerc, Ricciardo, Gasly, Sainz, Kvyat, Raikkonen, Latifi, Russell, Vettel, Bottas, Giovinazzi and Magnussen in 18th.
At the end of lap 8 the Safety car is in, and the race resumes with Hamilton out in front with Verstappen, Perez, Albon and Norris out front. Leclerc and Ocon battling for sixth. Sainz passes Ricciardo for eighth.
On llap 10 Hamilton leads Verstappen by 1.1 seconds.
On lap 12 Sainz passes Leclerc for seventh place. Ricciardo then passes Leclerc as well for eighth.
The next lap in DRS Gasly passes Leclerc ffor ninth.
Kvyat is given a 10 second penalty for his earlier incident with Stroll.
Vettel reports to his team that his car is undrivelbe.
Raikkonen has a damaged front wing, and it is sparking on the straight.
On lap 17 Ricciardo pits for hard tyres and rejoins in 18th.
On lap 18 Ocon, Kvyat and Raikkonen all pit. Norris pits as well and rejoins in 11th, and passes Latifi for tenth.
On lap 19 Hamilton pits from the lead for medium tyres, and rekoins in third behind Verstappen an d Perez. Albon pits as well and rejoins in seventh.
The next lap Verstappen and Perez both pit for hard tyres - they rejoins second and fifth.
Vettel pits the next lap. Sainz pits from third and changes to medium tyres and rejoins in 11th.
On lap 22 Verstappen set fast lap a t 1m33.085s.
Perez passes Gasly for third.
On lap 24 Leclerc pits for medium hard tyres and rejoins in 12th.
Norris passes Bottas for sixth, and both then pit the next lap.
At lap 25 Hamilton leads Verstappen by 4.3 seconds, followed by Perez (18.6s), Albon (22.3s), Norris (34.1s), Ocon (39.5s), Sainz (40.2s), Ricciarrdo (41.6s), Gasly (51.3s) and Leclerc (54.3s) in tenth.
Sainz passes Ocon for sixth place.
Bottas passes Magnussen for 11th.
Giovinazzi passes Raikkonen for 14th place.
Ricciardo goes past his team mate for seventh.
On lap 32 Bottas passes Leclerc for tenth.
On lap 34 Verstapppen pits for hard tyres, Albon pits as well.
The next lap Hamilton pits for hard tyres and rejoins still in the lead.
Hamiton leads Perez, Verstappen, Norris and Sainz.
On lapp 37 Perez pits for hard tyres and rejoins in fifth. Ricciardo pits.
Verstappen sets fast lap in 1m32.662s.
On lap 38, on fresh tyres, Ricciardo passes Ocon again.
Norris and Bottas both pit again.
Albon passes Sainz for fourth place.
On lap 40 Sainz pits from fifth and rejoins in eighth.
At lap 40 Hamilton leads Verstappen by 3.2 seconds, followed by Perez (28.1s), Albon (31.1s), Gasly (45.4s), Norris (49.4s), Sainz (59.4s), Ricciardo (1m03.6s), Ocon (1m06.7s) and Bottas (1m08.0s) in tenth place.
On lap 43 Bottas passes Ocon for ninth. Vettel passes Magnussen for 15th.
Norris passes Gasly for fifth.
On lap 47 Verstappen pits and takes a new set of medium tyres, perhaps in an attempt for fast lap.
Kvyat passes passes Giovinazzi for 12th.
On lap 48 Verstappen sets fast lap at .
Sainz chases Gasly for sixth.
At lap 50 Hamiton leads Verstappen by 23.3 seconds, followed by Perez (34.8s), Albon (40.5s), Norris (54.1s), Gasly (1m02.5s), Sainz (1m02.8s), Ricciardo (1m07.5s), Bottas (1m12.5s) and Ocon (1m20.8s) in tenth place.
On lap 51 Sainz passes Gasly for sixth.
On lap 54 Perez's Racing Point is smoking, and slowing. The engine goes and he pulls to the side of the track. The Safety Car is out.
The race finishes under the Safety car with Hamilton winning over Verstapppen and Albon.