Bahrain GP 2020
NOVEMBER 27, 2020
Friday Report - Shunt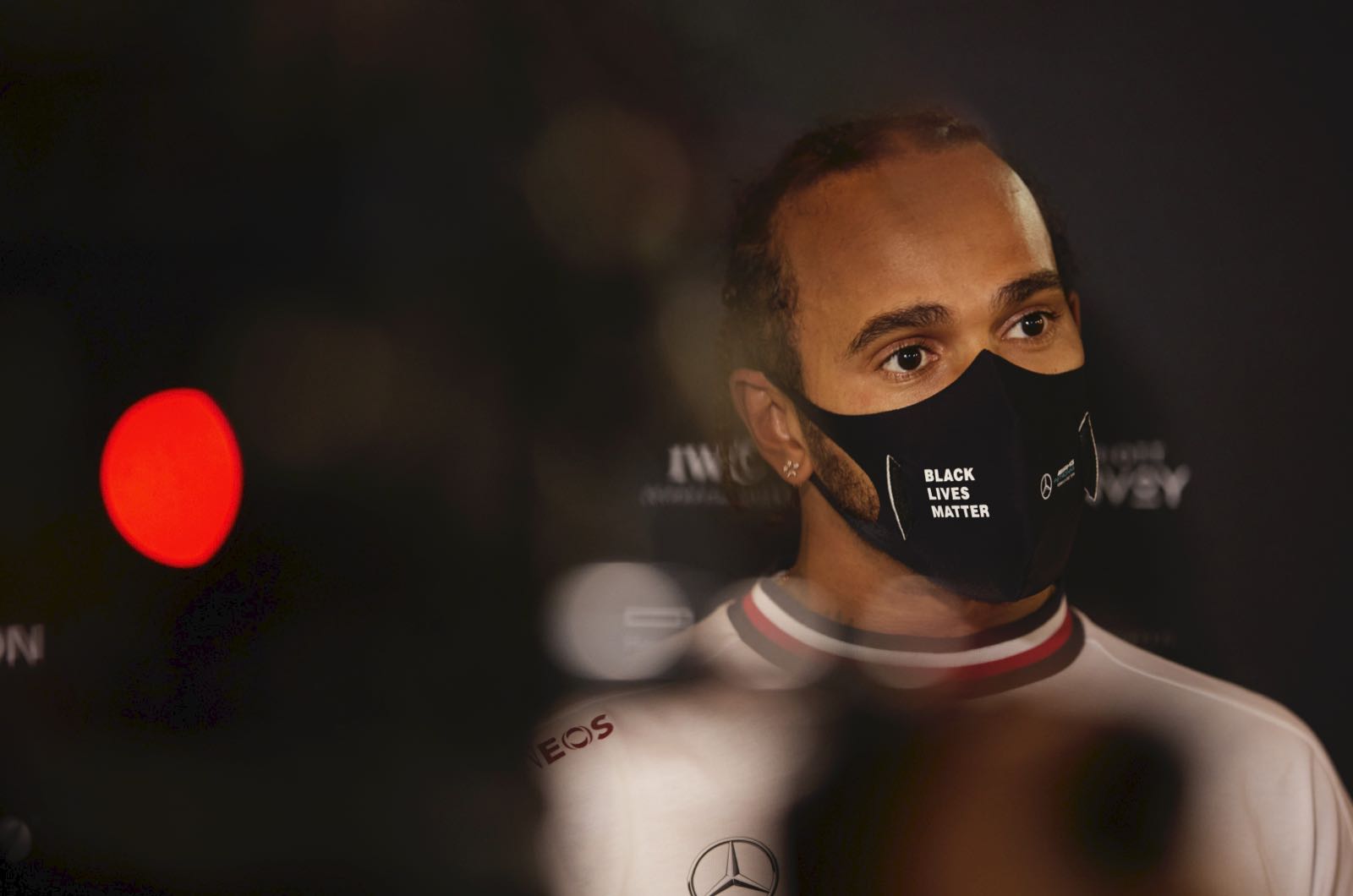 © Mercedes-Benz Grand Prix Ltd.
By Dan Knutson
Lewis Hamilton clocked the fastest lap time in Free Practice 2 for the Bahrain Grand Prix. The session had to be red flagged after Alex Albon had a huge shunt. Albon was not injured.
The line-up for the weekend was: Mercedes – Lewis Hamilton and Valtteri Bottas; Ferrari – Sebastian Vettel and Charles Leclerc; Red Bull Honda – Max Verstappen and Alexander Albon; McLaren Renault – Carlos Sainz and Lando Norris; Renault – Daniel Ricciardo and Esteban Ocon; AlphaTauri Honda – Daniil Kvyat and Pierre Gasly; Racing Point Mercedes – Sergio Perez and Lance Stroll; Alfa Romeo Ferrari – Kimi Raikkonen and Antonio Giovinazzi; Haas Ferrari – Romain Grosjean and Kevin Magnussen; Williams Mercedes – George Russell and Nicolas Latifi.
Quickest in FP1 was Hamilton who turned a 1:29.033.
Raikkonen was the first driver out in FP2 on the 15-turn 3.363-mile (5.412 km) Sakhir circuit.
This was a crucial session because it was in the evening, so the weather and the track conditions were similar to what they would be in qualifying and the race.
All the drivers had to do six laps on Pirelli's 2021 prototype tires sometime during the session, and most teams chose to get that out of the way right away.
Sainz set the early pace with a lap of 1:30.989 on the prototype tires. Verstappen, also on the prototypes, was second, 0.014 of a second slower.
"Who's that in front of me? He's drifting very nicely," Verstappen radioed. It was Hamilton, who radioed that he had no grip.
Sainz, Verstappen, Leclerc, Norris, Vettel and Perez were the top six after 20 minutes. The teams were now switching their drivers over to the regular 2020 tires. And one of those was Raikkonen who clocked a 1:30.928 on the medium compound tires.
Verstappen, also on the mediums, beat that with his 1:29.318. Perez, 0.221 of a second slower, was now second ahead of Gasly, Kvyat, Albon and Sainz at the half hour mark.
A few minutes later some of the drivers headed out on the soft compound slicks. One of them was Ricciardo who popped up to third place. Another was Ricciardo's 2021 McLaren teammate Norris who slotted into fifth.
As the midpoint of the session approached, Hamilton was 20th and in the pits, and Verstappen was on a flying lap on the softs but could not beat his time on the mediums. Perez improved but stayed second.
Bottas then did a fast lap to get second place, 0.018 slower than Verstappen.
Then Albon had a huge shunt in the final corner, and the session was red flagged with 43 minutes remaining. "Sorry guys," he radioed to the Red Bull team.
The clock keeps ticking in free practice sessions, and 32 minutes remained when the session was restarted. It was immediately red flagged again because there was a dog on the track.
The order was: Verstappen, Bottas, Perez, Gasly, Ricciardo, Norris, Stroll, Kvyat, Albon and Vettel. Hamilton was still 20th.
The next restart came with 27 minutes to go. Just about every driver immediately headed out.
Hamilton finally got to do a qualifying sim on the softs. He could only manage sixth fastest because of traffic.
Most of the drivers used the last 20 minutes to do their long run race simulations. But not Hamilton who did another qualifying run and took the lead with a 1:28.971.
The top 10 at the end of FP2 were: Hamilton, Verstappen, Bottas, Perez, Ricciardo, Gasly, Norris, Stroll, Kvyat, Albon.