Bahrain GP 2019
MARCH 31, 2019
Race Notes - Hamilton snatches victory from Leclerc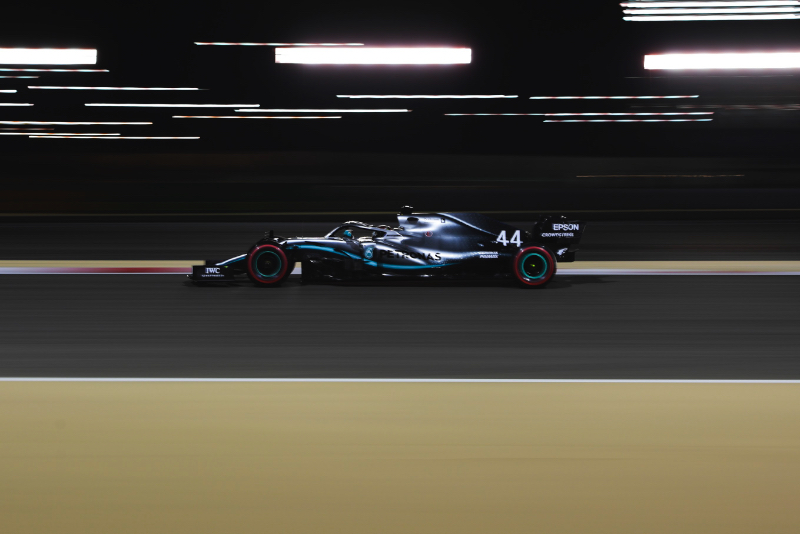 © RV Press
By Mark Karp
Lewis Hamilton won the Bahrain Grand Prix tonight in his Mercedes GP, under safety car, ahead of his team mate Valtteri Bottas in second place. Charles Leclerc, after dominating the race, lost the lead with ten laps to go and limped home in the Ferrari, with an engine issue, to finish in third place.
It is the second win for Mercedes of the season, and Hamilton's 74th career victory.
Leclerc takes his first career podium, although he was disappointed not to win.
Bottas holds a one-point lead in the Drivers' championship over Hamilton. Mercedes leads Ferrrari by 22 points in the Constructors' championship.
Max Verstappen, in the Red Bull-Honda, finished in fourth, Sebastian Vettel in the Ferrari was fifth, Lando Norris in the McLaren-Renault was sixth, his first points finish, Kimi Raikkonen in the Alfa Romeo-Ferrari was seventh, Pierre Gasly in the Red Bull-Honda was eighth, Alexander Albon in the Toro Rosso-Honda was ninth, his first points finish as well, and Sergio Perez in the Racing Point-Mercedes took the final point in tenth.
Before the start, as the sun went down, Leclerc, the 21-year-old, would prepare for his first start from pole position in his Ferrari with his team mate Vettel alongside on the front row. The two Mercedes of Hamilton and Bottas on row two, Verstapppen in the Red Bull and Magnussen in the Haas in row three, Sainz and Raikkonen on row four and Norris and Ricciardo rounding out the top ten.
Leclerc is the 99th driver to take a pole position, in the 999th Formula One race.
Drivers were concerned about the wind during the race, it being quite blustery before the start.
All the drivers starting on soft tyres, except Kubica in the last starting position on medium tyres.
At the appointed time the grid cleared and the cars took to the formation lap. The grid lined up, the lights went off and the race began with Leclerc getting a slightly slower start, Vettel taking the lead. On the first lap Bottas makes a good run and passes Leclerc for second place, Hamilton next up.
Stroll and Grosjean make contact. Stroll has a punctured rear tyre and pits - taking on a new front wing. Grosjean pits and takes on medium tyres.
At the end of lap one Leclerc gets down the inside of Bottas into the first corner and takes back second place. Hamilton then makes a run on Bottas and takes third from his team mate.
Vettel leads, Leclerc, Hamilton, Bottas, Verstappen, Sainz, Magnussen, Raikkonen, Ricciardo and Perez in tenth.
On lap four Sainz makes a move to pass Verstappen in fifth, the two go side-by-side, and Sainz slows with damage and limps back to the pits.
Leclerc closes back to 0.5 seconds behind leader Vettel, and tells the team he is a lot quicker.
On lap 6 Leclerc passes Vettel into the first corner with DRS and takes the lead - Vettel tries to fight back but remains in second.
On lap 7 the two Toro Rossos of Albon and Kvyat battle.
Alfa Romeo asks Raikkonen, "how is the front wing". Raikkonen responds, "I don't know, you have to tell me..."
On lap 8 Ricciardo passes Magnussen, as the Dane runs wide in turn 10.
On lap 9 Perez pits and takes on medium tyres.
The next lap Raikkonen, Norris and Magnussen all pit for medium tyes.
On lap 11 Verstappen pits for medium tyres. The next lap Bottas and Hulkenberg both pit for medium tyres. Kyvat spins.
On lap 13 Leclerc and Hamilton both pit, Leclerc taking on medium tyres, Hamilton with another set of soft tyres. Leclerc rejoining in third, Hamilton in fourth.
On lap 14 Vettel pits from the lead and takes on medium tyres, and rejoins in fourth behind Hamilton. Ricciardo, still to pit, is in second place.
On lap 15 Hamilton passes Ricciardo for second place.
Leclerc sets fast lap at 1m33.914s.
At lap 15 Leclec leads Hamilton, who will still need to stop again, by 3.9 seconds, followed by Vettel (6.9s), Ricciardo (9.7s), Bottas (11.7s), Verstappen (13.7s), Raikkonen (23.1s), Hulkenberg (25.4s), Norris (27.6s) and Perez (31.6s) in tenth place.
Bottas passes Ricciardo for fourth place.
Grosjean retires in the pit with damage he incurred at the start.
On lap 20 Leclerc leads Hamilton by 5.5 seconds, ahead of Vettel in third, a further second and a half back.
Haas tells Magnussen they are going to try for only one stop.
On lap 21 Hulkenberg passes Raikkonen for seventh place.
Hamilton runs wide at turn 15, but continues.
Hamilton tells the team that he doesn't like the tyres and says, "I'm in big trouble."
Vettel closes in on Hamilton.and passes him for second place on lap 23.
Ricciardo pits for medium tyres and rejoins in 13th.
At lap 25 Leclerc leads Vettel by 8.0 seconds, followed by Hamilton (10.0s), Bottas (18.6s), Verstappen (24.1s), Hulkenberg (40.6s), Raikkonen (44.7s), Norris (45.7s), Gasly (51.9s) and Perez (56.9s) in tenth.
Norris passes Raikkonen for seventh place into the first corner.
Albon and Sainz pit for medium tyres.
On lap 27 Russell pits for a second time for medium tyres.
Kvyat, running in 14th, complains to the team that his car is all over the place.
On lap 30 Ricciardo passes Magnussen for 11th place - the two drivers on one-stop stategies.
At lap 30 Leclerc leads in the Ferrari over his team mate Vettel by 8.6 seconds, followed by Hamilton (13.1s), Bottas (22.5s), Verstappen (31.7s), Hulkenberg (49.5s), Norris (52.9s), Raikkonen (56.4s), Gasly (59.5s) and Perez (69.5s) in tenth place.
Stroll, a lap down, passes Verstappen.
On lap 32 Verstappen and Hulkenberg both pit for medium tyres.
Verstappen passes Raikkonen for sixth place. Raikkonen pits for medium tyres. Perez pits for medium tyres as well.
On lap 35 Hamilton pits from third place for medium tyres and rejoins in fourth place. Raikkonen passes Albon.
On lap 36 Vettel pits for medium tyres and rejoins behind Bottas and ahead of Hamilton.
Hamilton sets fast lap at 1m33.528s and closes on Vettel in third.
Hamilton tries to make a passing attempt around the outside of Vettel, the two battle, but Vettel keeps the place.
Hamilton goes for the same outside move the next lap, gets the position and Vettel spins. Vettel gets going but loses his front wing and pits for tyres and a new front wing, and rejoins in eighth.
On lap 38 Leclerc sets fastest lap at 1m33.411s.
On lap 39 Hulkenberg and Ricciardo battle and touch but continue, Hulkenberg taking sixth place.
Kvyat and Magnussen pit. Galy pits as well.
On lap 41 Vettel passes Norris and then Ricciardo for sixth place.
At lap 42 Leclerc still leads in his Ferrari ahead of Hamilton, 10.0 seconds behind, followed Bottas (36.9s), Verstappen (43.4s), Hulkenberg (69.9s), Vettel (70.5s), Hulkenberg (71.3s), Ricciardo (72.6s), Norris (73.6s), Raikkonen (74.4s) and Albon (84.7s) in tenth.
On lap 43 Vettel passes Hulkenberg for fifth place.
On lap 44 Norris passes Ricciardo fro seventh place, Raikkonen wants to get by as Ricciardo struggles on his medium tyres and gets past the next lap.
On lap 45 Leclerc tells the team that "something strange with the engine." - he is only lapping in the 1m38s, and his lead is down to 4.3 seconds.
Leclerc asks the team, "what's happening?", Hamilton rapidly gaining on him, he is 25 kph slower on the straights.
On lap 48 Hamilton closes on Leclerc, and passes him on the back straight for the lead.
Leclerc tells the team, "oh my god…". The team tell him not to panic as he limps around in the 1m40s.
Hamilton tells the team that his gearbox feels very clunky.
At lap 52 Hamilton leads Leclerc by 20.7 seconds, followed by Bottas (23.1s), Verstappen (30.7s), Vettel (57.3s), Hulkenberg (63.6s), Norris (67.7s), Raikkonen (68.3s), Gasly (72.9s) and Ricciardo (75.5s) in tenth place.
Bottas closes on Leclerc in second place, and passes him on lap 54.
On lap 54 Hulkenberg and Ricciardo running in sixth and tenth, both drop out on the side of the track at virtually the same time.
The safety car is deployed on lap 55.
The race finishes under the safety car with Hamilton winning ahead of Bottas and Leclerc.
After the finish Leclerc tells the team, "I don't know what to say, sorry guys."
Hamilton says, "we were lucky today, but you have to take it as it comes. This guy (Leclerc), he has lots of wins coming, for sure."
Leclerc takes the point for fastest lap.