Bahrain GP 2018
APRIL 9, 2018
Race Analysis - Seeing Red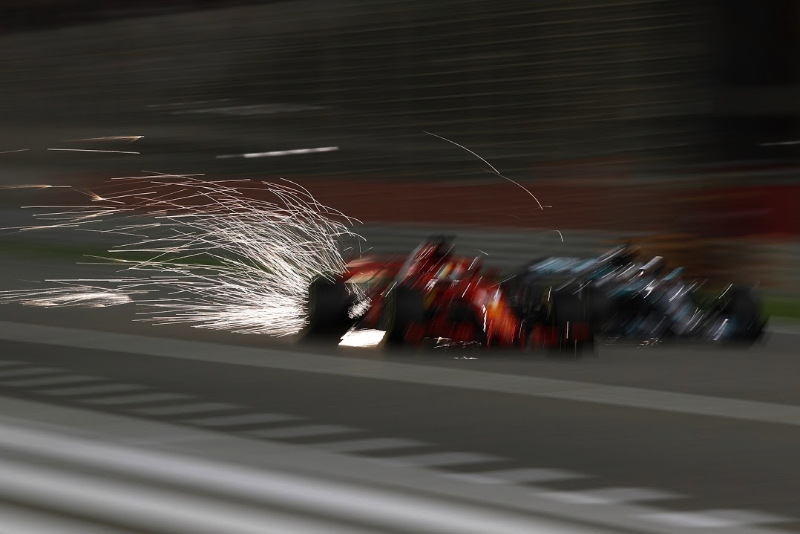 © RV Press
How Sebastian Vettel barely held off Valtteri Bottas to win in Bahrain.
By Dan Knutson in Sakhir
Ferrari driver Sebastian Vettel took care of his aging tires in the final stages of the Bahrain Grand Prix just long enough to be able to fend off Valtteri Bottas and take the victory.
"I tried to make them last," Vettel said, "nursed them as much as I can, and it worked. But just! At the end of the straight, Valtteri, he had a bit of a sniff, but fortunately he ran out of laps, so I'm very happy."
Mercedes driver Bottas hunted down the Ferrari.
"I was seeing red," he said.
Here's how the race reached that duel in the final stages.
STAYING AHEAD
After winning the season opener in Australia, Vettel stayed ahead in Bahrain by winning the pole position for the race.
"We have a good base," he said. "The car is working; in Australia we struggled with the feel for the car. Here it's been better, so we improved a little bit."
WING MAN
Kimi Raikkonen qualified the other Ferrari in second place, and that put him in the unwanted position of playing a wingman support role to Vettel. But things did not work out as planned and took a tragic twist that would end with a mechanic being injured.
NO PARTYING
Lewis Hamilton could only manage the fourth fastest time in qualifying. His blistering pole lap two weeks earlier in Australia got a lot of people talking that the Mercedes has a "party mode" for the engine to give it an extra boost of power in qualifying.
"I guess it ultimately proves everyone who said we had a party mode in the last race wrong," he said dryly.
TAKE FIVE
To add insult to injury, Hamilton had a five-place grid penalty because his Mercedes required a new gearbox. That dropped him down to the ninth starting spot, and that was a long, long way away from the front of the pack and chances to win.
UNWANTED HORSES
Max Verstappen was also out of contention for the win after a software glitch gave his Renault-powered Red Bull a spurt of 150 unwanted horsepower at the most inopportune moment during qualifying. He hit the barriers and had to start the race back in 15th place.
PIERRE SURPISE
Pierre Gasly was a surprise sixth in qualifying in the Toro Rosso Honda, and he started fifth because of Hamilton's penalty.
READY TO POUNCE
Valtteri Bottas (Mercedes) and Daniel Ricciardo (Red Bull) started third and fourth and were thus ready to pounce should anything happen to the drivers on the front row of the grid.
THE RED OFF
Off went the red lights and off went Vettel's red Ferrari into the lead. Meanwhile, Bottas passed Raikkonen to take second place.
THE REDS RETIRE
The two Red Bull retired almost immediately. Ricciardo's car just shut down. Verstappen got a left-rear puncture battling with Hamilton and had to limp back to the pits. That damaged the gearbox.
"Both cars retiring within two laps is extremely disappointing particularly when we had a race car today that was capable of challenging Ferrari and Mercedes," said team boss Christian Horner.
ALTERNATIVE STRATEGY
Hamilton used Pirelli's soft compound tires to set his fastest lap in Qualifying 2, and thus started the race on those tires while the other front runners were all on the super soft slicks. That allowed Hamilton to stay out longer before his first pit stop and take the lead on lap 21. He pitted at the end of lap 25 for the medium compound tires.
ALTERNATIVE
Meanwhile, Vettel had pitted at the end of lap 18 and got some soft compound Pirellis. The idea was to make a second stop late in the race.
And Bottas stopped for the medium tires at the end of lap 20. The idea was to go to the end on the same set of rubber.
THE SWITCH
Ferrari had to "cover" Bottas so decided to switch Vettel to a one stop. He would have to nurse those soft tires for the rest of the race.
"It wasn't our intended strategy at first," Vettel said. "When did they tell me? I don't know, probably something like twenty-something laps to go. With 15 laps to go I was still very comfortable and then there was a big step around ten laps to go where, the tire just dropped off and the last five laps were really difficult."
DISASTER
Ferrari kept Raikkonen on a two-stop plan, but his second pit stop ended in disaster. The team made the mistake of telling him it was okay to leave the pit box, but a mechanic was still trying to change the left rear wheel and suffered a broken leg as a result.
"What happened to our guy Francesco today at the pit stop is very unfortunate," Raikkonen said. "I moved when I saw the green light go on. I couldn't have possibly realized that there was an issue with the rear left wheel, then I saw someone had got hurt and, immediately, I was told to stop by the team."
COMMUNICATION BREAKDOWN
Hamilton, back in third after his stop, was having problems communicating with his team.
"Communication was really difficult," he said. "When you're trying to catch Sebastian, who was 25 seconds ahead, (you need) to know exactly what you need to do."
THE RACE OF TWO
So the race for the lead was between Vettel and Bottas.
Bottas: "I knew that because we were on the harder compound that he would struggle in the end, and he started to struggle, so I was just trying to get every corner perfect, every lap perfect, trying to catch him, but it was just not quite enough."
Vettel: "We had to change strategy; the tires were already wearing out, but then it seemed everything was okay. But after 10 or 12 laps, the tires got worse and the last five laps were very tricky."
PIERRE JOY
Gasly finished a fabulous fourth.
"Unbelievable, what an incredible day!" he said. "I had a nice fight with Magnussen and the pace was really good. I'm just super happy."
MIXED EMOTIONS
"It feels better winning here than in Australia, because here we had the pace," Vettel said. "So, I am very happy, even though it's sad to see one of our guys getting injured. I wish him to get well soon, I know he's in very good hands now."