Bahrain GP 2018
APRIL 6, 2018
Practice 1 Report - A Tale of Two Drivers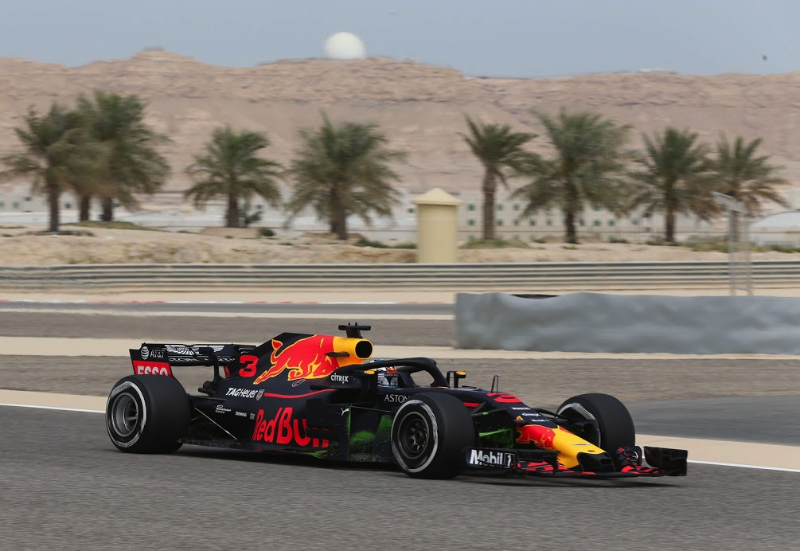 © RV Press
By Dan Knutson in Sakhir
Red Bull teammates Daniel Ricciardo and Max Verstappen came out of Free Practice 1 for the Bahrain Grand Prix on opposite sides of the timing screens. Ricciardo finished on top after turning the fastest lap of the session. Verstappen's car broke down early in the session and he never posted a time.
The line-up for the weekend was: Mercedes – Lewis Hamilton and Valtteri Bottas; Red Bull TAG Heuer – Daniel Ricciardo and Max Verstappen; Ferrari – Sebastian Vettel and Kimi Raikkonen; Force India Mercedes – Sergio Perez and Esteban Ocon; Williams Mercedes –Lance Stroll and Sergey Sirotkin; McLaren Renault – Fernando Alonso and Stoffel Vandoorne; Renault – Nico Hulkenberg and Carlos Sainz; Toro Rosso Honda – Brendon Hartley and Pierre Gasly; Haas Ferrari – Romain Grosjean and Kevin Magnussen; Sauber Ferrari – Marcus Ericsson and Charles Leclerc.
The 15-turn 3.363-mile (5.412 km) Sakhir circuit located in the desert sands outside of the capitol city of Manama.
The session had barely started when Verstappen's Red Bull coasted to a stop. His car, he radioed, had found "false neutral." Fortunately he was near pit entrance so he pushed his car in for repairs. Some marshals came to help.
The ambient temperature at the start of the 90-minute session was 86 degrees Fahrenheit (30 degrees Centigrade) and the track temperature was 109 degrees Fahrenheit (43 degrees Centigrade).
As FP1 kicked off at 2 p.m. local time, while qualifying and the race would start at 6 p.m. when it would be considerably cooler, the teams were not going to get a lot of relevant data from this session.
Pirelli's slick tire compounds for the weekend were: medium, soft and super soft.
Ocon posted the first time of the weekend – 1:35.687 – on the super softs.
"It's a track that feels very satisfying when your car is working well," he said. "I particularly enjoy turns 5, 6 and 7 because they are so quick and then you're immediately into a big braking zone for turn 8. It's tricky because you approach at really high speed and it's easy to make a mistake and run wide.
"It's a tough weekend physically because of the heat. The daytime practice sessions are the most difficult, but fortunately it gets a bit cooler in the evenings for qualifying and the race. You need to drink lots to be hydrated and make sure you don't lose concentration."
Ricciardo, on the mediums, got down to a 1:34.333 in a car slathered with green flo-viz paint. Raikkonen, on the same compound, sliced that down to 1:33.770.
Just before the half-hour mark Bottas, on softs, clocked a 1:33.235. Teammate Hamilton had yet to set a time. But when he did it was a session-best 1:33.041 using the softs. Bottas responded with a 1:33.008, and Hamilton retorted with a 1:32.532.
At the 40-minute break, the top 10 were: Hamilton, Bottas, Vandoorne, Raikkonen, Vettel, Gasly, Grosjean, Hulkenberg, Ricciardo and Magnussen. Verstappen had yet to return to the track.
And break the drivers did as they hung around the garages rather than go back on track.
Forty-two minutes remained in the session when Alonso broke the silence. His time of 1:33.223 on the super softs put him third.
But it was Haas driver Grosjean who did the best job yet by going to the front with a 1:32.516 using the super softs. Hamilton was having none of that and turned a 1:32.272.
But now Bottas was on the softs, and he grabbed the top spot with a 1:31.364.
With just under 30 minutes remaining, the eclectic top 10 were: Bottas, Hamilton, Grosjean, Grosjean, Gasly, Sainz, Magnussen, Hulkenberg, Alonso, Leclerc and Stroll.
The Ferraris had been way down the order, but then with 23 minutes left in the session Raikkonen popped up to second. A few minutes later Vettel, on the softs, had a fast first sector of the lap but ended it in third place with his 1:31.470.
Only a tenth of a second covered Bottas, Raikkonen and Vettel.
Ricciardo had not done much running, only 9 laps, but now he was flying on the softs, and with just under 15 minutes remaining, he zoomed up to the front with a 1:31.060.
The top 10 at the end of FP1 were: Ricciardo, Bottas, Raikkonen, Vettel, Hamilton, Grosjean, Sainz, Magnussen and Hulkenberg.