Bahrain GP 2016
APRIL 4, 2016
Race Report - The Anniversary Special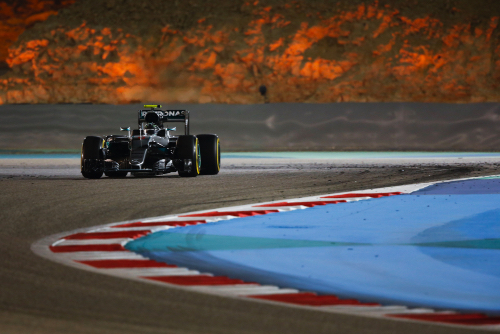 © Active Pictures
BY DAN KNUTSON IN MANAMA
What better way to celebrate your anniversary than with a grand prix victory?
Nico Rosberg made his Formula 1 debut in the 2006 Bahrain Grand Prix driving for the Williams team. Ten years later he won the event driving for Mercedes. It was one of those races that was decided in just a few seconds after the start. Rosberg's teammate Lewis Hamilton qualified on the pole but made a slow getaway, which allowed Rosberg to sweep into the lead.
"The start was definitely the key to my win," Rosberg said, "and that was a really great moment, as it was an area that we put a lot effort into before the race. Leading into Turn 1 was a relief, to be honest, as I could see in my mirrors that it was very busy behind me. But from then on I was able to control the pace and take the win."
It was indeed busy back in Turn 1. Williams driver Valtteri Bottas had vaulted up from sixth on the grid and tried to take second away from Hamilton in the first turn. They collided.
"Everything was going very well until 50 meters before Turn 1," Bottas said. "I committed to brake late into Turn 1. I saw a gap on the inside 50 meters before the corner and I thought 'okay, that's going to be my spot,' but I think Lewis didn't expect me to come on the inside, so we touched. It's a shame because it cost us a lot today, but even after that the pace was not great. Of course my front wing was damaged and it wasn't changed."
Officials gave Bottas a drive through penalty for causing a collision. Hamilton shrugged it off as a racing incident.
"I didn't get a good start today," Hamilton said, "but it actually wasn't as bad as the last one. They were completely different incidents - both painful, but this one probably more so! In Melbourne I had loads of wheel spin but this time I just didn't get away as well as I needed to and that was down to me. If you start on pole and go backwards it quickly becomes a domino effect. It's so easy to get clipped from there and unfortunately that's what happened at Turn 1."
Meanwhile, Felipe Massa had made a brilliant start in his Williams and snatched second place. At the end of lap one, therefore, Rosberg led over Bottas and Massa. Red Bull's Daniel Ricciardo, who had tagged into the Hamilton/Bottas business, was fourth ahead of Romain Grosjean in the Haas and Hamilton.
Massa and Bottas would eventually finish eighth and ninth as Williams resolutely stuck to a two-stop strategy even when it soon came apparent that three pit stops was the quickest way through the race.
Kimi Raikkonen qualified his Ferrari fourth, lost one position at the start, but worked his way up to second place and chased Rosberg to the checkered flag at the end of the 57-lap race.
"The start was not ideal, but luckily we did not lose too many places in the first lap," Raikkonen said. "After that I tried to recover, and was able to overtake some cars and make the best out of it. We managed to do good pit-stops with the right tire choices and the speed was quite good, too. In the end we were catching up a bit on the Mercedes in front, but I never got close enough to try and pass Nico."
Sebastian Vettel did not even get close to anything in the other Ferrari which expired on the formation lap.
"It was a very short race today," he related. "I didn't even break a drop of sweat. We had a failure, I saw a lot of smoke from behind and I lost power so we decided to stop the car. For sure it is frustrating, because in the end I am here to race. The problem came as a surprise, both for me and the whole team, as I was approaching Turn 11."
So, just like that, Rosberg's main opponents had been taken out of contention.
"We've been working a lot on the starts," he said after his fifth consecutive victory. "I'm pleased that it worked out so well. It was a really good getaway on the dirty side of the grid and that really made my race in the end. And from then on the car was feeling great and just controlling the pace and playing it safe. That's what we were trying to do. Also, in case the Safety Car comes and things like that. So we really went for the safest strategy, not the fastest strategy. Just to cover all eventualities."
The only other leader was Hamilton who went out front on lap 40 during the pit stops. But the floor of his car had been damaged in that crash and it slowed him by a second a lap. He ended up third.
"I could easily have not finished the race," he said, "so I'm glad it wasn't more points dropped in the end. I had so much damage on the car that I couldn't keep up with Kimi. I was fighting hard and did what I could with it - but it wasn't quite enough to catch him, so in the end I had to just save the tires in case of a Safety Car."
Ricciardo had a bit of a lonely time as he finished fourth for the second race in a row.
"The race start was interesting," he said. "I didn't get off the line very well and I could see it was getting a bit chaotic into Turn 1. I tried to capitalize on it but ended up with damage on the front wing when Bottas and I came together.
"There was a moment that I thought I would have to pit for a new wing as the chunk that came off looked pretty substantial but we were able to hang in there for a few laps, racing with the Williams. The damage didn't affect me too much and we had a good race, although a little lonely towards the end, with some decent points scored."
Meanwhile, Grosjean followed up his sixth place in Australia with a fine fifth in Bahrain.
"This is the American dream!" he said. "It is unbelievable. I said we had to manage our expectations after we finished sixth in Australia, but here we finished fifth. There are still a lot of things we can do better, from pit stops to the setup of the car and so on but, for now, this one is for the guys. I looked at their faces last night and they were all very tired because of the amount of work we're doing. This is a massive reward. Really, just unbelievable.
"In the race, I had a good feeling in the car. It was an aggressive strategy, but managing tires has always been my strength in the past. Knowing we had a softer compound for this racetrack was something I liked. The car was set up well for the super soft tires and I had a fantastic race. The car has a very good baseline. Everything is working well. I don't think I've ever been as high as fifth in the driver standings. This is the first time in my career, I can't believe it."
Max Verstappen fought his way from tenth to sixth in the Toro Rosso.
"The whole team did a fantastic job," he said. "A great strategy, good pit-stops. It all worked out perfectly, including our tire management. The car was just doing what it had to do and felt good, we had great pace! It was an action-packed race and I really enjoyed it out there."
Daniil Kvyat also had a good recovery race as he hauled his Red Bull from 15th to seventh.
"It was quite difficult in the beginning," he said, "but I would say the race went very well considering where we started from. We had good pace and a good result which I am very happy with. The strategy worked well and the team managed to avoid traffic on the track, when we saw an opportunity we went for it and it made the race good fun.
"We found a nice rhythm during the race. It was also good to see we were challenging the front runners, at the right tracks I think this will be interesting. We need to work on our qualifying and not repeat the disaster of yesterday."
While there was not much wheel-to-wheel racing going on at the front, there were battles galore further back. Kvyat was involved as were Verstappen, Bottas and Massa.
"I had such a great start, going from seventh to second," Massa said, "but unfortunately the two-stop strategy didn't work as expected and our pace on the medium tire was not very good. This allowed others on softer tires to get ahead and stay there. We started the weekend expecting more so it's been a disappointing result."
Stoffel Vandoorne, replacing the injured Fernando Alonso in the McLaren, certainly was not disappointed with tenth place in his debut Formula 1 race.
"The start was a little bit difficult," he said. "There was debris left and right - it was pretty hectic in fact - and there was a lot of fighting throughout that opening lap. Since the beginning of the weekend, I've felt very confident in the car, and pretty comfortable that I could do a good job. I'm pleased that I didn't make any mistakes operationally - I was really focusing on that side of things - and I came away with a point, which was a nice bonus."
Kevin Magnussen started from the pit lane and finished 11th in his Renault. Marcus Ericsson, one of the drivers who had plenty of fights on the track, rounded out the top dozen in his Sauber.
Now it is on to China where, incidentally, Rosberg scored the first of his 16 Formula 1 victories in 2012.