Bahrain GP 2016
APRIL 2, 2016
Practice 3 Report - Red Hot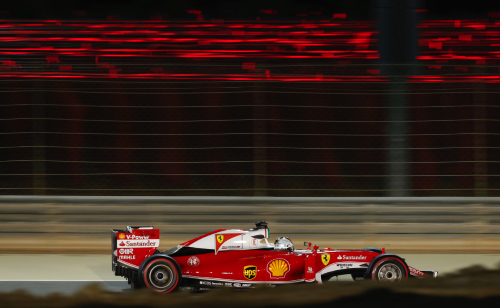 © Active Pictures
Ferrari drivers Sebastian Vettel and Kimi Raikkonen were red hot under the Bahrain sun as they beat out Mercedes drivers Nico Rosberg and Lewis Hamilton in Free Practice 3.
The ambient temperature at the start of the 60-minute session was 77 degrees Fahrenheit (25 degrees Centigrade) and the track temperature was 97 degrees Fahrenheit (36 degrees Centigrade.)
The line-up for the session was: Mercedes - Lewis Hamilton and Nico Rosberg. Ferrari - Sebastian Vettel and Kimi Raikkonen. Williams Mercedes - Felipe Massa and Valtteri Bottas. Red Bull TAG Heuer - Daniel Ricciardo and Daniil Kvyat. Force India Mercedes - Nico Hulkenberg and Sergio Perez. Renault - Kevin Magnussen and Jolyon Palmer. Toro Rosso Ferrari - Max Verstappen and Carlos Sainz. Sauber Ferrari - Marcus Ericsson and Felipe Nasr. McLaren Honda - Stoffel Vandoorne and Jenson Button. Manor Mercedes - Pascal Wehrlein and Rio Haryanto. Haas Ferrari - Romain Grosjean and Esteban Gutierrez.
First out on track were Gutierrez and Wehrlein.
Massa's Williams was fitted with the new "ultra short nose" that the team had flown in overnight from England. The crew sprayed flo-viz paint on it to monitor the aerodynamic air flow on his first run.
Ten minutes into the session Ricciardo clocked the first lap time - 1:34.726 - on the soft compound Pirelli tires. A number of drivers had yet to go out, and the rest had only done installation laps until Wehrlein did a 1:36.513 and Perez a 1:34.281.
Twenty minutes into the session Rosberg turned a 1:33.150 on the soft tires and moments later Hamilton clocked the exact same lap time.
Next Bottas did a run on the super soft Pirellis and set a time of 1:33.042 and barely edging out the Mercedes duo. But he didn't stay on top for long as Raikkonen took over after turning a 1:32.863 on the soft compound.
Twenty-six minutes into the session Massa, on the super softs, was only able to go fifth quickest, and Ricciardo, also on that compound, took over sixth.
Midway through FP3 the top 10 were: Raikkonen, Bottas, Rosberg, Hamilton, Massa, Ricciardo, Perez, Hulkenberg, Kvyat and Palmer. Vandoorne had done just one lap as his McLaren had an oil leak.
With 20 minutes remaining in the session most of the drivers were in the garages as their cars were being prepared for the qualifying simulation runs on the super softs.
Those runs started with a dozen minutes to go, and Rosberg took over first place after setting a 1:32.104. Once again Hamilton failed to beat his teammate as he crossed the line with a 1:31.160.
Raikkonen began his run on the super softs with 10 minutes remaining, and demoted the Mercedes guys with a time of 1:31.723. Next Grosjean jumped up to fifth.
Vettel was out there with seven minutes to go, and took the lead with a 1:31.683.
And so the top 10 wound up being: Vettel, Raikkonen, Rosberg, Hamilton, Bottas, Grosjean, Kvyat, Gutierrez, Massa and Ricciardo.