Bahrain GP 2016
APRIL 1, 2016
Practice 2 Report - Pole smasher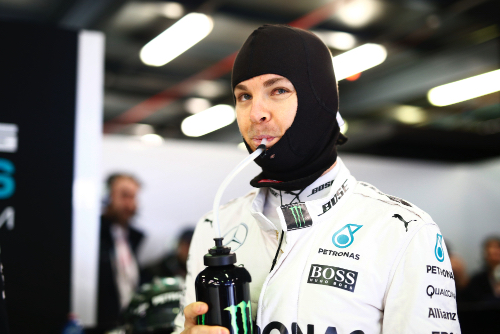 © Active Pictures
Nico Rosberg's lap time of 1:31.001 during Free Practice 2 smashed Lewis Hamilton's 2015 lap time of 1:32.571. It also beat Hamilton's best effort in FP2 in 2016 which was a 1:31.242.
The ambient temperature at the start of the 90-minute session was 68 degrees Fahrenheit (20 degrees Centigrade) and the track temperature was 75 degrees Fahrenheit (24 degrees Centigrade.)
The line-up for the session was: Mercedes - Lewis Hamilton and Nico Rosberg. Ferrari - Sebastian Vettel and Kimi Raikkonen. Williams Mercedes - Felipe Massa and Valtteri Bottas. Red Bull TAG Heuer - Daniel Ricciardo and Daniil Kvyat. Force India Mercedes - Nico Hulkenberg and Sergio Perez. Renault - Kevin Magnussen and Jolyon Palmer. Toro Rosso Ferrari - Max Verstappen and Carlos Sainz. Sauber Ferrari - Marcus Ericsson and Felipe Nasr. McLaren Honda - Stoffel Vandoorne and Jenson Button. Manor Mercedes - Pascal Wehrlein and Rio Haryanto. Haas Ferrari - Romain Grosjean and Esteban Gutierrez.
First out under the lights for the evening FP2 session was Raikkonen. Hulkenberg set the early pace with a time of 1:35.314, and Raikkonen soon beat that with a 1:34.164 only to have Rosberg, who had been quickest in FP1, turn a 1:32.173.
Hamilton's time of 1:32.383 put him second just as in FP1. Kvyat, third, was 1.8 seconds off the pace.
11 minutes into the session Vettel used to soft tires to set a 1:32.650, third best, but still nearly a half second slower than Rosberg.
24 minutes into the session, Massa used a set of the super soft Pirelli compound tires to move into fourth place with a time of 1:32.873. Then Bottas, also on the super softs, replaced him with a lap of 1:32.792.
Others were trying the super softs as well because it was the same time of evening that they would be using the tires in qualifying on Saturday. Ricciardo went sixth and Hulkenberg ninth.
With 58 minutes remaining, Rosberg was on the super softs and soon clocked a time of 1:31.001. Then Hamilton crossed the line and posted a 1:31.242. Vettel's run on the super soft Pirellis yielded a slow time because he slid off the track, but Kvyat managed to jump up to fourth.
With 53 minutes to go, and with most of the drivers now having done a super soft run, the top 10 were: Rosberg, Hamilton, Vettel, Kvyat, Bottas, Ricciardo, Massa, Gutierrez, Sainz and Grosjean. A couple of minutes later Verstappen leaped up to fourth place.
Just before the midpoint of FP3, Button seared his McLaren into third place with a 1:32.281 while newcomer Vandoorne grabbed 10th place. Next Raikkonen used the super softs to move up to fifth place with a 1:32.245.
Now the top 10 was: Rosberg, Hamilton, Button, Verstappen, Raikkonen, Vettel, Kvyat, Bottas, Ricciardo and Massa.
The teams and drivers spent the last 40 minutes of the session doing long runs on the medium, soft and super soft tires so the top 10 remained the same. It got very busy out there. With 16 minutes to go, for example, every driver was on track.
Then, with 15 minutes remaining, drama as Vettel pulled off the track at Turn 8. "Something is not right. I stop the car. I lost drive," he radioed.
The actual problem was a loose left-rear wheel nut.
The Virtual Safety Car was deployed but it was withdrawn a minute later only to be deployed a minute later after some bodywork bits fell off of Grosjean's Haas at Turn 13.
"Something is broken, I think the front wing went under the car," Grosjean radioed.
The session wound down with the rest of the drivers continuing their long runs.