Bahrain GP 2016
APRIL 1, 2016
Practice 1 Report - Rosberg rolls on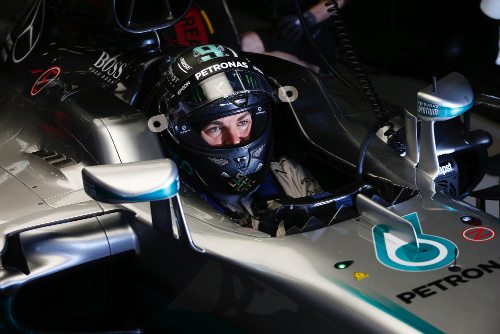 © Active Pictures
Fresh off his victory in the season opener in Australia, Nico Rosberg's momentum rolled on in Bahrain where he beat out Mercedes teammate Lewis Hamilton to clock the fastest lap in Free Practice 1.
The ambient temperature at the start of the 90-minute session was 72 degrees Fahrenheit (22 degrees Centigrade) and the track temperature was 90 degrees Fahrenheit (32 degrees Centigrade.) It had rained on Thursday but there was zero percent chance of rain for FP1.
The line-up for the session was: Mercedes - Lewis Hamilton and Nico Rosberg. Ferrari - Sebastian Vettel and Kimi Raikkonen. Williams Mercedes - Felipe Massa and Valtteri Bottas. Red Bull TAG Heuer - Daniel Ricciardo and Daniil Kvyat. Force India Mercedes - Nico Hulkenberg and Alfonso Celis Jr. Renault - Kevin Magnussen and Jolyon Palmer. Toro Rosso Ferrari - Max Verstappen and Carlos Sainz. Sauber Ferrari - Marcus Ericsson and Felipe Nasr. McLaren Honda - Stoffel Vandoorne and Jenson Button. Manor Mercedes - Pascal Wehrlein and Rio Haryanto. Haas Ferrari - Romain Grosjean and Esteban Gutierrez.
Stoffel Vandoorne flew in from Japan, where he had been testing, to sub for Fernando Alonso who had been diagnosed with fractured ribs and an injured lung after his big accident in Australia. He used number 47 on the McLaren.
The other change was that Alfonso Celis (number 34) replaced Sergio Perez in the Force India for FP1.
Gutierrez, Wehrlein and Verstappen were the first drivers out on the 3.362-mile (5.412 km) 15-turn track as the lights turned green to start FP1.
McLaren put Vandoorne straight to work and fitted a large "aero rake" to the car for his first lap. Force India also had an aero rake on Celis' car.
Rosberg clocked the first quick lap 11 minutes into the session when he posted a 1:33.592 on the soft compound Pirelli tires. Hamilton then turned a 1:33.673, a mere 0.081 of a second slower than his teammate. Button was third but a full 1.8 seconds slower than Rosberg.
The three dry weather tire choices for the weekend were: medium, soft and super soft.
After 40 minutes the top 10 were: Rosberg, Hamilton, Button, Hulkenberg, Bottas, Verstappen, Raikkonen, Vettel, Grosjean and Sainz. Various drivers had been on various tire compounds so it was difficult to make direct comparisons of the lap times.
All the cars were in the garages now as the teams prepared them for the second part of the session. Magnussen was the first to break the silence when he headed out with 44 minutes remaining.
Nearly 10 minutes later Ricciardo used the soft tires to move into third with a 1:34.461. Next his teammate Kvyat turned a 1:34.541 on the softs to take over fourth place.
With 22 minutes to go, the top 10 were: Rosberg, Hamilton, Ricciardo, Kvyat, Hulkenberg, Grosjean, Gutierrez, Button, Magnussen and Bottas.
Two minutes later, Rosberg sliced his time down to a 1:32.294 using a new set of the soft Pirellis, and then Hamilton followed with a 1:32.799 also on the softs.
Others were now doing quick runs on the softs including Sainz who moved into sixth and Bottas who took over eighth. Then Raikkonen used the softs to jump up to third with a 1:34.128, and Verstappen slotted into eighth.
When it was all over the top 10 were: Rosberg, Hamilton, Raikkonen, Ricciardo, Kvyat, Hulkenberg, Sainz, Verstappen, Grosjean and Massa.