Bahrain GP 2015
APRIL 18, 2015
Saturday Team Quotes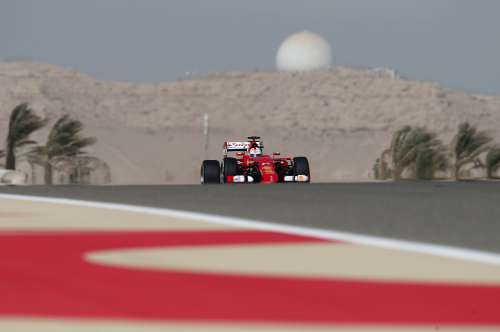 © Active Pictures
Mercedes GP
Lewis Hamilton (1st, 1:32.571): "I'm very happy with pole position. Coming into the weekend, the target was to master this track and get the car exactly how I wanted it here. I've been working hard to improve on every level and have tried to take a nice calm approach to each weekend. The car has felt how I wanted it to all weekend, so thank you to the team for achieving that; I'm so grateful to have this Mercedes beast underneath me. The laps felt great and I could really put the car right where I needed it through the corners. It's great to have pole but Ferrari are very quick this weekend and they will be really hard to beat in the race. We're in a good position with these grid slots but we'll need to work hard to make the tyres perform in the right way tomorrow. I'm looking forward to an exciting race."
Nico Rosberg (3rd, 1:33.129): "Today I thought too much about the race and that was a mistake, as I didn't get into my rhythm for a perfect Qualifying. So I cannot be happy with the outcome today. Starting behind Sebastian also is really not good. I underestimated him and now I need to make the best of this situation, so I will be pushing a lot in the race. I need to have a good start, hope I can catch Seb there and then I need to manage my tyres better than the others."
Paddy Lowe: "The weather conditions were always forecast to be windy today and it certainly turned out that way, with a reasonably strong, gusting headwind on the main straight and quite tricky conditions for the drivers. We didn't have a great session in FP3 and headed into qualifying not feeling particularly confident of our pace. Indeed, as it turned out, nobody was quick enough to make it through Q1 without using Option tyres. We progressed through Q2 with a single run on Options and then elected to save a new set of tyres for the race by running a used set for the first lap in Q3 - just as Ferrari did. That meant it came down to a final lap battle between our cars and the two Ferraris. Lewis delivered a great pole lap while unfortunately Nico just missed out on a front row place alongside him. All of the top four cars will have a new set of Option tyres available for the race, which will mean it will be extremely close between all of us. We're looking forward to an exciting evening tomorrow."
Toto Wolff, Mercedes Motorsport Director: "This qualifying session confirmed what we have been saying for a number of weeks now; the balance of power has shifted this year and we have a serious challenger at all circuits and in all conditions. Last year, the performance gap meant that we could be reasonably confident of claiming the front row each weekend - but that's not the case any more. Ferrari has done a great job and they are snapping at our heels. Lewis put in a fantastic lap tonight. We had seen some glimpses of that pace during the session but it needed something special to take pole today. It maybe helped him that he pushed harder on his race start set of tyres in Q2, so he had a better feel for the limit of the track and the tyres. But this could also have a downside tomorrow, so we must see how that plays out. Nico was just a little bit off Lewis in each sector on the important lap and that was enough for Vettel to slip into second place. Looking ahead, tomorrow will be tougher and it will be closer - but we have a couple of options for how we tackle the race from P1 and P3. There might be days when we enjoy looking back at the comfort zone we had in 2014 - but the truth is that we all love getting out of bed in the morning and knowing that we have a real fight on our hands. It's good for us and it's good for the sport; that's what motor racing is all about."
Red Bull-Renault
Daniel Ricciardo (7th, 1:33.832): "It was pretty good today, I think seventh is respectable for where we are, so we're looking alright for tomorrow. I was really happy with my first sector, it felt strong, I lost a little in the second sector, but in general I'm happy with how quali went. The start is going to be important and I believe we can have a good one. It's important to stay with the Williams and within DRS and striking range."
Daniil Kvyat (17th, 1:35.800): "I'm not sure what was going on, it was a strange session for me. The team will investigate why I am so far down the order so we can understand. Everything can turn around very quickly. I'll stay motivated and try my best."
Christian Horner, Sporting Director: "I think we got everything out of the car today and for Daniel to set two laps within a tenth of each other in Q3 demonstrates that. It was frustrating to lose Dany in Q1 and we're not sure why so we'll have a look at the data to understand what happened there."
Williams-Mercedes
Valtteri Bottas (5th, 1:33.381): "I'm not unhappy to get P5 as it is representative of our pace. The race is long and will be tougher than today, the start will be especially important considering Turn One can produce problems. As a team we did a good job, we got the best out of the tyres and it is refreshing to finally get a clean qualifying session."
Felipe Massa (6th, 1:33.744): "I did a great lap in Q2, so was upset not to replicate this in Q3 after a few mistakes. The best position I could have achieved today was P5 and Valtteri has that, so the cars are where they should be. Overtaking is possible here so we can have a good race, but tyre management and strategy will be important. I am not unhappy, we are not out of position and there is a long race ahead tomorrow."
Rob Smedley, Head of Performance Engineering: "It was a good qualifying for us, our cars are fifth and sixth quickest out there and we also saved tyres for the race. The team has worked well together, probably the best we have all year. We have maximised the potential from qualifying and have set ourselves up well for the race but we do still need a bit more performance out of the package to fight with the cars in front."
Ferrari
Sebastian Vettel (2nd, 1:32.982): "In the end it is a great success for us to be able to split the Mercedes. Again, we seem to be a bit closer; but then everybody seemed to be a bit closer this weekend. So, hopefully, we can be another step closer tomorrow. In the beginning of qualifying i was not entirely happy, but then it got better and better. The last lap was very important and we were able to get it right. Now I can't tell whether I will be able to win the race tomorrow. Let's not forget that this is only the fourth race of the season; we are very happy with where we are, how competitive we are. We'll go step by step, we'll try our best possible race tomorrow, and if this means we can put pressure on the Mercedes, then we'll do it. But the target is still to look after ourselves; if there is a chance to fight one or two of them, for sure we'll go for it."
Kimi Raikkonen (4th, 1:33.227): "It was a positive day even if it's a bit disappointing to finish fourth, because our aim is to be at the front. My last lap was quite good, I made a small mistake and ran wide a little bit in one corner, but it was nearly nothing, it did not cost me a lot of time. It was very close with everybody. On the track there was more grip than I expected and probably I could have pushed a little bit more, but I was not sure I could. My car was working well today, the position on the grid is not ideal but it's a good starting point for the race. Tomorrow we'll try to make a good start, and move on from there with a good first lap. To get ahead of Rosberg would help a lot, and then we'll see what we can do. We'll do our maximum."
McLaren-Honda
Fernando Alonso (14th, 1:35.039): "This weekend has been a nice surprise so far ' and the car felt better again today. We've made a step forward, performance-wise; everything appears to be going in the right direction. Of course, we'll never be happy that our qualifying effort ran out in Q2, but it's a step forward, and the whole team will and should enjoy this result because they've been working so hard to achieve it. Tomorrow will be about finishing the race and getting both cars to the flag. We've had some problems with reliability this weekend, with Jenson's car, so we need to keep improving in that area. We'll need a bit of luck if we're to score points tomorrow."
Jenson Button (20th, No Time): "Well, FP3 was pretty good, especially after yesterday's limited running. And then, in quali, I don't really know what happened; it felt a bit similar to what occurred on Friday morning when everything shut down on the car. There was a loud bang, so I pulled over and got out. We've had quite a few issues this weekend, but the important thing is that we're improving. Fernando got through to Q2, which is a good step for the team, and it's just a pity I couldn't be there as well. We knew it was going to be a hard start to the year, and it has been, but, even so, there are more positives than we thought there would be. Looking ahead to tomorrow, our race pace is likely to be not too bad. So hopefully we can sort out our reliability glitches ahead of tomorrow and have a decent race."
Eric Boullier, Racing Director: "Today, sadly, again, Jenson was afflicted by more than his fair share of reliability woes. As a result, he'll start tomorrow's race from the back of the grid, which is a great shame. Even so, he'll be intending to push hard right from the start, and, reliability permitting, you can bet your bottom dollar that he'll be aiming to force his way up the running order with composure and aplomb. Fernando's P14 grid slot is nothing to write home about, but the fact that it represents our first Q2 appearance of the year is another sign of the sure, sound and steady progress we've been making. Formula 1 is an iterative business wherein results can be earned only by process-driven hard work ' there's no magic to it ' and the improvements we're seeing are the consequence of a huge amount of diligent toil by a large number of focused and talented people. Bravo, guys! Let's see what tomorrow brings."
Yasuhisa Arai, Honda: "Since the Chinese Grand Prix, it has only been a short while, but I believe we have been able to progress the ERS to adapt to this track as efficiently as possible. This was clearly supported by the result of Fernando's progression to Q2. It's unfortunate that we could not get both cars through. The issue on Jenson's car is still under investigation, which we'll try to do with the utmost urgency."
Force India-Mercedes
Nico Hulkenberg (8th, 1:34.450): "P8 ' I'm happy with that. I think we extracted the most we could from the car today. Overnight we made some good tweaks to the set-up and that helped, especially in these slightly cooler temperatures. It was quite windy, but it didn't impact on us too badly and all of my laps were pretty good. Points will be the goal tomorrow, but it won't be easy because there are a lot of quick cars behind us and they will put pressure on us. We need to make the best of the car we have and hopefully come away with a good result. Bahrain always produces good racing with the DRS zones and tyre degradation will be an important factor in the ace. Whatever happens, we are ready for the fight."
Sergio Perez (11th, 1:34.704): "Even though I'm frustrated at missing out on Q3 by just a few hundredths of a second, I think we can be satisfied about the big step forward today. It would have been an amazing result to have both cars in the top ten, but eleventh on the grid is something we can be happy about and it's the result of a massive effort by everyone in the team. Today both our car and the track characteristics played into our hands, possibly more than we were anticipating. This result is also a matter of learning the best way to set up this car. The sixth row is a good place to start and I'm optimistic about getting some good points tomorrow. We have shown to be pretty good around here: we had strong pace during our longer runs yesterday and this should give us a chance of a strong result."
Robert Fernley, Deputy Team Principal: "Today's qualifying result is a very positive step in the right direction. It was encouraging to see us nearly placing two cars in the top ten and, even though we just missed out with Sergio, we can be proud of this effort: the drivers extracted everything that the car could offer and they put together some excellent laps. We must not get carried away as we know that our car is particularly suited to this track, but we are confident for tomorrow. Starting in P8 and P11 gives us a good shot at scoring points, so it will be important to do a good job tonight and be prepared for tomorrow's race. Our pace looked solid in practice and we will need to ensure our strategy gives us the opportunity to make the best of it: the midfield is very competitive so it won't be an easy job, but we're ready for it."
Toro Rosso-Renault
Carlos Sainz (9th, 1:34.462): "I feel very happy! Probably it was the less expected Q3 of the year, I even thought this was going to be the toughest and most difficult to achieve after what we had seen in FP3'' But we did a mega turnaround and we went for it. Everything worked out and I'm very satisfied with the result. For tomorrow's race, our race pace should be the same or even better than our qualifying pace, so it gives me quite a good feeling for tomorrow. We have a balanced car that's good through the high-speed corners and gentle on the tyres, but if we get into battles it can become a bit tricky. We will have to find a compromise, but I'm really looking forward to my fourth race in Formula 1."
Max Verstappen (15th, 1:35.103): "It wasn't the best qualifying. I suffered from a bit too much understeer on the car and that's never great for a qualifying lap on new tyres, but hopefully this will help to save the rear tyres more in the race tomorrow. We'll do our best to do a good start and make the most of the fact that we have one more set of Soft tyres available!"
James Key, Technical Director: "We've had a fair amount of problems to resolve this weekend. Yesterday was a real mixed bag of being happy and unhappy with where we were, so we had to work hard overnight. In FP3 we were not entirely satisfied, although we knew there was a lot more potential to find. We believed that Q3 was always on the cards, preferably with both drivers, so we worked towards that and with the changes we made in FP3 we finally got a balance on the car that both Carlos and Max were happier with. They progressed as hoped until we got to Q2, where unfortunately Max didn't quite pull his lap together, so we need to analyse that and see what we can do better for him. Carlos did what he needed to do and got into Q3, which was great, as it was a very tight fight. To start P9 is a decent result and, given the problems we've had, it was a great turnaround from Carlos. Tomorrow we will try and recover from our unfortunate lack of points in the last race."
Lotus-Renault
Romain Grosjean (10th, 1:34.484): "I'm really proud of the team and what they achieved between FP3 and qualifying today. From our runs so far this weekend, I was expecting to go out earlier so to achieve Q3 for the fourth time in a row feels very good. I'm actually slightly disappointed, I think we could have placed higher but we were lacking a little bit of grip. Tomorrow is all about the rear tyres ' as opposed to China, where it was all about the fronts. We'll be careful, prepare a car that's well balanced and then we'll see what it brings."
Pastor Maldonado (16th, 1:35.677): "We had a problem unfortunately and weren't able to get the maximum pace from the car, meaning that it felt like we were lacking in power. It's not the end of the world as we should be able to fix the problem so we can focus on recovering positions through the race. We have enough tyres to do a different strategy and have showed good potential on both long and short runs throughout the weekend. The pace is there and points are definitely possible so let's do our best as always."
Alan Permane, Chief Race Engineer: "We have two different challenges tomorrow. Romain did a great job through qualifying after we struggled to get his car working for him earlier in the weekend. His pace through Q1 and Q2 was such that we considered a riskier qualifying strategy. He didn't quite get the optimal Q3 lap but P10 on the grid certainly isn't the end of the world as there's good potential. Pastor, in contrast, had a really strong weekend until qualifying when something that we are still investigating caused the front brake system to retain pressure without any pedal input, causing a considerable loss of straightline speed. Tyre performance looks to be reasonably predictable however it's the brakes where we'll be paying a lot of attention and monitoring during the course of the race as they generate a lot of heat thanks to the circuit layout here. With Romain we're looking to move up the top ten as much as possible, whilst with Pastor we have the opportunity to make strong progress through the field as his race pace should be superior to that of quite a few cars ahead of him. It will be two very different challenges, with good opportunities for both drivers to score well."
Marussia-Ferrari
Will Stevens (18th, 1:38.713): "The weekend has been pretty solid for us. The conditions have been a little up and down due to the changing wind and also the track has been pretty dusty due to heavy overnight winds. I think we worked pretty well over the past couple of days to manage the differences and by qualifying we had a pretty good balance. I think there was a little bit more in the car today as I made a small mistake in turn 12, but it feels good for the race so I'm excited to see how we fare tomorrow."
Roberto Merhi (19th, 1:39.722): "I'm a little disappointed with my lap as I made a mistake later at turn 4 and that stopped me improving on my second run. Otherwise, I think we can feel happy with the progress we've made through the weekend, especially as the track conditions have been evolving so much. The car is in a good place for tomorrow, so I'm looking forward to the race."
John Booth, Team Principal: "Another very smooth and straightforward day for us. Both drivers felt there was more to come from the car, as they both made small mistakes which lost a bit of time, so that is encouraging. Once again, we've enjoyed good reliability and this has been invaluable in helping us to keep pushing forward, one step at a time."
Sauber-Ferrari
Felipe Nasr (12th, 1:34.737): "It was a shame to just miss out on Q3 because of less than a tenth, but I think we extracted the maximum out of the car. It was difficult in Q1 as some of our competitors seem to be very strong. Twelfth is a good starting position for tomorrow. Considering our good pace during the long-runs, I am confident about fighting for points."
Marcus Ericsson (13th, 1:35.034): "First of all, FP3 was a difficult session. I struggled a lot to get a good feeling in the car and it was quite windy on track. Towards the end of the session we managed to sort things out and drivingwise it felt better. In Qualifying we knew beforehand it would be a close competition. Certainly, we would have liked to be in Q3 again, but overall we did a decent job. We are in good shape for tomorrow's race."
Monisha Kaltenborn, Team Principal: "It's a very tight result, as could be expected. Nevertheless, these are satisfying positions for the start of the race. Based on our long-runs, we are able to see that the chances for points are there, and that's what we have to concentrate on."
Giampaolo Dall'Ara, Head of Track Engineering: "In FP3 we had a bit of a more troubled session than we were expecting. The weather changed, as it was windier with more sand on the track. We had to follow up on the set-up of our cars, but I think by qualifying we were there. The session went quite well. However, we were hoping for something a little better, but we are not far off the competition, and with the places we achieved we are in a good position for the race tomorrow."