Bahrain GP 2015
APRIL 20, 2015
Race Report - Home alone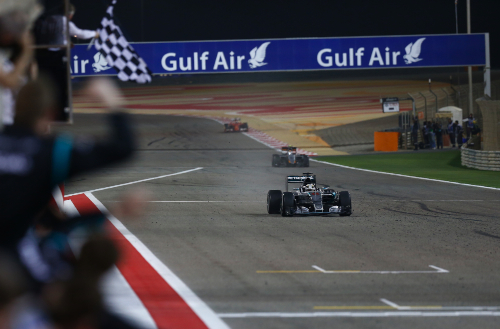 © Active Pictures
BY DAN KNUTSON IN BAHRAIN
Lewis Hamilton did not lead every lap of the Bahrain Grand Prix. Kimi Raikkonen was fast, and put his Ferrari out in front laps 16 and 17, and again from lap 35 to 39. And Hamilton's Mercedes teammate Nico Rosberg led lap 34. But all that happened during the pit stop cycles.
For the rest of the race, from starting on pole to the checkered flag after 57 laps, Hamilton was in control as he went on to win for the third time in four races. He never felt threatened by the Ferraris.
"I could only really see Nico most of the time," Hamilton said. "Obviously at the beginning of the race it wasn't that easy to drop any of the guys behind - but then it got a bit better towards the end of the stint. And then later on obviously Nico was the one behind. And then I was made aware that Kimi was going long so he was going to be very quick in the last stint - but I think I had it pretty much under control."
Hamilton did not have it all go smoothly however. He had brake problems, although not as severe as Rosberg who lost second place to Raikkonen with two laps to go.
"I had a very similar situation to Nico," Hamilton said. "Obviously it didn't cost me anywhere near as much, but brakes were getting quite warm, particularly in traffic. So, the last few laps I had to slow down a little bit - otherwise I don't think we would have had a problem."
Raikkonen, who started fourth, drove a storming race and celebrated on the podium for the first time since the 2013 Korean Grand Prix.
He ran a different tire strategy to the other drivers around him - doing a long stint in the middle of the race on the Pirelli medium compound while the others were on the softer tire.
"The medium tires worked very well for me in the second stint," he said. "I could quite easily keep up with them, even catch them (the drivers on the soft tires.) They (my tires) were working fine so obviously I was wondering if it's the right choice to go on the soft at the end - but obviously it was the correct choice, they were much faster still.
"I was able to catch Nico and got past him. We did more or less the maximum that we could do. If you think that we were ahead of Nico earlier, he got past me on lap two or three or something, so we lost some time but I think we had a pretty good race and hopefully we can have many more."
Rosberg gridded third but managed to overtake Sebastian Vettel, who qualified his Ferrari second, on lap 9.
THE pass of the race, however, came as Hamilton exited the pits to start lap 34 and Rosberg came screaming by on the inside to overtake Vettel.
"I think I had a decent gap and then all of a sudden I was coming out of the pits and they were right there!" Hamilton said. "So I think I had a fairly slow pit stop and naturally that's really why the gap closed up. I came out of the pits, braking into Turn 1 and I saw them in my left mirror and I'm like: 'Oh my God, this is close!' But it was so much fun. Really good fun."
Rosberg's view: "I just went for the aggressive inside because he (Vettel) didn't close up the door. He left a bit of a gap and a bit of a possibility and I was hoping Lewis was far enough ahead. It wasn't obvious but I was hoping he would be out of the way by the time we got to Turn 1 and it worked out - but for sure it was quite hairy, especially looking from outside I suppose. Inside it was okay."
Vettel's perspective: "I was struggling a little bit with the rear end of the car at the exit of the corners, when you need to make it stick, and I was vulnerable when Nico attacked me. He had better corner exit and could pass me down the straight. When I was behind Valtteri (Bottas) I had the same problem so I was only getting into the DRS zone when it was too late to try and pass me. I couldn't get close enough to try and pass him."
Vettel also lost time when he had to make an extra pit stop to have the nose cone and front wing replaced. That put him fifth behind Bottas' Williams.
Bottas withstood the pressure from Vettel and finished fourth.
"It was a lonely race but the final 20 laps were very tough," Bottas said. "Sebastian was quicker than me, and closed up behind very fast, but the fight was really good fun. I know a few tricks that can really help to defend and they all worked today, and I am delighted to come out on top today."
Daniel Ricciardo had a lonely race as well on his way to sixth place in his Red Bull. His Renault engine blew up spectacularly just 200 yards from the finish line.
"The race went as well as it could and I drove well to finish sixth," he said. "The chassis is working better and through the corners we are more or less there; we'll move onto Europe and see if we can get further up the grid and keep improving. The weekend went pretty smooth for me until the end of the race."
Romain Grosjean finished seventh for the second race in a row.
"It was great, especially as there was lots of overtaking," the Lotus driver said. "I was really hoping to catch Daniel Ricciardo but he was too quick for us today. It was quite difficult to manage tires, especially with the rears so I think we did a good job to make the two-stop strategy work.
"We only had new medium compound tires for the race, the rest were scrubbed, so it really was a great job by the team. It was a good recovery from Friday and Saturday's session and I'll happily take seventh place as my birthday gift for myself and the team."
Sergio Perez drove a solid race to take eighth in his Force India.
"Before the race we were not sure a two-stop strategy was possible for us," he said. "We thought the tire degradation would be too high, but the team did an amazing job to make it happen. My engineers were giving me good information over the radio and after the first stint we knew that stopping twice was our best chance of scoring points. I think this was one of my best races in terms of managing the pace and the tires."
It was a good drive, too, for Daniil Kvyat who charged from 17th to ninth.
"I enjoyed the race," he said. "It put a smile on my face. We had a good recovery to finish in the points. We gathered a lot of data to analyze and see what improvements can be made so we can move forward. As a team we want to improve and we're all working hard to get there. I can feel good vibes are coming."
Felipe Massa would have been fighting the Ferraris if his Williams had not stalled and forced him to start from the pits. Then, just four laps into the race, Pastor Maldonado hit the rear diffuser of Massa's car and damaged it. After that Massa had to cope with wild oversteer that ate up his rear tires.
"I really struggled with the rear and the car was very hard to drive," Massa said after finishing 10th. "It was a difficult day but one point is better than nothing."
It was a mixed day for McLaren. Fernando Alonso managed to take 11th place, but his teammate Jenson Button did not even start the race because the team could not repair an electrical fault on his car.
"We weren't quite fast enough to get into the top 10," Alonso said, "but we finished the race and got a bit more valuable experience with the car, which had been our main objective.
"Everything worked fine on my side of the garage, but unfortunately Jenson couldn't start the race. We need to look at many things before the Spanish Grand Prix, and we have three weeks in which to increase our performance and improve our reliability. There's a lot of work ahead, but we're optimistic."
Button is a veteran and remained philosophical.
"That was a disappointing day to end a disappointing weekend," he said. "However, although I was unable to get the running I required, and was also unable to make the start of today's race at all, it's clear that our car is improving, and that's good news for all of us. That's a result of a lot of hard work.
"In particular, I want to say a big 'thank you' to the boys in the garage, who worked unbelievably hard all weekend for so little reward. Their commitment and team spirit are massively impressive, and I know we'll get the rewards they deserve in the end."
After four flyaway races, the F1 teams now return to Europe.
Mercedes is still in front, as Hamilton proved by coming home alone to win in Bahrain, but Ferrari is closing in.
"After last year, where we are now is a big step, and everyone is working very well together," Raikkonen said. "The atmosphere is good now and we have a good direction to keep pushing. It seems to be working well and things are improving, so I'm sure as a team we'll get there and to be able to be all the time fighting for wins, but it will take a little more time."