Bahrain GP 2014
APRIL 6, 2014
Sunday Team Quotes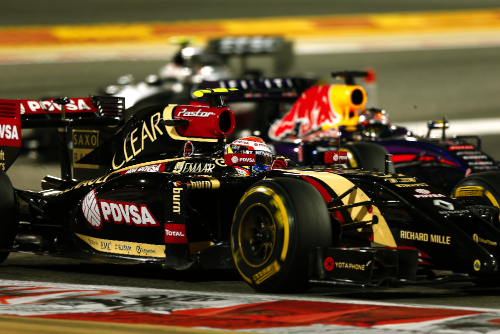 © Active Pictures
Red Bull-Renault
Daniel Ricciardo (4th): "It was an awesome race; it was exciting. I think the first stint was a bit follow-the-leader, but from the second stint onwards, the race really started to turn up the heat and there were more battles going on in front and behind - it was good to be a part of them. We got close to the podium today, I think within half a second, so I was doing all I could. The car came to me as the race went on and I was happy with how I moved up through the pack, so a good day. It was good fun to race Sebastian, it was hard but fair and we left each other room. That's what we want from each other and we discussed it beforehand, we're racers and that's what we enjoy doing."
Sebastian Vettel (6th): "I think it was a busy race today, especially at the end after the safety car, but it's a shame we couldn't get further up. Daniel proved that there was a little bit more to get from the car today, I couldn't really get to that bit, so I'm not so happy with my day. For some reason we seemed to be really slow on the straights, and not just against the Mercedes. Merc has a stronger package, so there's work ahead of us. It was straight forward with Daniel today, we worked well together as a team and we raced well, but surely I would like to have finished higher up."
Christian Horner, Sporting Director: "A very interesting race today and great entertainment; I think we got everything out of it that we could. The drivers worked together as a team earlier in the race when they were on different tyre strategies and then raced each other hard at the end of the race. Daniel put in a great drive and, with another lap, possibly could have made it to the podium. It was good to see them both racing each other cleanly and fairly. Sebastian reported a problem in a straight line, which we need to investigate because he didn't manage to overtake anyone at the end of the straight all afternoon, so there's plenty of work to do. We got a good haul of points today and we now have a couple of days testing to try and further close that gap to Mercedes."
Thierry Salvi, Renault: "It was a tight race for us as we were trying to stay with the middle group all race. We were simply not able to fight at the right level, so a lot of work has to be done to extract the maximum from our power unit. Dan did a good job all race and was able to move up after the safety car: he was quite impressive. Seb struggled more, especially at the end where he was missing some top speed to stay with Daniel. We still have a lot to optimize, but the progress and steps will be big and we will learn even more during the test session in the coming days. This will help us to come back stronger and to give our drivers the power unit they need to fight at the front."
Mercedes GP
Lewis Hamilton (1st): "What an incredible day. That was a really tough race tonight and I am absolutely delighted to have come home with the win. It's a long time since I had a race like that! My weekend started off well but I didn't really have great pace for qualifying and the race. I knew that I needed a good start and to go into the first corner in the lead was crucial to my race this evening. From there, it was such a battle. Nico drove fantastically well and, in all honesty, he had the pace on me today but I managed to hold on. I knew when the safety car came out that Nico would be on the option tyres and that he would be quick. To try and stay ahead of him was so hard and when I came across the line I was just so relieved. When you're racing your team-mate, the pressure is really intense and we both knew that we had to bring the cars home for the team and for the championship. All credit to the team for allowing us to race and I hope the fans loved the show that we were able to put on tonight. A big thank you to the team, especially to my engineers for all the information they were giving me during the race, and to everyone here and back at the factories for all their hard work. Another one-two is just fantastic for us. I'm also very proud to have joined Fangio with 24 Grand Prix wins today, he's one of the great racers of all time so that's a real honour."
Nico Rosberg (2nd): "It was a great battle out there this evening with Lewis and this kind of race is exactly why I am in Formula One; I love to race like today. Of course, it's very disappointing to have finished second in the end but I gave it everything and it just didn't quite come off for me. Lewis did a great job defending his position and, so often when I did manage to get past, I then couldn't see him in the blind spot in my mirrors. Our strategy was good and to change it after the first stint was a decision that I made with the team. It was a slightly slower strategy but it gave me the best chance of catching Lewis at the end on the option tyres. The difference between the prime and the option was not as big as we expected however and that's why I didn't quite manage to get by. The positive must be that this was a great day for Formula One. The race was a fantastic show and hopefully it proves that the critics of our new technology are wrong. I can't wait for China now and I want to end up on the top step there."
Paddy Lowe: "Another exceptional and well-deserved result for the team today after what has been a flawless weekend from everyone involved. From the very first laps in practice the car looked competitive and we didn't miss a beat throughout. From the pit wall, the race was fascinating to watch. While there were undoubtedly some tense moments, we knew that both drivers would be sensible enough to bring the cars home: although it was worth throwing in a little reminder just to be sure! All credit to the teams at Brackley, Brixworth and Stuttgart for what they have achieved already this season. A particular note must go to the team at Mercedes AMG High Performance Powertrains, with their Power Units taking all three podium places and six of the top 10 positions. It's fantastic to show the world that not only can amazing technology be produced within this exciting new 'Efficiency Formula' but that racing is alive and well within our sport. We now have a two-day test here in Bahrain where we will be looking to build on our current performance and maintain this momentum into the next races. For now, though, we can enjoy what has been a highly successful few weeks for the team."
Toto Wolff, Mercedes Motorsport Director: "It has been a fantastic weekend for the team from start to finish. To have led every session with both cars is a real achievement and we can be very proud of the combined effort of our staff at Brackley, Brixworth and Stuttgart. The race was quite simply brilliant to watch, with battles throughout the field. Lewis and Nico drove with a great deal of maturity and respect for both each other and the team but still put on a great show. What we saw today was two drivers at the peak of their abilities fighting fair and square for victory. This is what we go racing for and it was a strong advert for the sport: in particular under these new regulations. With the result last week in Malaysia mirrored here tonight, we now find ourselves in a strong position in both Championships. We are under no illusions, however, that this is a given. We must take these moments and use them as inspiration in the on-going push to achieve our goals."
Ferrari
Fernando Alonso (9th): "Today's race was complicated for us, even if we knew what to expect because, with its long straights, this track shows up our weak points. The team did a super job and sorted the problem I had yesterday in the final part of qualifying and the start and strategy were perfect. The Safety Car helped us make up a bit of ground on the cars ahead of us and also allowed us to save fuel, but it was not enough to change the result, with eight cars ahead of us doing a better job. Although we did all we could, we can't be happy with our level of performance and now our sole focus must be on working day and night. The season is in its early stages and I think we can stage a recovery. We have the resources and the potential to do it and it's all down to us. Next week will be very important as we get back on track on Tuesday and Wednesday to test in preparation for the upcoming races. We have got a very aggressive programme, which we need as our rivals will not just be sitting back and watching."
Kimi Raikkonen (10th): "I am very disappointed with today's result, because after how qualifying went, I expected to do better. I didn't get a good start and immediately lost some places. On the first lap, I was hit by Magnussen, luckily without it doing any damage, but trying to move up the order at this point was very difficult, because the lack of aero downforce and speed on the straight meant overtaking was complicated. We knew this track was less suited to the characteristics of our car than the first two and that the Mercedes would be very quick. Overall, the handling of our car has generally improved compared to the first races and this makes me confident for the upcoming ones. We can expect a lot of work to do and we will make the most of the test days to try and improve already in time for the next race in China."
Stefano Domenicali, Team Principal: "This race provided an epilogue to a weekend which turned out to be as difficult as we had thought it would be, even before arriving in Bahrain. This circuit is particularly tough for our car and Sakhir's technical characteristics showed up the gaps in our performance. Now, we must forget this race and look ahead, because I don't like seeing our drivers fighting hard everywhere and then being unable to attack or defend on the straights. We've got an important test ahead of us now, when I expect to see an initial step up in terms of quality. The team must not get downhearted, even if things have not turned out the way they should so far. They must continue to work in order to step up a gear as quickly as possible."
Pat Fry: "Today, we could not have asked more of our car and drivers, because here, our most limiting factor was a lack of top speed. That meant we had to run a defensive race and even if in the middle sector, the one with the most corners, the F14 T was competitive, it was not enough to allow Fernando and Kimi to attack our rivals. In Maranello, we are working on solutions to ensure better power delivery and better driveability. We are also trying to improve the efficiency of the car on the aerodynamic front. The data we acquired in today's race will provide a baseline for the major checking programme we have planned for the test, right here at Sakhir on Tuesday and Wednesday."
Lotus-Renault
Romain Grosjean (12th): "It's good that we didn't have any problems during the weekend and we were able to finish the race with both cars. It's not easy racing - what with the fuel management and energy recovery system - so there's certainly more mental work going on in the cockpit. At certain points of the race we were quite quick, but then at other points we were really struggling with the rear grip. Fortunately, we now have two days of testing at Bahrain so we'll be able to try a lot of different set-ups to try to get the car more as we want it."
Pastor Maldonado (14th): "As we expected the pace was much better in the race than it was in qualifying. We were using quite an interesting strategy and were running on two stops which was working well until the incident. We will need to have a look again at what happened as Esteban seemed to be off his line coming into turn one - maybe he missed his braking point, I don't know - and by then I was in the corner with nowhere to go. For sure it's difficult to understand and I was coming out from the pits and with cold tyres. I think he was very unlucky and it's good he jumped straight out of the car. As a team it's a plus that we finished with two cars which is very important and now we need to learn from this race and push hard for Shanghai."
Federico Gastaldi, Deputy Team Principal: "Both drivers kept their heads down and kept pushing today. It's clear we still have to unlock a lot of pace from this car, but we were much better with reliability here and our relative pace has improved too. It was good to see both cars at the finish of the race as this is what we need to improve the car and make it faster."
Alan Permane, Chief Race Engineer: "We're happy to get both cars to the chequered flag as we're still very much learning this car and the data collected today will be invaluable for the coming week's test. Obviously, we're disappointed that we weren't fighting for points however we have made another step closer to the cars ahead of us. We'll keep chipping away and making performance gains so we can get where we want to be."
Laurent Debout, Renault: "Getting two cars to the finish was the minimum aim this weekend, but we would have liked to be closer, if not inside, the top ten. Realistically our starting positions made this very difficult but we tried to make up places with one fewer stop than the competition. Both drivers did well with the fuel management to be able to use small boosts when necessary and move up the field, but the performance is still a way off where we want. We've got the test next week to look into everything in more detail."
McLaren-Mercedes
Jenson Button (17th, Clutch): "In terms of pace, we took a step forward this weekend. Moreover, our degradation was positive and I think we did a very good job understanding our tyres. Only one team were demonstrably quicker than us today - Mercedes - but sadly they were a lot quicker than us. Having said that, our long-run pace was very good, especially over the last few laps, so I reckon we could have raced very hard to the finish on the Primes. But unfortunately I didn't get that opportunity. It's tough for all the team, because they all worked really well and really hard. We were set for fifth place at worst and a podium finish at best, and that would have been a very positive outcome for all of us. In summary, then, there was lots of good racing out there - I can't even remember how many cars I overtook but it was quite a lot - and I think it was the same for almost everyone out there. I really enjoyed it, in fact. Formula 1 may have new power units and technical regs this year, but it's clearly every bit as good as it ever was in terms of on-track spectacle."
Kevin Magnussen (DNF, Clutch): "That wasn't a great race for me. The start wasn't ideal - I lost three positions - and after that we just didn't have enough pace to make progress towards the front. We'd been expecting that the colder conditions might help us, but, as things panned out, we were actually a little less strong here than we were in Malaysia, for some reason. We'll analyse that carefully, and I'm sure we'll learn from it. We're learning all the time, in fact. It's disappointing that we didn't score points today - two DNFs is never pleasant for any team - but we'll approach the Chinese Grand Prix with the aim of doing quite a bit better than we did here in Bahrain."
Eric Boullier, Racing Director: "Well, it goes without saying that we're leaving Bahrain bitterly disappointed. We didn't have the fastest car this weekend, we know that, but, had our cars not both been afflicted with clutch problems towards the end of the race, triggering their retirements, at least we'd have been leaving with some more championship points on the scoreboard In fact, had Jenson's car run reliably to the flag, there's every chance that he'd have been fighting for fifth, fourth or potentially even third place Granted, minor placings aren't what McLaren is all about - on the contrary we exist to win - but a third-, fourth- or fifth-place finish would have been extremely welcome in terms of our achieving what we'd set out to accomplish in these early-in-the-season fly-away races: namely, steadily pick up championship points while we develop our car's performance envelope for the beginning of the European season in Barcelona. Anyway, from here we'll go back to Woking, where we'll work as hard as we possibly can to improve our cars for Shanghai, where we'll be hoping to put up a significantly better showing than we did here in Sakhir this evening."
Force India-Mercedes
Sergio Perez (3rd): "This podium is an amazing achievement and one of the most special results in my whole career. This is a massive confidence boost, especially after the very hard season I had last year, and it was the hardest-fought podium I ever had. It was an amazing feeling to cross the line because the last few laps were very difficult. I had to keep up the pace and I knew the Red Bulls were coming. In the end we managed to stay ahead and score this very special result in only my third race with the team. I also had a great fight with my teammate during the whole race. When he got ahead of me after the first stop, I tried to keep my head down to get back ahead. I managed to do that when we were fighting with the Williams and that was the crucial moment."
Nico Hulkenberg (5th): "It's a great day for the team and I'm very happy for the guys. The battle with Checo was very clean and fair, and when you're fighting for the podium you give everything but always stay within the lines. It was good fun. The end of the race was hard because I had to battle from the moment the safety car came in until the end of the race. I was behind Checo and I felt I had a little more pace, but I was in dirty air and that caused me to struggle towards the end. I held back Ricciardo for as long as I could and I managed to stay ahead of Vettel. It's a great achievement for the team and we've shown once again that we are competitive so hopefully we can keep up the momentum in China."
Dr. Vijay Mallya, Team Principal: "Today is one of the greatest days in the history of our team. It's been a long time coming, but it's very satisfying to see Sahara Force India back on the podium after so many near misses in recent years. We have a great driver line-up and today we saw both Checo and Nico at their best as they battled for a place on the podium. Without the safety car our two-stop strategies would have been much more comfortable because we faced a strong assault from the Red Bulls in the closing stages. Nico did a fantastic job to keep them back for so long and hold on to fifth place. It gave Checo the breathing space he needed to secure third place. So I'm extremely proud of everyone in the team and congratulate all of them on this achievement. 2014 is a new chance and we have shown we're moving forward in Australia, Malaysia and here. I couldn't be happier."
Sauber-Ferrari
Esteban Gutierrez (DNF, Accident): "First of all, the most important is that I am ok. They did all the checks at the hospital and everything is fine. Concerning the accident, I was completely surprised that Pastor (Maldonado), who came out of the pits, ran into me. I was clearly in front of him. I turned into the corner and I was suddenly hit and I rolled over. There was nothing much I could do."
Adrian Sutil (DNF, Damage): "My race was over quite early. Jules (Bianchi) braked too late and went into my car in the hairpin. I was not able to do anything to prevent it, and my car was damaged. He was driving aggressively for the whole race and pushed me off at the start. With his move he destroyed mine as well as his own race. It was unneccesary. In general, the weekend was difficult for us. However, I wanted to finish the race to cover more kilometres and also to gain experience with the car. The next race in China will come soon, so it can only be better."
Monisha Kaltenborn, Team Principal: "Let's start with the positives: We are pleased that Esteban is fine after his spectacular accident. Generally, it was a weekend to forget. We knew before that on this track our limitations with the powertrain would be significant. This was confirmed during the race. Nevertheless, losing both cars through accidents is very disappointing. In both cases, it was not the fault of our drivers. We will now forget this weekend and focus on the upcoming race in China, where we expect some improvements."
Giampaolo Dall'Ara, Head of Track Engineering: "We are relieved that Esteban is uninjured. After Adrian's accident, we changed his front nose and sent him back into the race. However, we noticed that the damage to his car resulted in a massive degradation of the performance. Therefore we decided to retire him from the race. With regards to the performance, we were in a similar situation as before. On this track it was obvious that one of the three manufacturers had a huge advantage regarding the powertrain. This also resulted in an advantage for the respective customer teams. For the race in China we will have updates for the car and will try to improve."
Toro Rosso-Renault
Daniil Kvyat (11th): "Unfortunately today didn't go as I would have liked. I was not happy with our pace and it was frustrating to see the other cars just passing me by. The start was a little bit messy and I lost a position. From then on I tried to push as much as possible, but it wasn't enough to get into the points today. We will now have to analyze carefully what went wrong today and hopefully we will come back stronger at the next race in China."
Jean-Eric Vergne (DNF, Damage): "It was a bit of a mess at the start in turn 8 with a lot of cars around me, but while the others were having a poor exit I had a clean one on the outside. When I then found myself next to a Lotus, I got squeezed more and more and when he realized I was about to overtake him anyway, he just closed the door. That is why our wheels touched and my car took off, out of control. Both rear wing and floor got heavily damaged with a huge loss of aero performance and it was just not possible to continue my race. Hopefully bad luck will leave us alone for the next races."
Franz Tost, Team Principal: "Considering our speed during all the weekend's practice sessions, I was expecting a much better result for the race today. Unfortunately Jean-Eric was hit right at the beginning: when we read all the data and realized how much downforce he had actually lost because of the damaged floor and wing, we decided to call him in. As for Daniil, he did a good race but we didn't have enough speed today and we will have to investigate the reason for this in order to have a better weekend in China."
Ricardo Penteado, Renault: "Daniil again did a great job to bring the car home in P11. He did very well with the energy management and being on the limit of both fuel and state of charge in the battery. During the safety car in particular he did well to save some fuel so we could really push straight after. JEV had a tougher race after the contact early on. Eventually the team decided to retire as there was just too much performance loss from the car as a result. We just missed the points this race but there is not much between us and the top ten so we'll see what we can do in China."
Williams-Mercedes
Felipe Massa (7th): "The start was fantastic, I did everything right and I had good grip and it all went well. We were in a good position and fighting but sadly the tyre degradation was worse than we expected. The safety car didn't help the strategy as I think we should have been up with the Force Indias rather than behind the Red Bulls so that is a shame. Other than that it was a good race, with some good battles and to finish with both cars in the points is really positive."
Valtteri Bottas (8th): "After a poor start our race strategy was compromised. I had too much wheelspin and that lost me a few positions which is frustrating. We had issues with the tyres that were worse than expected but on a positive note we got some good points from both cars. We always want more though, so we will continue to work hard and look forward to the next race."
Rob Smedley, Head of Vehicle Performance: "Overall I am extremely happy. We finished the weekend with both cars in the points, and good points too. To start in third and finish in eighth for Valtteri is a bit frustrating, but that's racing and we have to accept that. There are many positives still to take, one thing we do need is a little bit more race pace. The team worked very well together from strategy to pitstops, the change over the last twelve months has been very encouraging. There is still a lot of work to do but I'm very impressed with the quality of people here."
Caterham-Renault
Kamui Kobayashi (15th): "I had an ok start but had an issue on lap one with a setting that gives us full boost and energy release - we sorted that out quickly and I passed Marcus for 18th, then went after Bianchi who I caught and passed on lap 10. My race pace was good in the first stint and the tyre deg was what we'd expected so we stuck to the strategy and boxed for the first time on lap 15 for another set of options. I came out behind Marcus and Chilton but got in front of them both and went after Maldonado in 16th but with the performance level of the car now I wasn't able to catch him. We were on a two stop strategy so we came in for the mediums on lap 35. I was fighting with Gutierrez but let him go as he was on a different strategy and there wasn't any point ruining that set of tyres just to race him, but then the safety car came out and I was able to make up the lap and was up with Maldonado and Grosjean just as the safety car came in. After the restart I had to save fuel so couldn't keep pace with the pack and that was pretty much the end of my race. Finishing 15th isn't great but we really couldn't do any more today. We'll have to regroup for China and with a few updates we have for that race we'll aim to make progress there."
Marcus Ericsson (DNF, Oil Leak): "My start was good and I was up to 17th by the end of lap three, fighting with Grosjean and then went after Bianchi. The car balance really didn't feel great and Kamui had better pace than me in the first few laps plus my tyre deg wasn't great so we made our first stop on lap 11 at the same time as Chilton - the guys did a good job and I came back out still ahead of him at the start of the second stint. The car still didn't feel great on the second set of tyres and I couldn't hold back the Marussia or Kamui who was on a different strategy to me. I kept pushing up to the second stop on lap 26 when we went onto the third set of options and came out ahead of the Marussia again but then after a few more laps I lost power and was told to stop the car because we had an oil leak. It's obviously disappointing not to be able to finish the race, especially as the car was feeling much better as the fuel level dropped. Still, for me it's another part of the learning process and with every lap I'm racing my education continues. Now we have a couple more days of testing in Bahrain and then it's off to China for another new track for me. We'll have some new parts there so we'll work on optimising them with setup and come back fighting in Shanghai."
Cedrik Staudohar, Renault: "Yet again both drivers did a good job with all the settings and were able to race on pace with both Lotuses, Marussias and Saubers. The chassis-engine package is improving with each session as we understand more about its strengths and the aim is clearly to keep this upward trend going. Unfortunately Marcus' race came to an end due to an oil leak, which was linked to an issue with the MGU-H. On Kamui's car we were forced to save fuel at the end of the race as we gained a lap under the safety car, but we're now looking forward to the test next week and the next race in Shanghai."
Marussia-Ferrari
Max Chilton (13th): "Yesterday's qualifying didn't go so well but I knew today's race was going to be a lot closer. I didn't get a very good start but through the course of the race I managed the tyres well, while still having a good race with the Caterhams. The safety car helped us out as I don't think we had to fuel save as much as the others, once we had unlapped ourselves. All in all it's great to be leaving Bahrain with 13th place and having finished every single race of my F1 career so far - 22 out of 22 now! Most important of all, it's a nice feeling to have helped us back into 10th position in the Constructors' Championship standings. Bring on China!"
Jules Bianchi (16th): "I'm really disappointed after another tough race for me; the third one in a row. I got a good start and made up three places by the end of the first lap and I was having a really good first stint, enjoying a good race with Sutil. I had the chance to get ahead of him and I was slightly ahead going into turn 1, but he turned in on me and crashed into me, which punctured my left rear. I pitted but after that the car never felt the same and we can see now that the floor was damaged, which resulted in a loss of downforce and made the car difficult to drive for the rest of the race."
John Booth, Team Principal: "After a disappointing outing in Malaysia last weekend, where unfortunately we allowed 10th place in the Constructors' Championship to slip through our grasp, it's fantastic to regain the position again so quickly. Our performance today was no accident; it was the product of a lot of hard work by the factory in a very short space of time, coupled with the efforts of the trackside crew. Max had a tough start to the race and was stuck behind Ericsson for several laps but we reoptimised his ERS, which enabled him to overtake the Caterham. As a result of Kobayashi emerging just in front of Max after his second pitstop, at this point we opted to switch Max to a two-stop strategy to run to the end. The late safety car enabled us to put Max onto a fresh set of option tyres and he was able to pass Kobayashi at the restart. From there he comfortably pulled away and was able to stay in front of Maldonado, whilst also managing his fuel to the end of the race. Jules enjoyed a fantastic start to the race and after his first pitstop he was in a good battle with the Sauber of Sutil in which he was clearly quicker and trying to overtake. What happened next was unfortunate and that was effectively the end of Jules' ability to race, however the fact that he was able to make it to the chequered flag gives him his first classified finish and provides the Team with more valuable data. We've mad e a lot of progress this weekend and the test will give us the chance to improve the car further."
Claudio Albertini, Ferrari: "All in all a good weekend, which saw the Marussia team get back the tenth place in the Constructors Championship thanks to the thirteenth place earned by Max. Even Jules has finally managed to get the first finish of the season, although his race was ruined by the accident with Sutil. It was a shame, because there was the potential for an even better result. From a reliability standpoint, this Grand Prix marked a new step forward because we were able to allow Marussia to work with greater continuity. Progress has also been made on the research of the best performance of the power unit, reflecting the growing level of integration between the two working groups. In this regard, there will be two very useful days of tests that await us next week here at Sakhir, when it will be possible to explore some issues and try to prepare together in the best way in the next few races."