Bahrain GP 2014
APRIL 6, 2014
Race Notes - Hamilton wins Bahrain GP ahead of team mate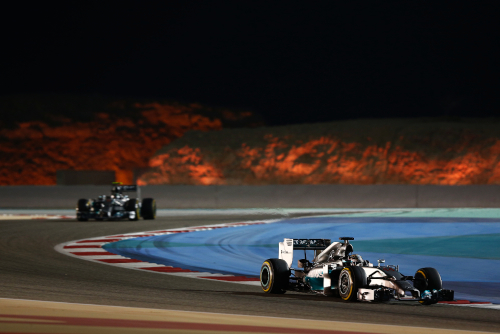 © Active Pictures
Lewis Hamilton took the win at the Bahrain Grand Prix for another Mercedes GP 1-2 ahead of his team mate Nico Rosberg, who finished 1.0 seconds behind.
For the second week in a row Mercedes GP sweeps the top of the podium. The win is Hamilton's seconds of the season and 24th career win.
Sergio Perez in the Force India-Mercedes finished in third, 22.9 seconds further back - his first podium since 2012.
Daniel Ricciardo (0.4s) in the Red Bull-Renautl finished in fourth, followed by Nico Hulkenberg (4.1s), in the second Force India in fifth, Sebastian Vettel (1.2s) in the Red Bull was sixth. Felipe Massa (1.3s) in the Williams-Mercedes in seventh, his team mate Valtteri Bottas (0.6s) in eighth, and Ferrari team mates Fernando Alonso (0.7s) and Kimi Raikkonen (0.8s) in ninth and tenth places.
At the start Hamilton took the lead ahead of polesitter Rosberg. Massa launched up to third from seventh0, Perez in fourth, Bottas falls back to fifth. Button sixth, followed by Alonso, Hulkenberg, Raikkonen, Vettel and Magnussen.
Jean-Eric Vergne spins with rear damage pits and says he was hit by a Lotus. Raikkonen says he was
On lap 4 Hamilton sets another fast lap at 1m40.5s and leads Rosberg by 1.2 seconds. Hulkenberg passes Alonso into the first corner to take seventh place. Alonso complaining of not having enough power.
The top seven runners all powered by Mercedes engines.
On lap 7 Mercedes tells Hamilton to watch after his front tyres. Pastor Maldonado passes Esteban Gutierrez for 14th. Kamui Kobayashi passes his team mate Marcus Ericsson for 18th.
On lap 8 Adrian Sutil pits and switches to soft tyres. Vettel closes to within DRS range of Raikkonen.
On lap 10 Jenson Button passes Bottas to take fifth place. Hulkenberg follows him through to take sixth.
At lap 10 Hamilton leads Rosberg by 1.3 seconds, followed by Massa (10.7s), Perez (0.8s), Button (3.0s), Hulkenberg (0,8s), Alonso, Raikkonen, Vettel an d Ricciardo - while Bottas pits.
On lap 11 Daniil Kvyat and Jules Bianchi both put for soft tyres. Ricciardo passes Kevin Magnussen for 10th place. Perez passes Massa for third.
On lap 13 Alonso pits for another set of soft tyres.
On lap 14 Sutil and Bianchi come together and Sutil is off track with damage. Vettel tells Red Bull that his DRS is not working, as he runs in sixth place. Ricciardo closes on his team mate.
Bianchi pits with the puncture from his coming together with Sutil.
On lap 16 Red Bull tells Vettel that Ricciardo is quicker, and to let him by. Hulkenberg pits from fifth place, Ricciardo passes Vettel for fifth for more soft tyres.
Rosberg closes on Hamilton and past his team mate. Hamilton comes back and re-passes under the DRS zone. The two Mercedes team mates continue to battle.
On lap 18 Button pits for another set of softs. Ricciardo pits the next lap.
On lap 20 Hamilton pits from the lead and takes on another set of soft tyres. Bianchi is given a drive-through-penalty for causing the collision with Sutil earlier. Rosberg is told to push for two laps before pitting for medium tyres. Perez passes Alonso for sixth place.
On lap 21 Vettel sets fast lap at 1m39.3s.
On lap 22 Rosberg pits abd takes on medium tyres.
On lap 23 Vettel closes on Raikkon in ninth place. Massa closes on Bottas in third place - Hulkenberg and Perez close on the pair. Kvyat pits.
On lap 25 Vettel and Raikkonen battle for ninth. Bottas radios the team that he wants to pit now. He pits at the end of the lap. Massa defends from Hulkenberg. Perez passes Hulkenberg for fourth.
On lap 26 Magnussen pits for his second time. Ricciardo closes on Raikkonen.
On lap 28 Button report to the team that his DRS is not working. Perez passes Massa for third place. Massa and Alonso pit on the next lap.
Romain Grosjean and Max Chilton pit as well. Massa stays on soft tyres while Alonso and Grosjean switch to medium tyres.
At lap 30 Hamilton continues to lead Rosberg by 7.5 seconds, followed by Perez (23.3s), Hulkenberg (0.8s), Button (3.8s), Vettel (3.5s), Raikkonen (5.7s), Riicardo (0.8s), Bottas (0.2) and Massa (7.7s) in tenth.
On lap 31 Bottas passes Ricciardo, but then steers wide on the braking for turn 1 when nearly running up the back of Raikkonen.
On lap 32 Ricciardo passes Raikkonen for seventh place. Bottas follows him through and takes eighth place. Bottas closes back on Ricciardo.
On lap 34 Massa passes Raikkonen for ninth place. Bottas passes Ricciardo at the first corner. Raikkonen pits for medium tyres.
On lap 35 Mercedes tells Hamilton on the radio that he has enough fuel to reach the finish, so he no longer needs to conserve. Perez pits from third place. Vettel pits as well, and has a slow stop.
On lap 36 Perez passes Alonso Button and Hulkenberg both pit. Ericsson pulls off and retires with engine problems.
On lap 37 Vettel passes Maldonado for ninth place.
On lap 38 Ricciardo passes Raikkonen again for 12th place. Hulkenberg sets fastest lap at 1m38.785s. Ricciardo passes Magnussen for eleventh place.
On lap 39 Massa pits from fifth place for the third time and switches to medium tyres. Magnussen pits
At lap 40 Hamilton leads Rosberg by 9.5 seconds, followed by Perez (47.2s), Hulkenberg (2.1s), Bottas (0.2s), Alonso (4.1s), Button (0.4s), Vettel (9.5s), Ricciardo (1.6s) and Massa (1.1s) in tenth place.
On lap 41 Gutierrez is hit entering turn 1 by Maldonado. The Sauber is launched into a flip and lands unright, but the Mexican driver is out on the spot. The safety car is deployed. Alonso and Raikkonen pit. Magnussen pulls off the track and retires.
Behind the safety car Hamilton is followed by Rosberg, Perez, Hulkenberg, Button, Vettel, Ricciardo, Massa, Bottas, Alonso in tenth, Raikkonen, Kvyat, Grosjean, Maldonado, Kobayashi, Chilton and Bianchi in 17th place.
On lap 44 lapped cars are let past the safety car.
Paddy Lowe tells Hamilton to make sure that both cars make the finish. Lowe sends Rosberg the same message.
On lap 46 the lights go off on the safety car, and it pulls in at the end of the lap. Hamilton continues in the lead with Rosberg right behind. Perez and Hulkenberg in third and fourth. Bottas pits.
On lap 47 Ricciardo passes Button.
On lap 48 Maldonado pits for his penalty. Button continues to slip back in the field. Hamilton pulls out a half second lead on Rosberg.
On lap 49 Rosberg sets fast lap at 1m37.028s.
On lap 50 Ricciardo passes Vettel for fifth place. Vettel complains to the team that he is down on power. Alonso passes Button for ninth. Ricciardo and Vettel close on Hulkenberg in fourth.
On lap 52 Rosberg closes on Hamilton in the lead. The two Mercedes team mates battle. Rosberg takes the lead but Hamilton gets back in front as they battle side-by-side.
On lap 53 Rosberg dives down the inside of Hamilton in the first corner in the DRS zone. Hamilton crosses back over and grabs back the lead.
Ricciardo passes Hulkenberg for fourth.
On lap 54 Vettel closrd on Hulkenber in fifth. Hamilton stretches his lead to a second ahead of Rosberg.
On lap 56 Button slows and retires. Massa challenges Vettel for sixth, but the world champion stays ahead.
Hamilton holds on to win ahead of his team mate Rosberg. Perez finishes third.