Bahrain GP 2013
APRIL 21, 2013
Race Notes - Vettel dominates Bahrain GP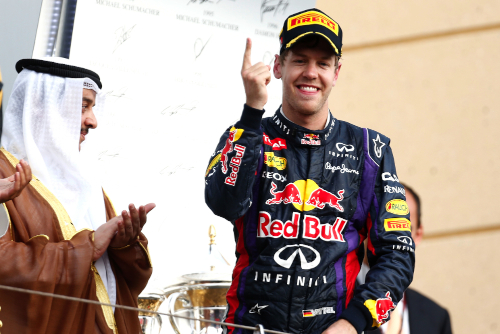 © Active Pictures
Three-time World Champion Sebastian Vettel dominated the Bahrain Grand Prix to win in his Red Bull-Renault, 9.1 seconds ahead of the Lotus-Renault of Kimi Raikkonen, and his team mate Romain Grosjean taking third, 19.5 seconds behind the leader.
It is Vettel's 28th career win, passing Jackie Stewart for sixth on the all-time list.
Fernando Alonso, after challenging for the lead in the early laps, was forced to make two unscheduled stops when the DRS flap was stuck in the open position. The Ferrari driver spent the rest of the day working his was up the field to score points in eighth position.
In the Drivers Championship, Vettel extends his lead to 10 points over Raikkonen in second. Hamilton moves up to third place 27 points behind, Alonso dropping to fourth. Red Bull continues to lead the Constructors with 109 points - Lotus-Ranault moves up to second with 93 points, Ferrari drops to third with 77 points.
Paul di Resta (21.7s) in the Force India-Mercedes, after leading a early on by running a long first-stint, finished in fourth, followed by Lewis Hamilton (35.2s) in the Mercedes finishing fifth, Sergio Perez (35.9s) in the McLaren-Mercedes was sixth, Mark Webber (37.2s) in the second Red Bull was seventh, Fernando Alonso (37.5s) in the Ferrari was eighth, pole-sitter Nico Rosberg (41.1s) in the Mercedes was ninth and Jenson Button (46.6s) in the McLaren finished in the final points position in tenth place.
Before the start Lewis Hamilton was given a five grid position penalty and starts 9th.
At the start Rosberg takes the lead from pole, while Alonso passes Vettel for second. Felipe Massa and Adrian Sutil touch but continue. Massa has damage to his front wing.
Vettel fights back and takes the position from Alonso.
Sutil and Esteban Gutierrez both pit.
On lap 2 Vettel challenges Rosberg for the lead, while Alonso stays in the mix.
Jean-Eric Vernge comes into the pits with a puncture.
At the start of lap 3, Rosberg can no longer hold off Vettel, who takes the lead. Onto the start-finish straight Alonso attempts to pass Rosberg, but is held off. Guido van der Garde pits.
On lap 5 Alonso passes Rosberg in the DRS zone. Di Resta passes Rosberg as well on the next lap to take third position.
Vettel's lead is extended to 2.8 seconds.
Massa closes on Rosberg, despite parts of his front wing flapping from his earlier collision.
On lap 8 Alonso's rear wing DRS flap is stuck open. Alonso pits and swaps to hard tyres.
On lap 9 Webber pits, as well as Grosjean. Massa passes Rosberg to take third. Alonso pits again with rear wing problems.
On lap 10 Rosberg and Button both pit.
On lap 11, Vettel, Massa, Perez, Hamilton, Pastor Maldonado and Max Chilton all pit. Webber sets fastest lap at 1m40.0s.
Di Resta takes over the lead, on a two-stop strategy.
On lap 12 Button passes Rosberg for seventh place. Nico Hulkenberg pits from third place.
At lap 13, Di Resta leads from Raikkonen by 3.0 seconds, followed by Vettel (5.5s), Webber (11.0s), Valtteri Bottas (16.4s), Rosberg (17.2s), Button (18.1s), Massa (18.7s), Grosjean (19.6s) and Perez (19.7s) in tenth place. Alonso runs in 14th.
Vettel sets fastest lap at 1m39.4s. Rosberg repasses Button for fifth place.
On lap 14 Di Resta pits, handing the lead to Raikkonen. Grosjean and Perez side-by-side, Grosjean taking the spot.
Raikkonen is the last driver yet to make his first stop.
On lap 15 Vettel on fresher tyres passes Raikkonen for the lead.
On lap 17 Raikkonen pits and switches to hard tyres. Gutierrez pits again.
On lap 18 Massa pits with a punctured rear tyre, and changes to medium compound tyres. Vernge pits for a second time, and retires in the garage. Sutil pits.
On lap 20, Button passes Rosberg for third place. Grosjean passes Rosberg as well.
Sutil sets fastest lap at 1m38.9s.
On lap 21 Rosbeg and Perez both pit. Grosjean challenges Button, but Button stays ahead.
On lap 22, Webber and Button both pit for hard tyres. Perez passes Rosberg.
On lap 23 Webber passes Alonso. Hamilton and Jules Bianchi both pit. Maldonado pits the next lap. Perez and Button both pass Rosberg into the first corner.
On lap 25 Alonso pits for his third stop.
On lap 26, with over a 20 second lead, Vettel pits, rejoining still in the lead.
At lap 26, Vettel leads by 4.9 seconds over Grosjean, followed by Di Resta (5.2s), Raikkonen (9.4s), Webber (15.5s), Perez (19.2s), Button (19.6s), Rosberg (21.6s), Massa (23.3s) and Hulkenberg (25.2s) in tenth place. Alonso runs in 13th.
On lap 27 Di Resta passes Grosjean on the main straight to take over second place. Button passes his team mate Perez for fifth place. Hulkenberg pits.
Vettel sets fastest lap at 1m38.6s.
On lap 28 Grosjean pits and switches to medium tyres, rejoining in ninth place.
On lap 29 Massa pits and changes to hard tyres. Perez continues to push his team mate for position. Bottas pits.
Perez and Button battle, Perez touches Button's rear tyre with his front wing.
Vettel's lead extends to 14 seconds.
Perez continues to battle with his team team mate, putting four-wheels off the track. Grosjean takes advantage and passes Perez for sixth place.
On lap 34 Raikkonen passes Di Resta for second place in the DRS zone. Rosberg pits.
Grosjean passes Button for fifth place. Raikkonen makes a pitstop from second place, and rejoins in seventh. Button pits as well, rejoining behind Rosberg.
At lap 35 Vettel leads Di Resta by 20.9 seconds, followed by Webber (27.1s), Grosjean (30.3s), Perez (32.9s), Hamilton (33.4s), Raikkonen (36.7s), Alonso (39.1s), Massa (48.3s) and Rosberg (49.7s) in tenth place.
On lap 36 Di Resta pits from second place for hard tyres. Raikkonen sets fastest lap at 1m38.5s.
On lap 37 Massa suffers another right-rear puncture and pits for medium compound tyres.
Rosberg sets fast lap at 1m38.2s.
On lap 38 Webber pits from second place for his final stop.
Raikkonen passes Perez to take fifth place.
On lap 39 Raikkonen passes Hamilton. Hamilton pits taking hard tyres. Webber and Rosberg, battling for position touch, but continue.
On lap 40 Perez pits from fourth for hard tyres. Alonso pits from sixth, taking hard tyres. Maldonado pits as well.
The incident between Webber and Rosberg is being investigates by the Stewards.
On lap 41 Hulkenberg pits from 11th. Alonso sets fastest lap at 1m37.2s.
On lao 42 Vettel and Grosjean pit from the top two positions. Vettel takes hard tyres, while Grosjean takes mediums.
Grosjean rejoins in fifth, battling Button. The Frenchman takes the position.
On lap 43 Sutil pits from 15th.
Grosjean passes Webber at the first corner to take fourth place. Rosberg passes Button as well.
On lap 44 Alonso pressures Perez.
On lap 45 Rosberg pits. Hamilton passes Button for sixth place.
Sutil sets fastest lap at 1m37.0s.
Perez passes Button for seventh, Alonso follows him as well.
On lap 47 Button pits. Alonso passes Perez for seventh place.
With ten laps to go, Grosjean closes to 3.5 seconds behind Di Resta in third, and is closing fast.
On lap 48 Bottas pits from 11th.
Massa battling with Maldonado for 11th place.
Hamilton pressuring Webber for fifth place.
On lap 51 Hamilton passes Webber for fifth place.
On lap 52 Grosjean easily passes Di Resta to take over third place.
On lap 53 Webber fights back and passes Hamilton back to take fifth place.
On lap 54 Perez battles with Alonso and retakes seventh. Alonso getting pushed off the track, but continues.
On lap 56 Hamilton is battling with Webber - wanting to take back fifth place.
Vettel sets fastest lap at 1m36.9s.
Webber continues to hold off Hamilton.
Starting the final lap Hamilton passes Webber and takes over fifth place.
Perez charges past Webber and takes sixth place.
Vettel cruises to the chequered flag, followed by Raikkonen and Grosjean.