Bahrain GP 2012
APRIL 20, 2012
Practice 2 Report - Rosberg impressive in Bahrain FP2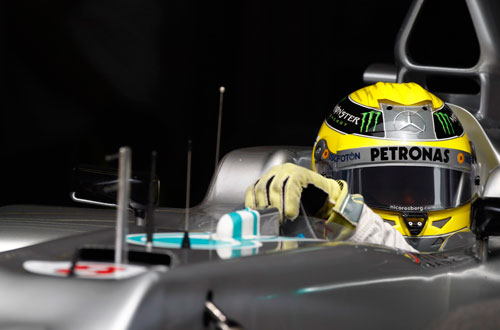 © Active Pictures
Following hot on the heels of his first GP victory in China, Nico Rosberg looks well placed in Bahrain too.
The German lapped in 1m32.816s to top the afternoon session of Friday practice at Sakhir from the Red Bulls of Mark Webber (1:33.262) and Sebastian Vettel (1:33.525).
Outright quickest times on Friday afternoon can have little bearing on race performance, but Mercedes also did a lot of laps in preparation for a race in which tyre performance is going to be even more crucial. Track temperatures in Bahrain are expected to be at least 20 degrees higher than in Shanghai last weekend.
Pirelli's Paul Hembery, said: "The tyre choice here (the soft and medium compounds as in Shanghai) is pretty aggressive. We expect the leading teams to qualify on the soft tyre and focus on the medium or the race runs and we're predicting three stops, with the race being about managing degradation."
Whereas performance in China was front tyre limited, in Bahrain the concern is rear tyres overheating come from the greater number of traction events, but the situation improves as the track rubbers in.
"From the first runs Mercedes looks quite good," Hembery confirmed, "and actually I always thought they were well placed."
Webber suffered another Red Bull KERS failure and McLaren did not appear to have the greatest of days. Although Lewis Hamilton (1:33.747) and Jenson Button (1:34.246) were fourth and sixth quickest, Hamilton appeared to lock-up wheels repeatedly and Button was unhappy with his balance.
Splitting the pair was Michael Schumacher (1:33.862). Schumacher was a full second from Rosberg's pace but the soft tyres are quicker on the first lap and Schumacher hit traffic on his option tyre run.
Kamui Kobayashi (1:34.411) was seventh fastest for Sauber, ahead of Fernando Alonso's Ferrari (1:34.449), Romain Grosjean's Lotus (1:34.615) and Sergio Perez's Sauber (1:34.893).
Force India did indeed sit out the whole of FP2, having rescheduled their programme so that they are able to travel back to their hotel during daylight hours.