Bahrain GP 2012
APRIL 20, 2012
Practice 1 Report - Hamilton tops Bahrain FP1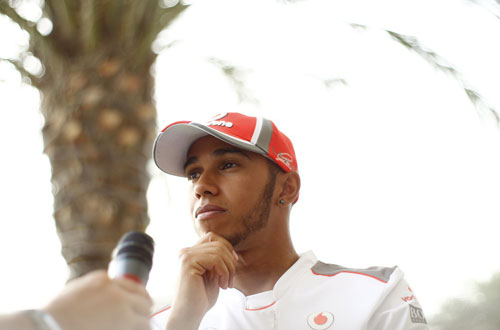 © Active Pictures
Lewis Hamilton (1:35.572) topped the first session of free practice from world champion Sebastian Vettel (1:35.877) as the Bahrain International Circuit reverberated to the noise of F1 cars for the first time in two years.
The drivers have steadfastly refused to embroil themselves in the rights and wrongs of F1 in Bahrain and concentrate solely on the business -- or sport -- of motor racing. Chief among them is Vettel, who has changed back to the latest specification Red Bull RB8 having run with the early version in China, effectively as a back-to-back test after being unhappy with his car balance in Australia/Malaysia.
Paul Di Resta (1:34.150) used a set of Pirelli's soft compound tyre to set third fastest time, ahead of China victor Nico Rosberg (1:34.249), who was marginally faster than Jenson Button with the second McLaren (1:34.277).
Bahrain has been a happy hunting ground for Rosberg, who clinched his GP2 title in the country and set fastest lap in an impressive F1 debut at Sakhir a year later. Button, speaking of the Mercedes showing in China, thinks that Mercedes will be a strong factor this year and that very little of it is down to its controversial double DRS system. "They're just quick," Button said.
Nico Hulkenberg (1:34.344) was sixth quickest in the second Force India, ahead of Michael Schumacher's Mercedes (1:34.483), Mark Webber's Red Bull (1:34.552) and then the Lotuses of Kimi Raikkonen (1:34.609) and Romain Grosjean (1:34.847).
Sergio Perez's Sauber (1:35.024) was next up, ahead of Pastor Maldonado's Williams (1:35.269), Fernando Alonso's Ferrari (1:35.436), Williams third driver Valtteri Bottas (1:35.497) and Felipe Massa (1:35.719).