Bahrain GP 2009
APRIL 26, 2009
Bahrain GP, 2009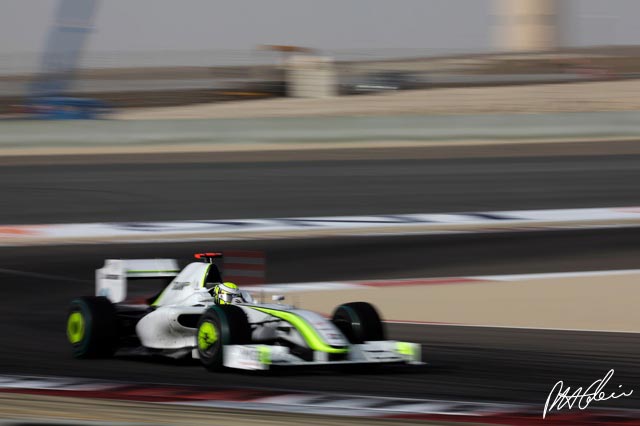 © The Cahier Archive
Jenson Button won the Bahrain Grand Prix on Sunday, scoring his third win in four races with the incredible Brawn-Mercedes Benz. The 29-year-old Englishman's pace ended Toyota's hopes of a first victory in Formula 1, and Sebastian Vettel in his Red Bull-Renault added to Toyota's woes as he fought his way to second, leaving Jarno Trulli to settle for third place, despite having set pole position. As the Formula 1 circus heads back to Europe the Brawn team and Button have big leads in the two World Championships. The big question now is whether they can stay ahead as everyone rushes out new parts in an effort to close the gap...
After qualifying Button was slightly alarmed. The car was not as competitive as it had been at the earlier races and the team was worried that the opposition was already getting close. As the teams lined up on the grid, there were rumours that the Brawns would have to detune the engines because of worries about heat. But it did not turn out that way. Timo Glock took the lead from the start when Trulli's engine bogged down a little. At the same time Button was slightly slow away but he knew that he needed to get ahead of Sebastian Vettel, if he was going to have any hope of victory.
"I knew when I got to Turn One that I really had to make my move to get past Sebastian," he explained. "Otherwise I would just get stuck behind him. Lewis (Hamilton) had come barrelling past on the right, so I went round the outside of Sebastian and made it through to fourth place. Lewis is always very difficult to pass and he was blocking very well and using his KERS, but I knew those first laps were going to be so important that I had to make it work. He was making a few little mistakes and I knew when we got to the start/finish line that he'd press his KERS button and get away just as I was getting alongside, and he did, but I got him going into Turn One and that was the key to my race."
With Hamilton and Vettel taken care of, Button went off after the two Toyotas. He knew that all he had to do was to wait because the Toyotas were lighter and would pit earlier.
"Chasing down the two Toyotas was very exciting," Button said. "I was surprised by their pace and not sure how it was going to work out."
Behind him Vettel was stuck behind Hamilton.
Button was in the perfect place.
Glock pitted first having built up only a small lead. It was lap 11. Trulli pitted a lap later. Jenson then took the lead and with no-one ahead he was able to lower his lap times. When he stopped on lap 15 Vettel moved into the lead, Hamilton having gone into the pits by then. This was Vettel's chance but he had lost too much time. When he went into the pits Kimi Raikkonen had a moment of glory and led the race for two laps. But then Jenson was back ahead once more and there he stayed. He stopped again on lap 37 and at that point switched to the harder tyres. For the next three laps Vettel was in the lead once more but the German had to pit. When he emerged from the pits he found himself behind Raikkonen, who was due to pit again. Unable to deal with the Ferrari, Vettel had to wait. His tyres lost the edge and Button was gone, leaving Vettel to spend the last laps of the race with Trulli right behind him, the Toyota driver now on the good soft tyres.
"He was very close in my mirrors," said Vettel. "But I didn't make any mistakes."
Trulli was disappointed with third and he reckoned that the strategy of using the harder tyres in the mid-race was the wrong thing to do.
"I'm a little disappointed," Jarno said. "I thought we had a chance to take Toyota's first win this weekend but it was a hard race. I was slightly slower into the first corner than Timo so I spent the first stint following him. I knew I was going longer than him but it was still difficult. Then we went for a very long second stint on the hard tyres. It was really hard fighting with the other cars. After that Vettel was on the hard tyres and I was on the soft. I was pushing him but there was no way to overtake."
Glock disappeared down the order because his stop was really too early. He went straight to ninth, while a couple of laps later Trulli lost only six places.
"We were the first car to pit, which was already critical," Timo explained. "When I went out on the prime tyres I don't know how many seconds I lost on the first two laps because I was really struggling for grip. I couldn't get any heat into the tyres and I really lost the race in the second stint. I was sliding around and it was clear that the speed was better on the options."
Later, after Raikkonen's second stop on lap 44 Glock managed to scramble ahead of the Finn but the Ferrari had a KERS advantage and used it, leaving Glock behind him. After that Timo was on Kimi's tail but he could not get ahead.
While this was going on, Lewis Hamilton was left to chase after the top three.
"I'm delighted with fourth," he said after the race. "The Toyotas, Red Bulls and Brawns were so fast in the high-speed corners that it was just impossible to keep up. But this is another encouraging step for the team, we just need to keep working on the car because we're not really fighting back quite yet, we are collecting points. And the gap will be bigger when we go to Barcelona because it's a high-downforce circuit."
Rubens Barrichello tried a three-stop strategy to get clean air and managed to get up to fifth by the finish. It was a lot of work for just one position.
"We brought home some valuable points today," he said. "But it was a tough race for me. I lost a lot of time behind Piquet after my first stop, which was a real shame as it compromised my race plan. We went for a three-stop strategy and then took the decision to come in slightly early for my second stop as I was being held up behind Hamilton. It was so hot out there this afternoon and the car was burning my waist on the right-hand side which made it very difficult for me. It seems that luck is on Jenson's side at the moment and well done to him and to the team for winning the race today. I hope that my turn comes soon!"
Behind the second Brawn, Kimi Raikkonen brought Ferrari its first points of the season - three to be precise. But they came at a price. As Kimi and his team-mate Felipe Massa clashed in the first corner. It was good to score points but Ferrari was still well off the pace.
"I am happy to have picked up a few points," said Kimi, "but I can't be that pleased with our level of performance. I've been around long enough not to get very excited about a sixth place."
For Massa it was another dreadful day.
"I was sandwiched between Kimi and Rubens Barrichello and the front wing got broken after making contact with my team-mate's rear wheel," he said. "It was a shame because once again we lost an opportunity to score points." He ended the day 14th, a lap down.
The final point of the day went to Fernando Alonso in his Renault. He proved once and for all that Flavio Briatore's protestations about the team having the third best car were utterly misplaced.
"We did our maximum today," he said. "The start of the race was not perfect and we lost a position which put me down to eighth. After that nothing unusual happened and there were no retirements so we were eighth fastest and we finished eighth."
He lost his drinks bottle in the course of the race and was exhausted by the end of the race.
Team-mate Nelson Piquet was 10th and had a better than usual run but it was worth noting that at one point Rubens Barrichello showed himself to be very angry with Nelson, assuming, one must suppose that his fellow countryman was a lap down and not getting out of his way. In fact Nelson was perfectly entitled to fight for position.
Nico Rosberg failed to score points again, losing the benefit of his ninth place on the grid as his KERS-equipped rivals overtook him at the start. Team-mate Kazuki Nakajima was the sole retirement in the race, damaging yet another front wing early on and requiring a replacement. That dropped him to the tail of the field and he eventually stopped when oil pressure problems hit his engine.
Mark Webber drove a solid race after his disappointment in qualifying and was up to 12th when he got caught behind Piquet. The Red Bull team decided to switch him to a two-stop strategy (he had been planning three) but the car was not good on the harder tyres and so 11th was the best he could do.
He was still ahead of the second McLaren, with an unhappy Heikki Kovalainen at the wheel. He started the race with a heavy fuel load and the harder tyres. He was engulfed on the first lap and never recovered from it.
Sebastien Bourdais brought his Toro Rosso STR4 home 13th, as Sebastien Buemi struggled to 17th, but neither did much worthy of mention, while Force India had another uninspiring day. Sutil moved up the order thanks to his strategy early on but then faded back. Fisichella, for his part, collided with Massa on lap 51 and then got in Button's way.
Way way way back came the two BMW Saubers after a quite awful race which resulted in Robert Kubica finishing 18th and Nick Heidfeld 19th. Not only were the cars uncompetitive but there were also incidents.
"My race was destroyed after corner one," said Kubica. "I was between Nick and another car, we touched each other and I destroyed my front wing. Then after the crash there was a miscommunication with the pit crew. I asked to come in straight away, but was only able to pit after the second lap. For a long time I was in a heavy car on prime tyres. We were really nowhere with our pace. I hope we make a big step forward in Barcelona."
Heidfeld called the race "a disaster," which was not too strong a word for it.
And so it ended with Button and the Brawn team celebrating once again.
"We were a little worried about reliability," Button said. "For us it was very difficult because of the heat more than anything else, as this is not a very physical circuit. We were a little worried about the engine after we encountered high temperatures in practice and qualifying and at one stage we thought we might have to restrict our revs for the race, which would have been terrible. Thankfully we didn't need to. Over the last 15 laps I had to conserve the engine a little bit as the temperatures were again hotter than we expected. The way the regulations are these engines have to do a lot of running, so we have to look after them."
The worst problem, however, was backmarkers. "The traffic was terrible. On the run down to Turn 4 on one lap Robert Kubica shot past me with his KERS, just to unlap himself."
Button added that there had been one more problem. He had burned his bottom on an electrical box in the cockpit...
But it had been worth it. Button said it was his finest hour in F1 to date and no-one disagreed.
Bahrain Grand Prix Results - 26 April 2009 - 57 Laps
POS
DRIVER
NATIONALITY
ENTRANT
LAPS
TIME/RETIRE
1.
Jenson Button
Britain
Brawn-Mercedes
57
1h31m48.182
2.
Sebastian Vettel
Germany
Red Bull-Renault
57
7.187
3.
Jarno Trulli
Italy
Toyota
57
9.170
4.
Lewis Hamilton
Britain
McLaren-Mercedes
57
22.096
5.
Rubens Barrichello
Brazil
Brawn-Mercedes
57
37.779
6.
Kimi Raikkonen
Finland
Ferrari
57
42.057
7.
Timo Glock
Germany
Toyota
57
42.880
8.
Fernando Alonso
Spain
Renault
57
52.775
9.
Nico Rosberg
Germany
Williams-Toyota
57
58.198
10.
Nelson Piquet
Brazil
Renault
57
1m05.149
11.
Mark Webber
Australia
Red Bull-Renault
57
1m07.641
12.
Heikki Kovalainen
Finland
McLaren-Mercedes
57
1m17.824
13.
Sebastien Bourdais
France
Toro Rosso-Ferrari
57
1m18.805
14.
Felipe Massa
Brazil
Ferrari
56
1 Lap
15.
Giancarlo Fisichella
Italy
Force India-Mercedes
56
1 Lap
16.
Adrian Sutil
Germany
Force India-Mercedes
56
1 Lap
17.
Sebastien Buemi
Switzerland
Toro Rosso-Ferrari
56
1 Lap
18.
Robert Kubica
Poland
BMW Sauber
56
1 Lap
19.
Nick Heidfeld
Germany
BMW Sauber
56
1 Lap
R.
Kazuki Nakajima
Japan
Williams-Toyota
48
Oil Pressure
FASTEST LAP:
Jarno Trulli
Italy
Toyota
10
1:34.556