Bahrain GP 2009
APRIL 26, 2009
Sunday Team Quotes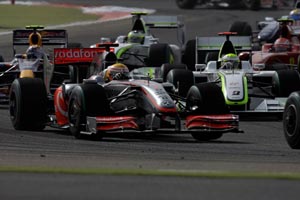 © The Cahier Archive
McLaren-Mercedes
Lewis Hamilton (4th): "My start was quite good. Unfortunately, I was not able to keep third place - Jenson was just so fast through the corners so he was on my tail all the time. I'm delighted with fourth. The Toyotas, Red Bulls and Brawns were so fast in the high-speed corners that it was just impossible to keep up. But this is another encouraging step for the team, we just need to keep working on the car because we're not really fighting back quite yet, we are collecting points. And the gap will be bigger when we go to Barcelona because it's a high-downforce circuit. We should challenge for the top 10 there, but another top-five will be harder."
Heikki Kovalainen (12th): "My start was a disaster. Obviously, to begin the race on the prime tyre was the wrong choice. The harder tyres didn't have the right grip and soon started to deteriorate. The tyres started vibrating even though there wasn't a flat-spot. After my first pitstop the car felt much better, but by then it was too late to improve dramatically. Anyway, the pace was not very good. We now need to go away and analyse why our performance was not good enough today. We'll be working even harder to improve it ahead of the next race inBarcelona."
Martin Whitmarsh, Team Principal: "A great drive by Lewis today; he made no mistakes during the race and pushed aggressively. Without the pace to match the Toyotas, Brawns or Red Bulls, fourth place was a very strong result and it's even more pleasing that we are steadily moving closer to their pace. A podium was in our grasp today but we didn't quite make it. With Heikki, we fuelled him long and took a risk starting on the prime tyre. But we had to stop earlier than anticipated and lost too much time among other cars attempting a similar strategy, so that was disappointing. Overall, however this circuit possibly flattered us a little, but we've nonetheless made substantial progress over the past few weeks. Our competitors won't stand still but we will keep improving until we get back to where we expect to be - at the front."
Norbert Haug, Mercedes Motorsport Director: "This was a step forward, no doubt. Likewise I think the nature of this racetrack at one of our home races here in Bahrain and Lewis's driving skills helped us as much to achieve this result as our KERS hybrid, which is worth nearly half a second per lap around here. As for Heikki his race was basically over in the first lap traffic jam. Everybody in the team is well aware of the fact that we need to produce further dramatic improvements to MP4-24 in order to come back to where we used to be. Congratulations to BrawnGP for the third win in their fourth race 'powered by Mercedes-Benz.' Again, our engine guys did everything to keep the customer satisfied, and that is a very good feeling for everybody involved at Mercedes-Benz HighPerformanceEngines in Brixworth as well as inStuttgart. Well done!"
Ferrari
Kimi Raikkonen (6th): "I am happy to have picked up a few points but I can't be that pleased with our performance level. I've been around long enough not to get very excited about a sixth place. We are well aware we have to improve. In theory, the new package we will have in Barcelona should see us make a good step forward, but we won't know just how big it will be compared to the others until we are on track in Spain. Today, we got the most out of the F60's current potential, even if I lost a bit of time in my final pit stop because of a problem with a part of the fairing on the left front wheel which cost me the chance of exiting pit lane ahead of Barrichello."
Felipe Massa (14th): "My race was decided at the start. I was sandwiched between Kimi and Rubens and the front wing got broken after making contact with my team-mate's rear wheel. At first, I didn't realise what had really happened and so I came in after two laps to change the nose. Then, after a good start with a clear track, I found myself in traffic and my hopes of climbing up the order evaporated. Throughout the race, my telemetry wasn't working and so my engineers couldn't help me with the management of the car. The KERS did not work perfectly either, especially at the start. A shame, as once again today, we lost an opportunity to score points. Now I expect to make a good step forward in performance terms in Barcelona. One thing's for sure, we won't give up because all of us want to get back up the order."
Stefano Domenicali, Team Principal: "Today we were aiming to get both cars home in the points and we got it half right. Unfortunately, Felipe's race was compromised when he collided with his team-mate in the messy moments just after the start, damaging the front wing: he dropped to the back of the pack and not able to do much, apart from demonstrating a good pace with a heavy fuel load. Kimi drove a strong race, putting the finishing touches to a positive weekend. His sixth place is a fairly accurate reflection of our current situation. We were well aware that we have to work on reliability, and again today we had a few problems. But above all, we have to work on the performance. We have to push really hard on development of the entire car, not just concentrating on one admittedly very important part like the diffuser. Now we can expect a pretty hot time going into the start of the European leg of the season. This will be a key phase in the championship, although I'm not implying everything will hinge on Barcelona. We are Ferrari and we will never give up until the moment when the maths says it's over."
Chris Dyer: "Unfortunately, Felipe's race was soon turned into a climb up the order after he made contact with Kimi, breaking the front wing and having to come in immediately. With so much fuel on board, the Brazilian's pace was pretty good, but he then found himself in traffic and could not get all the potential out of the car. Furthermore, he had a telemetry problem on the car, which meant he was racing in the dark. Kimi drove a good race and his sixth place represents what we could have reasonably expected to do. Maybe we could have been in the fight for fifth with Barrichello if we had not encountered a problem at his final pit stop because of the fairing on the left rear wheel. All the same it was important to get the ball rolling in the classification, wiping out the zero. We still have a lot of work to do to improve, both in terms of reliability and in being competitive."
BMW Sauber
Robert Kubica (18th): "My race was destroyed after corner one. I was between Nick and another car, we touched each other and I destroyed my front wing. Then after the crash there was a miscommunication with the pit crew. I asked to come in straight away, but was only able to pit after the second lap. Then the race was very difficult, as for a long time I was in a heavy car on prime tyres. We were really nowhere with our pace. I hope we make a big step forward in Barcelona."
Nick Heidfeld (19th): "The result is a disaster, although we were unlucky with the collision in the first corner. At first I thought the suspension was broken, but I only had to have a new nose fitted in the pits and then continued. The first half of the race with the harder tyres was difficult, but the softer compound made it a little bit easier. However, it is another race to forget and we all hope for improvements in Barcelona."
Dr. Mario Theissen, BMW Motorsport Director: "We knew it would be another difficult race weekend for us, and it was also clear the danger of a collision would be higher the further down the grid we were. As we feared, both our drivers had early collisions and as a result the race was practically over. During the pit stops we gave them a lot of fuel and sent them out with hard tyres, because the only chance of getting back into the race would have been during a safety-car period. But even if this had happened scoring a point would have been impossible. We are now concentrating on the next race in Barcelona, where we will compete with a new aero package."
Willy Rampf, Technical Director: "Our starting positions were not good at all. And then our race was practically over just after the start. After the collisions and the necessary repairs neither driver had a chance to really get back into the race. Now we have to look forward. In Barcelona we will have an improved car."
Renault
Fernando Alonso (8th): "We did our maximum today. The start of the race was not perfect and we lost a position which put me down to eighth. After that nothing unusual happened during the race and there were no retirements so we were eighth fastest and we finished eighth. We always aim to score points, but we only scored one point and so we need to improve at the next Grand Prix."
Nelson Piquet (10th): "I had a strong race and the car was good. It would have been better if I could have made the first stint shorter and the second stint longer, but overall I'm happy with the day as we had a solid race, which is what we needed. Now we must to concentrate on improving our performance for the next race."
Flavio Briatore, Managing Director: "We had higher expectations for this weekend but sadly we have come away with only one point. Fernando did not have a good start and this compromised the rest of his race despite his best efforts. Nelson had an excellent race, moving up from 15th and driving aggressively and consistently. It's just a shame that he missed out on the points."
Pat Symonds, Executive Director of Engineering: "It was a very tough race today: the conditions were very hot and the race was intense all the way through the field. Fernando lost a lot of ground with a poor start and in such a tight field it was hard to recover from that, but our final position probably is a reflection of our competitiveness. Nelson had a good race today, consistently lapping close to Fernando's times, but for the upcoming races we need to improve the car to turn this sort of bigeffort from the whole team into solid points."
Remi Taffin, Head of Engine Operations: "Today we scored one point, but it's not a great reward for our efforts over the weekend. Everybody has worked really hard in the team and both drivers drove good races, but we only finished eighth and tenth. I think that our race was determined at the first corner where we lost a lot of ground and unfortunately that put us in a difficult situation. Nevertheless we are still moving in the right direction and that's good to see."
Toyota
Jarno Trulli (3rd): "I'm a little disappointed to be honest because I thought we had a chance to take Toyota's first win this weekend. But it was a hard race. I was slightly slower into the first corner than Timo so I spent the first stint following him. I knew I was going longer than him but it was still difficult. Then we went for a very long second stint on the hard tyres. It was really hard fighting with the other cars and eventually Sebastian took the position after my last stop. After that he was on the hard tyres and I was on the soft. I was pushing him because I was quicker but there was no way to overtake. Still, I have to thank the engineers and mechanics because they did a very good job and it's good to be on the podium again."
Timo Glock (7th): "That was a difficult race. I made a promising start and I was surprised to get ahead of Jarno from the dirty side. Then we were the first car to pit, which was already critical. But when I went out on the prime tyres I don't know how many seconds I lost on the first two laps because I was really struggling for grip. I couldn't get any heat into the tyres and I really lost the race in the second stint. I was sliding around and it was clear that the speed was better on the options. In the end I was chasing Kimi but there was no chance to overtake. Still, two points are better than none and we will now look for more in Spain."
Tadashi Yamashina, Team Principal: "We expected more from today but I'm happy with third place and I'd like to thank Jarno for his efforts. Timo struggled for stability on the prime tyre so that's where he lost ground but he still brought home two points. This is our third podium of the year so I'd like to thank everyone involved with the team, both here in Bahrain and at the factory, along with our sponsors. When we have conditions like these we must now aim for the centre of the podium, starting at the next race in Barcelona."
Toro Rosso-Ferrari
Sebastien Bourdais (13th): "It was a really good day for me, except that I started so far back on the grid, which meant I couldn't get into the points. But clearly, the car was working well and I had a good race pace. The team adopted the right strategy starting me on Primes and after that I was quite quick. It was nice to drive a race on the attack, feeling comfortable with the car and I knew that with the different strategies, I had to push right to the end, running the Options. So, overall, I'm fairly happy with this result. Now, I'm looking forward to Barcelona and updates on the car as I'm sure they will make a big difference. 13th is nothing special, no points, but I can be pleased with the day's work."
Sebastien Buemi (17th): "I'm not happy with the way it went today. It was very difficult and it could have been better. My start was bad with a lot of wheelspin, losing places and then I was unable to attack and sliding a lot. I am not sure why I struggled with the car, as it's behaviour was really strange. I was not concerned by the heat and gave my maximum from start to finish. At least I finished, which is a good experience, but there is nothing much else to say apart from the fact I was slow and had a bad weekend!"
Franz Tost, Team Principal: "Given we were far back on the grid, the race was not so bad, especially with Bourdais who drove a very good second stint, on new Options and was around 1.5s quicker than in the first one. For Buemi, it was good he finished the race to get more mileage and experience and so far he is improving constantly. Unfortunately, a piece of debris from a BMW ended up wedged on his front wing, which meant he suffered with understeer. The team also worked well in the difficult conditions. We look forward to the next race in Spain, when we will have some updates to the rear diffuser, giving us more downforce. The entire field is very closely matched and so the key to doing well on Sunday is to qualify well, which is difficult, given you have around five cars in a tenth, so that getting out of Q1 involves being very well prepared."
Red Bull-Renault
Sebastian Vettel (2nd): "Very good. A good result and good points, but it was a difficult race. The start was okay, but then suddenly Lewis (Hamilton) was next to me - he must have pressed his special button and got an advantage. At the first corner we were three deep, me in the middle and Jenson (Button) on the outside, so I had to give way and lost two positions. Unfortunately I then got stuck behind Lewis, which caused degradation to the tyres - you start to slide and never really come back from that. It's hard braking here so you need the tyres and rear stability. In the second stint I was just behind Jarno (Trulli), which was a shame as I was on soft tyres and could have gone a bit quicker. In the third stint, it was the other way round and I had to defend against Jarno who was then on the soft tryes. He was very close in my mirrors, but I didn't make any mistakes and we came second! A massive thanks to all the guys for this great result."
Mark Webber (11th): "My start was okay, we had a reasonable first few laps, but then I got stuck behind Piquet. It's very difficult to overtake a car with KERS, he was too quick on the straights and that really wrecked the first stint for me. We then converted to a two-stop strategy, but the grip was quite low on the prime tyres, although it was the same for everyone. If you don't start near the front in these races we know the score, but I did my best. It was a good day for Sebastian, which shows the performance of the car. My mechanics worked like hell and the car was reliable, so we'll have our day."
Christian Horner, Sporting Director: "Turn two dictated our afternoon, when Jenson (Button) and Lewis (Hamilton) managed to nip past Sebastian. He then lost a lot of time in the first stint behind Lewis and in the second stint behind Jarno (Trulli) when he was on the prime tyre. When he had the overlap and free air, he was very quick and was able to get himself up into second position. So, a great result, another eight points, we're still second in the Constructors' Championship and we had a car that was quick enough to win again today. Mark drove a difficult race from a difficult starting position. He had good pace but, as almost all the cars finished, 11th was probably the optimum for him today."
Fabrice Lom, Renault: "Mixed feelings! Second is a place we can enjoy - it's a very good result, 26 points from two races is very special for the team, but we had a car that was able to win today, so there's a bit of disappointment too, and also for Mark. He was very quick, but when you start so low on the grid, it's very difficult to overtake, especially the KERS cars. But, it's a good result and we have a lot of points in the bag as we move to Europe."
Williams-Toyota
Nico Rosberg (9th): "It was not so good today. I was on the limit and really got the best out of it, but we were simply not quick enough. I lost so many places at the start because all of the KERS cars came flying past me, which was really shocking because I had a very good start. This is just where we are at the moment so we need to push hard to improve and catch up with the others in front. Just like everyone else, we will have some new parts ready for Barcelona and I hope our package will be competitive."
Kazuki Nakajima (DNF, Oil Pressure): "It's was a disappointing race for me. My start was average but it was very difficult to defend against the cars around me that had KERS. It was then very close going into the first corner on the second lap and I damaged my front wing so I had to pit early. I came out at the back of the field and from there I couldn't make up any ground. In the end, my oil pressure was spiking so we took the decision to retire the car. The one positive thing is that the car felt good so we will hopefully do better at the next race."
Sam Michael, Technical Director: "In Nico's case, we started ninth and finish ninth so we didn't manage to capitalise on the strategy that we had. He had a good start, but he then lost positions going into turn one so we'll have to look and see what happened there. He then spent the stints where we needed clean air behind traffic. Kazuki had an accident on lap two going into turn one and that was it for his race. We'll now look ahead to a better performance in Barcelona."
Force India-Mercedes
Giancarlo Fisichella (15th): "It was a really tough race here today. The temperatures were the hottest we've had this year and I was really in some pain in the closing stages as my seat was rubbing against my right hip. By the end it was very badly bruised. All the same I think the first part of the race was very strong and I could race with Webber and Kovalainen and then Piquet. In the final laps Massa got past and there was a little contact. I think 15th isn't too bad - we are racing again and I think we can be pleased the overall weekend performance."
Adrian Sutil (16th): "It was a long race, very tough, and the temperatures were very high. Everything was on the limit, the car and myself, but actually it was a very consistent race. At the start of the race I lost three positions in the first lap as Nakajima drove into my car. It was a shame but it was a good race from that point with good pit stops and another finish that keeps the team's good finishing record so far this year. The new upgrades have put us firmly back in the midfield and we can look forward to Barcelona now where we have some more upgrades coming."
Dr. Vijay Mallya, Team Principal: "The team has made some very promising progress this weekend. We've introduced a major new aero package that helped move us forward and we raced fairly and squarely in the midfield. Both drivers yet again had very solid races, which shows we have a good foundation for future updates. We can now look forward to Spain and the start of the European season to continue this good form."
Brawn GP-Mercedes
Jenson Button (1st): "It was a great race today and I'm so happy to have seen the chequered flag without a safety car or red light in front of me! To achieve my third victory of the season is amazing and we are going back to Europe with a strong lead in both championships. I couldn't wish for anything more. It has been a tough weekend for the team which makes this win even more rewarding as we didn't have the pace that we expected. I was really happy with my first lap. I knew that I had to overtake Sebastian quickly and got him round the outside on turn one. I had a couple of attempts at Lewis round the first lap and almost got him at the last corner. I knew that he would pull away from me on the straight so I dropped in behind and used the tow to overtake him at turn one. It wasn't easy from there but getting up to third on the first lap was crucial for me. Our thanks to Mercedes-Benz this weekend who have not only provided us with a powerful engine but have integrated so well with our team. You need a close-knit unit to succeed in Formula One and that is what we have at this team."
Rubens Barrichello (5th): "We brought home some valuable points today but it was a tough race for me. I lost a lot of time behind Piquet after my first stop which was a real shame as it compromised my race plan. We went for a three-stop strategy and then took the decision to come in slightly early for my second stop as I was being held up behind Hamilton. It was so hot out there this afternoon and the car was burning my waist on the right-hand side which made it very difficult for me. It seems that luck is on Jenson's side at the moment and well done to him and to the team for winning the race today. I hope that my turn comes soon!"
Ross Brawn, Team Principal: "A fantastic performance today from Jenson and all credit is due to him for an outstanding opening lap which made today's victory possible. We have had a challenging weekend in dealing with the extreme temperature conditions which was made more difficult by our lack of hot weather testing prior to the season. I am very proud of the way that the team here in Bahrain has worked together to overcome the issues that we faced and how they performed in the race today. Our particular thanks this weekend are due to our engine partner Mercedes-Benz and we are delighted to have achieved our third victory of the season with them here today. I would also like to take the opportunity to thank the team at the factory in Brackley who have been working very hard on our upgrade package. After a demanding but successful start of the season, we are all looking forward to returning home and the opportunity for the team to celebrate together before our focus turns to the start of the European season in Spain in two weeks."