Bahrain GP 2008
APRIL 5, 2008
Qualifying Report - Robert in pole-land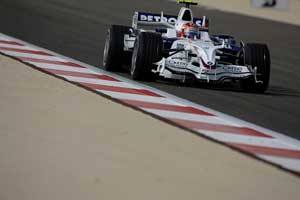 © The Cahier Archive
Robert Kubica scored his first Formula 1 pole position in Bahrain, beating Felipe Massa to pole by a tiny margin. The BMW Sauber driver is probably running with a slightly smaller fuel load than his rivals but both Felipe Massa and Lewis Hamilton said they could have done better, so the difference may not be enormous. If that is the case then the start of the race on Sunday is going to be an excciting one.
"It was quite a good lap," said the Pole. "I locked my front wheels at corner nine and I had a vibration in the last three corners, so it was not easy. They were all right handers which was very difficult because it was pulling to one side under braking. I did not expect to have pole but it was enough and I am very happy. The long runs went pretty OK. I think Ferrari was clearly the fastest but in a race anything can happen.
There was disappointment for Felipe Massa, who had been the fastest throughout practice. The Ferrari driver complained that he had been held up on his first run by Nico Rosberg and said that on the second Fernando Alonso was in his way, although he added that he did not think it cost him a lot.
"I did incredible laps all weekend," he said. "The car was just perfect in Q3, but I was behind cars. I did a first try and it was pretty good, but I spent the whole lap behind Nico. The second try had traffic too. I was a little bit unlucky. But it is good to be second and I think we can be very strong tomorrow."
Making it three different teams in the top three places we had Lewis Hamilton third in his McLaren., despite having had an accident on Friday afternoon.
"The team did a great job to recover from the accident," he said. "The crash made absolutely no difference to me. We all knew it would be very close this weekend but we also knew we could compete to be in the top three. We are in a good position. Ferrari seemed to have outstanding pace going into qualifying, but I was happy with the balance and felt I could challenge. We probably could have had pole. We have a good startegy and we will see how we go tomorrow."
Fourth place on the grid went to Kimi Raikkonen in the second Ferrari, just over a tenth of a second slower than Hamilton. Heikki Kovalainen was a fraction slower than Kimi, setting up a second Ferrari-McLaren battle.
There was then a slightly larger gap, albeit only two and a half tenths, back to Nick Heidfeld in the second of the BMWs.
With the top three teams out front, it was left to Jarno Trulli to be the best of the rest, but it was by a tiny margin from Nico Rosberg in the Williams-Toyota. The two men were a second ahead of Jenson Button's Honda and Fernando Alonso's Renault. The order is probably dependent on fuel loads but these days it is very hard to judge these things as small differences in weight can make a big difference in terms of time.
Missing out in Q2 were Mark Webber (Red Bull-Renault), Rubens Barrichello in the second Honda, Timo Glock in the Toyota , Nelson Piquet's Renault, Sebastien Bourdais (Toro Rosso) and Kazuki Nakajima, rather disappointing in the second Williams. The gap between the six men was just half a second.
Q1 wiped out the hopes of David Coulthard (Red Bull), Giancarlo Fisichella (Force India), Sebastien Vettel (Toro Rosso), Adrian Sutil in the second Force India, three tenths down on Fisichella, but still ahead of the two Super Aguris. This time Anthony Davidson was ahead of Takuma Sato, the Japanese driver having spun and crashed into the pitwall, bringing out a red flag.