Bahrain GP 2007
APRIL 15, 2007
Bahrain GP, 2007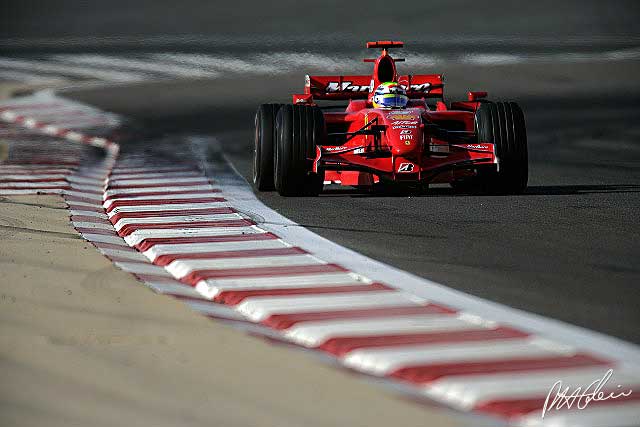 © The Cahier Archive
The wind was blowing in Bahrain. The wind of change. With Michael Schumacher gone we expected to go into an era of Fernando Alonso and Kimi Raikkonen. We have had three terrific Grands Prix this year, with the pendulum swinging backwards and forwards between McLaren and Ferrari. In Melbourne it was Raikkonen who was on top; in Malaysia it was Alonso. And then in Bahrain suddenly Felipe Massa was the man on the top step of the podium.
But actually the star turn of the season is the man who has not yet won a race and yet is equal on points to the big guns in the World Championship: Carl Lewis Hamilton. The first rookie in the history of the sport to score three consecutive podium finishes at the start of his career. The man who shows us a new facet of his ability with each passing race. In Melbourne he was a surprise; in Malaysia, as he defended like a tiger, he was a revelation; and in Bahrain we saw Lewis the Hunter, chasing down Felipe Massa in the closing laps of the race and leaving Alonso, double World Champion and former wunderkind, in the dust.
The Drivers' World Championship is now as good as it gets. Three drivers are equal on 22 points and Massa is close behind on 17. Interestingly, Hamilton does not consider being equal on points as leading the championship. And he is right. Alonso is the leader. He has won one race and finished second in another. Raikkonen is second with a win and a third. Lewis is not deluding himself. He is still not a winner.
"To have the same points as the others is fantastic," he said. "I am extremely proud of that. We have worked extremely hard for this for the last 13 years. Me and my family. And the team. Now I am looking forward to going home. I have been away for nine weeks. I know the support is growing at home but I have not experienced it yet. I just hope that I can still walk on the streets!"
And what about beating Alonso. Does Hamilton really feel he can now be challenge Fernando for the World Championship?
"I don't see why not," he said. "I seem to be as quick as him. I know I feel a lot more comfortable now. We just have to make no mistakes and keep pushing."
This is a dog-eat-dog business and that lesson was driven home to Alonso and Raikkonen in Bahrain
For Alonso the irresistible rise of Lewis Hamilton has been an unexpected learning experience and it cannot be a comfortable one.
For Raikkonen there is a similar problem. Did the Finn really expect to find himself at Ferrari being beaten by Felipe Massa?
Having a young whipper-snapper nipping at your heels is one thing, but when they are taking a bite out of your leg it is quite another.
On the podium the joy of Massa and Hamilton shone from them. There was respect and affection flowing between them as well. Watching those watching them one could see smiles everywhere.
Motor racing is all about the joy of the fight, about respecting the opposition and doing one's best. It is about emotion.
And that is why Formula 1 is suddenly so healthy again.
The Bahrain race was, in itself, a microcosm of the season with the advantage ebbing and flowing between the leaders. Massa made the better start but Hamilton did well enough to hold the inside line and maintain second.
"I knew that he was going a lap more than me," Hamilton said. "I had to stay as close behind him as possible. I think we were fairly well matched. If we had been in front we would have pulled way. Usually the Ferraris has the pace to pull away so I think we have made a fantastic step forward."
But then after the stops the picture changed.
"In the first stint my car was not really well balanced," Massa said. "I was suffering from oversteer. We changed the front wing a little bit and the car became very very good and I was pushing every single lap to make a gap. The second stint was fantastic for me. It was easy to drive. And then in the last stint I had hard tyres. They gave good grip for one, maybe two, laps and then started to lose traction. The soft was more consistent. I saw the gap to Lewis was reasonable and I started looking after the car. I did not push like I was supposed to push. I had a tenth or two of margin but it was not necessary to use it. The speed was there. Everything was there. We put everything together."
There are some who think that Alonso and Raikkonen will crack under the pressure but that does not seem very likely. The pendulum will swing again.
"It was not a great race for me," said Alonso, "but these things happen. I was struggling for pace and overall grip which means that you can't drive the car as well as you would like. You always start the race believing you can win but after six or seven laps I knew that it would be tough. I couldn't keep up with the Ferraris and Lewis and in the end had to settle for fifth. I was close to Heidfeld in the end but there was nothing I could do."
But don't count on that being the same story when F1 reconvenes for Fernando's home race in Spain in a month from now.
Nick Heidfeld finished ahead of Alonso and once again he impressed a great deal. He has finished fourth in all three races and now is just two points behind Massa, a quiet fifth man in the World Championship battle. It may be a little far-fetched to imagine that BMW will be able to close the gap enough to win races but you never know. The pace of development is as important as the pace of the car at the start of the year. Robert Kubica was overshadowed by his more experienced team mate but he scored his first points of the year and that always helps a young driver.
The battle behind them was much as it has been all year: fraught with Renaults, Toyotas, Williamses and Red Bulls all tripping over one another to be the best of the rest.
On this occasion Jarno Trulli dragged the Toyota across the line to finish in seventh with Giancarlo Fisichella right up his chuff. Fizzy had his team in ear, urging him to overtake. A way behind them Kovalainen crossed the line with Nico Rosberg on his tail. At various points the Red Bulls had looked quite useful as well but things went wrong and neither David Coulthard nor Mark Webber made the finish.
A shame.
Afterwards Red Bull Racing team boss Christian Horner tried to make a case for DC to be driver of the day.
Nice idea. Shame about that Lewis Hamilton really.
Bahrain Grand Prix Results - 15 April 2007 - 57 Laps
POS
DRIVER
NATIONALITY
ENTRANT
LAPS
TIME/RETIRE
1.
Felipe Massa
Brazil
Ferrari
57
1h33m27.515
2.
Lewis Hamilton
Britain
McLaren-Mercedes
57
2.360
3.
Kimi Raikkonen
Finland
Ferrari
57
10.839
4.
Nick Heidfeld
Germany
BMW
57
13.831
5.
Fernando Alonso
Spain
McLaren-Mercedes
57
14.426
6.
Robert Kubica
Poland
BMW
57
45.529
7.
Jarno Trulli
Italy
Toyota
57
1m21.371
8.
Giancarlo Fisichella
Italy
Renault
57
1m21.701
9.
Heikki Kovalainen
Finland
Renault
57
1m29.411
10.
Nico Rosberg
Germany
Williams-Toyota
57
1m29.916
11.
Alexander Wurz
Austria
Williams-Toyota
56
1 Lap
12.
Ralf Schumacher
Germany
Toyota
56
1 Lap
13.
Rubens Barrichello
Brazil
Honda
56
1 Lap
14.
Christijan Albers
Netherlands
Spyker-Ferrari
55
2 Laps
15.
Adrian Sutil
Germany
Spyker-Ferrari
53
4 Laps
16.
Anthony Davidson
Britain
Super Aguri-Honda
51
Engine
R
Mark Webber
Australia
Red Bull-Renault
41
Gearbox
R
David Coulthard
Britain
Red Bull-Renault
36
Driveshaft
R
Takuma Sato
Japan
Super Aguri-Honda
34
Engine
R
Vitantonio Liuzzi
Italy
Toro Rosso-Ferrari
26
Hydraulics
R
Jenson Button
Britain
Honda
0
Accident
R
Scott Speed
United States
Toro Rosso-Ferrari
0
Accident
FASTEST LAP:
Felipe Massa
Brazil
Ferrari
42
1:34.067