Bahrain GP 2004
APRIL 4, 2004
Bahrain GP, 2004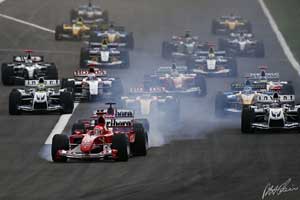 © The Cahier Archive
In Bahrain they say that rain is a blessing and there is no doubt that an unexpected turn in the weather on Sunday morning had a huge effect on the result of the inaugural Bahrain GP. In qualifying the track temperatures had been up in the 50-degree C bracket and everyone was worrying about cooling and tyres. But on Sunday morning the temperatures dived to a mere 30-degrees C. It was almost chilly and rain spat from the sky on and off throughout the morning.
It was obviously going to be a difficult race but there were two men for whom the change in temperature made a massive difference: Michael Schumacher and Rubens Barrichello. For them it was a godsend. They knew that any hope their rivals had had of winning had evaporated. Bridgestone tyres still operate much more effectively at lower temperatures than do the Michelins. The French tyres have an advantage at higher temperatures and that was what was needed because the Ferraris enjoy a big advantage over the other cars and the only chance of victory is related to the tyres - at least for the moment.
And so we had a dull morning and inevitably a dull afternoon. Michael Schumacher drove away from the field in a dominant display of Ferrari power. It was not a great show and probably did F1 more harm than good. Three wins in three races is not a good sign. But for those who cared to watch there was plenty of action through the field and there is still the hope that some time soon Ferrari will be beaten.
We lucky Formula 1 reporters get the chance of Sunday nights to take the race apart with endless pages of data. Malaysia may not have looked close but it was. In Melbourne and in Bahrain the temperature dropped dramatically between the qualifying and the race. Everything has played into Ferraris hands.
This is not to say that the cars are not good. They are great but it is not the domination of 2002. Ferrari men are never keen to play up weakness but even the team members were willing to admit on Sunday that the weather had helped.
"It is possible that the cloudy skies and the dust on the track worked a bit in favour of our package," admitted Ross Brawn. "It has been a dream start to the season but we are keeping our feet on the ground. There are still 15 races to go."
And that is the right attitude to have.
Juan Pablo Montoya is a man who agrees. He was fed up on Sunday night after his gearbox gave out and robbed him of much needed points but he had seen that there is still plenty to be optimistic about. Everyone else may be surprised when Williams wins a race but they should not be.
"Maybe I had the wrong tyres, " Montoya said after the race. "They did not prove to be as quick in the race as I was expecting them to be but I still had a good pace and I would have finished third."
Even Ralf Schumacher was able to argue along similar lines although his race was less exciting than that of his Colombian team mate.
"I am not too disappointed," he said. "I have seen the data and I was running close to the Ferrari pace when the track was clear. That leaves some room for hope."
The problem for Ralf was that he was nerfed off by a rather over-enthusiastic Takuma Sato early in the race. The FIA later slapped Ralf's wrist for the crash but really it looked more like Sato trying too hard when the situation was lost. Ralf could only have avoided the crash if he had driven off the track and as he had been ahead there was really no reason why he should do that. The corner was his. Sato was being rash. The shunt left Ralf out of contention for serious points but he fought back well although he should probably have been told off for knocking Giancarlo Fisichella into a spin later in the race.
The disappearance of Montoya in the final laps opened the way for an unexpected podium - the second in a fortnight - for BAR's Jenson Button. He did a great job to get there, profiting from the Sato-Ralf shunt and then from Sato having another incident. He then beat Jarno Trulli fair and square. If Montoya had not broken down Button would have been fourth but the best racing drivers always have a little extra luck and Button had some on Sunday. And with Sato ending up fifth it was a great result for BAR.
"The team is coming right now," said team boss David Richards. "It proves the point that it is all about having a consistent plan and taking people with you. We are coming to the fore but we are still a long long way to go. We should not be under any illusions. We must not let that happen."
The interesting thing was that in the closing laps Sato was able to hold off the rampaging Fernando Alonso who had rushed up through the field after a poor grid position and a first lap incident. Alonso could not get past Sato.
Renault looked strong on Sunday but in Bahrain the team was nowhere near the pace of Williams. Trulli might have profited from Montoya's misfortune but he was never a real challenger and was unable to keep Button behind him.
Alonso's race was a cracker but too much damage had been done on the stopwatch and the recovery meant a heavy fuel load for half the race. But then when he was able to attack he pushed hard although Mark Webber held him back for a long time in an exciting display of the feisty talents of the new rising generation in F1. Webber was fighting a losing battle and knew it but he held on for eight laps before the inevitable happened.
And there was some satisfaction at Jaguar when Webber picked up the final point of the day after Montoya slowed. It had been a good recovery after a poor qualifying but the Jaguars were just not up to the job in Bahrain. They like the fast sweepers like Renault and not the fast point to point blasts.
It seems however that Jaguar is well off compared to McLaren. The cars from Woking do not seem to like very much this year and the engines have been rather less than reliable. There were three cars which failed to make the finish in Bahrain on Sunday (Montoya crawled across the line). Two of them were McLarens.
And that said it all. McLaren had four points. Ferrari has 51. McLaren is not going to be worried about the World Championship this year. Unless one is talking about fighting for fourth or fifth place.
Still McLaren seems to have a faster car than Toyota, Sauber, Jordan and Minardi, which I suppose is a blessing.
BAHRAIN GRAND PRIX RESULTS - APRIL 4, 2004 - 57 LAPS

POS

DRIVER
NATIONALITY
ENTRANT
LAPS
TIRE
TIME/RETIRE

1.

MICHAEL SCHUMACHER
Germany
Ferrari
57

1h28m34.875

2.

RUBENS BARRICHELLO
Brazil
Ferrari
57

1.367

3.

JENSON BUTTON
Britain
BAR-Honda
57

26.687

4.

JARNO TRULLI
Italy
Renault
57

32.214

5.

TAKUMA SATO
Japan
BAR-Honda
57

52.460

6.

FERNANDO ALONSO
Spain
Renault
57

53.156

7.

RALF SCHUMACHER
Germany
Williams-BMW
57

58.155

8.

MARK WEBBER
Australia
Jaguar-Cosworth
56

1 Lap

9.

OLIVIER PANIS
France
Toyota
56

1 Lap

10.

CRISTIANO DA MATTA
Brazil
Toyota
56

1 Lap

11.

GIANCARLO FISICHELLA
Italy
Sauber-Petronas
56

1 Lap

12.

FELIPE MASSA
Brazil
Brazil
56

1 Lap

13.

JUAN PABLO MONTOYA
Colombia
Williams-BMW
56

1 Lap

14.

CHRISTIAN KLIEN
Austria
Jaguar-Cosworth
56

1 Lap

15.

NICK HEIDFELD
Germany
Jordan-Cosworth
56

1 Lap

16.

GIORGIO PANTANO
Italy
Jordan-Ford
55

2 Laps

17.

GIANMARIA BRUNI
Italy
Minardi-Cosworth
52

5 Laps

R

DAVID COULTHARD
Britain
McLaren-Mercedes
50

Engine

R

ZSOLT BAUMGARTNER
Hungary
Minardi-Cosworth
44

Engine

R

KIMI RAIKKONEN
Finland
McLaren-Mercedes
7

Engine

FASTEST LAP: M.Schumacher

Germany
Ferrari
7

1:30.252




DRIVERS CHAMPIONSHIP POSITIONS:

POS

DRIVER
NATIONALITY
ENTRANT

POINTS

1.

MICHAEL SCHUMACHER
Germany
Ferrari

30

2.

RUBENS BARRICHELLO
Brazil
Ferrari

21

3.

JENSON BUTTON
Britain
BAR-Honda

15

4.

JUAN PABLO MONTOYA
Colombia
Williams-BMW

12

5.

FERNANDO ALONSO
Spain
Renault

11

JARNO TRULLI
Italy
Renault

11

7.

RALF SCHUMACHER
Germany
Williams-BMW

7

8.

DAVID COULTHARD
Britain
McLaren-Mercedes

4

TAKUMA SATO
Japan
BAR-Honda

4

10.

FELIPE MASSA
Brazil
Sauber-Petronas

1

MARK WEBBER
Australia
Jaguar-Cosworth

1




CONSTRUCTORS CHAMPIONSHIP POSITIONS:

POS

CONSTRUCTOR

POINTS

1.

FERRARI

51

2.

RENAULT

22

3.

WILLIAMS-BMW

19

BAR-HONDA

19

5.

MCLAREN-MERCEDES

4

6.

SAUBER-PETRONAS

1

JAGUAR-COSWORTH

1