Azerbaijan GP 2023
APRIL 30, 2023
Sunday Team Quotes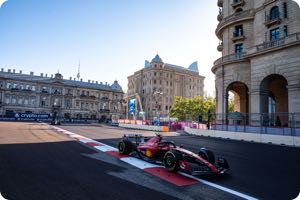 Oracle Red Bull Racing
Sergio Perez (1st): "It has been an unbelievable weekend, I am super pleased and I cannot say more about the Team, it has been a tremendous day for us and I am so proud of everyone. I want to say a big thanks to Thibaut, he is one of my mechanics who is at home for personal reasons, but he is still a very big part of our Team. The Team enjoy calling me the King of the Streets, I am super happy for them all. They have been tremendous all weekend, from the sprint race yesterday through to the way we executed the race today, it was perfect. I think today we were the fastest car on track and regardless of the safety car we would have won the race. I am definitely in the fight for the title, not just because of Baku, I believe I can be very good anywhere this season and now I am just thinking of Miami. There are a lot of races coming up and we must make sure we are on it."
Max Verstappen (2nd): "Overall it was quite a good race. Of course, I was a bit unlucky with the safety car call, but I think in that second stint both of us were pushing flat out. We used every centimetre on that track and touched a few walls! It was a good Team result and there were a lot of learnings from this weekend to take forward to the rest of the season. We bought it home and a 1-2 for the Team was ideal, Checo had a great race and did very well today. I'm already looking forward to Miami and seeing what we can do there."
Christian Horner, Sporting Director: "Checo absolutely excelled today. He had the pace and really controlled the race, he benefitted from the timing of the safety car but it was a phenomenal performance from him today and all weekend. Hats off to him. We were unlucky with the safety car and the pit stop for Max. Sometimes things like that don't go your way but that is racing and we will learn from it. Other than that it was an excellent performance from the whole team, another 1-2, our 25th! Things are clicking for us at the moment and it sets us up well for next week but it is still early days, there are 19 races and 5 more sprint races in this long season. With each race comes moments to savour but just as many learnings, we take those and move to the next challenge, preparation for Miami is already well under way, see you at the beach!"
ef:
Scuderia Ferrari
Charles Leclerc (3rd): "We are still not quite there in terms of race pace and we know that's what we have to work on the most at the moment. We maximised every session throughout the weekend and couldn't have done anything differently, so that's something to be happy about and the team did a great job. The bottom line is that we have to focus on race pace and tyre management and push to make even more progress in the coming races."
Carlos Sainz (5th): "This has been a very difficult weekend. P5 brings home some points but I must put my hand up and admit I lacked confidence under braking and the pace was not there. On the Medium tyre I could push a bit more, but with the harder compound I simply didn't feel the car. Now I look forward to a reset, as Miami is just around the corner and I can't wait to jump in the car again and keep pushing."
Frédéric Vasseur, Team Principal: "Overall, this has been a positive weekend for the team. We took two pole positions and one podium finish with Charles and our overall points total, thanks also to Carlos' fifth place, is satisfactory. There were signs of progress in Melbourne, but they were overshadowed by the poor race result. In the four week break, we worked hard in Maranello and here in Baku we have made further progress which translated into a good result. We definitely are back to where we wanted to be in terms of qualifying, but there's still a significant gap to Red Bull in the race. However, we aim to fight them for the win and we are gearing up to do just that. It's a morale booster for the whole team to finish on the podium, something which we will carry forward as we prepare for next weekend's race in Miami."
Mercedes-AMG Petronas F1 Team
Lewis Hamilton (6th): "The timing of the Safety Car wasn't ideal! I couldn't get bogged down in that frustration though. I had to keep my head down and get focused on attacking. That's what I did, and I got right back in the race. I really enjoyed those battles with the cars around me. The Ferrari of Sainz was just a little bit quicker on the straight than us, even with the DRS open. I gave it everything I had to get past though. I'm continuously proud of my team. We didn't have the pace that we did in Melbourne, which is not the greatest, but there is no lack of motivation in this team. We're all super hungry, and hopefully this is the beginning of something better in the coming races. Once I get that confidence in the car, the pace will come."
George Russell (8th): "I'm a little bit disappointed with myself today. I made a really good start and got in a decent position. I made a good move on Stroll to get past him into the pit lane but I then made a mess of the restart. I was defending from Lance and almost ran into the back of Fernando (Alonso). I then ran wide and got my tyres dirty. Ultimately that's why both Lance and Lewis got past. From there, it was line astern. I'll take the extra point for fastest lap but the only reason we had that opportunity was because we were in a bad position. It was close pace-wise between ourselves, Ferrari and Aston Martin and small differences can make a big change in terms of results. Whether we finish P4 or P8 though, it's far from first so we've got a lot of work to do."
Toto Wolff, Team Principal: "Today was not a thriller. There was very little overtaking even with a big pace difference. We headed into a sub optimum set-up direction during FP1 and by the time we realised it was too late, and the car was in parc fermé conditions. It's the same for everyone though under this format. The pace in free air today looked similar between ourselves, the Ferraris and the Aston Martins. It was hard to tell who was ultimately quicker though, because with the difficulty of overtaking you are stuck where you are stuck. The Red Bulls meanwhile sailed away into the sunset on merit. If we can get the platform right though, I think we can close that gap this year. It's not about adding points of downforce, more giving the drivers a car that they have confidence in."
Andrew Shovlin: "We're never going to get excited about sixth and eighth place, but it was a day where the car wasn't particularly quick and neither driver had much luck during the race. Lewis had a decent opening lap; he'd started to get a bit of pressure from Alonso towards the end of the stint, so we came in to protect the position. Unfortunately, that was the lap before the Safety Car, so he lost out. A good restart helped the recovery, but he just couldn't get past Sainz. George had a really good opening lap, getting through some key cars early on. He was able to take the stop under the Safety Car but then struggled on the restart and lost a couple of places. Similarly to Lewis, he just couldn't make a pass despite having a bit more pace so our only consolation was a point for fastest lap at the end. We haven't got long to wait before we are bringing some more performance to the car and in the meantime, we just need to focus on collecting as many points as possible. We're hoping the car will be a bit better suited to the track in Miami and looking forward to being able to get back on track in just a few days."
BWT Alpine F1 Team
Pierre Gasly (14th): "This is a weekend all of us are keen to quickly move on from as it's been a very frustrating one for all of us at the team. We have to make sure this kind of performance is not repeated again. Clearly, it is not where we should be and we need to come back stronger for Miami next week on a more conventional track. In terms of my race, we tried something different on strategy and hoped for some fortune, but in the end, we couldn't do much more. I made a couple of moves, that's always satisfying, but it's much more rewarding when those overtakes are for points. I'm looking forward to racing in Miami next weekend."
Esteban Ocon (15th): "We gave it everything we could today, going for the Hail Mary strategy in the hope for a late Safety Car or incident, but things did not go our way. We can be proud with our efforts, pushing all the way to the end and extracting the most from the Hard tyres. I had a bit of a scary moment at the end of the race when I came into pit and saw people congregating in the Pit Lane even though the race had not ended. Fortunately, nothing happened, but we must make sure these scenarios don't happen again. We were not where we want to be in terms of performance this weekend. And, after a weekend of learning, we have a chance to review and comeback stronger in Miami. I know we will do just that."
Otmar Szafnauer, Chief Operating Officer: "It's been a bitterly disappointing weekend for the team in Baku and we must not repeat this type of performance again. We very much started on the backfoot on Friday and since then we were not able to make any kind of recovery in any of the sessions. We were quite far off on car set-up on Friday during practice and with such limited running – notably with some reliability issues on both cars – we left ourselves with a mountain to climb for the remainder of the weekend. We must limit these problems going forward and begin all Grand Prix weekends on the front-foot to make sure we give ourselves the best possible chance on Saturday and Sunday to score points. We demonstrated our race pace in Australia and we have a better chance to validate our upgrade package in Miami. We must keep working hard as a team, keep up our understanding of how to maximise the most from our package and target a much-improved overall team performance next weekend Stateside."
McLaren F1 Team
Lando Norris (9th): "A good race. It was as good a result as I was going to get and the best we could achieve today. P9 really doesn't sound like a lot but it was the best we can do at the moment. We got a bit unlucky with the Safety Car happening just after we had pit. I then got stuck behind Hulkenberg, but we got a couple of points on the board, which is a solid result, plus we got some good things out of the new parts we bought to track. So, I'm happy with that and we'll try to improve again in Miami."
Oscar Piastri (11th): "It was a shame to miss out on points by one spot, but we were just lacking a bit of pace in the middle of the race, so there wasn't really much more we could do. I'm happy I survived the weekend after being unwell and we've got some really good learning in the bank. I certainly learned a lot about the tyres in that race, and how to manage them better, so all of that will help us fight for points next time. Thanks to the team here and back at the factory for getting the upgrades out to us, it's definitely helped. We go again in Miami."
Andrea Stella, Team Principal: "An interesting weekend in Azerbaijan with the new Sprint format. Our main objective for the weekend remained preparing for the race: this was where the most points were available. The top four teams are a little bit ahead at the moment, so the mission was to be at the head of the midfield. We achieved that thanks to the upgrades we fitted this weekend. Thanks go to the team back at the factory and at track for helping us bring these parts to the car. Over the next few races, we will be able to verify how much of that is a genuine improvement, and how much was track-specific. Lando, once again, was rock solid. Another clean weekend brings us a couple of very useful points. We were highly impressed with Oscar too. He's been unwell this weekend but managed to focus on the job, also delivering a clean weekend with no mistakes. Thank you to our excellent medical staff for their continuous support throughout the weekend. We hope he'll be feeling better in a few days when we start again in Miami."
Alfa Romeo F1 Team Stake
Valtteri Bottas (18th): "It wasn't a great race for us and we were never in the mix for the points: we need to understand what happened and, most importantly, how to get back to being competitive. My race was hard from the start: I had a contact in turn two, I was on the outside and I was hit from the left and from behind, which left me with some damage. It was quite a long race after that: we tried to find a way back in, as anything can happen here, but eventually there weren't any chances for us to rebuild our race. For sure, we need to improve our pace and do everything we can to move forward. We head straight to Miami now: it is a very different track from this, we will stay motivated and go for it again."
Guanyu Zhou (DNF, Cooling): "Quite the weekend to forget for us: it's never nice to DNF, but realistically we didn't have a chance to score points today. We needed to retire the car as a precaution as we had rising temperatures and alarms on my dash. In general, it was a tough weekend for all of us. We need to understand the reasons for this and work hard, all of us, to make a step forward. I am confident this team can do that, I see it in the people here and at home. We will do all in our power to get back where we expect to be and continue to improve."
Alessandro Alunni Bravi, Team Representative: "This was a disappointing race and it showed that, right now, our package is not competitive enough to score points. The priority for everyone of us in the team – here at the track and back at base – is to work hard and make the improvements necessary to get back where we expect to be. The field remains tight, and we can get back into this battle: but we must deliver a step forward to do so. We are all fully committed to this and we're going to do whatever it takes to get there."
Aston Martin Aramco Cognizant F1 Team
Fernando Alonso (4th): "I think we had a tricky weekend with the DRS issue on Friday and Saturday, but despite this we have finished only one second away from the podium at the chequered flag. With that in mind, I have to be happy with fourth position and our overall performance which was encouraging all race. Thankfully today the DRS seemed to work fine, and our tyre management was strong. I thought the tailwind was quite random and here in Baku you are always on the edge. We only have to wait a few days before we go racing again, so let's see what we can do next week in Miami!"
Lance Stroll (7th): "It was pretty tough out there today. I was happy with my start, as well as the Safety Car restart, but I wasn't feeling super comfortable with the car once the race got going and made a slight mistake. A little misjudgement can end your day here, so I was fortunate to get away with brushing the wall and managed to continue with the race. Once Lewis [Hamilton] passed me, it was just about maintaining position and holding off George [Russell] for the remaining laps. He was pushing hard, but we managed the tyres well and I was able to keep him behind me. As a team, we definitely have a few things to work though ahead of Miami, but I think we need to be pleased to come away from the first Sprint weekend of the year with a decent haul of points to maintain second in the Constructors' Championship."
Mike Krack, Chief Operating Officer: "Another well-executed weekend by the entire team and we leave Baku with a combined total of 22 points. That is a good return from quite a challenging event on a very demanding street circuit. Full credit to the drivers who did an excellent job to make progress from their starting positions. They managed the Hard tyres well over a long stint, while maintaining good race pace, and brought the cars home safely to round off a clean weekend. This sets us up nicely for our first trip of the year to the United States next week as we get ready to entertain the fans in Miami."
Haas F1 Team
Kevin Magnussen (13th): "We were stuck in traffic the whole race, we had pace for much more but just couldn't pass. Unfortunately, with the wing we have it's really fast with no DRS but with DRS it doesn't really have a big impact. Overtaking is very difficult, defending is pretty good because without DRS we're pretty fast. That little detail made the difference today because I think looking at the cars ahead I was way quicker than them but just couldn't get past. A bit of the same story as last year as we were in the points until the end but this year, we had even more pace. Hopefully that carries onto Miami, and we will try again."
Nico Hulkenberg (17th): "It was hard work – I was head-down, focused. It was a quali race to be honest for me, that was all I had but it was okay for 40 laps or so and then at the end, unfortunately the tires started to drop quite rapidly. The Safety Car didn't come out and that's what we needed with the strategy we pursued. Nevertheless, it was good learning. We elected for a pit lane start and changed the set-up completely to something more conventional. We learned something, on the positive side, and now onto Miami where I think we'll be more competitive."
Guenther Steiner, Team Principal: "Kevin got his front wing endplate knocked off at the start because Bottas in front of him locked-up, so he couldn't avoid him, and it was severe enough to make a front wing change. With Nico, we tried a different strategy and it didn't work because the Safety Car came too early. All in all, the performance of the car was good and we could hold pace with the Alpine and McLaren. I think we just have to take this one as a little dip and come back in Miami, where maybe for our car it's even better, being a medium-downforce circuit."
Scuderia AlphaTauri
Yuki Tsunoda (10th): "It was a tough race today but the team, especially the mechanics, did a great job to repair the car after yesterday. The engineers found a strong set-up, even if we lost some time in sector two. We didn't get many chances to do long runs this weekend but to be able to demonstrate a strong pace, and build on this performance throughout the race, was awesome from the team. I am also happy with my performance. I was consistent, and being sandwiched between the two McLarens meant any mistake would cost us the point. It took a lot of concentration but in the end, we were able to achieve another top-ten finish. There is still room for development and improvement to fight for points consistently, but I have confidence in my team to race stronger in the future."
Nyck de Vries (DNF, Accident): "The accident today was fully my mistake. It was very silly and unnecessary and that responsibility is on me. I am disappointed with myself but that's the way it is. There are positives to take away from this weekend and I'll try to look at them. I am happy to be racing again next week so I forget this weekend as soon as possible."
Franz Tost, Team Principal: "Firstly, congratulations to Red Bull Racing for another front-row finish. As for our weekend, we came to this race with some aero updates, and I'm pleased to say they seem to work very well. The team in Bicester did a fantastic job because we have been competitive from the very beginning of the weekend. The highlight was of course Friday's qualifying, where Yuki finished in eighth position. As for today's race, he was overtaken by Stroll and Russell on the first lap, but this is what I expected as their cars are simply faster than ours. Nevertheless, Yuki did a fantastic job. He was able to split the McLarens, staying quite close to Norris and keeping Piastri behind. Overall, a big congratulations to Yuki for another strong performance, which shows how much he is improving race by race. Unfortunately, Nyck had an accident, he touched the wall in turn 5, breaking the front left track rod, and that was the end of his race. Generally speaking, we have improved the car performance dramatically since the start of the season, so now I am even more looking forward to the next race in Miami."
Guillaume Dezoteux, Head of Vehicle Performance: "We are very happy to end the weekend with a point. Yuki drove a solid race, the strategy calls were right and the pit stop was competitive. At the start of the race, we knew it would be difficult to hold faster cars behind us, but Yuki remained focused, made no mistakes and settled in a train of cars with both McLarens, a Haas and an Alpine. We were continuously evaluating safety car scenarios and monitoring other cars to react, although in the end, there was nothing to react to. Nyck's race started well with an offset strategy. We decided to start on the hard tyre, chasing any opportunity to make ground through the pack. Unfortunately, he made contact with the inside of Turn 5 and broke his front left track rod, which forced him to stop on track. Overall, this weekend has been solid and the track layout has suited us better. There are similarities in Miami, so we will review everything in the next couple of days to prepare as best we can for next weekend."
Williams Racing
Alexander Albon (12th): "It was really tough out there today. I had some damage on my front wing for most of the race following contact with the McLaren, so there was a lot of management to do. It was tricky trying to keep the Haas behind me whilst staying close to Oscar, and not a lot of room for overtaking with the shortened DRS zones. We really did maximise this weekend and I think it was personally one of my strongest, especially coming off Australia. I think we definitely have more to find with the car, but I think I'm becoming at one with it, so hopefully we can keep this going."
Logan Sargeant (16th): "All things considered I learned a lot this weekend. In the race today, we got a bit unlucky with the safety car timing at the start and fell into a bit of a lonely, frustrating race. I was stuck behind Zhou [Guanyu} for most of it. By the time he pitted it was just too late and I was too far disconnected from the pack ahead. However, when I did get in front, the car felt good, I was driving well, and the pace was not too bad at the end. I brought a set of hard tyres a long way and that's all positive. Our one lap pace this weekend was good, and I was happy considering we only had one free practice session to go into qualifying and have a pretty good one. It was going to be an even better Sprint Shootout until the crash, so I'll learn from that and move forward. The race wasn't bad, it just fell out of our hands and was a lonely, boring one for most people."
Dave Robson, Head of Vehicle Performance: "Alex suffered some front wing damage on the opening lap, which hurt the car balance and cost him downforce. Despite this he was able to put together another very strong race; he dealt with the pressure from Gasly and Magnussen brilliantly whilst also staying close to Piastri ahead. The timing of the early safety car was unfortunate for our strategy, but that is the nature of racing at Baku. Having missed the sprint race yesterday, Logan started the Grand Prix somewhat on the back foot but still put together a strong drive to fight with Zhou and Gasly. His pace and car management were competitive and gave him some very valuable learning for the future. We arrived in Baku for this new style sprint event expecting it to be a challenge. Although we rose to that challenge well and were able to put together a strong performance overall, it is frustrating not to get some points for our effort. Nonetheless, we head to Miami with some positive momentum and another good opportunity to challenge the top 10."