Azerbaijan GP 2023
APRIL 29, 2023
Sprint Race Report - Perez wins Sprint Race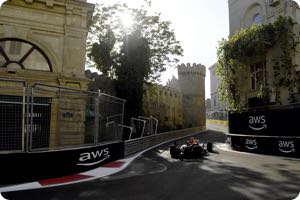 By Mark Karp
Sergio Pérez in the Red Bull-Honda won Saturday's Sprint Race at the Azerbaijan Grand Prix today over pole man Charles Leclerc in the Ferrari, 4.463 seconds behind.
Max Verstappen in the second Red Bull finished third, 5.065 seconds behind.
George Russell (8.532s) in the Mercedes GP was fourth, followed by Carlos Sainz (10.388s) in the Ferrari in fifth, Fernando Alonso (11.613s) in the Aston Martin-Mercedes was sixth, Lewis Hamilton (16.503s) in the Mercedes was seventh, and Lance Stroll (18.417s) in the Aston Martin took the final point in eighth.
Earlier on Saturday the Sprint Race grid was decided in a shorter Sprint Shootout session, and Leclerc starts on pole with Perez alongside on the front row, Verstappen and Russell on row 2, Sainz and Hamilton on row 3, Albon and Alonso on row 4 and Stroll and Norris rounding out the top 10.
All drivers on medium tyres, except for Norris and Bottas on soft tyres.
The field came around and the lights went off with Leclerc taking the lead. Into the second corner Russell passes Verstappen for third. Verstappen complains about the pass.
Alonso passes Albon for seventh.
On lap 2 Tsunoda's touches the wall and his right rear tyre separates from the wheel and he pits - the virtual safety car is out.
On lap 3 the full safety car is out for the debris still on the track. Ocon pits.
Leclerc leads Perez, Russell, Verstappen, Sainz, Hamilton, Alonso, Albon, Norris and Stroll in tenth, Piastri, Hulkenberg, Magnussen, Bottas, Zhou, Gasly, Devries, and Ocon in 18th.
The safety car pulls off and the race resumes at the start of lap 6 with Leclerc taking the lead over Perez, Verstappen passes Russell for third. Sainz and then Alonso pass Hamilton for fifth and sixth.
Perez runs half a second behind Leclerc.
On lap 7 in DRS Perez passes Leclerc for the lead.
On lap 9 Piastri passes Norris for tenth.
At lap 10 Perez leads Leclerc by 0.8s, followed by Verstappen (2.0s), Russell (4.4s), Sainz (6.1s), Alonso (7.1s), Hamilton (7.9s), Albon (10.7s), Stroll (11.3s), and Piastri (12.5s) in tenth.
Norris drops back and then pits.
Bottas complains that his soft tyres are starting to fall off.
On lap 12 Stroll passes Albon for eighth.
On lap 13 Ocon pits for soft tyres.
Devries passes Bottas for 15th.
At the finish Perez crosses the line ahead of Leclerc and Verstappen.