Azerbaijan GP 2023
APRIL 29, 2023
Saturday Team Quotes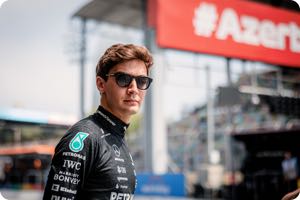 Oracle Red Bull Racing
Sergio Perez (1st): "In the end I think it was a really nicely executed race and it's been a great weekend from the whole Team so far. It was key to make sure we had good pace, good rhythm and that we pushed in the key moments of the race, that really made the difference today. I had to push quite hard initially to get past Charles, especially at the restart because on the first lap I could see he had good pace and very good mechanical grip. Later on, I was able to make the move early enough and that to me was important. In the end I think it was a really nicely executed race and it's been a great weekend from the whole Team so far. I am really proud of my Team because we have come back from a four week gap and then straight into a new format. We have done a tremendous job but tomorrow is what matters and we must focus on that now. I am confident I will be fighting for the win tomorrow but let's see, it is Baku and anything can happen! I just have to make sure I deliver when it happens."
Max Verstappen (3rd): "It's never ideal to have a hole in the car! It was a bit of a messy first lap and then with the damage I think it was a bit tricky to pull forward throughout the rest of the Sprint. I think overall third was fine, and to manage the damage that we had, we did alright. I need to look into the data to see how much the damage affected the race today, but it's never ideal to have a hole in the car. Looking ahead to tomorrow, we have a good race car, you could see that today with Checo's performance. I think the most important thing tomorrow is to stay out of trouble and I think we can go for the win."
Christian Horner, Sporting Director: "Hard racing today. There was unfortunately some contact which resulted in quite a bit of damage to the side pod and that cost Max in performance. Tomorrow is what it is about though. Max starts on the front row and with a very good chance. Hes a very competitive driver and will come back strong tomorrow afternoon. By contrast, Checo had a much better race. He didn't put a foot wrong. He was sensible on the first lap and wanted to get the job done quickly so he could focus on managing the tyres. He had a blinding middle sector on the second lap, made the pass and was able to eek out a gap. Then once he broke Charles's DRS he was able to bring it home from there. Fantastic driving and a well deserved win."
Scuderia Ferrari
Charles Leclerc (2nd): "I wanted to go for the win but at the same time, we knew that it would be difficult due to the race pace advantage Red Bull Racing have. It's where we are lacking and what we are focusing on improving the most. On the positive side, we have a strong qualifying pace and have made a good step in the right direction since our last race in Australia. Let's see what is possible tomorrow."
Carlos Sainz (5th): "This weekend has not been an easy one for me but we'll keep going at it. We managed to bring home some points and I'll try to build from there. Hopefully, having completed more laps today, tomorrow I can work around the main limitations and maximise the result. The weekend is not over yet and in Baku you need to be ready to grab every opportunity, so now it's maximum focus until the race is over."
Frédéric Vasseur, Team Principal: "When you start from pole and don't bring home the win, you cannot be totally satisfied with the outcome. Having said that, Charles and Carlos produced the race we expected and delivered a good result. In Melbourne, we saw we had made progress and I think that so far this weekend, that has also been confirmed here. In qualifying trim we were quicker than Red Bull and in the race, we were able to fight with Perez and Verstappen, even if we saw there is still some work to do in terms of pace. Today, we've been able to try the Medium tyres and run the car with a heavier fuel load, which produced some useful data for us to analyse with the aim of getting even more out of our package tomorrow, when Charles again starts from pole position."
Mercedes-AMG Petronas F1 Team
George Russell (4th): "The move on the first lap with Max was on and I wasn't going to hold back. I am here to fight and win. I was surprised he was still trying to hold it out around the outside, as there's always a risk. I was doing my best to have a clean fight, but we made contact. That's racing. The car felt OK today, we just don't have enough speed. We know we've got work to do for tomorrow's race. I'll be starting further back, but the race pace looked good. I'll being doing my best to carve my way through. Hopefully I can have a clean start, stay out of trouble and from there, it's a long race with potentials for red flags and Safety Cars. Anything can happen so we will see."
Lewis Hamilton (7th): "I like that we're trying something new with this format. The extra qualifying session was fun. The sprint race was less exciting but that's probably because I was struggling. It wasn't ideal losing the position to Alonso. It's never great going backwards but that's motor racing sometimes. I didn't have the pace of the cars ahead of me, but I know why that is now, from having the Sprint. It's a good indicator of what the problem is in terms of set-up, so we'll look into it and hopefully make some improvements tomorrow. It's going to be tough, but anything can happen."
Toto Wolff, Team Principal: "P4 was a very solid result for the performance the car has this weekend. George's last third of the race was very strong. He benefitted from clean air but, as you can see from Lewis, when you are stuck in traffic, the tyres tend to give up. He was just stuck there in P7, and we need to analyse that so it can be better tomorrow. George and Max's contact was a racing incident. One was trying to go around the outside and that is never going to be easy. He picked up damage and that was sub-optimal for his race. It's understandable that he would be upset but George was defending his position. We wanted to see how this new sprint format would work this weekend. I think it was good that we have done it and now we can go away and assess the impact, see if we need to make any tweaks to extract the best show."
Andrew Shovlin: "The Sprint Shootout went well with George in 4th and Lewis in 6th. It seemed the hotter conditions helped us relative to the cooler session yesterday. Managing the risk of yellow and red flags is the biggest challenge here so we were out early in each session. The F1 Sprint was interesting as it gives us a bit of data on tyres to carry into the race tomorrow. The medium held on pretty well but without the Safety Car it may have been tricky. The soft looked very weak on those that fitted it so useful to know ahead of the race that it's one to avoid. George did a good job to finish fourth whilst Lewis struggled a bit with the balance. He lost a place at the restart and the rear degradation meant he didn't have the car to try and take it back. We'll look at tools to improve that for tomorrow as it's going to be even tougher with a hot track."
BWT Alpine F1 Team
Pierre Gasly (13th): "It was important for us to have a clean run in today's Sprint Race after what has been a very challenging weekend for the team up to this point. We were on the backfoot this morning with an issue in the Sprint Shootout, but I'm pleased that we completed some laps in the Sprint Race to gain a handful of positions. We needed to do some learning and I think we have some ideas on what we can do tomorrow in the main race. We'll keep working hard together as a team and see what decisions we take in order maximise our chances tomorrow. I believe we have a quick race car and I'm aiming for the top ten to take some points from this tricky weekend."
Esteban Ocon (18th): "It's been a difficult day for us, but there are positives that we can take from today. It was key for us to change the set-up of the car ahead of the Sprint Race, a collective decision we knew was necessary to give us a better chance this weekend. The car was a lot better this afternoon after our changes, and we were able to collect valuable data, something we've unfortunately lacked so far this weekend. It will be a Pit Lane start for me again tomorrow for the Grand Prix but if there is a place where anything can happen it is Baku. We'll be giving it our all and we'll be ready to seize any opportunity which may occur in the race."
Alan Permane, Sporting Director: "It's been another frustrating day for the team in Baku but we are firmly focused on tomorrow's race where points are on offer. Unfortunately, like yesterday, Pierre's day was compromised with an exhaust leak in the Sprint Shootout, which meant he could not set a competitive lap time and we had to pit him during the session to avoid any potential damage. After Esteban exited in SQ2, we decided to make changes to his car set-up by amending the front and rear suspension with an eye on Sunday's race and maximising our chances to score points. We've certainly learnt a great amount from today's Sprint Race and we have some ideas on potential strategies for tomorrow's Grand Prix with the target to progress both cars into the points. We did it in Bahrain earlier in the season to go from last to ninth, and we can still get something from this weekend."
McLaren F1 Team
Oscar Piastri (10th): "I'm pleased with P10 in the Sprint. Given the way I've been feeling this weekend I'm glad I was able to get the Sprint done. With that said, there was a lot to learn today, and it was good to get the laps in, which will really help us in the Grand Prix tomorrow. We'll have a look at what data we gathered, get a good night's rest and prepare for tomorrow."
Lando Norris (17th): "Not a great Sprint for us today. We took a bit of a gamble and thought the Softs would last a bit longer than they did, but unfortunately, they didn't. I obviously had to box and in such a short race you can't make up for it. So, it wasn't the right decision today, but we learned a lot about the tyres, which puts us in a better position for tomorrow and that is the priority. Full focus now on the Grand Prix."
Andrea Stella, Team Principal: "Coming into today's Sprint, with eight quicker cars ahead or around us, we knew it would be difficult to score points, so we decided to take an aggressive approach with Lando, putting him on the Soft tyre, while being prudent with Oscar on Medium tyres. The Soft degraded rapidly and we had to make a pit-stop. Oscar drove very well to P10, considering that he's still not feeling well. No points today but it was a good and useful long-run practice in preparation for the race, which remains our priority. Points go up to P10 tomorrow. We have a better understanding of the tyre behaviour and will work overnight to continue our preparation for the Azerbaijan Grand Prix."
Alfa Romeo F1 Team Stake
Guanyu Zhou (12th): "I felt good with the car, our pace today was good and this is a promising sign ahead of tomorrow's race. After yesterday's qualifying, we chose to go in two opposite ways with the strategy to maximise our chances and our understanding of the tyres for tomorrow. Starting where we were, in such a short Sprint and with only eight points-scoring positions, the realistic aim was to learn as much as possible and we did that, through both my and Valtteri's race. It was good teamwork and it ended up helping me today: the medium tyres performed strongly and I was able to keep Gasly behind even though I had no DRS. We got lots of long-run data and we are optimistic: the aim is to move forward and get into the points. We did that in Melbourne, and there is no reason there shouldn't be a similar, if not bigger, chance here in Baku. Of course, strategy and a bit of luck with the circumstances will need to be there, but we're ready to fight and keep making progress."
Valtteri Bottas (16th): "Today was about working as a team, and this is what we did. Overall, our pace was a step forward from qualifying, and we leave today's Sprint with some good learnings. We knew it was going to be quite tough, from where I was starting, so we decided to try something different with the soft tyres, while Zhou went with the mediums. It didn't quite work out for me in the end, I tried to keep fighting but, of course, everyone on the Medium was eventually going to be faster. Overall, I think it was good to give it a try, and figure what is going to work and what not for tomorrow's race. We saw that Zhou was able to fight with the cars around him and make up some ground, and that gives us confidence ahead of tomorrow's race."
Alessandro Alunni Bravi, Team Representative: "We came together as a team and took some firm decisions: we knew we had to be aggressive to make up ground after yesterday's qualifying, so we split the starting tyres for our two cars. We now have a much better, in-depth understanding of the soft and medium compounds' behaviour in race conditions and that will allow us to define the best possible strategy for tomorrow. On the mediums, we saw our pace was allowing us to battle and close in to the top ten, so that will be our objective tomorrow. We know there's a lot of work ahead of us, but we're committed to go to any length to move forward: everyone is pushing hard for this, here and back at the factory. The race tomorrow will be a fight, but we're ready to give everything for it."
Aston Martin Aramco Cognizant F1 Team
Fernando Alonso (6th): "We are happy to have scored some points in the Sprint after gaining two positions. I'm not sure if the DRS issue that we've had all weekend is fixed, but we will analyse it overnight and hopefully it's fine for tomorrow. Even with DRS activated, overtaking was quite difficult today and we were all very closely matched in terms of performance. I think we have learnt a bit more about the tyres because it was our first long run all weekend. I believe we have a chance to finish even higher in tomorrow's race and there is always a chance of a Safety Car or red flag here to mix things up."
Lance Stroll (8th): "That was a hard-earned point, but I enjoyed the new format today. Every time we go out on the track, there is something to fight for. It keeps us on our toes and I think it is exciting for fans, too. We had some DRS issues during the Shootout, but fortunately it seemed to be working for the Sprint, which was important because overtaking is quite a challenge at this circuit. I enjoyed the battle with Alex [Albon] and having followed him for a few laps I was pleased to make the move stick going into Turn One."
Mike Krack, Chief Operating Officer: "A good job by the team today: we scored four points in the Sprint and both drivers raced well, made decisive overtakes, and stayed out of trouble. Fortunately, the DRS issues we have encountered throughout the event did not affect us during the Sprint. It was also a valuable learning experience for the Grand Prix tomorrow and the long-run tyre data will help our strategy decision making."
Haas F1 Team
Kevin Magnussen (11th): "The car felt good again, of course, we didn't change it after yesterday's qualifying, but I had a good rhythm and our pace was decent. We were fast enough to be in the top 10 – so that's encouraging for tomorrow. It's obviously a longer race, and unfortunately I'm starting a bit far down with the problems we had in qualifying on Friday, the electrical issue putting us in P18. But, there's a lot more pace than that and hopefully I can get a good first lap, have a clean race and try to make it into the top 10. That would be nice."
Nico Hulkenberg (15th): "We have to look at that one as it was weird, after the first couple of laps the rear tires completely switched off. I think we had pretty heavy graining, so we need to investigate, but it was definitely going in the wrong direction that race. The Sprint was the long-run practice, so we'll hopefully learn from that. There's not much we can do being under parc ferme, which is a bit frustrating, and tomorrow we also start quite far back, so it's going to be a tough one."
Guenther Steiner, Team Principal: "It was a much better day today than yesterday for us. I think we qualified where we thought we would in the Sprint Shootout, we knew it would be difficult to get into Q3, but we made a big step forward from yesterday. In the Sprint, with Kevin, our race pace was good. Nico struggled a little bit with his rear tires, so we need to find out why. Now we get ready for tomorrow. We still have a chance for points."
Scuderia AlphaTauri
Nyck de Vries (14th): "We were lacking a lot of grip in today's SQ1 and tyres were far from ready, which I think was the same for others too, so we didn't get the chance to properly go for it. The track was still very green, so my first lap was a warm-up lap, and then the next push lap was interrupted. For the sprint race, we have to look at the positives. We had encouraging pace and were racing forward. Compared to other cars in the midfield, we didn't seem to struggle as much with tyres, which is encouraging for tomorrow. We gained four places in 17 laps, so if we keep that up for the race, I will be a happy guy tomorrow night. It was good to get out there under racing conditions because it gives you an idea of how to race the first couple of laps. Our top speed has been more competitive than at previous races and the team has put a lot of effort into focusing on that asset of the car at this track. With our package, I believe points will be possible tomorrow."
Yuki Tsunoda (19th): "This morning, I think we could've gotten through to SQ2, but unfortunately, I didn't have the opportunity to do the last push lap. The track was hotter today, but the pace of the car was similar to yesterday. Obviously, the result of the Sprint Shootout was frustrating, but it was interesting with everyone on the same tyre compound. On the first lap of the Sprint Race, Nyck and I touched as I was trying to pass. I had no space and after the contact, my front wing was damaged, I understeered into the wall and my race was over. It's very frustrating, as we weren't able to maximise today's opportunity. For tomorrow, I'll reset myself, and starting from a good position I'll try to score as many points as possible. Our car suits this track well, so there is huge potential."
Guillaume Dezoteux, Head of Vehicle Performance: "The first-ever Sprint Shootout didn't work out well for us. We knew traffic and tyre management were the key factors today, but unfortunately, the yellow and red flags prevented us from closing a good enough lap in SQ1. We will review in detail how the session went to understand if we could have done things differently. Regarding the Sprint Race, both cars were racing hard from the start and ended up side by side at the apex of Turn 3. Nyck made contact with Yuki's front wing while exiting the corner, and as a result, Yuki understeered into the wall in Turn 13. Unfortunately, the damage to his rear right end brought an end to his race. As for Nyck, he was able to overtake some cars which were struggling with the tyres. We have gathered some useful data for tomorrow and we'll review the strategy simulations tonight to come up with the best possible scenario for the race."
Williams Racing
Alexander Albon (9th): "I'm on the fence with the sprint race if I'm honest; it's rewarding the top four teams and they're already a step ahead of everyone else. It was a great race for us, but we just don't have the pace compared to them, so unfortunately no reward for today and we'll shift our focus to tomorrow. It's frustrating to be sitting out of the points in the sprint when P9 in a normal race would mean points and be an excellent result for us. We were the best of the rest today, so we can take some happiness from that, and know it's now our job to get closer to the top four."
Logan Sargeant (DNS): "That is our first sprint day of the season done. Clearly it didn't go the way we wanted it to go, but I think there were some good positives to the Sprint Shootout considering the speed that we had as a team and I feel like we were able to find a better window for me and the car at the start of the session. Obviously, I'm sad to have ended it the way we did, but I'm looking forward to using some of that pace tomorrow and having a good race."
Dave Robson, Head of Vehicle Performance: "Today was the first running of the new sprint event format, which replaced the old free practice session with a qualifying shootout. Going straight into qualifying on a dusty track wasn't easy but both drivers adapted well and were set to qualify for the 2nd section of the shootout. Unfortunately, Logan hit the wall on his final flying lap; despite a big effort from the team, we were unable to rebuild the car in time for the sprint race. We will complete the rebuild overnight and he will take his place in the Grand Prix tomorrow. Alex enjoyed a smoother shootout session and continued where he left off yesterday evening. He found good pace in the car, made no mistakes and was able to qualify a very impressive 7th place, helped by the fact that Norris was unable to take part. With points in the sprint race only awarded to the top 8 finishers, it was always going to be difficult to challenge the four fastest teams. Alex competed hard, pushed the car hard but was unable to stay ahead of the Aston Martins. Scoring no points on a day where we were constantly competing near the front is very frustrating, but we are pleased with the pace of FW45, especially as we brought only minor updates this weekend. We are now looking forward to the Grand Prix and another chance to score some points."