Azerbaijan GP 2023
APRIL 29, 2023
Saturday Post-Sprint Race Press Conference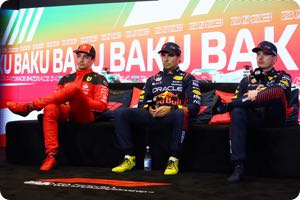 DRIVERS
1 – Sergio PÉREZ (Red Bull Racing)
2 – Charles LECLERC (Ferrari)
3 – Max VERSTAPPEN (Red Bull Racing)
PARC FERMÉ INTERVIEWS
(Conducted by Naomi Schiff)
Q: Max, congratulations six points in the bag today. We've heard you quite frustrated in that opening lap, can you talk to us a little bit more about that? We saw you talking to George there, has it been clarified?
Max VERSTAPPEN: No, it's not clarified. I just don't understand why you need to take so much risk, you know, on lap one he just understeers into my sidepod to create a hole. We all have cold tyres, you know, it's all easy to lock up. And, you know, in his beautiful way of explaining: 'oh mate, you know, I locked up, oh, look at the onboard.' Well, it doesn't make sense. But it's fine. We still got into P3, got some good points, but it is what it is.
Q: Now we saw there was a little bit of contact with you and the wall, you and George as well. Did that create any damage on your car? Was that part of the reason it was difficult…
Verstappen: No, not the wall. Just Turn 2, I think, where he tapped me.
Q: OK, so did that create any damage that maybe made it harder to get past Charles?
Verstappen: There's a hole in the sidepod? It doesn't look that great? But I mean, it is what it is now and we will focus on tomorrow.
Q: Charles, congratulations, another seven points today, unfortunately not a win here for you today. But you're still starting on pole tomorrow. Was there something you could learn from that race today to hopefully put you in a better position for tomorrow?
Charles LECLERC: I mean, we cannot change the car, but of course you can work a little bit here and there, on flap maybe. But yeah, I mean, it confirms a little bit what we thought: the Red Bull still has the upper hand in the race. But we, again, must not forget how far we were behind on race pace two races ago. So we did a step forward; we are still not where we want to be. But as I said, if winning is not possible then we just need to take the maximum points. And today, there wasn't anything more, so happy with the second place. And we will try, anyway, to go for the win tomorrow, even though the Red Bull seems to be quicker.
Q: Besides Sergio getting past quite easily in the DRS zone, were you expecting to be able to stick closer to him around the rest of the lap possibly?
Leclerc: I didn't know what to expect. I didn't fight too much Checo, because I just wanted to try and keep my tyres. I knew this was our weak point. I tried to stay within the DRS of Checo, so he could pull me along the straight but that wasn't enough, we were losing a little bit too much to the end with the degradation, so let's see what's possible to improve tomorrow. And we'll give it all.
Q: Congratulations and good luck tomorrow. Checo, congratulations. It's another win around here for you. How was it out there for you?
Sergio PÉREZ: Yeah, it was good. You know, with these tricky sessions, it's been a lot of pressure put on us and our teams, engineers, mechanics, drivers. So to get away with maximum points today was the main objective. But obviously we know that tomorrow is the main race.
Q: You are starting a little bit further down the grid tomorrow in third. How much is that going to make a difference? You know, this was our first session with a proper long run, so how much did you get to learn about your car in these conditions?
Perez: We were able to learn a bit, but obviously tomorrow we're going to be on a much higher fuel load, track conditions are going to be different. But yeah, I think there was good learning today. And yeah, P3 is not ideal for tomorrow's race, but we'll give it a go and fight for the win.
PRESS CONFERENCE
Q: Checo, great job by you. That was a very controlled victory. How much satisfaction does this race give you?
Perez: Yeah, it gives me a lot of satisfaction, but not just because of winning this sprint. I think the whole weekend puts a lot of stress on the drivers, engineers, mechanics just to make it and now we can focus on the main race without an issue. It's so easy for things to go wrong and just lose a lot of points. So for me, it was just, let's say, making sure that we got the maximum we possibly could and it was important to get Charles early on and be able to control our own race.
Q: Talk us through that move for the lead on lap eight.
Perez: Charles had very strong pace initially. And then we had the Virtual and then the Safety Car… Luckily, no red flags! But overall, at the race restart it was important to stay close to Charles. DRS is a lot shorter now, so it was very important to stay within a few tenths only, to be able to make the move. And once I got that move, Charles stayed pretty there on my DRS, so I was keeping a good eye on him and then I was able to slowly pull away.
Q: You got fastest lap in this race. Were you just managing Charles? Was there a lot more pace in the car than you actually showed us?
Perez: Yeah, I think I had more pace than what I've shown today. But it's difficult to know because if you use your 100% pace then probably the tyres become a problem, so I think I was just driving to the maximum capacity of the tyre basically. I think all cars are much better than this, but it's all about looking after the tyres and making sure to arrive to the end.
Q: This is the first long run that anyone's done so far this weekend. How much does this Sprint help you in your preparations for the Grand Prix tomorrow?
Perez: Yeah, I'm sure we will have a good look through everything tonight. But I think there are going to be different track conditions for tomorrow. Already different fuel loads for the start of the race. So I don't think that's too much that we will be reading through it. I think tomorrow it's again a new day and a new challenge.
Q: Charles, coming to you now. You might not have won but you took the fight to Red Bull today. Just how important is that both for you and for Ferrari?
Leclerc: I don't know how much of a fight it was but I tried my best. We are still lacking some pace in the race. This is definitely where our focus is at the moment, it's been the case now since quite a bit. So, we are working on that, trying to find something for the races. In Qualifying we seem to be okay. Having said that, I believe we did a step forward. I mean, if you look Australia and here, we are better. We are not yet at the level of Red Bull. So, still a lot of work to do but happier with the car.
Q: Talk us through those 17 laps in terms of the pace of the car. Do you agree with Checo that initially you had good pace, and then did it start to drop off?
Leclerc: Basically, once you start with the tyre degradation, that's where they started to go away, or that Checo started to go away, Max started to come back. So yeah, from that moment onward, we had a little bit of a disadvantage.
Q: And you reported over the radio at one point that there was a cut. What was that? And was there a recurrence?
Leclerc: Absolutely not. I said a cat – which is different! There was a cat in the middle of the road and the Safety Car had to stop – but I think I was probably the only one who saw that?
Perez: I didn't see it – but maybe Max can adopt the cat!
Leclerc: In the exit of Turn 1 there was a cat and the Safety Car braked. It wasn't too bad, but I just felt like I was going to say…
Q: You've more than doubled your points tally from the opening three races in the Sprint this afternoon. Does it feel like your season starts here?
Leclerc: Well, I don't know. One thing for sure, it shows how bad the first three races were because if in a Sprint you double the points, that's not a good sign normally. But, it's like this. At the end I knew that… I mean we deserve much more points than what I have now in the Championship, so yeah, it's like this. We just focus on ourselves. We haven't been very lucky in the first three races, but hopefully we can have a clean race tomorrow. At the end, that's where we will score big points, and yeah, bring some points home.
Q: Max, without the car damage this afternoon do you think you might have got Charles?
Verstappen: It's always difficult to say but normally, yes. Bit of a shame, of course, because that compromises your whole race, but at the end to still be here third is OK.
Q: Can you tell us about how that opening lap damage affected the handling of the car?
Verstappen: Yeah, it was a bit weird. I mean I, of course, expected a sort-of… well, you expect a balance, but this way the car was jumping around a lot and sliding in some weird places, vibrations. But yeah, I need to look into the data to know exactly, of course, how much damage it did. But it's not great. And of course, you tried to close the gap a bit, you're constantly of course in the dirty air and I guess at one point, also my tyres were running a little bit too hot.
Q: Talk us through that opening lap battle with George Russell, do you feel that you left him enough room?
Verstappen: I think I did. I mean, we definitely got through the corner without him hitting the inside barrier. So, I think I did leave enough space. But I think, apparently, it's hard to not hit that Red Bull car, I guess. For them.
Q: And Max, you've spent a lot of the afternoon looking at the gearbox of the Ferrari, what did you learn about that car? In terms of its strengths and weaknesses?
Verstappen: I mean, nothing particular. I mean, nothing that I didn't know before. I mean, their straight-line speed has been quite good around here, but nothing shocking, to be honest.
Q: And just throwing it forward to tomorrow, what have you learned today that will help you in the Grand Prix tomorrow?
Verstappen: It's a bit different tomorrow, of course, starting on the high fuel loads, and also higher track temps, so, I think naturally it will be a bit tougher on the tyres for everyone. But again, I think the most important thing is to just get clean through lap one, and then you'll see what the car will do in terms of how it reacts and how it responds. And then normally, I think we have a good race pace.
QUESTIONS FROM THE FLOOR
Q: (Niharika Ghorpade – Sportskeeda) Question for Max. Given that George has explained that it was due to the cold tyres, what happened between you two during the Sprint, do you think FIA should rethink bringing back the tyre blankets? And do you think that's a viable explanation that the clash happened due to cold tyres?
Verstappen: No, we have tyre blankets but we all have cold tyres so you always take it a little bit under the limit, I would say, in the first lap. That's the only thing I can say from our side.
Q: (Tom Cary – The Telegraph) Just to follow up on that, Max, you called George, I think, a 'dickhead' afterwards. I was just wondering if you'd had any issues with him in the past or was that today?
Verstappen: No, we didn't really have issues before now.
Q: (Niharika Ghorpade – Sportskeeda) Charles, your cars had an overheating problem, and you suffered from serious degradation but given that from the Australian weekend and this weekend, do you think the deg has improved considering the changes that were made in Australia?
CL : Well, again, it's difficult for me to comment as I've only done one turn in Australia but I think we did a step forward for sure. It looks a little bit better but we still need to find something and that something feels quite significant still, because the Red Bull, as Checo said, maybe he could have pushed a bit more and we know that too. So yes, we need to find something more.
Q: Checo, can I just come back to you about something you said earlier: you talked about how busy the sprint weekend is now. How much more work is there for the drivers and for the teams with this new format?
Perez: More than work, it's just the pressure because especially for the top teams, it can only go wrong for you and just making a mistake can be extremely costly throughout the weekend and already from FP1, especially on a circuit like this where there is no room for errors, it really pushes you down. The format as well, I felt you know after today, after doing the sprint qualifying, there is like four hours waiting and I think it's just a little bit too much. So probably we have just to review the timings and try to make it a bit more efficient, try to keep everyone more in the zone and make it a little bit shorter.
Q: (Phil Duncan – PA) Max, just on the format, I think you were quoted as saying it's terrible. I just wanted you to elaborate on that, you're obviously not a fan of this format.
Verstappen: Yeah, it's hectic. I think it's just… it's not proper racing, it's more like gambling. I think I will have more success in Vegas if I go to the casino. So yeah, I like racing, I'm a pure racer and I think this is more for the show. And, of course it's important to have entertainment, but I think if all the cars are closer you'd create anyway better entertainment than trying to do it like this. It feels like, you're like a football match and it's 3-0 up for one team and then suddenly you just say 'oh let's reset it to 0-0 and go again'. I find that a bit unnecessary, these kinds of things.
Q: (Matt Coch) Just from the last two, negative walks through the different part of the weekend with the revised format. What are your thoughts? What do you like, dislike or are there things you need to change or… Checo mentioned the timings?
Leclerc: As I said, I don't hate this format. I think it's a better format than last year's sprint format. I prefer this one, I wouldn't want this to be the standard format in the future. I think it's fine if we have three, four races like that in a year. As Checo said, I think it puts a lot more pressure on the drivers because basically there's only one session where you can do a mistake which is FP1. After that, every laps you do are really important. And you also have a lot less preparation so the preparation for the race beforehand at the simulator is extremely important. Things I would like to change maybe is the role of the new soft in SQ3. I think, to be able, at least, to use a used soft, it's a shame, I think to not see Lando drive this morning, because he didn't have a set off tyres. I think there are some things… and the timing also, like Checo said, so there are a few things that can be changed to improve those weekends.
Perez: Yeah, I do agree with Charles. I think if we don't want this to become a standard weekend. I think what we have in a normal weekend makes it really exciting and better for fans and this is what we've grown up with, and it's how it should stay. But I'm happy if we have three, four races like this, with the sprint format, and just making sure we correct small details like the timing, like the usage of the tyre. I think it looked really bad to have, I think, two cars without tyres in Q3. Just to make sure that we correct for that. And then you just have a few races like this in the year, maximum.
Verstappen: Yeah, just scrap the whole thing. I think it's just important to go back to what we have, and make sure that every team can fight for a win, that's what we have to try and aim for and [not] try to implement all this kind of artificial excitement. I would say I got bored through today's Qualifying to be honest. I like to have one particular Qualifying, where you just put everything in it, and that was yesterday, which I of course enjoy, and then they have to do it again today. I'm like, 'my God, another qualifying?' I just don't really enjoy that.