Azerbaijan GP 2022
JUNE 11, 2022
Saturday Team Quotes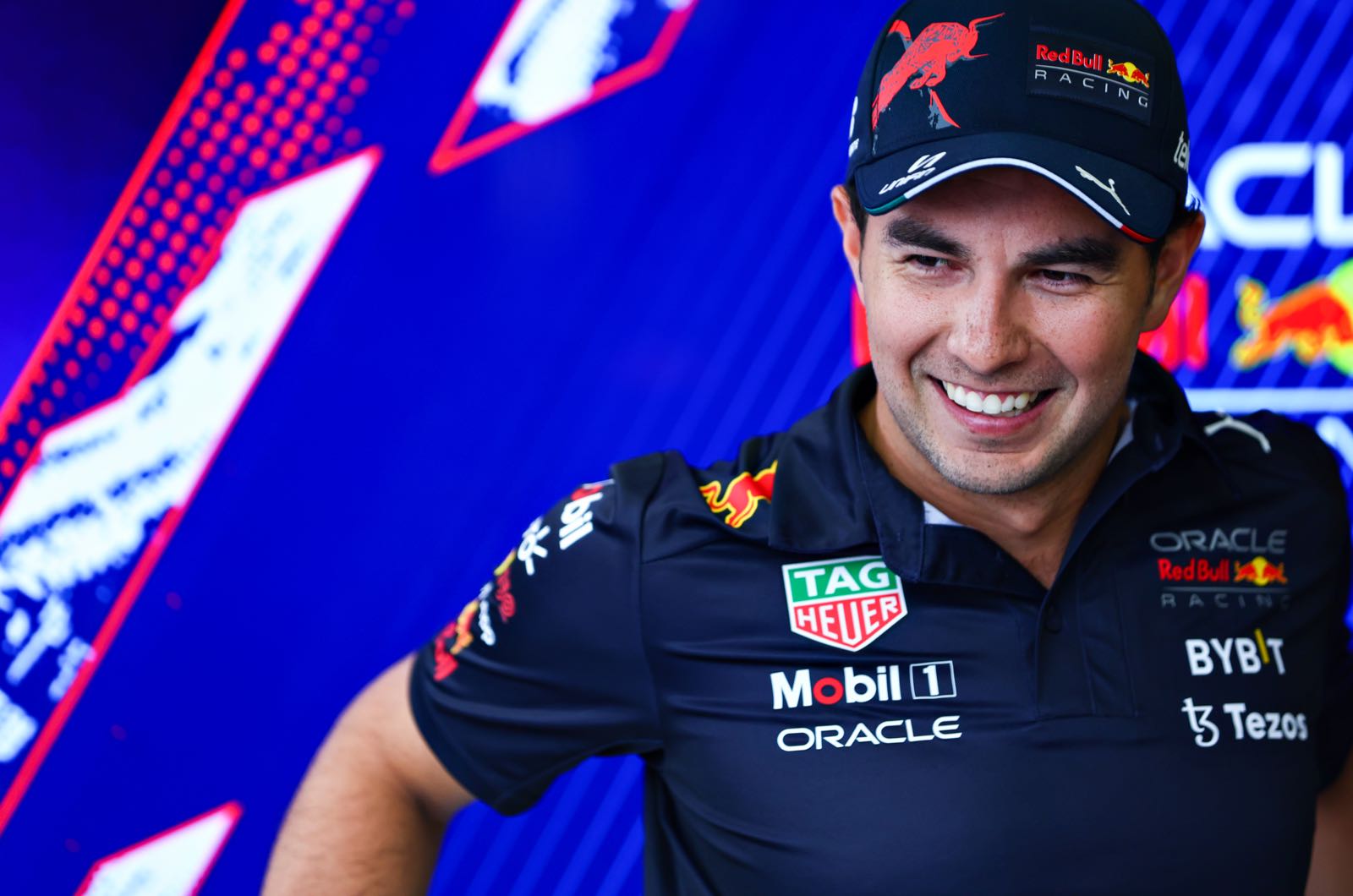 © Red Bull
Mercedes-AMG Petronas F1 Team
George Russell (5th, 1:42.712): "It was an optimised session but being over a second from pole is not where we want to be, it's probably the biggest gap we've seen this year. It's a tricky circuit, the most amount of 'real' corners we've experienced this season, so we have lots of work to do. The lap felt good, the car felt good but obviously the gap isn't. We expect so much from ourselves and we're working so hard to bring more performance, but definitely this weekend has brought out the strengths and the weaknesses from all of us. The feeling inside the car is okay other than down the straights, every single bump is the most rigid I have ever felt from any race car before and I can barely see the braking zone. But through the corners the car feels good, so we know it's not a balance thing or not getting the car in the right window with the set up - it's more the downforce. We're balancing a lot of limitations to try and get the downforce. We know there's a lot there, but we just don't know how to extract it."
Lewis Hamilton (7th, 1:42.924): "There's lots to look forward to tomorrow! It's a tricky and chaotic race with lots that can happen. It was a difficult qualifying session because we're constantly pushing. We have a very, very small window where we can work this car, and everything we try doesn't give us what we want. We're making lots of changes, but we still encounter the bouncing which loses us a lot of performance. All of the performance is when you get the car low so we're getting lower and lower but it's bouncing more than the other cars and putting pressure on our bodies. But we're still there! We're just very slow on the straights, which might be a struggle tomorrow in the race. We're going to give it everything and maybe we'll have, I hope, better race pace. I don't really have any concerns with the stewards. Firstly, I was off-line, and you have to be within a delta time and I was within my delta time. Within that delta time I should be able to drive the speed I want, and being off-line I wasn't holding anyone up. I was trying to get a tow because we're so slow on the straights and the guys behind didn't want to go by, so then I just went off and did my lap."
Toto Wolff, Team Principal: "I think the most we expected today was to be third-quickest on the road, but Gasly put in a really strong lap to get between us. There's no doubt - the gap to the front is big. It's a long lap time here and we're lacking pretty much everywhere. I wish I didn't need to look at these kinds of performance overlays in future with the guys up front. For tomorrow, if you look at it through rose-tinted glasses you can see hopefully the four of them ahead come together in turn 1 and then we can win the race. But I think on pure pace, it's realistic to finish fifth and sixth. Strategy can play a big role, you can recover and make up positions if you are on the right strategy. We can gamble given the position we are in because when you're the hunter it's a different situation, so we'll be looking at all options for the race."
Andrew Shovlin: "We'd hoped that the car would have been easier to work with here than in Monaco but it's not, and being realistic, the drivers did a very good job to qualify 5th and 7th. We did change quite a lot overnight and were able to improve a few areas of performance - our straight-line speed certainly looked a little better today. However, the gaps to Ferrari and Red Bull are huge and it's the corners where we are losing the most. We've definitely got problems with bouncing on the straights but without that, we'd still be lacking performance, so we clearly need to work on a number of fronts. We're at least at the right end of the midfield and will hopefully be in a position to pick up any places if either Red Bull or Ferrari have an issue but the long run picture from Friday doesn't look like we'll be in the same race as them from a pace point of view. Regardless, it's generally a crazy and unpredictable race here so we just need to make the most of it and be ready to react if opportunities arise. It's going to be hot and tough on the tyres so degradation will be important and no doubt play a part but overall, our goal is to secure third best team here and then be ready to seize any opportunity to move higher."
Oracle Red Bull Racing
Sergio Perez (2nd, 1:41.641): "We were on the limit at times, chasing the lap time massively to try and improve but unfortunately we didn't manage to make the most out of it. We had a little issue with the refueling on my car in Q3, which meant we were out of sequence for our final lap but I still think that three tenths was probably too much to find to close the gap to Ferrari. I am still on the front row and it is a long race ahead where anything can happen, especially here. We have both cars in between the Ferraris which is a good thing. Tomorrow we are going to work as a Team to try and get Ferrari and it would be ideal to get a one-two – we are going to push them hard."
Max Verstappen (3rd, 1:41.706): "You always take quite a lot of risk and push the car to the limit on a street circuit, but you also have to be happy with the balance of the car and I didn't have that today. It was difficult to find a good balance here, which means we're lacking consistency in how you approach your lap. There's still quite a bit of work to do. Looking ahead to tomorrow, the run into turn one is very short but it's a long race, let's see what we can do. Ferrari put in some really quick laps and it looks like they have a good pace, let's hope we can put some good pressure on them. Past races in Baku have shown that a lot of things can happen, we just need to stay calm and focus on having a good race tomorrow."
Christian Horner, Sporting Director: "It's always tricky to navigate through the sessions here with plenty of incidents and yellow flags, but both drivers extracted every last bit out of the car in their Q3 runs. Checo had a small issue whilst refuelling before Q3 that caused him to be slightly out of sequence but again, a very strong, clean lap from him to put him second on the grid, with Max incredibly close behind. Ferrari had a slight advantage over a single lap but we're right up there in second and third on a track you can overtake on, so it should be an exciting race tomorrow."
Scuderia Ferrari
Charles Leclerc (1st, 1:41.359): "Taking pole position always feels good, but this one is particularly satisfying as I wasn't expecting it. Our competitors looked stronger than us, especially in Q1 and Q2. On my last run in Q3, everything came together. I don't think I left much on the table and I am very happy with my lap. I really look forward to the race. I love street tracks and it's very special to push to the limit with the walls. Tyre management will be key. It's an element we have managed well in the past two races, so I am optimistic and just want to finish the job."
Carlos Sainz (4th, 1:41.814): "It was quite a positive day on my side despite the final result. I felt better in the car and more comfortable when pushing the limits. We progressed well through the sessions and I found myself quickest before the last run. It was extremely close at the top and I knew I had to take that extra bit of risk on the last attempt. Sometimes it goes well and sometimes, like today, you miss out on a better result. Unlike other circuits, the starting position is not that critical here in Baku and anything can happen tomorrow. We'll try to attack and gain positions during the race to bring home a strong result. The team gave us a great car again today so congrats to everyone and to Charles."
Laurent Mekies, Sporting Director: "It was a very closely contested qualifying. We're now getting used to Charles producing an incredible lap in Q3 and today, on his last run, we saw once again how he can always get a little something extra out of himself and his car. Carlos also had a very good qualifying and in fact after the first run in Q3 he was quickest. At all tracks, it's important to always be able to count on having both drivers at the front and here, we can expect a very tactical race, so having Carlos right up there with the Red Bulls means we can fight them on equal terms. Now, we are preparing for the race, along with our colleagues back in Maranello. We know that, in race trim, our closest rivals are quicker than in qualifying and maybe they have the edge over us when it comes to straight line speed. However, given what we have seen so far this weekend, I think the smallest detail can make the difference in the race, with many factors coming into play. The first of these is tyre management and as we can expect very hot conditions, race pace will be key."
McLaren F1 Team
Lando Norris (11th, 1:43.398): "It's a little bit frustrating to miss-out on Q3 by such a small gap, but I think we did a decent job today. We've been struggling a bit more with the car here on this track and we were close. I don't think we were miles off getting into Q3. I'd put it down to a couple of smaller mistakes by me and maybe not getting the ideal strategy for the tyres in the final few laps but I don't think we expected a lot more today anyway. It's still a decent position, we're not far away from the points. The job now is to try and move forward tomorrow."
Daniel Ricciardo (12th, 1:43.398): "After such a tough weekend in Monaco, I have to take the positives that we look more competitive here so far, and I feel a little bit more like I'm getting the feeling back that I'm after with the car. So generally, as a whole, so far I'm more pleased with this weekend but obviously we're 11th and 12th, so it's not positions that we're jumping up and down over. Personally, I found some things with the car that are suiting me, and I've felt like I've been able to lean on it and be a bit more comfortable. I think with qualifying, I was maybe just expecting a little more from the step that we could make, but as a team we'll review everything and take the small positives for now and look forward to the race."
Andreas Seidl, Team Principal: "Qualifying in Baku was what we were expecting. Sector Three is very challenging for our package and, despite taking some very good steps forward across the practice sessions, it just wasn't quite enough to progress into Q3. Our focus now switches to race-prep. This is a street circuit with a history of presenting opportunities. We're starting close to the positions scoring points, in the mix with our main Constructors' Championship competitors all around us. Let's go and get into the points tomorrow."
BWT Alpine F1 Team
Fernando Alonso (10th, 1:43.173): "I am happy with the day even though we were maybe expecting more after showing decent competitiveness yesterday. We seemed to lose some of that competitiveness today so we need to look into that together. There was a lot of frustration for everyone at the end of Q1 and I understand some of the complaints, but a lot of cars were making mistakes that caused yellow flags, with a lot of cold brakes and tyres after everyone was trying to take track position. We even saw some drivers hitting the walls and when I went wide there was nothing I could do. It will be a challenging race, and anything can happen here in Baku. The points are scored tomorrow and I'm looking forward to see what we can do especially with our lower downforce setup."
Esteban Ocon (13th, 1:43.574): "Obviously I'm disappointed given it's the second race in a row that yellow flags in Qualifying prevented us from completing a solid lap to get us well into the top 10. The pace has been there all weekend so it's frustrating not to put it all together today. But we know that overtaking is common here, and Baku is one of the most unpredictable circuits on the calendar on race day. We'll need to take the opportunities that present themselves and there is no reason why we cannot end our weekend with some good points for the team."
Otmar Szafnauer, Chief Operating Officer: "Qualifying was a bit disappointing as we anticipated that both of our cars would have made Q3 today. We had the car to do that but unfortunately the circumstances were such that we were out on track when we got caught out by the yellow flag which meant that Esteban didn't get his fast lap in. He was significantly up on his other lap so he would have been able to make it through to Q3. We must now focus on tomorrow and get ready for a race in which we will look to maximise every opportunity."
Scuderia AlphaTauri
Pierre Gasly (6th, 1:42.845): "I'm extremely happy, that's my best Quali of the year, I don't think we could've hoped for anything better for the team and it's great we've got both cars in the top 10 today. The team did a great job, the car works really well here, and it was a really strong Quali for us. Everything is possible here in Baku, we saw that last year with our podium. It's very easy to make mistakes on this track, we normally see a lot of red flags, so we've got ourselves in a good starting position to capitalise on anything happening at the front. We've got one set of Hards compared to other teams that have two, so we'll have to see in terms of our strategy what we want to do, but today I'm really happy with our overall performance."
Yuki Tsunoda (8th, 1:43.056): "It's been a good day, I'm really happy with that Quali. I got a bit lucky getting through to Q3, but I think the lap I did was good, especially considering it was an old set of tyres, so I'm pleased with my performance today. As a team, I think we did a fantastic job, so I want to say a big thank you to everyone. Hopefully we can carry on this performance tomorrow and we'll look to finish the race with both cars in the points."
Guillaume Dezoteux, Head of Vehicle Performance: "The last free practice session highlighted how tight the midfield was going to be for Quali, with just above 0.5s difference from P5 to P16! We elected to keep only one hard tyre for the race, in order to maximise our chances in Quali by using five sets of soft tyres. The first Qualifying session was intense, especially with the red flag at 2min 30s before the end. We managed it well and both cars were able to make it through with strong laps. The second Qualifying session started very well, we went out on used tyres and continued to show the competitiveness of our package on this layout. During the new tyre run at the end of Q2, Yuki made a mistake and went long in T2 after light contact with the wall. Luckily there was no damage, and we could carry on. Q3 was great and we managed to out-qualify the midfield, as well as one of the Mercedes. Pierre wasn't able to improve on his last attempt with new tyres, which is something we need to analyse and understand with him. Yuki had a great last lap, which is never easy after making a mistake earlier in the session. This result puts us in a strong position for tomorrow, we will review all the possible strategies to convert this good ranking into the maximum number of points in the race."
Aston Martin Aramco Cognizant F1 Team
Sebastian Vettel (9th, 1:43.091): "I am pretty happy with ninth position – another half-a-tenth and I could have jumped Yuki [Tsunoda], but, overall, I think it was a good session for us. In Q2, I locked up into Turn 15 – I was not sure if I could make it, then I thought I could, then I decided the best option was just to go in straight and risk damaging the front wing. That worked and I managed to crash wisely! The race will be all about controlling the tyres, and they will be tricky to manage tomorrow. It will be a lot hotter than qualifying was, but I am looking forward to it. I have been around a while, so I think I can benefit from all the experience I have."
Lance Stroll (19th, 1:45.371): "Obviously I am frustrated with how qualifying finished. After my first lock-up [at Turn Seven], the car still felt okay, and I knew we were running out of time in the session, which is why I decided to stay out and try for another fast lap. Then I think I braked too late into Turn Two. It is unfortunate, but there are plenty of overtaking opportunities here at Baku, and, as we have seen many times before, anything can happen here. There is still plenty to fight for tomorrow."
Mike Krack, Chief Operating Officer: "Lance had a troubled Q1, first locking up, running wide and tapping the wall at Turn Seven, then hitting the Turn Two wall hard enough to end his run. But tomorrow is another day, and this is a circuit on which he has done very well in the past. Sebastian was very good today - confident, fast, and solid apart from a light wall-tap at Turn 15 in Q2. He ended up in ninth, and is therefore in a strong position from which to drive for points tomorrow."
Williams Racing
Alexander Albon (17th, 1:44.719): "I think we had a good qualifying session and, as a team, we maximised everything we could. We did everything right; we had a decent car, and we did the best job we could. Getting into Q2 looked difficult today but, with the red flag, we found ourselves fighting on the heels of it again. It's frustrating to be so close to it and miss out – I am 99% sure that if I didn't make a mistake in the last corner, I would have benefited from the slipstream that I had chosen to take, and we would have got into Q2. It's one of those things, but I think procedurally and how we went about it; we couldn't have achieved much more today. There's hope here as there's always a little bit of action and chaos, so we need a little Baku madness to happen!"
Nicholas Latifi (18th, 1:45.367): "A typical Baku qualifying session with yellow and red flags. I didn't get a representative lap on the first set of tyres. On my fastest lap, the car missed a few shifts on a couple of corners, so I was in the wrong gears which didn't really help. I had a big chunk of time to find but I knew I could find it on the second set. Sadly, that wasn't possible with the red flag and then the restart right at the end. It would have been nice to put it all together to try and get the best out of the car. Full focus on the race tomorrow as anything can happen."
Dave Robson, Senior Race Engineer: "The car was better today despite the hotter conditions in FP3. Both drivers had good runs in FP3 and were able to finalise their setups ahead of Qualifying. The red and yellow flags in Q1 made it a difficult session in which there were winners and losers. The late rush after the red flag meant that nobody was able to prepare their tyres and manage the track position well for the final lap. Alex was well positioned on his final timed lap and, with a good tow from Alonso, could have made Q2. However, Alonso failed to complete his lap and Alex was left in 17th. Nicholas had a gearshift issue, which cost him crucial time in the first run. In the final post-red flag melee, he couldn't get a good track position and so was unable to improve. We are checking the data from Nicholas's car, but we don't believe that there is anything wrong and that the gearshift strategy performed correctly in the circumstances. Tomorrow will likely be a long race with plenty of incidents and therefore opportunity."
Alfa Romeo F1 Team ORLEN
Guanyu Zhou (14th, 1:43.585): "We did a massive step forward throughout the weekend and I believe we had a lot more potential than P14 today: a place in Q3 would have been possible, perhaps, although the field is so tight so you can't really say. We had prepped our tyres for a good second push lap, as we saw that was the moment in which they perform at their best, but the yellow flag with Tsunoda badly affected both our cars and prevented us from improving. In general, I am happy with the progress we have made and I think we have good pace for the race: hopefully we can put everything together and bring home some points."
Valtteri Bottas (15th, 1:43.790): "Qualifying was a bit strange and we're definitely not where we wanted to be. Tyre temperature was a key factor this afternoon, and I struggled to get the softs to work in the first push lap; in the second one, the feeling was a lot better, but unfortunately the yellow flag at the end of Q2 meant I didn't even get to give it a try. I reckon I would have improved, but it was not to be. Nevertheless, our race pace was good yesterday and we know anything can happen in the race: it's all to play for, I am positive we can do some good overtaking tomorrow and climb up the grid."
Frédéric Vasseur, Team Principal: "It's not where we expected to be, but we know how the session unfolded and we know this result doesn't really reflect our potential. We had both cars in Q2, Zhou was P5 with his first run and P9 at the end of Q1 with the only truly representative laps we did in the whole session: unfortunately, in Q2 we didn't really get the chance to set a proper time and we had to settle with P14 and P15. Our aim was to be at the top of the train in the final run, and we had achieved that – unfortunately, the yellow flag never gave us the chance to show what we could do. Now let's just focus on the race: we know our car has got pace and that this track allows overtaking. We are confident we can move forward with both cars; we anticipate an eventful Sunday, so everything can happen."
Haas F1 Team
Kevin Magnussen (16th, 1:44.643): "When the red flag comes out and there's just enough time to go out for another lap, the people at the back of the queue always struggle to get through before the time runs out. Being the first in the pitlane you're always stuck as soon as there are two or three cars queuing up, you can't get out, so we missed out on that last lap. We're P16, but it's a long day tomorrow."
Mick Schumacher (20th, 1:45.775): "We knew it was going to be tight, so it's frustrating not to get the lap in as I think there would've been more potential in it. We were behind Lance when he had his mistake which cost my lap, meaning we only had one lap – which was the first run – and track improvement is quite big around here. It felt like the race had already started but it's Baku and there are a lot of opportunities. It will be a tough but hopefully enjoyable race tomorrow."
Guenther Steiner, Team Principal: "In FP3, I think we got some of the performance back that we lost yesterday, and we were actually looking forward to qualifying. We didn't make it out of Q1 for various reasons – between yellow flags and chaos at our last attempt when we were not allowed to get in the queue – we had to wait until the last car and it's just not possible to do anymore. Unfortunately, that happened, and we keep saying we're unlucky and at some stage it will change, but we know we can do better than this. Let's see, hopefully tomorrow we can get lucky."